Waiting for CBSE class 12 date sheet 2023? Not that we are scaring you. It's that of the month when class 12th you do expect a date sheet so that you can prepare for your exams! The Central Board of Secondary Education released the CBSE Board Exam date sheet 2023 on 29th December 2022. CBSE has already announced that the final exams for these classes will start on 15th February 2023.
The Board has announced the dates of Practical Exams/Internal Assessments for Winter Schools. The exams started on 15th November and will end on 14th December 2022. Practical exams/project work/internal assessment for all other affiliated CBSE schools will be conducted from 1st January 2023 onwards.
CBSE Class 12 date sheet 2023 for Science, Commerce, and Arts streams will be released as a shared pdf file. Students can get the CBSE date sheet 2023 class 12 pdf download from the direct link for core and optional subjects in this article when it becomes available.
Let's get started…
What all is covered in this post?
To make it easier for you, we have created a quick guide to everything you need to know about CBSE class 12 Date Sheet 2023.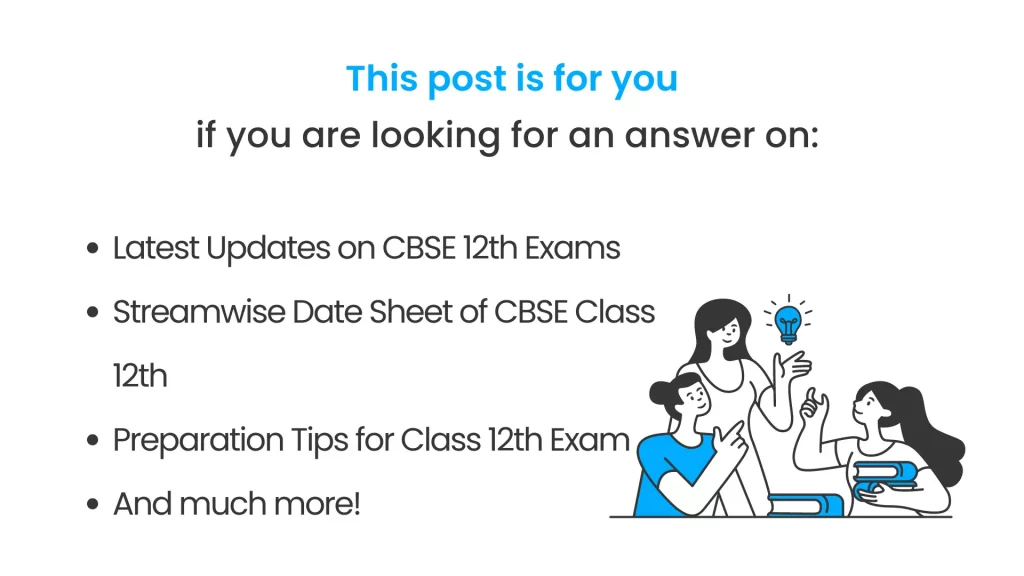 Latest Updates on CBSE class 12th Exams
This year CBSE Board Exams 2023 will be conducted only once and not twice like last year due to COVID. Candidates can check the latest updates regarding the exam schedule and other details here.
CBSE Exam Dates 2023: COVID Protocols to Follow
Schools conducting practical examinations/projects/internal assessments shall ensure full compliance with all instructions of the Central/State Governments, Local Governments, and other Government Authorities related to COVID.
To avoid overcrowding and social distancing, schools may consider dividing a group/party of students into sub-groups of 10 students each. The first group of 10 students can attend lab work, while the second group can do pen and paper, and vice versa.
Note: To know more about the CBSE 2 board policy of 2022, check our CBSE's New Policy post. However, this policy will no longer apply this year.
Discover More by accessing the Free Career Dashboard
This will help us share relevant information with you.
CBSE Date sheet Class 12 2023: How to Download PDF
The CBSE exam schedule has not been released, but the Board has announced that the exam will be held from February 15, 2023, for Class 12 across the country and abroad. Following are the steps to download the date sheet:
Visit the official website of CBSE at cbse.gov.in.
Click on the CBSE Date sheet Class 12 2023 link available on the main page.
A new PDF file will open where candidates can check the exam dates.
Download the page and keep a hard copy for future reference.
Streamwise Date Sheet of CBSE Class 12th
CBSE will release the Class 12 date sheet for 2023 for Science, Commerce, and Arts altogether. Approximately 14 lakh students are waiting for the CBSE Class 12th 2023 exams to begin. If you are a candidate for class 12, start making your study plans accordingly.
The board will release the CBSE 12th Board Exam Dates 2023 detailed pdf on the official website. Please visit the official website to download it. If you are looking for further updates, please stay tuned to this site. Any revised CBSE Class 12 Date sheet 2023 will be announced through the same official website. It is recommended that you visit the website daily to stay updated.
CBSE Class 12 Date Sheet 2023
Here is the date sheet of CBSE Class 12th for 2023:
| | |
| --- | --- |
| Date | Subject Name |
| February 15, 2023 | Entrepreneurship |
| February 16, 2023 | Biotechnology, Engineering graphics, Electronics Technology, shorthand (English and Hindi), Food nutrition & dietetics, Library & information science |
| February 17, 2023 | Kathak, Bharatanatyam, Kuchipudi, Odissi, Manipuri, kathakali, banking, horticulture |
| February 20, 2023 | Hindi elective and core |
| February 21, 2023 | Food production, office procedure, and practices, design, data science |
| February 22, 2023 | Early Childhood Care, Artificial Intelligence |
| February 23, 2023 | Hindustani Music Voc, Hindustani Music Mel Ins, automotive, healthcare, cost accounting |
| February 24, 2023 | English elective and core |
| February 25, 2023 | Beauty & Wellness, Russian, marketing |
| February 27, 2023 | Retail, Agriculture, multimedia |
| February 28, 2023 | Chemistry |
| March 1, 2023 | Bengali, financial markets management, typography, medical diagnostics, textile design |
| March 2, 2023 | Geography |
| March 3, 2023 | Yoga |
| March 4, 2023 | Hindustani music vocal |
| March 6, 2023 | Physics |
| March 9, 2023 | Legal studies |
| March 10, 2023 | Punjabi, Tamil, Telugu, Sindhi, Marathi, Gujarati, Marathi, Manipuri, Malayalam, Odia, Assamese, Kannada, Arabic, Tibetan, French, German, Persian, Nepali, Limbo, Lepcha, Telugu Telangana, Bodo, Tangkhul, Japanese, Bhutia, Spanish, Kashmiri, Mizo, Sanskrit core |
| March 11, 2023 | Mathematics, applied mathematics |
| March 13, 2023 | Physical education |
| March 14, 2023 | Fashion studies |
| March 16, 2023 | Biology |
| March 17, 2023 | Economics |
| March 18, 2023 | Painting, graphics, sculpture, applied art (commercial art) |
| March 20, 2023 | Political Science |
| March 21, 2023 | NCS, Information technology |
| March 22, 2023 | Tourism, Air-conditioning & refrigeration |
| March 23, 2023 | Information practices, computer science |
| March 25, 2023 | Business studies, Business administration |
| March 28, 2023 | Web application |
| March 29, 2023 | History |
| March 31, 2023 | Accountancy |
| April 1, 2023 | Home Science |
| April 3, 2023 | Sociology |
| April 4, 2023 | Urdu Elective, Sanskrit Elective, Carnatic music vocal, Carnatic music mel ins, Carnatic music per ins mridangam, Knowledge tradition & practices of India, Urdu core, Front office operations, insurance, geospatial technology, electrical technology, taxation, mass media studies |
| April 5, 2023 | Psychology |
Preparation Tips for the CBSE Class 12th Exam
We have curated the top 7 tips for you so that you get a good result in the CBSE class 12th exam, based on the discussion with board toppers.
Before preparing for the exams, students should familiarize themselves with the syllabus and exam pattern.
Along with CBSE, study NCERT books to complete the syllabus and solve the questions presented in the books.
Make short notes, formulas, and other important preparations. This will help them to remember and repeat the topics easily.
Revise the CBSE Class 12th Syllabus 2023 and work on your weak points to get good marks in the CBSE Class 12th 2023 Exams.
The correct mode of preparation is mandatory. Students should effectively follow the schedule at home during preparation.
It is important to consult with teachers to get rid of doubts. This will help the students to clear the syllabus within the given time frame.
By solving the CBSE 2023 Class 12 sample paper, students can have an idea about the time format and type of questions in the exams.
In Conclusion
CBSE has announced the class 12th date sheet for 2023. Higher secondary education is crucial for students in India, and they need to know the CBSE 12th date sheet well in advance so that they can plan their studies and career properly.
Hope we have served you enough! Still, got questions? Why don't you connect with our industry experts? Yes, you read it right! You can get your queries resolved in just 60 seconds from our Career counselors. So what are you waiting for? Download the app now!
Strategic career planning is the need of the hour and must be attended to as well. It is an intricate affair and comes with its tribulations. iDreamCareer has helped millions of young minds like you from 9th class, 10th class, class 11, and class 12 discover their true mettle and is ready to help you too.
FAQs
When CBSE Class 12 Exam Dates 2023 be Announced?
CBSE Class 12th Exam Date 2023 has been announced. The tentative date of exam start date is 15th February 2023. CBSE 12th date sheet is yet to be released on the website.
How to Download CBSE Class 12 date sheet 2023?
Please visit the official website https://www.cbse.gov.in/ and the download will be available.
When CBSE exam will start?
CBSE Class 12 will be held tentatively from February 15 and will end on April 5, 2023.
CBSE 12 Exam Practice Dates 2023?
CBSE practice exam dates in 2023 has been announced.
Discover More by accessing the Free Career Dashboard
This will help us share relevant information with you
Trending Posts


Anushree has 4+ years of experience in the career counseling industry as a Content Writer. She has also worked as a Social Media Marketing Expert for a startup and Content Quality Analyst for Publishing and E-learning Industry. She has done her Master's in Commerce and PGDM in Finance & Trade and Marketing & HR, but she is currently following her passion for writing.