Welcome to the world of endless possibilities and compelling challenges—a career in law. As the wheels of justice keep turning, legal professionals play a pivotal role in shaping society. With its rich history, diverse legal system, and dynamic landscape, India offers an extraordinary stage for aspiring lawyers to make their mark.
A career in law promises intellectual stimulation, a chance to fight for justice, and an opportunity to make a real difference. Law, as known, is a promising and highly sought-after career choice across the globe. From science to commerce to arts, students from all walks of life want to pursue a legal career. The competition is high, the opportunities are plenty. So, with the right preparation, my child, you can excel in today's competitive legal market.
India is home to some of the best law schools in the world, and a degree from a prestigious institution can open doors to a variety of lucrative career opportunities. From corporate law to criminal law, there are many paths you can take as a lawyer in India.
Whether you're a student exploring your options or a working professional looking to switch careers, this guide will help you make an informed decision about pursuing a career in law. But you are looking for answers like is law a good career in India or what is the best career in law? Don't worry! We will answer everything! So, all set?
Is law a good career in India?
Law is considered a prestigious and rewarding career choice in India. It offers numerous opportunities for growth, intellectual stimulation, and making a positive impact on society. However, whether or not the law is a good career in India ultimately depends on your interests, aptitude, and personal goals.
Here are a few factors to consider:
Job Opportunities
The legal profession in India provides a wide range of career options. You can work as a lawyer in a law firm, pursue a career in the judiciary, join the corporate sector, work with NGOs, or even enter academia. The demand for legal professionals in India is significant, and talented individuals can find ample employment opportunities.
Financial Prospects
A career in law can be financially rewarding, particularly if you excel in your field. Experienced lawyers, especially those practicing in corporate law or specialized areas, can earn substantial incomes. However, it's important to note that the initial years of practice may involve relatively lower pay, and success often requires perseverance, dedication, and building a strong reputation.
Personal Fulfillment
Many individuals are drawn to law because of the opportunity to make a positive impact and contribute to justice. As a lawyer, you have the power to advocate for the rights of individuals, resolve conflicts, and shape legal frameworks. If you have a passion for justice and the desire to create social change, a career in law can be deeply fulfilling.
Challenges and Demands
Law is a demanding profession that requires continuous learning, long hours of work, and the ability to handle complex legal issues. The journey to becoming a lawyer in India involves rigorous education, intense competition, and dedication. It's crucial to be prepared for the challenges that come with the profession.
Ultimately, the decision to pursue a career in law should align with your passion, interests, and long-term goals. If you have a genuine interest in the legal field, possess critical thinking skills, enjoy research, and have a strong sense of justice, then the law can be a good career choice in India.
Discover More by accessing the Free Career Dashboard
This will help us share relevant information with you
Trending Posts

Educational Requirements & Pathways
How to become a lawyer now you must be looking for the answer to this! Becoming a lawyer in India requires a specific educational path and meeting certain requirements. Here's an overview of the educational requirements and pathways to pursue a legal career in India.
Complete your class 12th in any stream from a recognized board.
Clear entrance exams such as the Common Law Admission Test (CLAT), AILET, CUET (in some central universities for admission to 5-year integrated courses), or state-level law entrance exams.
Enroll in a five-year integrated LLB program or a three-year LLB program offered by various law schools across India.
Register with the Bar Council of India (BCI) after completing your law degree and clear the All-India Bar Examination (AIBE).
Gain practical experience through internships or practical training at law firms, courts, or legal organizations.
Or upon completing the undergraduate course, one can choose their field of specialization in LL.M. a 2-year full-time PG course. Qualification required for this is a minimum of 55% marks in LL.B.
Note: The requirements and procedures may vary among different states and universities, so it's essential to research and consult the respective law schools or bar associations for accurate information.
Essential skills for a successful career in law
It requires a combination of legal knowledge, skills, and personal attributes. Here are some essential skills that can contribute to a successful career in law:
Analytical Thinking: Lawyers need strong analytical skills to dissect complex legal issues, identify relevant information, and develop sound arguments.
Legal Research: Proficiency in legal research is crucial for understanding and interpreting laws, statutes, and precedents to build a solid legal case.
Communication: Effective communication skills, both written and oral, are essential for presenting legal arguments, negotiating, and interacting with clients, judges, and colleagues.
Problem-Solving: Lawyers often encounter intricate problems that require creative problem-solving skills to find innovative legal solutions.
Attention to Detail: Precision and attention to detail are critical in legal work, including drafting contracts, reviewing documents, and preparing legal briefs.
Time Management: Lawyers deal with multiple cases and deadlines simultaneously, so strong time management skills are vital to prioritize tasks and meet client expectations.
Ethics and Integrity: Upholding professional ethics and integrity is fundamental to the legal profession, fostering trust and maintaining a good reputation.
Advocacy: Being able to persuasively present arguments and advocate for clients' interests is an essential skill for litigators.
Developing and honing these skills through education, practical experience, and continuous learning can significantly contribute to a successful and fulfilling career in law.
Specializations in Law
Here are some prominent specializations in law:
Corporate Law: Corporate lawyers focus on advising businesses on legal matters, including contracts, mergers and acquisitions, intellectual property, and compliance with corporate regulations.
Criminal Law: Criminal lawyers specialize in representing clients accused of criminal offenses. They handle cases related to theft, assault, murder, and other criminal acts, working in both trial and appellate courts.
Constitutional Law: Constitutional lawyers deal with matters related to constitutional rights, interpreting the Constitution, and challenging or defending laws based on their constitutional validity.
Intellectual Property Law: Intellectual property (IP) lawyers handle legal matters concerning trademarks, copyrights, patents, and trade secrets. They assist clients in protecting and enforcing their intellectual property rights.
Family Law: Family lawyers focus on legal issues related to family matters, including divorce, child custody, adoption, matrimonial disputes, and property division.
Environmental Law: Environmental lawyers specialize in laws and regulations pertaining to the environment, addressing issues such as pollution, conservation, land use, and sustainability.
International Law: International lawyers work on legal matters that involve international relations, treaties, cross-border disputes, and international trade agreements.
Tax Law: Tax lawyers assist individuals and businesses in matters related to tax compliance, tax planning, tax disputes, and resolving tax-related issues with government authorities.
These are just a few examples of the diverse specializations available in the field of law in India. It's important to note that specialization often occurs after completing a general law degree and gaining experience in a particular area of interest. Choosing a specialization allows lawyers to develop in-depth knowledge and expertise in their chosen field, providing focused legal services to clients and opening up unique career opportunities.
Overview of different law degree programs
Law degree programs offers various options for aspiring legal professionals to gain the necessary education and skills. Here's an overview of different law degree programs:
Bachelor of Laws (LLB)
The LLB is the foundational degree for pursuing a legal career. It is typically a three-year undergraduate program for students who have completed their bachelor's degree in any discipline. LLB programs provide a comprehensive understanding of legal principles, processes, and legal systems.
Integrated LLB Programs
Integrated law programs combine a bachelor's degree with a law degree, allowing students to save time and earn both degrees simultaneously. These programs are usually five-year courses that integrate legal studies with subjects from other disciplines. For example, a popular integrated program is the BA-LLB or BBA-LLB, combining law with arts or business administration.
Master of Laws (LLM)
The LLM is a postgraduate degree for individuals who already hold an LLB or an equivalent law degree. It offers advanced legal education and specialization in specific areas of law. LLM programs allow students to deepen their knowledge, conduct research, and gain expertise in specialized fields such as constitutional law, intellectual property, international law, or corporate law.
Doctor of Laws (LLD/Ph.D.)
The Doctor of Laws is the highest academic degree in law. It is a research-focused program that allows individuals to pursue advanced legal research, contribute to legal scholarship, and make significant contributions to the field. LLD or Ph.D. programs require original research and the completion of a doctoral dissertation.
Additionally, some institutions offer specialized law degrees or diploma programs in specific areas such as Intellectual Property Law, Human Rights Law, or Environmental Law. These programs provide targeted education and training in specialized legal fields.
Top Law Institutes in India
There are a number of law institutes in India to pursue a career in law. Following are some of them:
| | |
| --- | --- |
| Name of Institutes | Courses |
| National Law School of India University, Bangalore | B.A. LL.B. (H) | LL.M. |
| National Academy of Legal Studies and Research (NALSAR) University of Law, Andhra Pradesh | B.A. LL.B. (H) | LL.M. |
| Faculty of Law, Delhi University | LL.B. | LL.M. |
| Symbiosis Law School, Pune | B.A LL.B. (H) | B.B.A LL.B. (H) | LL.M*(*started 2014*onward) |
| Gujarat National Law University, Gandhinagar | B.A/B.Com/B.B.A/B.Sc/BSW LL.B. (H) |
| National Law Institute University (NLIU), Bhopal | B.A LL.B. (H) | LL.M. |
| Faculty of Law, Aligarh Muslim University | B.A LL.B. (H) |
| ILS Law College, Pune | B.A. LL.B. (H) | LL.B. | LL.M. |
| National Law Institute University, Jodhpur | B.B.A LL.B.(H) | B.A LL.B (H) | B.Sc. LL.B (H) |
| Law School, Banaras Hindu University, Varanasi | LL.B. (H) | LL.M |
| Amity Law School, Delhi | B.A L.L.B (H) | LL.M |
| Rajiv Gandhi National University of Law (RGNUL), Punjab | B.B.A. LL.B.(H) | LL.M |
| Government Law College, Mumbai | LL.B | B.L.S. LL.B |
| University College of Law, Osmania University, Hyderabad | LL.B. | B.A. LL.B | LL.M |
| The WB National University of Juridical Sciences (NUJS), Kolkata | B.A/B.Sc LL.B. | LL.M. |
| Bangalore Institute of Legal Studies | B.A. LL.B |
| School of Law, Christ University, Bangalore | B.A. LL.B (H) | B.B.A. LL.B (H) | LL.M |
| Faculty of Law, University of Allahabad | B.A LL.B | LL.B | LL.M |
| Faculty of Law, Jamia Milla Islamia, Delhi | B.A LL.B | LL.M |
| Army Institute of Law, Mohali | B.A LL.B |
To know more about law colleges refer to our best law colleges in India blog post!
Entrance Exams for Law Careers
Many students are opting for post-12th courses other than engineering, and law as a career has gained popularity. But to get into the best law colleges in India and abroad, one has to either go through a rigorous selection process or clear the law entrance exams. Listed are the names of the exams that must be passed to start a legal career:
All India Law Entrance Test [AILET]
Army Institute of Law Test [AILT]
Common Law Admission Test [CLAT]
CUET BA LLB 2023
IPU CET – Law
Law National Aptitude Test [LNAT]
Law School Admission Test [LSAT]
Maharashtra State Common Law Entrance Test Law (MH CET Law)
Symbiosis Law Admission Test (SLAT)
Telangana State Law Common Entrance Test (TS LAWCET)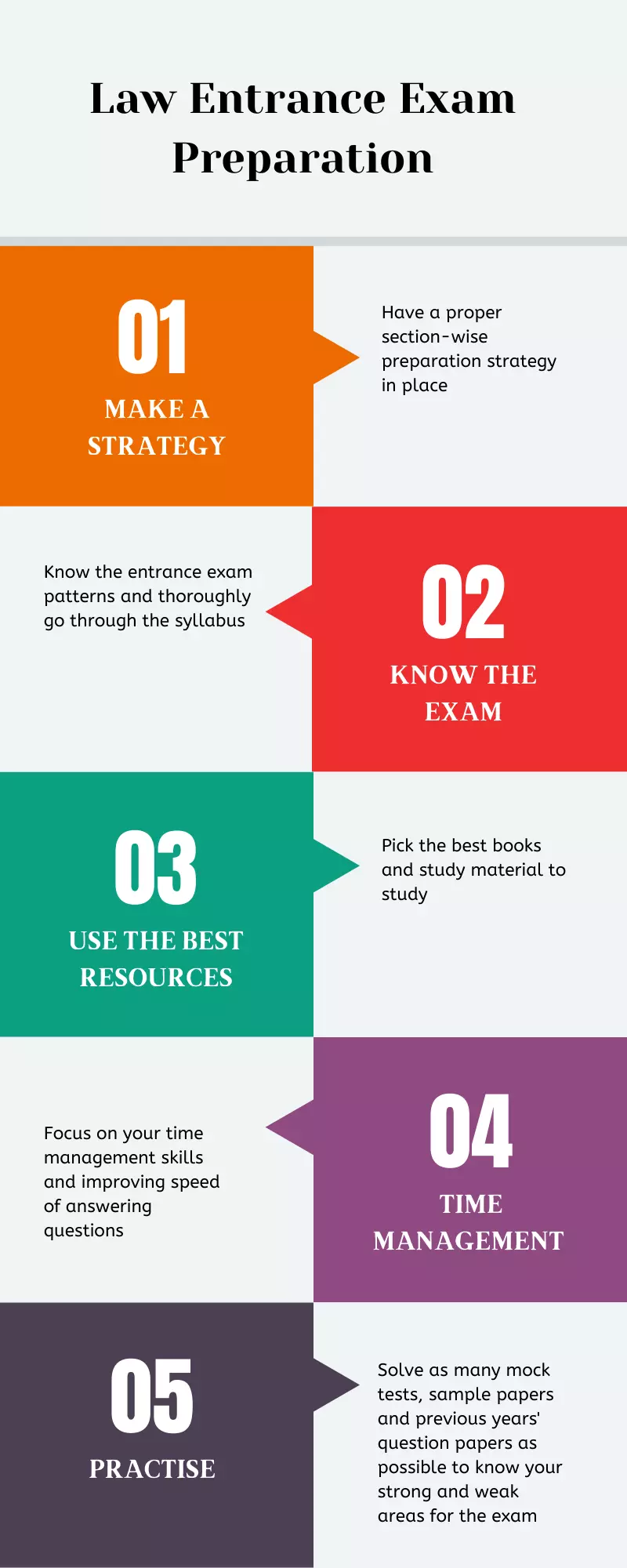 Bar exams and licensing requirements
In India, the process of becoming a licensed lawyer involves clearing the bar exams and fulfilling specific licensing requirements. Here's an overview:
All India Bar Examination (AIBE): After completing an LLB degree, aspiring lawyers need to clear the All-India Bar Examination conducted by the Bar Council of India (BCI). The AIBE assesses candidates on their knowledge of legal principles, ethics, and practice.
Enrolment with the State Bar Council: Upon clearing the AIBE, candidates must apply for enrolment with the State Bar Council where they intend to practice. Each State Bar Council has its own set of requirements and procedures for enrolment, including submission of necessary documents, payment of enrolment fees, and fulfilling eligibility criteria.
Good Character and Fitness: As part of the licensing process, aspiring lawyers need to demonstrate good character and fitness for the legal profession. This involves providing references, police clearance certificates, and any other documents required by the State Bar Council.
Oath and Issuance of License: After enrolment, lawyers are required to take an oath before the respective State Bar Council. Upon taking the oath, they are issued a license to practice law.
It's important to note that licensing requirements and procedures may vary slightly among different State Bar Councils. It is advisable for aspiring lawyers to consult the State Bar Council where they plan to practice for accurate and up-to-date information on bar exams and licensing requirements.
Emerging trends in the legal profession
Law students are not limited to just practicing as an advocate in a courtroom. The legal profession in India is witnessing several emerging trends. These include the adoption of technology and digitization in legal services, the rise of alternative dispute resolution mechanisms, increased specialization in niche areas of law, a focus on pro bono and public interest work, and the growing importance of interdisciplinary skills in areas such as technology law, intellectual property, and data privacy. These trends reflect the evolving needs and demands of the legal landscape in India.
Legal studies offer a gamut of options to choose from, some are given below:
Legal Analyst
Document drafting Lawyer
Legal Journalist
Legal Advisor
Solicitor General
Law School Professor
Working with an NGO,
The good news is, the scope for a legal practitioner in India has grown tremendously in the past few years. India has opened its gates to many overseas law firms over time. Legal Process Outsourcing, better known as LPO, has started to recruit young law graduates for their processes dealing in US laws or UK laws.
Top Legal Firms in India
Some of the top Law firms in India:
Amarchand & Mangaldas & Suresh A. Shroff & Co. AZB & Partners
Khaitan & Co
J Sagar Associates (JSA)
Luthra & Luthra
Trilegal
Nishith Desai Associates
Lakshmi Kumaran & Sridharan
S & R Associates
Talwar Thakore & Associates
Platinum Partners
Desai & Diwanji
Kochhar & Co
Finsec Law Advisors
Phoenix Legal
Final words!
A career in law offers both financial rewards and intellectual challenges, with salaries varying based on the specific role and employer. According to PayScale, litigation lawyers earn an annual salary of ₹419,728, while corporate lawyers receive approximately ₹692,821 per year. Additionally, law graduates have the opportunity to pursue careers in Legal Process Outsourcing (LPO), where they can secure attractive compensation packages. Alternatively, individuals may choose to embark on a path in social work, aiming to serve the public and bridge the gap between citizens and the government.
Looking for expert guidance in choosing the right course and college after the 11th and 12th? Look no further than iDreamCareer! Our comprehensive career guidance product provides personalized insights, aptitude assessments, and expert counseling to help you make informed decisions. With our in-depth knowledge of experts, you can select the right course and college. Our experts will assist you in selecting the perfect path for your future.
Waste no time! Embark on your journey towards a fulfilling career by accessing iDreamCareer's College Selection Program today. Take that pivotal first stride toward transforming your interior design dreams into reality!
Pages, you might need;
Career in Law: FAQs
How can I pursue a career in law?
To embark on a career in law, individuals can pursue five-year integrated LLB courses at the undergraduate level, such as BA LLB, BBA LLB, BLS-LLB, BSc LLB, or BCom LLB. Alternatively, if one has already completed their graduation in a different field but wishes to pursue law, they can opt for a three-year LLB course.
Which area of law offers the highest earning potential?
Among the various legal specializations, commercial and corporate lawyers tend to earn the highest salaries. They work closely with financial institutions and engage in high-value transactions, contributing to their earning potential.
Can I study law after completing 12th grade?
Yes, individuals can pursue law studies after completing their 12th-grade education. They can enroll in law colleges or universities to begin their journey toward a legal career. As of 2023, candidates appearing for the 12th-grade examinations can opt for 5-year LLB programs. Graduates from other disciplines may also apply for the 3-year LLB program followed by the LLM program.
What is the salary of a newly qualified lawyer in India?
For a newly qualified lawyer with less than three years of experience, the average salary in India is around ₹3.3 Lakhs per year. As lawyers gain experience, a mid-career lawyer with 4-9 years of experience can earn an average salary of ₹5.4 Lakhs per year, while an experienced lawyer with 10-20 years of experience can earn an average salary of ₹6.9 Lakhs per year.
What is the monthly salary of a government lawyer in India?
The salary structure for government lawyers is not explicitly specified. However, they are generally well-compensated for their work. Government lawyers typically earn between ₹55,000 and ₹70,000 per month, or potentially more, depending on factors such as experience and seniority.
Discover More by accessing the Free Career Dashboard
This will help us share relevant information with you
Trending Posts


Anushree has 4+ years of experience in the career counseling industry as a Senior Content Writer. She has also worked as a Social Media Marketing Expert for a startup and Content Quality Analyst for Publishing and E-learning Industry. She has done her Master's in Commerce and PGDM in Finance & Trade and Marketing & HR, but she is currently following her passion for writing.