Do you have the gift of gab? Are you an excellent communicator? Can you articulate lucidly and confidently in a way that makes people want to listen to you and believe you? If yes, then a career in LLB may just be the right start for you! This article will take you through all the imperative facets of a career in Law!
Before we head on to the LLB Course in detail, let's first brush up on some facts!
What is LLB?
Legum Baccalaureus or LLB is a three years undergraduate degree in Law. This 3-year LLB course can be pursued only after a Bachelor's degree in any subject. The course is divided into 6 semesters and is offered at various law colleges in India and is regulated by the Bar Council of India (BCI). The full form of LLB is Bachelor of Legislative Law.
The objective of an LLB Course is to impart comprehensive legal education and inculcate legal knowledge and legal processes and their role in national development. The 3-year LLB course is for those who wish to become a Lawyer in India.
A lawyer is a representative of a client organization, individual, litigating party, business firm, or government. As a Lawyer, you either represent the plaintiff or the defendant party. (A plaintiff is a party that files or initiates a legal action and a defendant is a party that is being sued or charged).
Why study Law?
Do you know what do Margaret Thatcher, Barack Obama, and Mahatma Gandhi have in common? Interestingly, these world leaders (and many more) are law graduates. Law is one of the oldest academic fields in the world and is a highly regarded profession.
But what's in it for you? Why should you study law?
As it is a highly intellectually challenging career field, you would develop several skills while pursuing LLB courses. The program focuses on creating a learning environment to inculcate managerial and entrepreneurial skills, a sense of social responsibility, and an in-depth understanding of legal issues and providing solutions. By the end of the course, you would be well equipped with: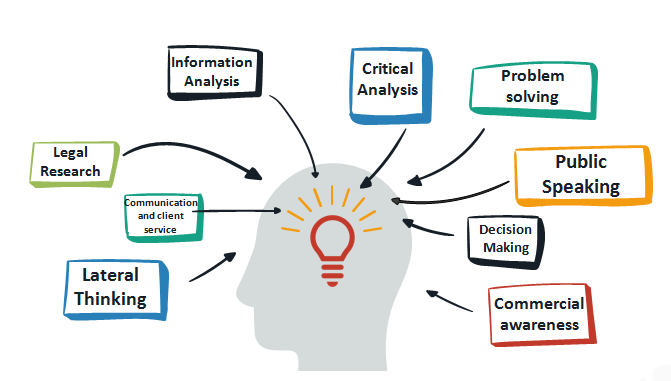 Still not sure if LLB is the right career field for you? Talk to a career expert and explore what other career options are there for you!
List of #47 Best Courses in Law
There are a number of Law courses at various undergraduate, postgraduate and PhD levels. Let's take a look at some of these below:
LLB – Bachelors of Legislative Law (3 years course after a Bachelor's degree in any subject)
B.A. LLB (5- year integrated course)
B.Com. LLB (5- year integrated course)
B.Sc. LLB (5- year integrated course)
BBA LLB (5- year integrated course)
B.S.W. LLB (5- year integrated course)
M.A. Tribal & Customary Law
M.A. Tribal & Customary Law
Post Graduate Diploma in Environmental Law and Policy (PGDELP)
Post Graduate Diploma in Urban Environmental Management and Law (PGDUEML)
Post Graduate Diploma in Tourism and Environmental Laws (PGDTEL)
Post Graduate Diploma Intellectual Property Law
Post Graduate Diploma Alternative Dispute Resolution
LLM- Master of Law (1 year)
LLM- Master of Law (2 year)
LL.M. in Consumer Law
LL.M. in Criminal Law
LL.M. in Cyber Law
LL.M. in Energy Law
LL.M. in Environmental Law
LL.M. in Family Law
LL.M. in Health Law
LL.M. in Human Rights Law
LL.M. in Intellectual Property Law
LL.M. in International Law
LL.M. in International Trade Law
LL.M. in Juridical Science
LL.M. in Labour Law
LL.M. in Law and Labour Welfare
LL.M. in Law and Technology
LL.M. in Law Practice
LL.M. in Legal Studies
LL.M. in Maritime Laws
LL.M. in Medicine and Law
LL.M. in Military Law
LL.M. in Real Estate Law
LL.M. in Science and Law
LL.M. in Taxation Law
LL.M. in Air and Space Law
LL.M. in Animal Law
LL.M. in Banking Law
LL.M. in Business and Corporate Laws
LL.M. in Civil Law
LL.M. in Civil Rights Law
LL.M. in Constitutional and Administrative Law
LL.M. in Construction Law
PhD
List of Top LLB Course subjects/ specializations
There are a number of LLB course subjects or specializations offered to students at Master's, PG Diploma and Doctorate levels. Take a look at some of the LLB Course subjects listed below:
Civil Law
Criminal Law
Corporate Law
Property & Estate Law
Intellectual & Patent Law
Tax Law
Banking Law
International Law
Cyber Law
Human Rights Law
Maritime Law
Medical & Health Law
Real Estate Law
Mergers and Acquisitions Law
LLB Eligibility
To pursue LLB course, candidates must meet the following eligibility requirements: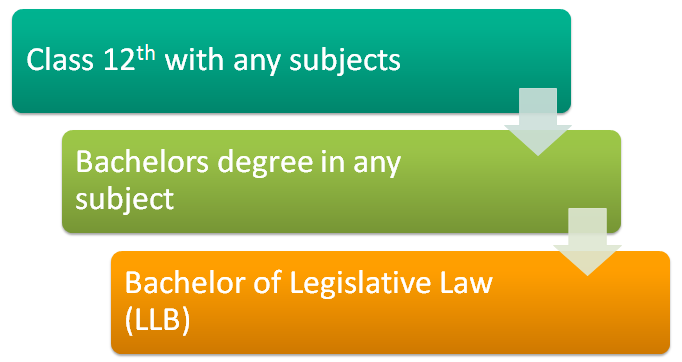 Candidate should have completed graduation from any stream i.e. must hold a bachelor's degree from a recognized university or institution,
Candidate must have scored at least 45% marks in aggregate in their graduation,
For candidates belonging to SC/ST/ OBC/ PWD category, there is a 5% relaxation in the aggregate marks,
There is no age bar to appear for the LLB Course examination.
5- Year integrated LLB course Eligibility
To pursue any 5- year integrated courses (B.A LLB/ B.Com LLB/ B.Sc. LLB etc.), candidates must meet the following educational requirements: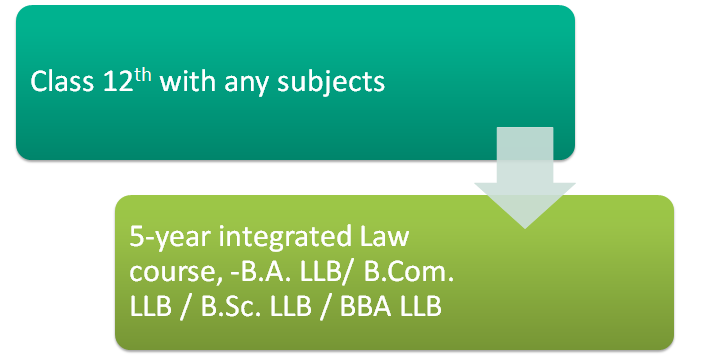 Candidates must have completed class 12th with any subjects to pursue a 5-year integrated Law course, that is, B.A. LLB/B.Com LLB/ B.Sc. LLB/BBA LLB.
Candidates should have scored 50% or more marks in aggregate in total of five subjects including English as a subject.
Candidates must visit the official website of the Law College/ university they are applying to and check the reservation policies. The National Law University Delhi reserves 50% seats for students of Delhi.
LLM Eligibility
To pursue Master of Law or LLM, candidates must meet the following eligibility requirements: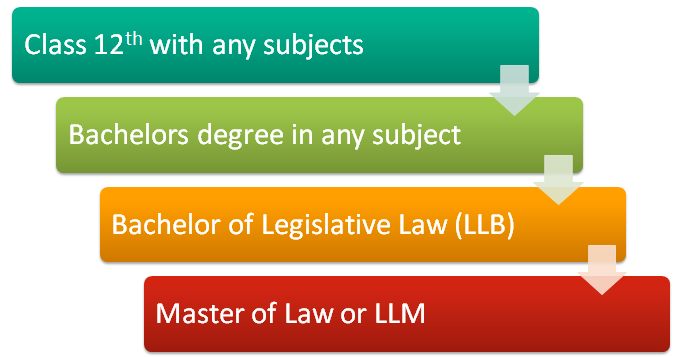 Ph.D. in Law Eligibility
To be eligible for PhD in Law, candidates should have: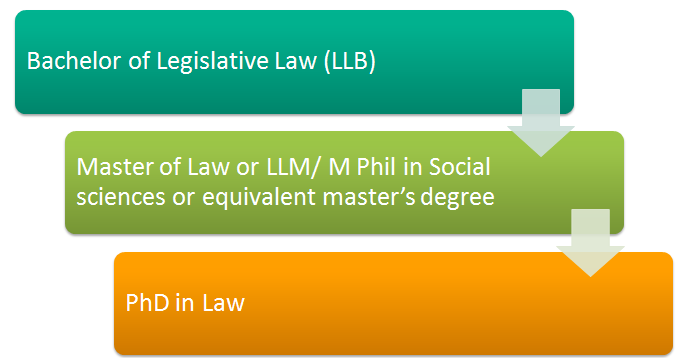 A Master's degree in Law or a professional degree equivalent to the Master's degree in Law by the corresponding regulatory body with at least 55% marks in aggregate; or
Obtained a degree in Law and Master's degree with M Phil in social sciences or humanities from a recognized university or educational institution; or
Candidates pursuing a degree in Law and Master's degree considered equivalent to M Phil Degree of an Indian recognized university or institution.
LLB Admission process
Admission to LLB & LLM courses in Indian National law schools are based on performance in various national and state conducted entrance examinations. Some of the national entrance examinations for LLB & LLM are:
CLAT– The Common Law Admission Test (CLAT) is a national level entrance exam for admissions to undergraduate (UG) and postgraduate (PG) law programs offered by 22 National Law Universities in India.
AILET- All India Law Entrance Test (AILET) is a national is conducted by National Law University Delhi (NLU Delhi) to offer admission to eligible candidates in undergraduate (UG), postgraduate (PG), and doctorate (Ph.D.) level law courses.
LSAT– Law School Admission Test (LSAT) is an international entrance exam for admission to various Law schools. Most Indian Universities also accept LSAT scores for admission to its various courses.
List of Top LLB Entrance Exams (2020)
Important Update
According to the press release by the National Law School India University in Bengaluru, the National Law Aptitude Test (NLAT) 2020 conducted by the university shall no longer be applicable for admission. The University shall admit students for the Academic year 2020-21based on the results of CLAT 2020.
All students will now appear for CLAT scheduled for 28TH September 2020.
Admission to LLB and LLM courses in most of the autonomous law schools in India is based on performance in Common Law Admission Test (CLAT). However, the National Law University, Delhi, and the private autonomous law schools conduct their own admission tests. Some of the state or college-specific entrance examinations for Law courses are: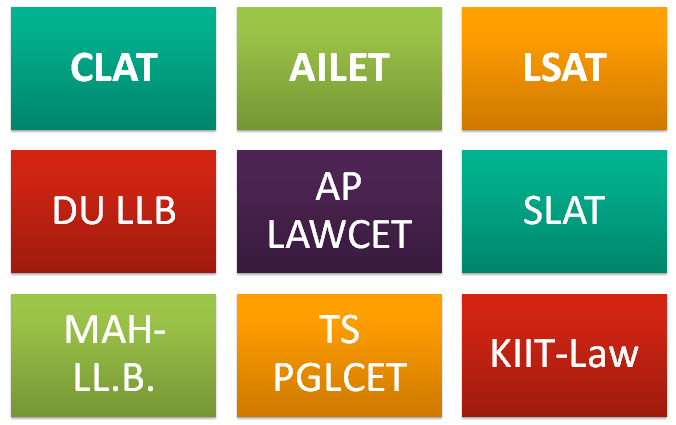 DU LLB Entrance Exam
Andhra Pradesh Law Common Entrance Test (AP LAWCET)
SLAT- Law- Symbiosis Law Admission Test (SLAT)
KIIT-Law
MAH-LL.B. (5 Years Law)- Maharashtra Law Entrance Exam
TS PGLCET- Telangana State Post Graduate Law Common Entrance Test
List of Top #50 Colleges offering a degree in Law
National Law School of India University, Bangalore
NALSAR University of Law, Hyderabad
National Law Institute University, Bhopal
The West Bengal National University of Juridical Sciences, Kolkata
National Law University, Jodhpur, Jodhpur
Hidayatullah National Law University, Raipur
Gujarat National Law University, Gandhinagar
Dr. Ram Manohar Lohia National Law University, Lucknow
National University of Advanced Legal Studies, Kochi
Rajiv Gandhi National University of Law, Patiala
Chanakya National Law University, Patna
National Law University, Delhi
National Law University, Odisha, Cuttack
Damodaram Sanjivayya National Law University, Vishakhapatnam
National University of Study and Research in Law, Ranchi
National Law School and Judicial Academy, Assam, Guwahati
Tamil Nadu National Law University, Trichy
Maharashtra National Law University, Mumbai
Maharashtra National Law University, Nagpur
Maharashtra National Law University, Aurangabad
Himachal Pradesh National Law University, Shimla, Himachal Pradesh
Dharmashastra National Law University, Jabalpur, Madhya Pradesh
Dr. B.R. Ambedkar National Law University, Sonipat, Haryana
Agra College, Uttar Pradesh
Abhay Shikshan Kendra's Rajeshri Shahu College of Law
Central University of Punjab
Central University of Jharkhand
Ajeenkya DY Patil University School of Law
TERI University New Delhi
Shiksha o' Anusandhan (SOA), Odisha
B.S. Abdur Rahman Crescent Institute of Science and Technology, Tamil Nadu
Chotanagpur Law College Ranchi
Andhra University
Apeejay Stya University, Haryana
Arunodaya Institute Of Legal Studies, Karnataka
Indian Law Institute, Delhi
Lala Lajpatrai Institute of Management, Maharashtra
Maneklal Nanavati Law College, Gujarat
People's Education Society Sanchalit Sheth Dosabhai Lalchand Law College, Gujarat
South Asian University, Delhi
State Law College Bhopal
University of Calicut
Nalbari Law College, Nalbari
Mount Zion Law College, Kerala
Government B. R. Medhi Law College, Assam
Mewar University, Rajasthan
Mody University of Technology and Science for Women, Rajasthan
Nalanda College of Law
Patna University
Osmania University PG College of Law, Telangana
LLB Fees Structure
The average LLB Fees in various National Law schools and universities ranges from Rs. 1, 40, 000- 5, 00, 000 annually. Candidates must make sure they check the fee structure and details of scholarships for LLB courses at various Law schools.
Take a look at the breakup of fee structure for a 5-Year integrated LLB Program of one of National Law Universities.
Fee structure for B.A. LLB Degree Program is as follows:
| | |
| --- | --- |
| Fee Category | Amount |
| Tuition Fee | Rs. 85,000 (For one year) |
| Admission Fee | Rs. 2,500 (One time) |
| Student Welfare Fund | Rs. 2,500 (For one year) |
| Examination Fee | Rs. 3000 (For one year) |
| Accommodation (hostel+ mess charges) | Rs. 48,000 (For one year) |
| Miscellaneous (Library fee, internet fee etc) | Rs.37,500 (For one year) |
| Campus development Fee | Rs. 5000 (One time) |
| Total | Rs. 1,85,000 (For one year) |
LLB Syllabus (Revised)
Semester-I
Jurisprudence-I (Legal method, Indian Legal System, and Basic Theory of
Law).
Principles of Contract (General Principles).
Law of Torts (Nature, General Principles, General Defenses, specific Torts,
Motor Vehicle Accidents and Consumer Protection Laws).
Law of Crimes: Indian Penal Code (Specific offenses and General Principles).
Family Law-I (Hindu Law of Marriage, Adoption & Maintenance, Minority
and Guardianship, Muslim Law of Marriage, Divorce and Dower &
Acknowledgment of Paternity, wakfs,and Endowments.
LLB Semester-I
Semester-II
Evidence Law (Law of Evidence in India).
Family Law II (Hindu Law of Joint Family, Partition and Debts, Gifts Wills,
Hindu Succession Act and Muslim – General Principles of Inheritance)
Law of Crimes-II: Criminal Procedure Code (General Principles)
Property Law
Public International Law
Semester-IV
Constitutional Law I
Code of Civil Procedure and Limitation Act
Company Law
Special Contracts (Partnership, sale of Goods)
List of Optional LLB Course subjects
Media Law and Censorship (incl, Self Regulation)
Private International Law
Legal Philosophy including theory of Justice
Law of Crimes-III (Socio-Economic offenses etc.)
LLB Course subjects: Optional (Pick any one)
Semester-IV
Constitutional Law II
Administrative Law.
Labour Law
Intellectual Property Rights Law-I
Optional subjects
Gender Justice & Feminist Jurisprudence
International Institutions
Competition Law
Legislative Drafting
Humanitarian and Refugee Law
Semester-V
Civil Procedure
Jurisprudence-I (Theory of Law)
Optional subjects
Military Law (Martial Law governing Armed Forces in India)
Business Regulation
Rent Control and Slum Clearance
Intellectual Property Law-II (Copyright and Neighboring Rights, Law of
Patents, Law of Plant Varieties and Farmers' Rights, Traditional Knowledge,
Confidential Information and Integrated Circuits)
International Institutions
International Trade Law
Environmental Law
Semester-VI
Advocacy, Ethics & Professional Accounting
Moot Court exercise and Internship (including Interviewing techniques & Pretrial preparations)
Environmental Law
Taxation Law
Optional subjects
Interpretation of Statutes
Insurance and Banking Law
Election Laws
Minor Acts and Supreme Court Rules
Law of Carriage
LBB opportunities
After completing LLB, to practice law, you must register with a State Bar Council and appear for and successfully clear the All India Bar Examination (AIBE) conducted by the Bar Council of India.
After completing your education, you can start working as a:
Junior Lawyer in a Solicitor Firm/Law Firm or as a Junior Lawyer under the mentorship of a Senior Lawyer
Legal advisor or an associate in a Legal Consulting Firm/Management Consulting Firm/Financial Consulting Firm/Accounting Firm.
Legal Executive with a public/private sector company.
Legal Executive/Associate in Defence Forces or for the state/central government.
Law graduates may find work opportunities in legal firms and organizations such as: Amarchand & Mangaldas & Suresh A. Shroff & Co. (Delhi), AZB & Partners (Delhi), AZB & Partners (Mumbai), Bajaj Finance Limited, Themis Associates (Bangalore), Anand and Anand, etc.
Summing Up
In the above article, we talked about LLB courses, admission process, eligibility requirements, and other significant details. We hope you have got the information you were looking for. If not, then scroll down to the comments section and give us your valuable feedback.
If you are not convinced whether you should study Law or not, then straightway talk to one of our expert career counsellors. Seeking help from a counsellor would help you select a career pathway that matches your potential and save a lot of your time!
Useful Links
National Law University Delhi BA LLB course
Want to read more such interesting and informative blogs? A list for you:
Shruti Verma has an experience of around 2+ years in research and analysis of careers, jobs, and industries. She has a knowledge of diverse fields spanning from career counselling, management consulting, engineering, and technology to science, finance, and humanities.