Thinking about what subject combination will fetch you higher marks in 10th? Your school will only tell you the ones that they can offer you but not all the subjects that your board allows.
.
.
All of it depends on your school board affiliation and the subjects that your school can offer to teach. But what is subject combination for cbse, icse, state boards etc.?
.
.
What are all the subjects that you can opt for? Don't you think the best choice may mean better marks and better options in the future, no matter if you have to switch schools?
.
.
Go for a school that can offer you YOUR best subject combination. For that, you must know ALL the subject combinations that you can have for yourself. This will help you choose.
.
.
Subject Combination in Class 10th – CBSE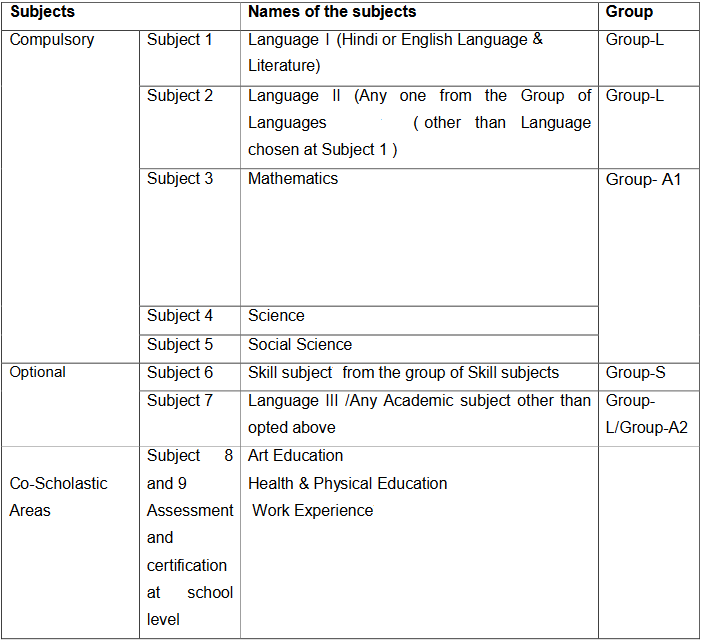 Important CBSE Instructions That You Must Follow –
Class 9 and class 10 is an integrated course. You need to take only those subjects in class 9 which you intend to continue in Class 10. Your subjects can be selected as per scheme studies in class 9. You need to continue same subjects in class 10 also.
.
Hindi or English / Hindi and English?
Hindi or English must be 1 of the 2 languages you will in class 9th and class 10th. Hindi and English can also be studied simultaneously, any one as the 2nd language.
.
Will it be mandatory to pass 3rd language?
Yes. You will not be allowed to appear for your boards in Class 10 if you have not passed in the 3rd language. It is expected that you will study 3 languages till class 8.
.
What if one fails in any language subject?
If you fail in any language subject, out of first 5 subjects, the same will be replaced by the language you have taken as 6th subject (in case of no skills subjects offered) or as 7th subject (optional), provided you have passed this language subject and after replacement either Hindi or English remains as a passed language in the 1st 5 subjects.
.
Which subject combination cannot be taken together?
Computer Application, Information Technology and Artificial Intelligence cannot be taken together.
.
List of subjects and subject combinations offered in class 10 level by CBSE:
Check all the CBSE subjects in various groups here.
.
Languages allowed by CBSE in Class 10:
Check the CBSE class 10 languages allowed here.
.
.
Subject Combination in Class 10th – ICSE
All ICSE students have to register and choose their subjects in Class 9.
No candidate shall be permitted to change subject(s) after registration in Class 9.
Detailed lists of subjects under various groups have been linked at the end of this section: ICSE students have the option to choose any 2 subjects from Group II (Science, Economics, Mathematics, Commercial Studies, etc.) with any 1 subject from Group III (Fashion Design, Home Science, Computer Applications, etc.).
Group I subjects like English, 2nd Language, Geography History and Civics are compulsory.
Important ICSE Instructions That You Must Follow
You must enter for a minimum 6 subjects:
Group I (Compulsory): English, a Second Language, History, Civics and Geography
and Group II: at least 2 of the subjects listed
and Group III: at least 1 subject listed
You must have been examined by the school in your practicals/project work in English, the Second Language, History, Civics and Geography and the 3 subjects of your choice and in Socially Useful Productive Work (SUPW) and Community Service.
Check out the lists of all subjects and subject combinations offered by ICSE here.
Check here – Example of ICSE subject selection form – ICSE Class 10
.
Can calculators be used?
Where permitted, Casio fx-82 MS (Scientific Calculator) is to be used for Mathematical calculations only. Calculators of other makes with similar functions are also permitted.
.
Is additional language allowed in Group 1?
Yes. You are permitted to take an additional 2nd Language in Group I where Hindi is one of the 2nd Languages.
.
Is additional subject allowed in Group 2 subject combination?
Yes. After 2 subjects, you are permitted to take another additional subject in Group II.
.
.
Subject Combinations in Class 10 of State Boards
Every board has separate objectives and pedagogical curricula. So, it's best to check each of them separately.
Top 10 state boards in India and their subject combinations, choices & regulations in class 10 with links:
.
.
Final Words..
Choosing a subject combination in class 10 and choosing a school that offers you YOUR best subject combination is a tricky challenge. The school boards (ICSE, CBSE, state boards etc.) offer a lot of options however, in the schools, the number of official faculty & the quality of the same is not good enough or consistent across all schools in India. Career planning becomes an intense affair if you're not aware of the many things you have in you. iDC is the foremost in this field and helping millions show the true colour their mettle, in India and abroad.
.
.
Currently associated with iDreamCareer (India) as the Principal Analyst.