A wide range of computer programming courses is available that can help you get ahead in the technology league, ranging from BCA, and MCA to a diploma in computer programming. Among all, one of the most sought-after courses is PGDCA – Post Graduate Diploma in Computer Applications. It is a one-year professional course in Computer Applications that provides knowledge in Computer Applications or Computer Science.
The program examines the theoretical and practical aspects of computer software, its application, and its development. During the course, you will study subjects such as operating systems, database management systems, and web programming. After the completion of the course, you will be able to take up a variety of jobs in the software industry.
You will have an option to complete the PGDCA course through distance or regular mode. Some of the popular institutes that offer the program on a regular basis include Delhi University and Sardar Patel University. Distance learning PGDCA courses can be studied at institutes like Dibrugarh University and IGNOU.
What all is covered in this post?
To make it easier for you, we have created a quick guide to everything you need to know about the PGDCA course.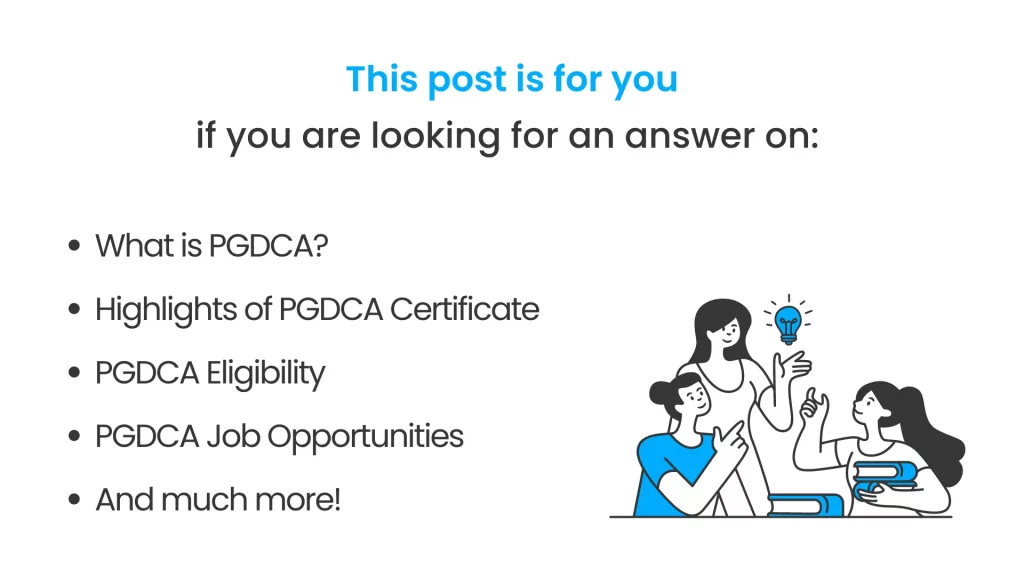 What is PGDCA?
PGDCA deals extensively with the theoretical and practical aspects of computer software and its applications. PGDCA courses focus on imparting knowledge to students in various subjects such as Database Management Systems, Operating Systems, and Web Programming.
Why study PGDCA?
There are many reasons that support the idea of ​​taking PGDCA as a career option. Listed below are some of the main reasons why you should take PGDCA courses,
Less Time: PGDCA is a 1-year postgraduate program, which makes it a viable career option compared to other similar courses like MTech or MCA which are 2 years long. PGDCA courses consist of a comprehensive syllabus which not only saves time but also helps you give tough competition to students from other courses.
Low saturation level: For any professional courses, students usually opt for a Master's degree rather than a Diploma, which makes PGDCA courses an excellent career choice in terms of competition which is relatively low compared to other professional courses.
Privileged Bias: Companies hiring fresh graduates will any day prefer a PGDCA over a BTech graduate, simply because a BTech graduate expects a higher salary package than a PGDCA scholar, which will help the company reduce its costs to a great extent.
Highlights of PGDCA Certificate
| | |
| --- | --- |
| Name | Highlights |
| Certificate Name | PGDCA |
| Full Form of PGDCA | Post Graduate Diploma in Computer Applications |
| Type | Diploma |
| Field | Information Technology |
| Duration | 1 year |
| PGDCA Fees | Rs. 7000 to Rs. 1,10,000 |
| Job Opportunities | Web Developer, UI Designer, UX Designer, Ethical Hacker, Software Developer, Computer Programmer |
| PGDCA Salary | Rs. 200,000 to 8,00,000 per annum |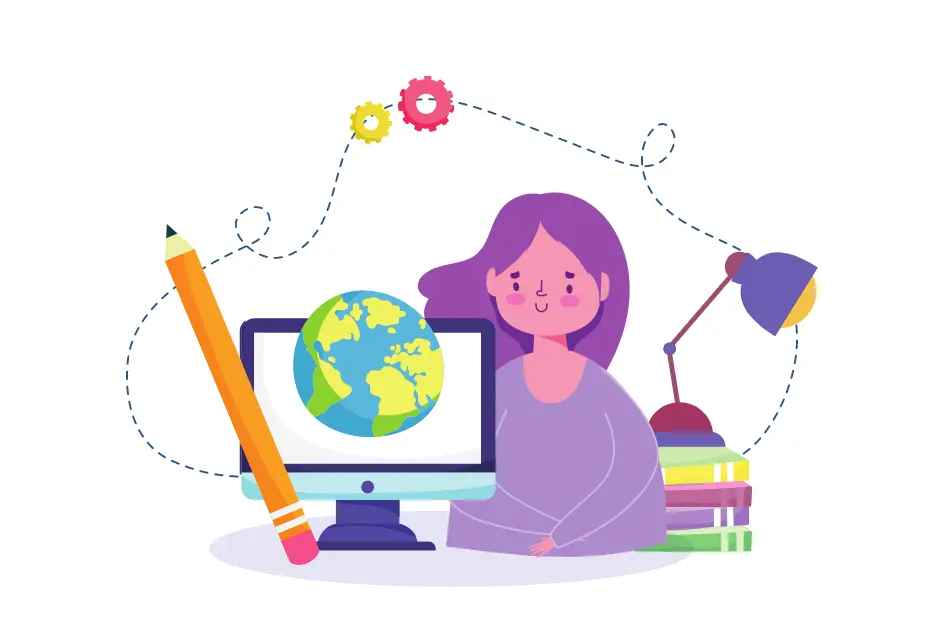 Discover More by accessing the Free Career Dashboard
This will help us share relevant information with you.
PGDCA Eligibility
There are a number of institutes that offer PGDCA, but the eligibility criteria for PGDCA are not the same across these institutes. Take IK Gujral Punjab Technical University, for example, which has no cut-off marks in the qualifying examination for admission, while for admission to the same course at Dibrugarh University, an applicant must score a minimum of 40% marks in the final examination ( for candidates with a reserved category are subject to relaxation of the minimum marks by 5%.
Then, in some cases, institutes specify a strict age limit for admission as part of the PGDCA eligibility criteria. Vallabh Government College, Mandi is a case in point as it requires applicants to be no older than 26 (28 for girls). Therefore, before applying for the PGDCA program, it is important that the applicant confirms the required eligibility criteria of PGDCA.
PGDCA required qualification
Qualifying Examination: The candidate must be a graduate in any discipline (B.Sc., B.Sc., B.Sc., B.B.A., B.C.A., B. Tech, etc.).
Minimum Scores: There is generally no minimum score, with a few exceptions such as Dibrugarh University.
Combination of Subjects: While a simple graduation degree is usually sufficient, institutes like IGNOU and the Indian Statistical Institute, Kolkata require a candidate to also study Mathematics as one of the subjects in their graduate/post-graduate studies.
Age Limit: Again, most institutes have no upper or lower age limit. Exceptions include Vallabh Government College, Mandi.
PGDCA Admission
Admission to the PGDCA course is usually based on the results of the post-graduation examination, but some institutes such as the Indian Statistical Institute, Kolkata conduct a written test or examination to select candidates. Candidates who clear the test are called for an interview before the final allotment of seats.
Institutes like IGNOU, Dibrugarh University, Assam and Delhi University offer admission to the PGDCA course based on the qualifying exam marks. The authorities prepare a mark based on the marks of the qualifying examination which is used for the allotment of seats.
Usually, when an entrance exam is held, only the performance is considered for admission, but there are exceptions, such as Sardar Patel University, which gives weightage to both the marks in the final exam and the performance in the entrance exam.
PGDCA Exam Syllabus
The PGDCA exam course covers all the important and relevant subjects required to learn the basics of computer programming. Generally, all colleges develop this course with multiple projects that involve designing and developing full-fledged software in multiple languages ​​that can run in real-time and as per industry needs.
PGDCA Result
The PGDCA result will be published by the officials of the respective universities or colleges for their students. Most of the colleges offering PGDCA courses publish their results online on their official websites. Nowadays, there is hardly any college or university that declares its results offline.
At most colleges, the first semester begins in August or September and ends in February or March. The duration of both semesters is more or less 5 months. The colleges or universities also release the semester mark sheet after declaring the PGDCA results online, which consists of information such as the marks or marks secured by the candidate in each subject, practical or theory.
The result can be viewed on the official website of the respective college or university after entering the registration number and password.
PGDCA Exam Results consist of marks obtained in various subjects, subject names, candidate name, etc. Candidates will also be able to download their mark sheet and take a printout.
PGDCA Job Opportunities
PGDCA is a relatively new course that has carved its niche among the target students. After completing the PGDCA course, students can opt for higher education or start their professional careers.
Below are the two steps that can be followed after completing the PGDCA courses,
Higher Education: After completing the PGDCA course students can pursue higher education like MCA, MSc IT, MSc CS, etc.
Start working: After completing PGDCA courses, especially from institutes like ISI Kolkata, students can be offered lucrative job offers like web developer, java developer, IT specialist, etc.
After successful completion of PGDCA courses, students are offered job profiles like IT Manager, Business Development Manager, Senior Analyst, etc. The scope of PGDCA course for students who complete this course is given below for your reference.
IT Support Analyst
Software Engineer
IT Consultant
Web Designer
Software Developer
Quality Assurance Analyst
Systems Analyst
Top Recruiters
Some of the top recruiters who hire fresh PGDCA scholars after their degrees are listed below for your reference.
Accenture
Amazon.com
Cognizant
Deloitte
Infosys
Oracle
Genpact
TCS
Tech Mahindra
Wipro
PGDCA Salary
The salary earned by a PGDCA degree holder will depend on the position as well as experience. As a rule, with increasing experience, the salary increases, as well as the promotion of the assignment. For example, in senior positions such as IT Manager, the salary can exceed Rs. 7 lakhs, while an entry-level job as a PHP developer can earn around Rs. 3 lakhs.
Final Words
Through this post, we have tried to give you an understanding of the PGDCA course. However, career planning is a very intense job. So, it's better to seek expert opinions from unbiased counselors.
We at iDreamCareer always believe in helping young minds discover their true mettle. We try to help young confused minds from 9th class, 10th class, class 11, and class 12 to select their most-suited career choices.
Also Read:
FAQs
Can I do PGDCA after 12th?
No, because PGDCA is a postgraduate course. To get admission in the course, candidates must complete their studies in any discipline with at least 50% marks which is 45% for candidates belonging to SC/ST category.
Is DOEACC "A" level equivalent to PGDCA?
DOEACC 'A' level course is considered equivalent to the PGDCA course. The DOEACC scheme O' level course is equivalent to the Foundation level course in Computer Applications. Students can acquire this qualification by completing this course and passing an examination administered by the DOEACC.
What is the advantage of PGDCA course?
The PGDCA course will help you gain in-depth knowledge in this field and will also give you the opportunity to work in sectors like banking, accountancy, insurance and many more.
Discover More by accessing the Free Career Dashboard
This will help us share relevant information with you
Trending Posts


Anushree has 5 years of experience in the career counseling industry as a Senior Content Writer. She has also worked as a Social Media Marketing Expert for a startup and Content Quality Analyst for the Publishing and E-learning Industry. She has done her Master's in Commerce and PGDM in Finance & Trade and Marketing & HR, but she is currently following her passion for writing.