MBA (Master of Business Administration) is a highly coveted postgraduate degree that gives students a thorough knowledge of management and business fundamentals. With so many colleges in Australia offering MBA programs at different price points, it may be difficult for potential students to estimate the price of the program they want to enroll in. This blog will give a general overview of MBA fees in Australia, including average expenses, opportunities for financial assistance and scholarships, and information on how to pay for an MBA.
Australia is home to many prominent universities in the world. Academic life in Australia is something that is in the list of every student's wish list. Not only Australia offers a wide spectrum of academic opportunities but also a perfect work ambiance for exposure and intellectual growth of the students. Also, Australia is home to many beautiful natural aspects that can make your stay in the country worth remembering. In this blog, we shall find out everything regarding MBA fees in Australia.
Hurray! Let's go..
What all is covered in this post?
To make it easier for you, we have created a quick guide to everything you need to know about MBA fees in Australia.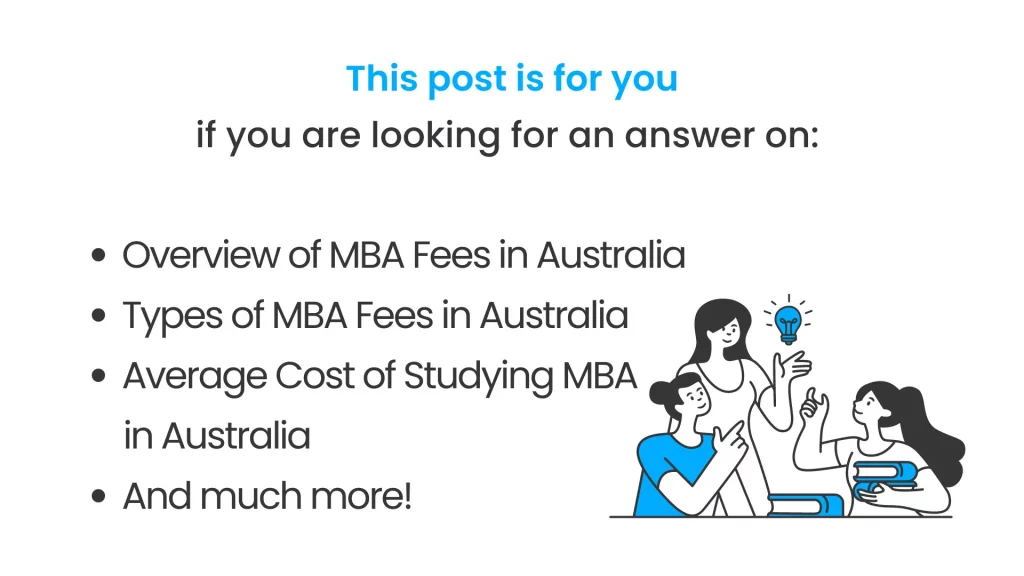 Overview of MBA Fees in Australia
MBA in Australia has always been one of the prominent choices of students wanting to study abroad. MBA itself is one of the most preferred domains of study for postgraduate students. Australia also hosts many top universities for masters. Let's have an overview of MBA fees in Australia.
Types of MBA fees in Australia
Various factors, including the university, the area, and the program, influence the cost of an MBA in Australia. Various types of fees include:
Tuition costs: In Australia, MBA program tuition costs typically vary from AUD 40,000 to 80,000 per year.
Living costs: In Australia, annual living costs for housing, food, transportation, and other costs can range from AUD 20,000 to AUD 30,000.
Miscellaneous Fees: Fees for extras can range from AUD 2,000 to AUD 5,000 per year and may cover expenses for student services, supplies, and equipment for MBA programs in Australia.
Note: The costs shown below are only approximations and may change. It is essential to enquire about the exact charges with each university.
Average Cost of Studying MBA in Australia
Depending on the university and program chosen, the cost of studying for an MBA in Australia might vary significantly. The average cost of an MBA in Australia is between $40,000 and $120,000. Higher tuition is typically associated with prestigious colleges, although it also depends on factors including location, program length, and other personal factors. Numerous colleges provide loans, grants, and bursaries, as well as merit- and need-based scholarships, to assist students to pay for their tuition. In order to assist pay for their MBA, students can also look at financing options including student loans, personal loans, and credit cards. Before choosing a course of action, it's crucial to thoroughly investigate all available possibilities and weigh all of the pros and disadvantages.
However, tuition costs at some of Australia's most elite universities can reach $100,000. The location of the university, the length of the program, and personal circumstances are all variables that might affect how much an MBA costs. Despite the expense, a lot of students opt to study for an MBA in Australia because of the excellent instruction and chances for professional growth and career success. Students can look into scholarships, financial assistance programs, and financing options including student loans and personal loans to help cover the cost of tuition.
Interested in knowing more about MBA Colleges in Australia? Find more information on our blog post on MBA Colleges and Universities in Australia.
Cost of MBA in Australia as compared to other countries
In comparison to other nations, Australia has a comparatively high MBA tuition rate. The price of an MBA in Australia may be equivalent to or even more expensive than MBA programs in the US and UK. The price of an MBA in Australia may be less than in other nations like China and India, nevertheless. When comparing MBA programs across nations, it's critical to take the cost of living and other fees into account in addition to the tuition price. When choosing a choice, it's also critical to consider the standard of education, employment possibilities, and other options for professional growth. In the end, the price of an MBA should be weighed against the possible advantages and return on investment.
Factors affecting MBA fees in Australia
There are several factors that affect MBA fees in Australia, including
the type of institution offering the program (public vs private)
its location
the reputation of the university
the program length and specialty
and the cost of living in the city where the university is located.
Public institutions tend to have lower tuition fees compared to private ones. The location also plays a role, with universities in major cities having higher fees due to the higher cost of living. The reputation of the university, as well as its ranking, also affects fees, as highly ranked universities tend to charge more for their programs. The length of the program and the specialty areas offered can also impact fees, with longer programs or programs with a focus on specialized areas typically costing more.
Course Duration and Mode of Study
In Australia, the MBA in Australia normally lasts between one to two years. The goal of this time period is to provide students with a thorough grasp of the numerous facets of company management, such as finances, marketing, operations, and strategy. Classes are normally held during the week and occasionally on weekends in this full-time, rigorous program. Depending on the institution and the particular program structure, the duration of an MBA program in Australia may vary. Some schools even provide flexible choices like part-time or online study. In the end, the length of an MBA program in Australia is made to provide graduates with the skills they need to succeed in a variety of business and management positions.
Ways to fund MBA in Australia
Here are several ways to fund your own MBA in Australia:
Personal savings: using your own savings to pay for the fees of the program
Loans: taking out a personal loan, student loan, or government loan to pay for the fees
Scholarships and grants: There are many Scholarships available for Indian Students. Applying for funding opportunities provided by universities or organizations like Australian Awards Scholarships, John Monash Scholarships, Australian Government Research Training Scholarships, etc.
Bursaries: receiving financial assistance based on financial need or merit
Employer sponsorship: having your employer pay for the fees or partially cover the costs
Part-time work or freelance opportunities: working while studying to cover the fees
Investment portfolios: using investments to pay for the fees
Things to Withdraw
A wise investment in your future career might be earning an MBA in Australia. But for many students, the program's expense can be a considerable financial hardship. Thankfully, there are several options available to pay for your MBA in Australia. Additionally, there are scholarships available just for international students. You may make your MBA a reality and give yourself the skills and knowledge required for a prosperous career in business by looking into and utilizing these funding sources.
Still unsure of yourself? Why not speak with one of our knowledgeable advisors at iDreamCareer?
In order to make sure that talent is properly given to the industry, iDreamCareer is on a mission to reach every state and every child. To fully understand yourself, speak with our study abroad consultants, who have over 20 years of expertise. Aayush, Tapan, and other intelligent but perplexed individuals were assisted by us in making the best professional decisions.
Also Read:
MBA Fees in Australia: FAQs
Why is Australia the best for MBA?
One of the top study-abroad locations for foreign students is regarded to be Australia. Australia is a popular choice for MBA applicants looking for a top-notch education, top-notch research possibilities, and outstanding job prospects.
Why are MBA fees so high?
Many schools include the price of extracurricular activities like overseas business trips, real-world consulting assignments, and other experiences in their tuition. Offering an MBA is also an expensive venture for institutions due to the organization of career fairs, workshops, and coaching.
Why are international students charged more for MBA?
In Australia, they pay taxes on their earnings. Foreign students pay taxes on everything of their purchases, including food, a vehicle, housing, and textbooks. If universities are permitted to charge international students extra because they are not Australian citizens.
Is it expensive to study MBA?
The cost of an MBA program in India is between 20,000 and 40 lakh rupees for two years of full-time study. Look at the spectrum of MBA college rates in India and learn why the tuition schedule differs from one school to the next. The cost of an MBA program in India ranges from 20,000 to 40 lakh rupees.
What is the scope of an MBA in Australia?
The Australian MBAs range of study. Australia offers a healthy employment market for qualified MBA professionals, supported by internship programs and placement capacity. According to the most recent placement statistics, The Melbourne Business School placed 88% of its students.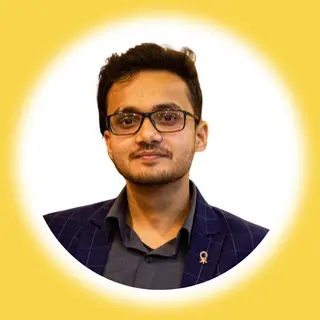 Sushant has been writing since his early days of childhood and currently, he's serving as a Content Writer with iDreamCareer. Sushant has two start-ups of his own and he has been writing content for them since their inception. Apart from that he is passionate about writing which is why he is following his passion for writing with iDreamCareer.