Wondering what is clinical data management? Want to know about the career path for becoming a clinical data manager? Are you one of those people who have data management in their mind, but do not know where to start? Don't worry, you are not alone!
Clinical data management (CDM) is an emerging field in clinical research and deals with the use of computer applications to manage trial data or information by storing it in database systems to support data collection. Simply put, it involves the integration, collection, and validation of clinical trial data. Combined with the field of bioinformatics, this field is rich with many career opportunities that can be explored. Clinical data managers collect patient data and then analyze the assimilated data using statistical analysis.
What to know?

According to data compiled by the Occupational Information Network (O*NET), the median salary in 2021 for a field that includes clinical data managers was $100,910. Also, according to O*NET, job growth in this field will increase by 15% from 2020-2030.
Interested? A career in this field is a great move and is just one exciting path you can take.
What all is covered in this post?
To make it easier for you, we have created a quick guide to everything you need to know about clinical data management.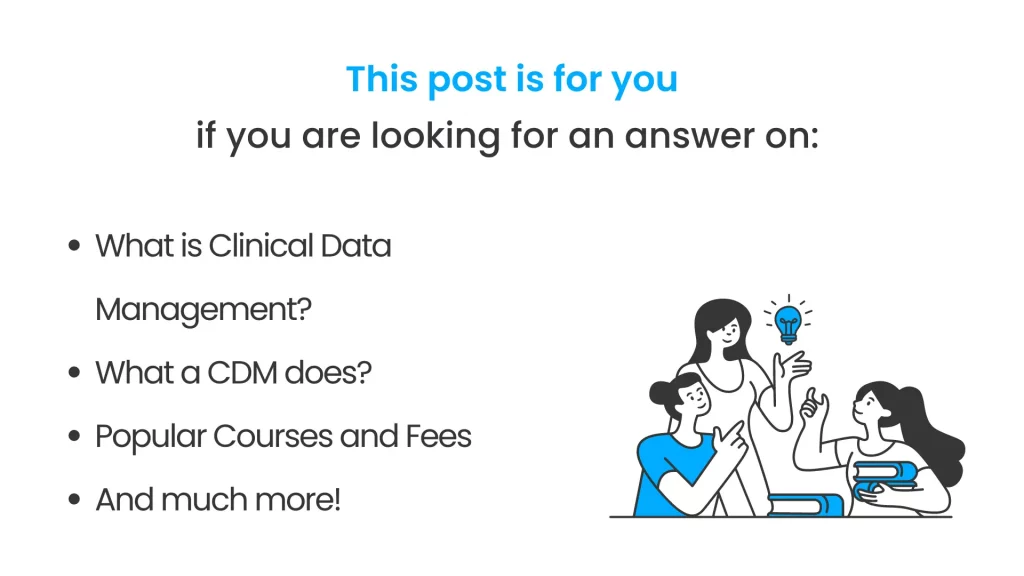 What is clinical data management?
CDM is the creation and effective management of data for clinical research purposes. This is one of the most important stages of clinical trials and research. It is performed to obtain quality and error-free information. An integral goal of any CDM system is the creation of high-quality, reliable, and statistically valid data.
Discover More by accessing the Free Career Dashboard
This will help us share relevant information with you.
CDM involves data confidentiality, data storage, record keeping, data protection, data destruction, and data sharing and reporting. The process of collecting and managing research data is carried out by the standards set by the regulatory body. Data management plays an important role in the drug development and precision medicine evaluation process.
What does CDM do?
CDM professionals are taught to provide standards to improve data quality. With rapid advances in clinical trials and research, this field offers tremendous opportunities for students. You will be required to perform several specific tasks, including: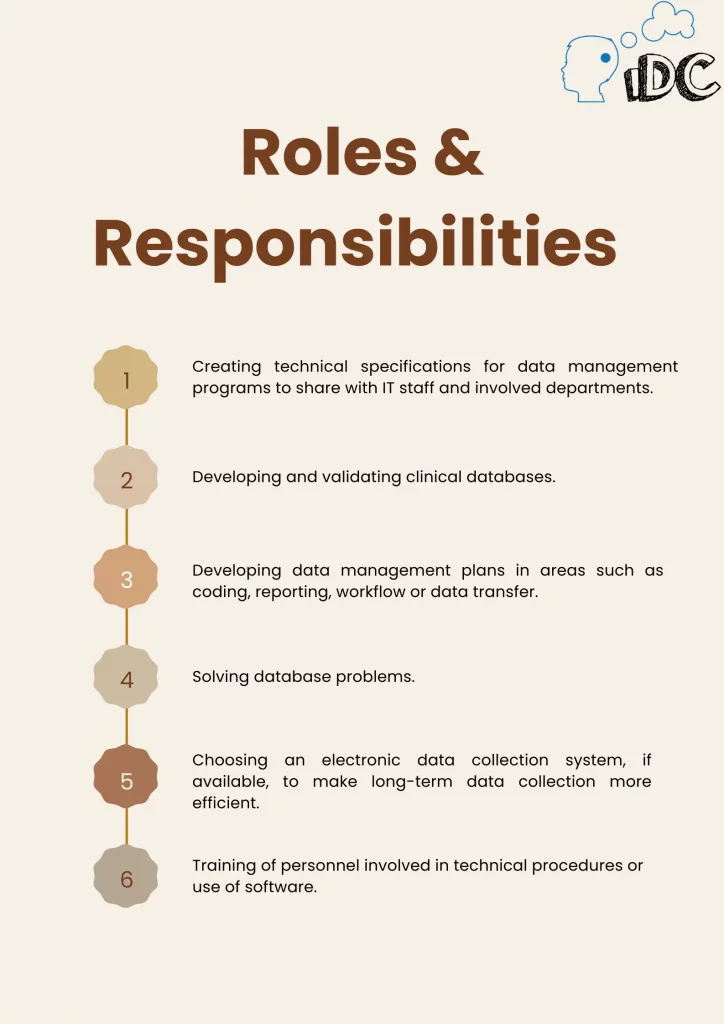 Future of clinical data management career
There are huge opportunities in CDM as it is an evolving field. Data has become a great repository for drawing accurate conclusions in the field of medicine. Experienced clinical data managers play a critical role in the clinical research process.
In any pharmaceutical and contract research organization, the CDM department is considered the most important because it is responsible for the collection and processing of clinical trial data.
The entire team develops tools to collect data from clinical trial sites, and quality checks it to find anomalies. With India emerging as one of the most preferred destinations for clinical trials and clinical research outsourcing, candidates have a bright future in this field.
List of clinical data management course
Clinical data management courses challenge students to learn about the importance of data in clinical trials. They study various aspects of effective data management as part of the clinical data management course. Some institutes, including ICRI Delhi, offer a module as part of clinical research diploma courses.
Various CDM courses and eligibility criteria are listed in the table below: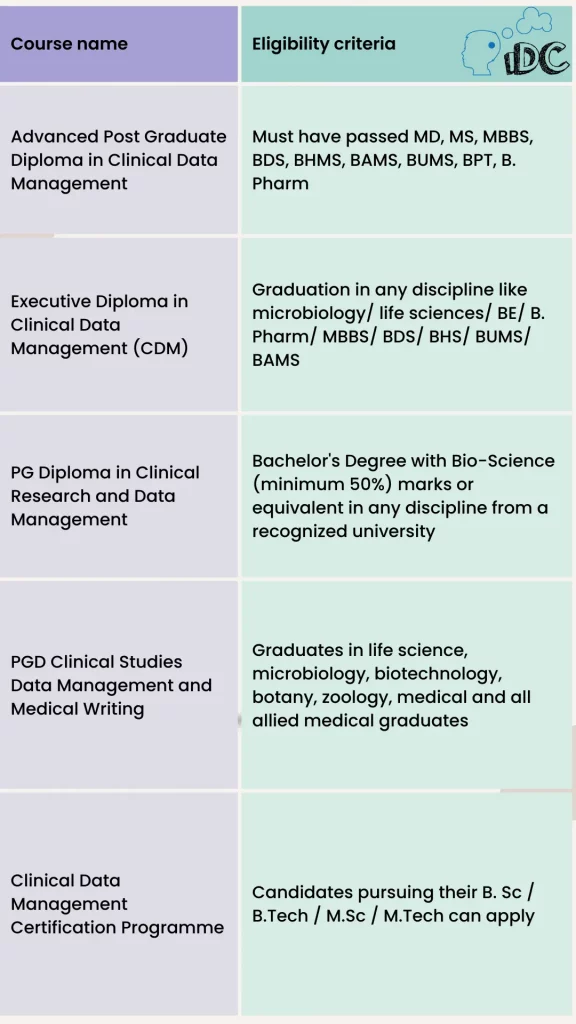 Clinical data management course fees
As there are a lot of options to choose from, the average course fee can range anywhere from Rs. 30,000 to 1,50,000 per annum. This, however, completely depends on the course, duration and institute.
Clinical data management jobs
Here are some of the profiles in clinical data management:
Bio-statistician
Clinical coder
Clinical data entry operator
Clinical data manager
Clinical data reviewer
Clinical research manager
Data analyst
Research Assistant
Clinical data manager salary
According to the stats of Glassdoor, a Clinical Data Manager's salary is somewhere around Rs. 6,24,508 in India.
It's a wrap!
Choosing the right clinical data management course for a bright future is a very challenging job as there are numerous choices to make. Career planning and development is a tricky affair and needs expert solutions. This is almost impossible to achieve at such a young age. iDreamCareer is on a mission to reach every state and every child in order to ensure that talent is appropriately delivered into the industry.
At iDreamCareer with the help of our Career Counselling and Guidance Services and educational counselor, we try to help young confused minds from 9th class, 10th class, class 11, class 12 with an aim to select their most-suited career choices.
Also Read:
FAQs
What exactly does a clinical data manager do?
He/she is responsible for generating high-quality, accurate, and error-free data during clinical trials and trials.
What are the clinical data management courses?
Institutes offer various certificates, diplomas, and diploma courses in clinical data management. Some institutes offer clinical data management as one of the modules of clinical research courses.
How long are clinical data management courses?
Various certificate and diploma programs from six months to one year in clinical data management.
Can an Arts graduate apply for the CDM course?
No, for admission to various clinical data management courses, candidates must graduate in a research stream.
Discover More by accessing the Free Career Dashboard
This will help us share relevant information with you
Trending Posts


Anushree has 5 years of experience in the career counseling industry as a Senior Content Writer. She has also worked as a Social Media Marketing Expert for a startup and Content Quality Analyst for the Publishing and E-learning Industry. She has done her Master's in Commerce and PGDM in Finance & Trade and Marketing & HR, but she is currently following her passion for writing.