National Eligibility Com Entrance Test is a single-level national test given to applicants seeking admission to medical programs at the nation's various medical institutions. As of 2020, the exam had been the single medical entrance exam required for admission to AIIMS and JIPMER institutions, replacing the earlier system of several entrance exams administered at the state level. In this blog, we shall try to gain a complete overview of NEET eligibility marks in 12th.
One of the most well-known medical entrance tests in India is the National Eligibility cum Entrance Test (NEET), which all prospective medical students must pass in order to be admitted to a medical institution. The National Testing Agency (NTA) establishes the qualifying requirements for NEET, which take a variety of elements into account, including the marks attained in the 12th board examinations, the minimum needed aggregate, and the minimum percentile on the NEET. We'll talk about the eligibility requirements for NEET after 12th grade in this blog.
Do You Know?

NEET 2023 is scheduled to be conducted on 7th May 2023.
The NEET eligibility requirements are important since they have a big impact on one's chances of passing the test and getting a spot in a medical school. The goal of this blog is to provide readers with a thorough grasp of the 12th-grade NEET eligibility marks and their calculations. Additionally, the effect of the 12th board scores on NEET eligibility, the minimum aggregate needed, and the qualifying marks for various categories will be covered. All prospective medical students who wish to pass the NEET exam and get accepted into an Indian medical institution should read this blog.
What all is covered in this post?
To have a clear understanding of the NEET eligibility criteria, we have come up with a blog to help you out regarding 12th marks eligibility in NEET.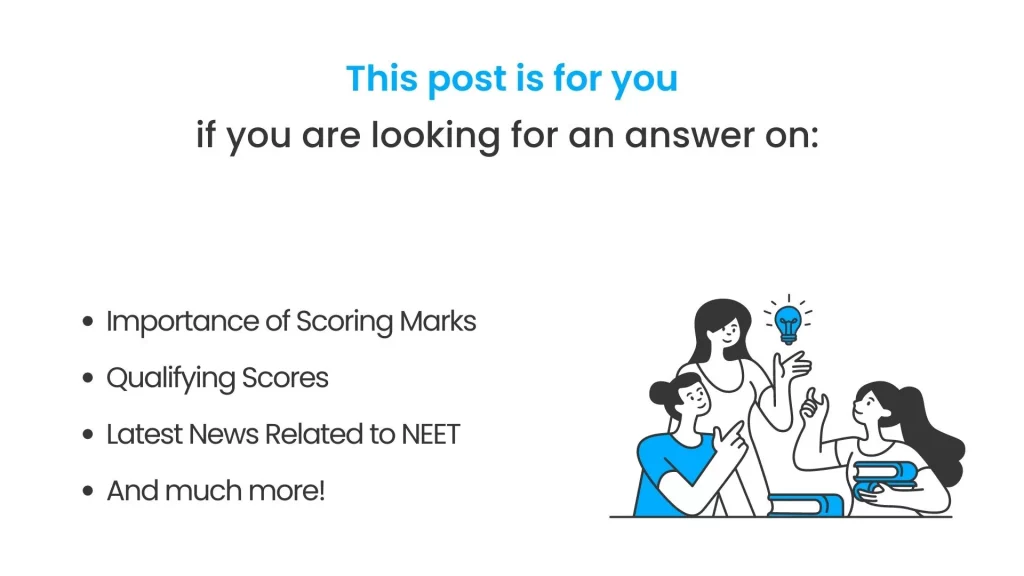 Overview of the importance of scoring marks in 12th for NEET eligibility
Our elders never fail to remind us to get good marks in the examination and guess what? It pays out as well! Yes, the stereotype and myth about getting good marks in the board examination are true to some extent. It may not decide your entire future but it definitely decides your eligibility for sitting in the various reputed examinations in India and NEET is surely one of them.
Want to know more about NEET 2023 Syllabus? Read our blog post on Ultimate Guide on NEET pattern and syllabus 2023.
Let's now try to find out some of the basic eligibility requirements for NEET.
12th Marks Eligibility
12th marks have always played a satisfactory role in the NEET. It doesn't matter if you have qualified for NEET with passing colors, you should also take care of certain requirements before the exam to avoid countering the last-moment barrier. But don't worry, we do have a checklist ready to help you sail in the sky of your dreams.
Extra Tip: Since NEET 2023 date has been announced, check our blog post for a last-minute checklist.
We shall now be discussing the category-wise 12th marks eligibility criteria for NEET in detail.
Discover More by accessing the Free Career Dashboard
This will help us share relevant information with you.
NEET Qualifying Exam
NEET aspirants must have passed 10+2 or equivalent from a recognized board with Physics, Biology/Biotechnology, Chemistry, and English as the core subjects.
Candidates with a class 12 degree or equivalent are also eligible for the application.
NEET Minimum Age Requirements
Candidates must be 17 years or older.
Note: There are no such upper age limit restrictions as of now.
Qualifying Scores
Each category's minimum class 12 percentage requirement for the NEET test is listed below and varies. The simple cumulative grades for PCB topics in class 12 serve as the NEET certification requirement.
| | |
| --- | --- |
| Category | Qualifying Aggregate |
| General | 50% |
| SC / ST / OBC | 40% |
| Physically Disabled – General | 45% |
| Physically Disabled – SC / ST / OBC | 40% |
Maximum Number of Attempts for NEET
The maximum number of attempts is unrestricted as of now.
NEET Nationality Criteria
Let's now have a look at the NEET nationality criteria set by the NTA.
It is crucial that the applicant be an Indian citizen in order to take the exam.
You can participate in NEET 2023 if you are an Overseas Citizen of India (OCI).
You may take the NEET 2023 exam if you are an NRI (non-resident Indian).
Foreigners are permitted to participate in NEET 2023.
PIOs, or people of Indian origin, are eligible.
Medical candidates from Jammu & Kashmir are qualified to take the NEET 2023 exam under the 15% All India Quota. This standard also applies to seats at the AFMC in Pune.
👉 Know About Top 5 States Which Records Highest Registration- NEET UG Application 2023
Latest News and Updates Related to NEET
Since you've already been following the latest updates on NEET through NTA's official website, we are still providing you with some majorly important updates in case you have missed them. Though, candidates are regularly advised to keep checking the website for any latest updates.
November 29, 2022: NTA will shortly release the date for the NEET 2023 test. The NTA's official websites, nta.ac.in and neet.nta.nic.in, will host the exam announcement.
November 30, 2022: According to media sources, the NEET 2023 test date may be moved to July. The most likely date for the 2023 NEET test is July 18, however formal confirmation has not yet been received.
December 16, 2022: The NEET UG 2023 exam date was released by NTA at nta.ac.in. NEET 2023 will take place on May 7. The registration form will be out soon.
Summary
Depending on the candidate's category and the National Testing Agency's cutoff, different candidates will have different eligibility scores for NEET (National Eligibility cum Entrance Test) after 12th grade. We have also discussed the minimum marks required in 12the th class for different categories. A place at one of India's medical institutions can be largely secured based on one's performance on the 12th-grade board exams and the NEET test. To improve their chances of passing the exam, students should remain current on the most recent NEET eligibility requirements and study appropriately.
Hope we would have been able to provide you with all the information that you need regarding NEET eligibility marks in 12th. Still, got questions? Why don't you connect with our industry experts? Yes, you read it right! You can get your queries resolved in just 60 seconds from our Career counselors. So, what are you waiting for? Download the app now!
iDreamCareer has helped millions of young minds like you from 9th class, 10th class, class 11, and class 12 discover their true mettle and is ready to help you too.
Also, Read
NEET Eligibility Marks in 12th: FAQs
What are the 12th-grade qualifying scores for NEET?
The cutoff for General category applicants to be eligible for NEET after completing high school is the 50th percentile, whereas the cutoff for SC/ST/OBC candidates is the 40th percentile.
How do 12th-grade board scores influence eligibility for the NEET?
The applicants' eligibility for the NEET is determined by their marks in the 12th board examinations. It does not contribute to weightage during the final merit list but it has certain eligibility criteria that need to be passed
Can I take the NEET exam if I failed my 12th grade?
No, applicants who failed their 12th grade cannot apply for the NEET. Only candidates who have completed/are pursuing their 12th grade from a recognized board or institution can apply for the NEET exam
Is 60 percent enough in NEET?
See you have to score up to a minimum of 70 percent in the NEET examination so as to get into any government medical college across the country by appearing from the NEET examination 60 percent as such can be said to be a good score but it's not relevant to say it to be as sufficient so just try to score well in the NEET
Is there a minimum aggregate required in 12th board exams for NEET eligibility?
Yes, the candidate needs to have a minimum aggregate of 50% in Physics, Chemistry, and Biology in the 12th board exams for NEET eligibility.

Discover More by accessing the Free Career Dashboard
This will help us share relevant information with you
Trending Posts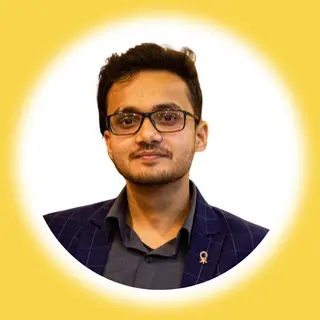 Sushant has been writing since his early days of childhood and currently, he's serving as a Content Writer with iDreamCareer. Sushant has two start-ups of his own and he has been writing content for them since their inception. Apart from that he is passionate about writing which is why he is following his passion for writing with iDreamCareer.