Career Guidance and Counselling refers to a comprehensive & developmental approach.
This assists individuals in making & implementing informed educational and occupational choices. It is an established scientific practice. It is based on making well-informed choices with respect to a student's transition. That maybe from school to higher education and then from higher education to occupations.
What is Career Guidance and Counselling?
Career guidance and Counselling involves long-term methodical self-assessments. Also, unbiased expert assistance. It helps in developing an individual's abilities in self-exploration. As well as, exploration of educational and occupational choices. And in making decisions about his or her career.
Initially..
..this was thought to be a practice targeted at higher education & employed individuals. But there are the rapidly changing scenarios in the world of work and in education. So the need for counselling and guidance has become critically important for school students too. This is because career guidance and counselling build life long skills in making well-informed educational and occupational choices.
Need of Counseling and Need of Guidance Even at kindergarten levels. Yes! Counseling and guidance of young students are considered to be a crucial aspect. This involves highlighting a student's interest areas. Addressing the need for guidance & clarity helps to build competencies in making choices early in a student's life.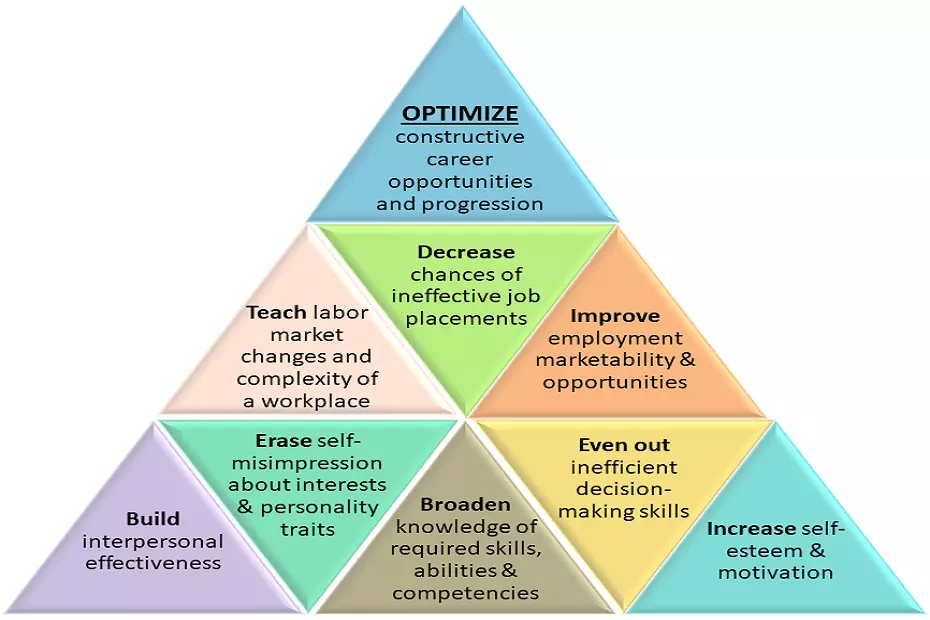 ---
---
Facilitators for Career Guidance and Career Counselors
Facilitators may include teachers, parents, working professionals. Or any other program, initiative or business that focuses on this aspect of the education industry.
They help to define the overall objective or goals of career Counselling as well as its social implications.
Career Counselors are professional facilitators.
A Career Counselor should be an expert in the field of Psychometric Assessment and Occupations Research.
She should possess all the skills, abilities, knowledge, and information.

Regarding the assessment of various psychological aspects of a student.
Regarding the career opportunities, job openings, and prospects that are relevant for various educational options.

She must also possess the ability to effectively communicate with a student.
Educators, as well as veterans from industrial sectors, can all become career counselors. But they must be adequately trained in imparting & sharing actionable knowledge.
Importance of Career Guidance and Counselling
The overall development of a student comes about by allowing her to achieve and perform to her best. This is what every academic establishment should aim for.
Young minds needs to be trained to fill out positions in society. It is extremely crucial to allow the right window of time for efficiently bringing about optimum development.
Far too many people are dissatisfied with what they do for a living. Job stress may lead to anxiety, depression or other mental trauma that may be debilitating. So, building a fulfilling career is considered to be crucial for long term mental health too.
Career guidance and Counselling are, however, not the sole responsibilities of schools or the formal education system. It may be imparted, just as well by competent teachers, by parents, counselors or Counselling bureaus.
---
---
Discover More by accessing the Free Career Dashboard
This will help us share relevant information with you.
At Which Stages Can Career Guidance and Counselling Be Offered?
At all stages, everywhere!
Nursery, Kindergarten, and other pre-schools
Primary, secondary, and higher secondary schools
Vocational training institutions, polytechnics, community colleges, skill training centre
Higher educational institutions – colleges, universities, and other institutes
Career counseling centres / online career counseling and guidance platforms
.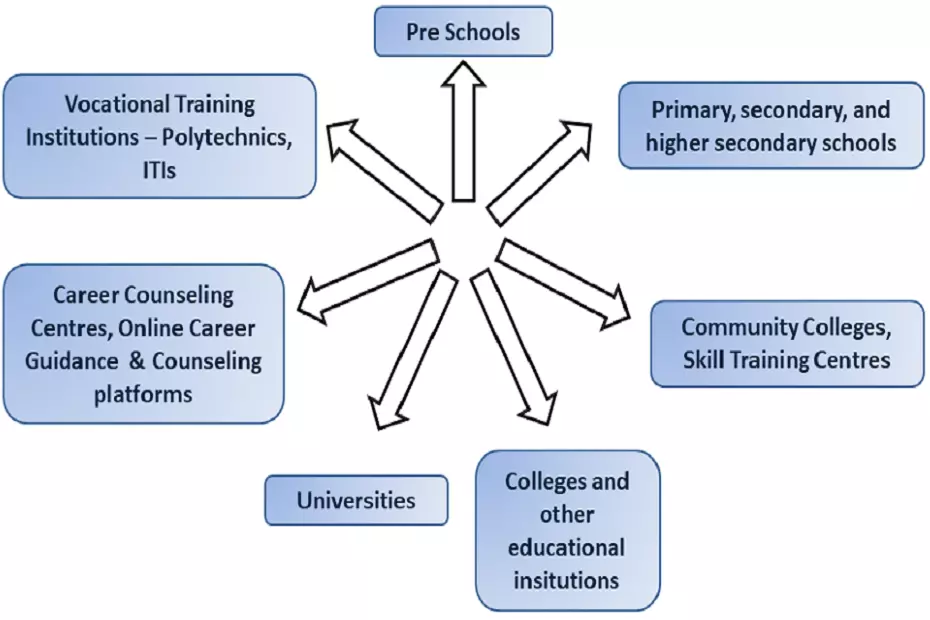 ---
---
How to create the right interactions between the counselor and the counseled?
There has to be constant focused interaction between the students and a counselo. Especially teachers, considering the ample time children spend with them. This will bring about the most desirable results over time.
When we consider students, the need is to interact as frequently as possible and at all levels of development. The right approach must be taken early in a student's school life. Otherwise later, it becomes quite difficult to establish effective lines of communication.
Thus, the stress must be on the action as early as possible to organized career guidance sessions with the students to open up lines of communication between the students and the teachers as well as the counselors at an institution.
The senior classes could do with formal career guidance & Counselling sessions which can be laid out in the standard timetable. However, the much younger students need not be restricted by certain set times, and the staff must make it a point to have informal sit-around sessions.
Once initial contact has been established with the students, it becomes easy to bring about changes in their career thoughts through more organized interactions. Therefore, students are mostly benefited when a competent career counselor or facilitator is able to initiate pertinent & focused conversations about their interest areas.
---
---
Objectives of career guidance & Counselling for students
We must focus on the fact that students need not be persuaded into any one particular career field. Instead, they must & always be guided towards the right direction based upon their interest areas, personalities, and aptitudes.
---
A Career Counselor must offer unbiased career guidance and Counselling to all students in need of guidance and clarity. We have curated four key pointers to define the overall objectives or goals of career Counselling:
---
Focus:
Trusts run most of the educational institutions and managing bodies that have specific objectives to fulfill. Thus, by using the career guidance and Counselling sessions, it is possible to give a much-desired focus to the student body in general.
Moreover, it is possible to mold the students as per the needs and requirements of the society as the case might be. Rather than trying to effect sudden change in thinking and actions of the students a gradual process that involves a continuous interaction would bring about a much better result most of the time.
With young children, it is that they need to be given a general sense of direction and the best way to do is to have productive interactions that are aimed at achieving the desired results. At times of turmoil and turbulence in society, it is the guidance that keeps the students focused on the studies and school activities.
Control:
Schools and educational institutions need to keep the student body under control. Control can mean a disciplinary one or the need to achieve goals of the institutions in terms of educational outcomes. Career guidance and Counselling in education are aimed at keeping the students aligned with the possibilities of higher education and careers.
---
---
Understand:
It is never that career guidance sessions are meant for just the students alone. A good career Counselling session is a chance to understand the needs of the students so that the facilitators can offer the right attention.
Thus, career guidance sessions are equally meant for teachers to effect changes in their attitude towards the students as well as in the teaching methodologies.
If a reasonably large school or institution is to be taken, there would be people from all sorts of backgrounds. But most institutions would have a base of people who do prefer the kind of attention that is being rendered at the location. By the use of proper career guidance, it is possible to create an awareness of the needs of the future society in general and the trends that could emerge as the students prepare for a life outside the school.
Data Use:
Often when educational and career opportunities are discussed among people, the role of data in coming to certain conclusions cannot be belittled. A good guidance session must be able to bolster the trends prevailing in the society by using data to good effect.
Balance is key to all life practices. By using the right methods of career guidance & Counselling in the right manner, it is possible to relate to what a student would want from the time spent in getting an education.
Dos and Don'ts in career guidance and Counselling
We must remember, the sole purpose of the whole attempt of career guidance and Counselling of students is to impact the society at large to bring about empowered individuals who end up being efficient lifelong learners! Here's a small list of what we must do and don't.
Make students aware of their personal traits, strengths, weaknesses to work at, and their overall potentials – about their own positive points and pain points with clear guidance as to how to work upon the pain points to improve or whether to concentrate just on the strengths.
Suggest effective, meaningful, and significant information as a partial solution to their problems – but they must be able to figure out the rest of the story, voluntarily and spontaneously.
Ultimately, assist them in making appropriate, satisfying, and interesting educational/ occupational choices regarding the selection of a career.
---
---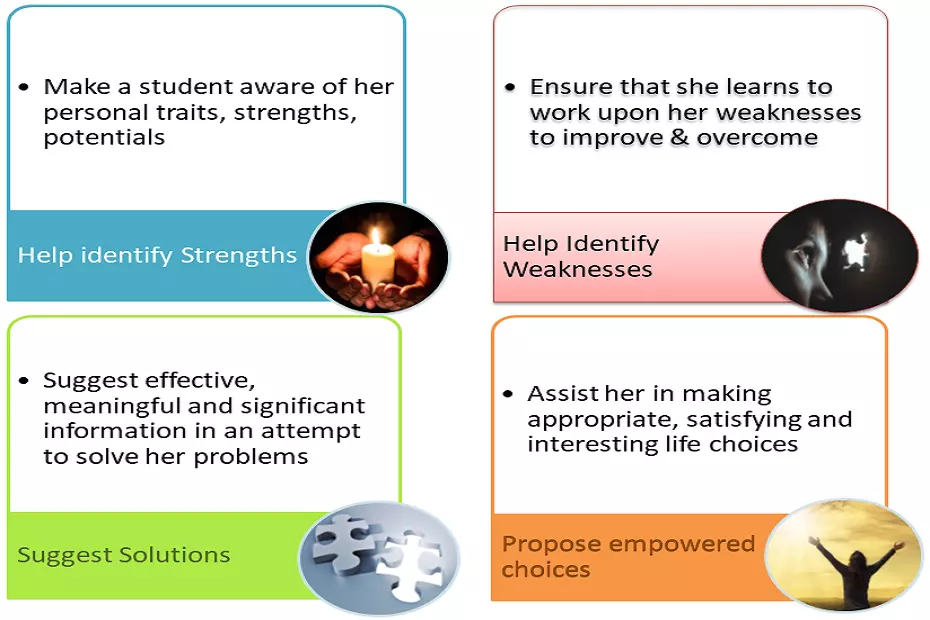 Some thoughts.
The importance of the need for counseling and the need for guidance when a student is in school or when she is in college cannot be ignored. Career Guidance and Counselling in education have to be approached as a continuous incremental activity that is aimed at creating a dialogue between the students the counsellors and facilitating teachers.
---
Students face tremendous pressure (both from peers and parents) while making life-changing decisions. Career counselling is a supremely essential exercise & the need of guidance & Counselling is increasingly being felt at all spheres of the industry today.
---
Career guidance and Counselling can be used to bring about changes to attitudes and thoughts in time as the students get to trust the teaching and Counselling staff as well as those involved in the running of the institutions.
Epilogue.
The need for career guidance and Counselling is also escalating these days with respect to the rise in the number of new-age career fields that are emerging. With little or no awareness about these futuristic careers, students are in critical need of Counselling and professional advice.
Reach out for unbiased career Counselling for your students or if you aim to train yourself into a facilitator & help students.
iDreamCareer experts are always ready to help young minds like you from 9th class, 10th class, class 11, class 12 with an aim to select their most-suited career choices.
Also read:
.
Recent Releases
Discover More by accessing the Free Career Dashboard
This will help us share relevant information with you
Trending Posts

.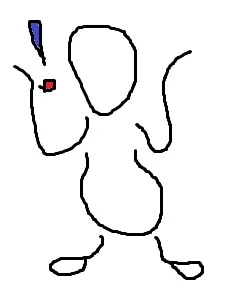 Currently associated with iDreamCareer (India) as the Principal Analyst.