Are you fascinated by brittle things? Giant rocks? How electricity flows? How nuclear reactors operate? Do you wonder about the big bang theory? Or how an astronaut floats? Or how spaceships are built? Try a career in physical science.
.
Watched Lost in Space (Netflix)? Or the sitcom Big Bang Theory?
Do you want to work with some of the brightest minds? If yes, you can opt for this exciting academic discipline by pursuing a degree in physical science.
---
In this article, we've discussed about career in physical science, physical science subjects, top institutes for physical science courses, top recruiters, and much more. But before moving on further let us first understand what is physical science?
---
What is physical science? – Its meaning & types
Physical science is the study of the various processes involved in the nonbiological world, distinct from the biological world. It deals with the study of inanimate processes/systems. Some of its branches are given below.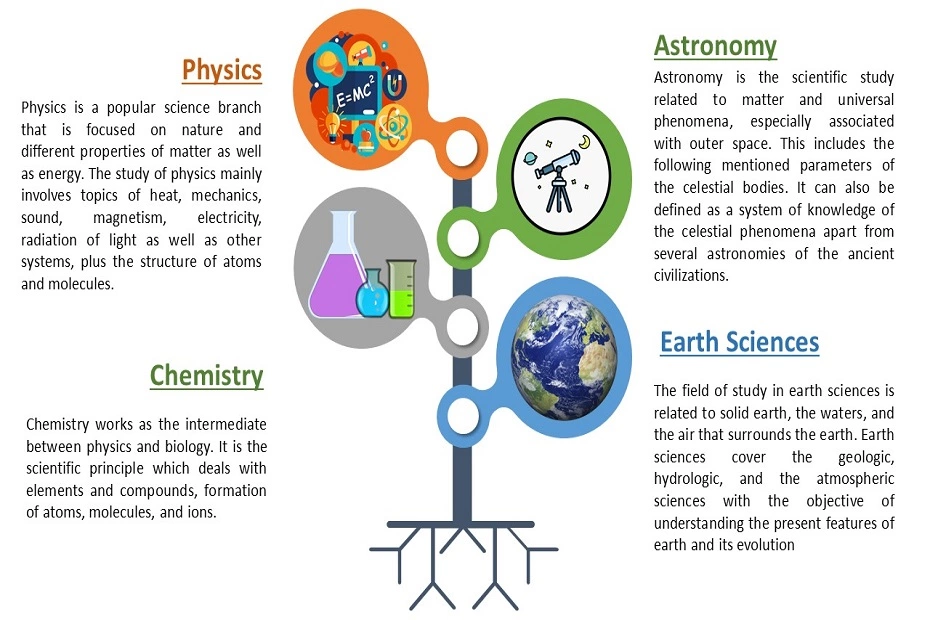 ---
---
Discover More by accessing the Free Career Dashboard
This will help us share relevant information with you.
Courses available in physical science
BSc/MSc Physics
BSc/MSc Chemistry
MSc Space Sciences
Master's in Particle Physics
PG degree in Nuclear Physics
Post-graduation in Astrophysics etc.
.
What are the career options in physical science?
Physicist
Data Scientist/Data Analyst
Environmental Scientist/Engineer
Cartographer/GIS Analyst
Ergonomist
Geologist/Earth Scientist
Atmospheric Scientist / Climatologist
Computational Scientist
Cognitive Scientist
Conservation Scientist
Biophysicist
Environmental Scientist
Medical Scientists
Chemists and Materials Scientists
Natural Sciences Specialists
Oceanographer
Astronomer/Astrophysicist
Forensic Scientist
---
---
Physical science subjects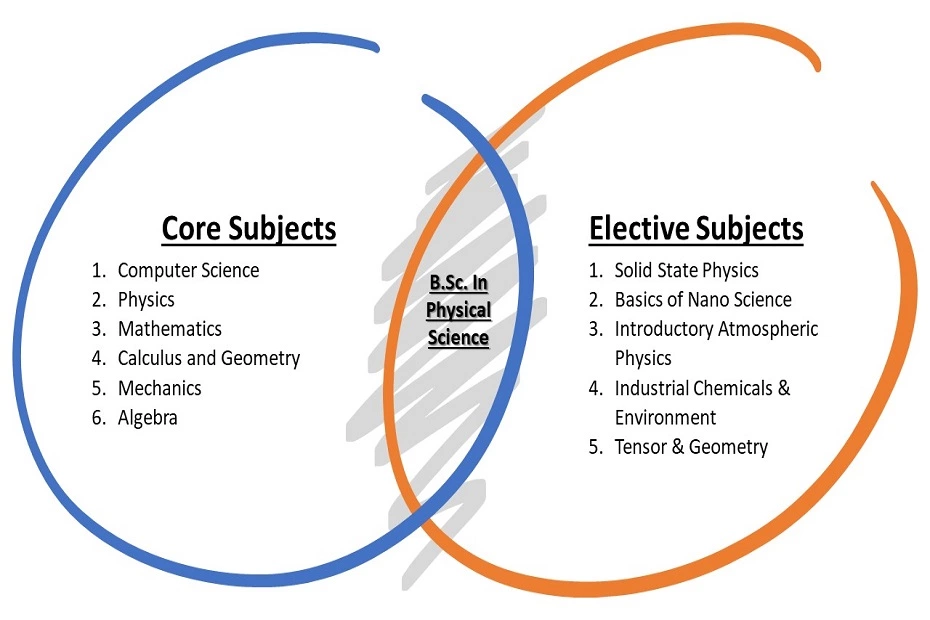 Note: For detailed 3-year full-time programme six semester course structure of B.Sc. Physical Science you may refer to this link.
---
---
Highlights of physical science course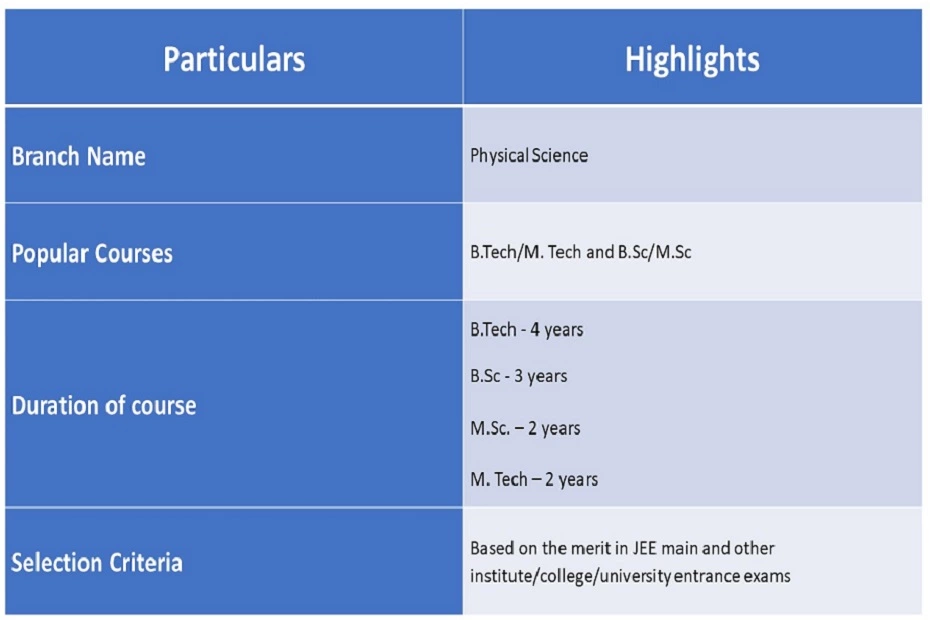 20 top institutes/colleges for physical science in India
Delhi IIT
Guwahati IIT
Madras IIT
Centre for Excellence in Basic Sciences (CBS), Mumbai
BITS, Pilani
Dr. G.R. Damodaran College of Education, Coimbatore
St Stephen's College, New Delhi
RV University, Bangalore
Kapi College of Education, Madurai
Vidyasagar College, Kolkata
Charuchandra College, Kolkata
ACN Institute for Higher Education – [ACNIHE], Aligarh
IMS Ghaziabad, Uttar Pradesh
Indian Institute of Space Science and Technology, Thiruvananthapuram.
Indian Institute of Technology, Bombay
Mohanlal Sukhadia University – [MLSU], Udaipur, Rajasthan
College Of Basic Sciences – [COBS], Palampur, Himachal Pradesh
National Institute of Technology, Calicut
Technology Education & Research Integrated Institutions Kurukshetra
Guru Gobind Singh Indraprastha University, New Delhi
---
---
15 Top Global (World) colleges/universities for physical science
University of Toronto, Toronto, Canada
The University of British Columbia, Vancouver, Canada
Northeastern University, Boston, USA
The University of Melbourne, Melbourne, Australia
Harvard University, Cambridge, USA
The University of Texas at Dallas, Richardson, USA
Stanford University, Stanford, USA
McGill University, Montreal, Canada
York University, Toronto, Canada
Arizona State University, Tempe, USA
Coventry University, Coventry, UK
Technical University of Munich, Munich, Germany
Massachusetts Institute of Technology, Cambridge, USA
Memorial University of Newfoundland, St. John's, Canada
Texas A & M University, College Station, USA
.
Conclusion
Finally, you have all the information optimized just for your use. If you still feel indecisive or confused, do dial us up. It is often useful to reach out to expert counselors for addressing individual issues. iDreamCareer experts are always ready to help young minds like you from 9th class, 10th class, class 11, class 12 with an aim to select your most-suited career choices.
Useful links
.
Other useful colleges/institute links
.
Recent releases
Discover More by accessing the Free Career Dashboard
This will help us share relevant information with you
Trending Posts

/

Anushree has 4+ years of experience in the career counseling industry as a Content Writer. She has also worked as a Social Media Marketing Expert for a startup and Content Quality Analyst for Publishing and E-learning Industry. She has done her Master's in Commerce and PGDM in Finance & Trade and Marketing & HR, but she is currently following her passion for writing.