Studying abroad is a very satisfying adventure for almost every student. Italy is among the best destinations in this regard due to the high quality of education offered in the country. Another thing that makes Italy a favorite among students is its tourist attractions. The country is best known for its historical monuments and many breathtaking landscapes. Therefore, Italian universities can be your best choice if you want to mix your education with some research. If you looking for a definite list of scholarships in Italy, you are on the right page!
Do you know?

Italy has more than 65 public universities, 27 of which are among the top 500 best universities in the world. More than a million students have been enrolled in a bachelor's program in Italy. There were about 335,000 master's students. According to statista.com, there were 96,000 foreign students in Italy in the 2019/2020 academic year.
Scholarships are the perfect way to give you the opportunity you deserve. Italy university scholarships for international students can be difficult to research. But we've broken down each question to help you find the right answer. Our goal is to make it easier for you to get a scholarship and go abroad.
Come along!
What all is covered in this post?
To make it easier for you, we have created a quick guide to everything you need to know about scholarships in Italy for Indian students.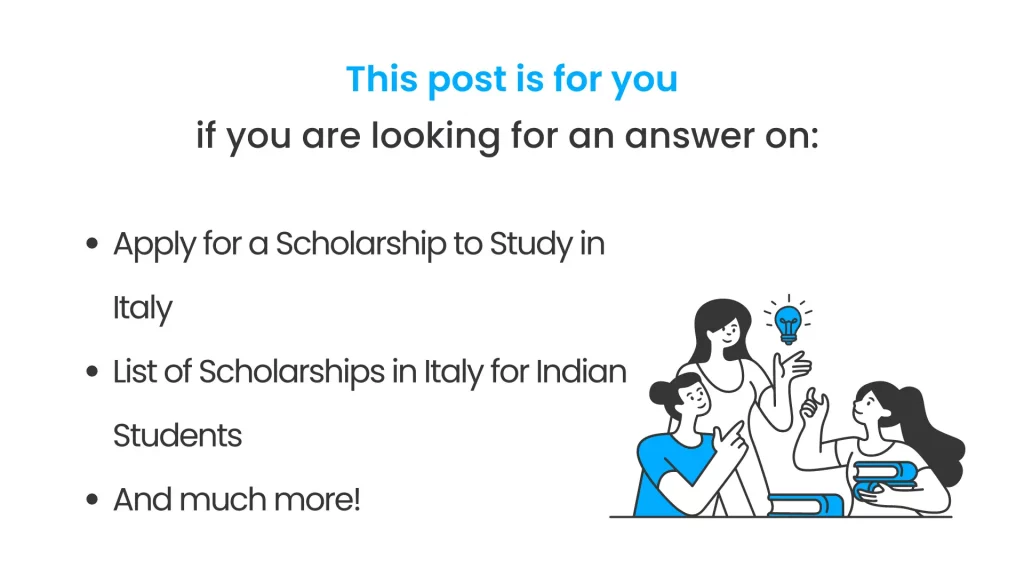 How to apply for a scholarship to study in Italy?
Scholarships provided by the government and universities are often based on nationality. When searching for scholarships and making a list of scholarships to apply for, they should first find out if candidates from their country are eligible for Italian scholarships. Candidates will then be able to check the scholarship website for details of English-taught programs and contact their universities through the university website for scholarship application procedures.
Steps to Apply for Scholarships in Italy:
The procedure for applying for a scholarship in Italy begins by asking the candidate whether he is eligible for a scholarship based on his nationality.
They will then need to find their major or program on the official Italian scholarship website.
Once they find a program, they will need to contact the professors of their respective departments to receive an acceptance letter.
Candidates will then be able to receive a pre-admission letter by applying for admission.
Candidates must create an account on the website and fill out the online application form.
At this stage, they will have to submit the necessary documents.
Candidates will then be able to apply for the scholarship on the Italian Government Scholarship website.
After applying, candidates will have to wait for the results that will eventually be sent to them by post from the Italian Scholarship Agency.
List of scholarships in Italy for Indian students
In this section, we have tabulated the top scholarships in Italy for Indian students.
| | |
| --- | --- |
| Scholarship Program | Benefits |
| Bocconi Merit International Awards | 50% or complete tuition fees waiver |
| EDISU Piemonte Scholarships | Tuition fees waiver |
| Italian Government Scholarships for Foreign Students | Tuition fees waiver and a monthly stipend of USD1000 |
| Padua International Excellence Scholarship Programs | Tuition fees waiver and grant |
| Politecnico de Milano Merit-Based Scholarships for International Students | Students have to pay only USD 220 and receive yearly grants along with a tuition fees waiver |
| Politecnico di Torino International Scholarships | Annual tuition fees waiver |
| Regione Veneto Scholarships | Tuition fees waiver, academic discounts, and annual discounts |
| Scuola Normale Superiore Ph. D Scholarships | Tuition fees waiver and research stipend |
| The University of Cattolica International Scholarships | Annual tuition fees waiver |
| University of Bologna Study Grants for International Students | Tuition fees waiver and USD13,000 grants |
Now let's have detailed info about top scholarships,
Bocconi Merit International Awards
This is one of the sought-after scholarships in Italy, which can be used by students from any country in the world who are enrolled in any undergraduate or graduate program at Bocconi University. Under the Bocconi International Award, the selected candidate will receive a 50% tuition fee waiver. Applicants selected for the Bocconi Merit award will receive a full tuition fee waiver along with accommodation options for selected students. Scholarships will be renewed automatically, subject to the favorable academic performance of the candidate.
EDISU Piemonte Scholarships
EDISU Piemonte Scholarships include international students from outside the EU studying full-time for a Bachelor's, Master's, Single-cycle Master's, or Ph.D. in one of the universities of Piedmont, where universities, including the Polytechnic of Turin, the University of Turin and the University of East Piedmont if they are consistent with the merits and values ​​of the university. Part-time applicants may gain access if they are participating in an undergraduate degree. The amount of the scholarship varies depending on various factors. The housing may also be offered to non-residents.
Italian Government Scholarships for Foreign Students
These scholarships are offered by the Ministry of Foreign Affairs and International Cooperation (MAECI) to foreign nationals (students) in Italy and Italian citizens studying abroad, with the aim of promoting international cultural, scientific, and technological cooperation, promoting the Italian language. and the culture and support of Italy's economic system in the world. Under the scheme, international students enrolled in Italian higher education institutions will receive a tuition or enrollment fee waiver (full or partial depending on the institution) along with a monthly allowance of €900 (INR 72,127) and medical and health insurance for 3, 6 or 9 months, depending on the course.
Grants are available for students pursuing a master's degree (laurea magistrale 2° ciclo), higher education courses in arts, music, and dance (afam), doctoral programs, research under academic supervision (progetti in co-tutela) and Italian language and courses cultures in Italy. Students applying for these scholarships in Italy must meet certain eligibility criteria regarding age, language proficiency, and academic qualifications.
Padua International Excellence Scholarship Programs
The Padua International Excellence Scholarship Program is offered by the University of Padua and provides up to 43 scholarships to exceptionally promising potential students who wish to pursue a Bachelor's or Master's degree in English in Padua, Italy. This scholarship in Italy is quite specific with its rules and is one of the best. Only students with the best academic achievements will receive the grant. Good academics should hold an official diplomatic post and promote the university on a number of different occasions. The awards of this scholarship are an annual fee waiver + a stipend of EUR 8000 (net amount) (INR 6.4 lacs). The only amount to be charged annually by eligible candidates is a registration fee equivalent to the local fee that the candidate would have paid.
Politecnico de Milano Merit-Based Scholarships for International Students
Among the top scholarships in Italy for master's programs, the Polytechnic Institute of Milan offers a number of merit-based scholarships to the most deserving foreign students enrolled in the first or second semester of their Master of Science degree. Three types of scholarships are offered under this scheme – Platinum Scholarships, Gold Scholarships, and Silver Scholarships. Students who receive any of these scholarships are exempted from paying tuition fees, they will only have to pay a non-refundable administrative fee of around €200 (INR 16,028). In addition, candidates selected for the Gold and Platinum scholarships will receive an additional annual stipend of €5,000 and €10,000 (INR 4-8 lacs) respectively. Candidates are selected strictly on the basis of their educational qualifications.
Politecnico di Torino International Scholarships
Politecnico di Torino International Scholarships are funded by Politecnico di Torino, which provides scholarships to students for admission to engineering and design degree programs. The Polytechnic University of Turin, also identified as Politecnico di Torino in Italian, is a semi-public engineering research university in Turin, Italy. Candidates can apply for the prestigious international scholarship from Politecnico through their official website.
It's a Wrap!
To be eligible for scholarships in Italy, it is necessary to go through the above scholarships and make plans in advance. You have the info you wanted. Do you want to make a career decision now? Not settled yet? In case, you feel indecisive or confused, do dial us up.
iDreamCareer is on a mission to reach every state and every child in order to ensure that talent is appropriately delivered to the industry.
Talk to our study abroad experts to know yourself in and out! We have helped several brilliant but confused minds with the aim to select their most-suited career choices. We have helped many students like Anjana Prasanna who was not very confident about her capabilities. Later with the help of career guidance and moral support from our study abroad experts she got an offer from King's College London! We have helped several young confused minds like Aayush and Tapan with an aim to select their most-suited career choices.
ALSO READ:
FAQs
Can I get a full scholarship in Italy?
There are many opportunities for scholarships for doctoral programs in Italy, 78 of which are full scholarships for both Italian citizens and international students. All students accepted into the doctoral program receive full financial support, including tuition and living expenses.
Is it difficult to get a scholarship in Italy?
The short answer is yes. However, this means beating a lot of competition, as the number of places for fully funded scholarships in Italy is limited. If you only received a partial scholarship, you can still find ways to help you cover the rest of your study abroad expenses.
Which university in Italy is free?
Foreign students can get a free education in Italy at the most prestigious universities, such as the University of Padua, the University of Bologna, Sapienza University of Rome, and many others. Italy is the best place for students who want to get a free education.
Is it expensive to study in Italy?
There is no doubt that Italy is a great place to study and affordable. In addition, it has a low cost of living. In general, tuition fees in Italy range from 1,000 to 2,500 euros per year, which is frankly very affordable compared to other countries.
Is Italy friendly for international students?
Italy is one of the most budget-friendly European countries that offer study abroad opportunities for international students. Several of the best Italian universities hold prestigious rankings and have a long history of success. In fact, 36 of the country's universities are among the top 100 in the world.

Anushree has 4+ years of experience in the career counseling industry as a Senior Content Writer. She has also worked as a Social Media Marketing Expert for a startup and Content Quality Analyst for Publishing and E-learning Industry. She has done her Master's in Commerce and PGDM in Finance & Trade and Marketing & HR, but she is currently following her passion for writing.