The administration and operation of numerous media sources, including newspapers, television networks, radio stations, digital media platforms, and more, is the focus of the area of media management. Due to the expansion of social media and digital marketing, the sector has experienced remarkable growth over the years, which has increased the number of employment and career prospects. Any media outlet or business must have effective media management in order to be successful.
Media management is a broad discipline that includes many facets of media creation, delivery, and marketing. This field includes positions such as media planners, public relations specialists, digital marketing specialists, creative directors, and content managers. Students interested in a career in media management can enroll in various courses, including the Ph.D. in media management, Bachelor of Mass Media, Master of Mass Communication, MBA in media management, and Postgraduate Diploma in media management.
Students who complete these courses will have the knowledge and abilities necessary to prosper in the dynamic and ever-changing media sector. We will dig into the realm of media management in this blog, examine various job profiles and career opportunities, and talk about current trends and industry best practices.
What is covered in this post?
To help you get familiar with all the concepts of media management, we have come up with a detailed and comprehensive blog.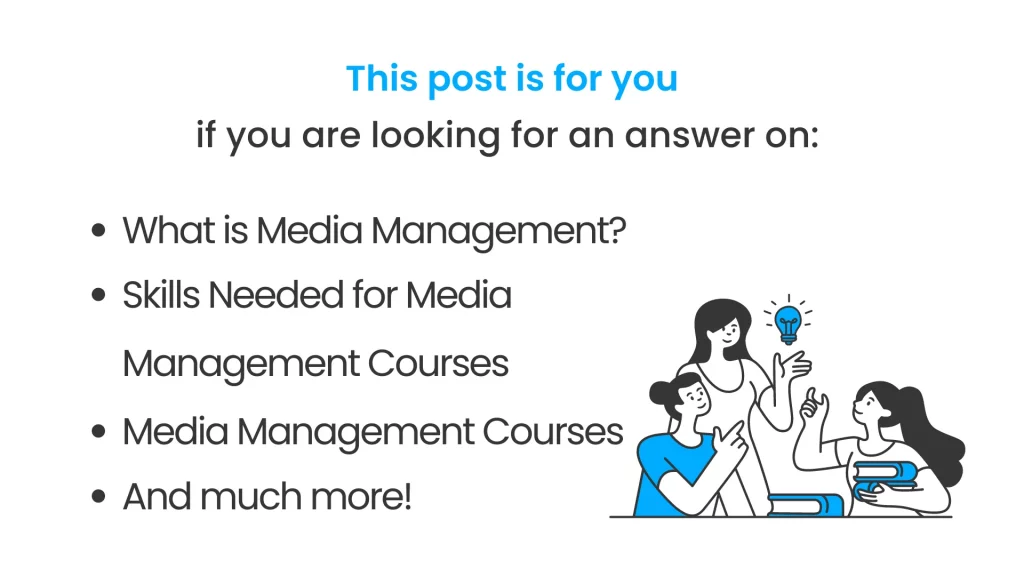 What is media management?
Media management refers to arranging, coordinating, and managing diverse media resources and activities in order to accomplish particular objectives. It encompasses tasks like media planning, media buying, media monitoring, and media analysis. It entails managing several forms of media, including print, television, radio, internet, and social media.
The utilization of media resources effectively and efficiently to reach the desired target audience and produce the desired results is a crucial component of the media business. Media managers may operate in a variety of contexts, including media companies, ad agencies, public relations companies, and other businesses that utilize media to reach their target audience.
Want to pursue a career in media management? Check our career sections regarding How to become a media manager in India.
Discover More by accessing the Free Career Dashboard
This will help us share relevant information with you.
Skills Needed for Media Management Courses
A combination of technical and soft skills is needed for media management courses. The following are some of the abilities required for courses:
Communication Skills – The ability to successfully transmit or exchange ideas and sentiments is referred to as communication.
Critical Thinking – Critical thinking enables one to take proper decisions at critical points.
Creativity – Creativity brings uniqueness to the content and helps break the monotony.
Technical Skills – These skills aid in increasing the outcome by easing the process.
Time Management – Time management skills bring out the best of you by managing time effectively.
Media Management Courses
Many universities and colleges throughout the world offer media management courses. These programs aim to equip students with the skills and knowledge necessary to manage media assets and projects across various sectors, including journalism, advertising, public relations, and entertainment. In this program, students could expect to take the following courses:
Introduction to Media Management: This course gives a general overview of the media landscape and introduces the fundamentals of media management.
Media Economics and Policy: Regulation, ownership, and competition are just a few of the economic and political concerns that the media sector faces as a result of this course's focus on media economics and policy.
Media Planning and Buying: This course covers the process of creating media strategies and purchasing media time and space in order to reach a target audience, which is known as media planning and buying.
Media Sales and Marketing: Identifying target customers, creating sales pitches, and negotiating contracts are just a few of the tactics and methods covered in this course on media sales and marketing.
Media Analytics and Metrics: The use of data and analytics in media management is covered in this course, along with the methods and tools for assessing media performance and enhancing media purchasing and planning tactics.
Media Law and Ethics: This course explores the legal and moral concerns related to managing the media, such as those involving privacy, truthfulness, and justice.
Types of Media Management Courses
Numerous educational levels, including undergraduate, graduate, and doctorate programs, provide different kinds of courses. The following are a few of the most popular kinds of media management programs:
Bachelor of Mass Media (BMM): A three-year undergraduate degree called the Bachelor of Mass Media (BMM) offers a variety of media-related topics, including journalism, advertising, and public relations. Media ethics, media legislation, media research, media management, and media production are among the topics covered in the course.
Master of Mass Communication (MMC): The MMC is a two-year postgraduate degree that offers comprehensive training in media administration, production, and communication. Topics including media strategy, media research, media marketing, and media management are covered in the course.
Master in Business Administration (MBA): The course known as Master of Business Administration (MBA) in Media Management covers a combination of management and media-related topics for two years. It includes topics such as media planning, media buying, media production, media legislation, and media ethics.
Postgraduate Diploma in Media Management: The one-year postgraduate diploma program in media management teaches students the principles of media communication, media research, media management, and media ethics. The course covers topics such as media planning, media procurement, and media creation.
Doctor of Philosophy (Ph.D.): Doctor of Philosophy in Media Management: This doctorate degree offers advanced research and management skills for the media. Topics including media ethics, media law, media marketing, and media research are all included in the program.
Eligibility Criteria for Media Management
To locate potential students for various courses, eligibility requirements are required. Admissions to various course degrees are made contingent on meeting a number of qualifying requirements. Here are the requirements for admission to the UG and PG programs in media management.
Eligibility Criteria for Media Management for UG Courses
Applicants must have received at least 50% of the maximum marks in their class of 12.
They must have successfully finished class 12 in any field, but commerce is preferred.
The admissions process will be merit- or entrance exam-based.
Eligibility Criteria for Media Management for PG Courses
At least a 55% grade point average is required in bachelor's degrees.
Applicants must have successfully completed a bachelor's degree in business management or a closely related field.
The university may admit the applicant based on merit or require them to pass an entrance exam.
Colleges for Media Management
There are many colleges in India that offer media management courses. Some of the top colleges for media management courses in India are:
Indian Institute of Mass Communication (IIMC), New Delhi
Mudra Institute of Communications (MICA), Ahmedabad
Symbiosis Institute of Media and Communication (SIMC), Pune
Xavier Institute of Communications (XIC), Mumbai
Amity School of Communication, Noida
Institute of Management Technology (IMT), Ghaziabad
Department of Media Studies, Christ University, Bangalore
School of Communication, Manipal Academy of Higher Education, Manipal
School of Communication and Reputation (SCoRe), Mumbai
Indian Institute of Digital Education (IIDE), Mumbai
Entrance Exams
For media management courses, various universities have distinct admissions procedures. While some colleges require applicants to take entrance examinations, others only consider those who have demonstrated academic or professional promise. Below is a list of typical admission tests for these programs:
Scope of Media Management in India
In India, the discipline of media management is expanding quickly and offers many career prospects to qualified individuals. Media management in India spans a wide range of sectors, including digital media, broadcasting, journalism, cinema, and public relations, among others.
Professionals in media management are in great demand as a result of the growth of digital media. With an increasing number of television channels, radio stations, and internet platforms, the Indian media sector is one of the fastest-growing media industries in the whole globe. As a result, there is now a demand for media managers who are capable of handling the numerous facets of media operations, including content creation, production, distribution, and marketing.
Jobs Prospects and Profiles
A wide range of job descriptions and career opportunities are available in the field of media management. The following are some of the most typical job profiles:
Creative Director
Content Manager
Conclusion
The key element of media management includes a variety of positions and duties. Any media organization's ability to succeed is largely dependent on how well it manages its media. Media management has grown in importance as a component of media creation and distribution with the emergence of digital media. As a result, there is an increasing need for knowledgeable media managers who can keep up with the most recent developments in technology. There are several work options in the business, making a career in media management both demanding and lucrative.
Media management offers a wide variety of professional options to choose from, whether one is interested in journalism, advertising, public relations, or digital media. You may develop your abilities and raise your chances of success in this fascinating and dynamic area by enrolling in media management courses and keeping up with the most recent industry trends and best practices. Overall, the topic of media management is exciting and constantly developing, providing a wealth of chances for development and creativity.
Hope we would have been able to provide you with all the information that you need regarding the media management courses. Still, got questions? Why don't you connect with our industry experts? Yes, you read it right! You can get your queries resolved in just 60 seconds from our Career counselors. So, what are you waiting for? Download the iDreamCareer app now!
iDreamCareer has helped millions of young minds like you from 9th class, 10th class, class 11, and class 12 discover their true mettle and is ready to help you too.
Also Read:
Media Management: FAQs
What is media management?
To guarantee the effective use and storage of media assets, such as digital photos, audio files, and video files, media management is the act of organizing and managing these assets. It entails compiling a list of media assets, classifying them, tagging them with information, and guaranteeing their accessibility.
What makes media management crucial?
For companies whose daily operations depend on media assets, media management is essential. Businesses can identify and use their media assets more quickly and simply with effective media management, which boosts productivity and efficiency.
What are some typical media management challenges?
Managing the vast quantities of media assets that are produced and used by businesses is one of the most frequent issues in media management. Other difficulties include guaranteeing the caliber of media assets, preserving proper metadata, and resolving format and compatibility problems with media assets.
What are some media management best practices?
A proactive strategy that regularly organizes, categorizes, and tags media assets are necessary for effective media management. A centralized system for managing media assets should also be in place since it may speed up the uploading, accessing, and sharing of media assets. In addition, it's crucial to regularly examine and update metadata and use a consistent file naming pattern.
What are some media management tools?
Digital asset management platforms like Adobe Experience Manager, Widen Collective, and Bynder are just a few of the numerous options available for media management. A centralized area for organizing, storing, and sharing media assets is offered by these platforms. Systems for managing information, software for altering images and videos, and cloud storage options are further tools.
Discover More by accessing the Free Career Dashboard
This will help us share relevant information with you
Trending Posts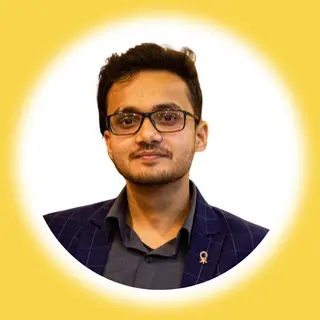 Sushant has been writing since his early days of childhood and currently, he's serving as a Content Writer with iDreamCareer. Sushant has two start-ups of his own and he has been writing content for them since their inception. Apart from that he is passionate about writing which is why he is following his passion for writing with iDreamCareer.