NEET is a highly competitive entrance examination for medical aspirants in India. It is a gateway to top medical colleges across the country and offers students the chance to secure a seat in the highly coveted MBBS (Bachelor of Medicine and Bachelor of Surgery) program. One of the most important aspects of this examination is the minimum marks required to be eligible for admission to an MBBS program. In this blog, we will be exploring the minimum marks required in NEET for MBBS admission and what factors influence these marks.
NEET, also known as the National Eligibility and Common Entrance Test, is required for enrollment in MBBS, BDS, and Ayurveda programmes. Ten different languages will be used to conduct NEET. Nearly 40 examination-conducting organizations located all throughout the nation administer the exam. The Supreme Court of India has mandated that this test serves as a single entrance exam for admission to undergraduate medical programmes in India. Therefore, it's critical that you understand how to get ready for it.
We are good to go now.
What all is covered in this post?
To have a clear understanding of the minimum marks required in NEET for MBBS, we have come up with a blog to help you out.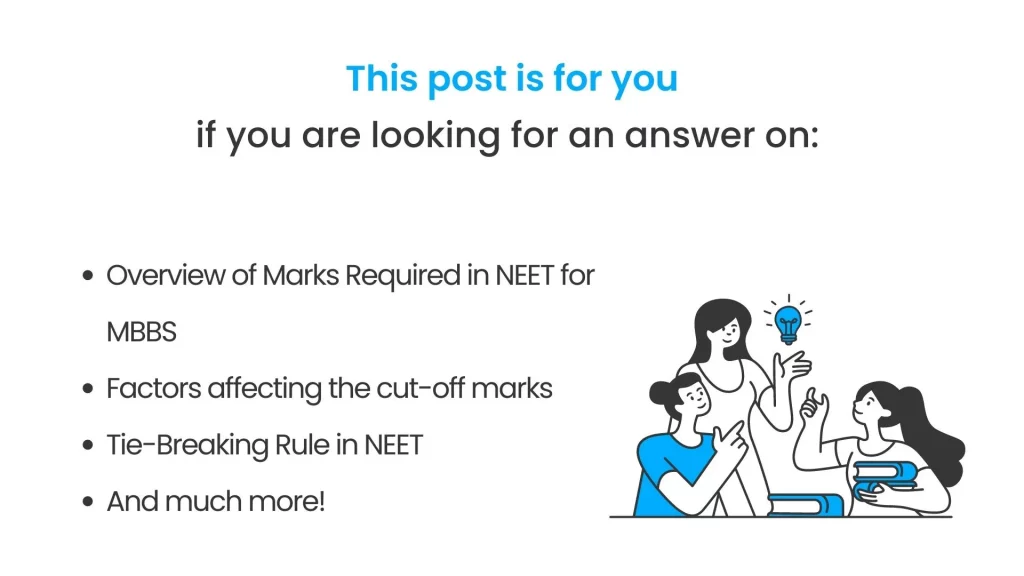 Overview of Marks Required in NEET for MBBS
National Eligibility Cum Entrance Test is referred to as NEET. It is a single-level national test given to applicants seeking admission to medical programs at the nation's various medical institutions. From 2020, the exam will be the single medical entrance exam required for admission to AIIMS and JIPMER institutions, replacing the existing system of several entrance exams administered at the state level.
As part of the One Nation One Examination strategy, the Indian government established NEET as a proposal to replace several tests with a single exam. The only UG-level medical entrance exam to use this format is NEET, an offline test administered using pen and paper.
Tip: Check out our blog on Beyond NEET: Flaunt Your Interests With This Career Options for more knowledge.
Cut-off Marks for MBBS Admission in Different Medical Colleges
NEET is a competitive exam and many competitive exams have ranked as their cut-offs. Medical Colleges in India generally declare opening and closing ranks for admission. Candidates who fall under the selected range may apply for admission.
| | |
| --- | --- |
| Name of the Institute | Closing Rank |
| AIIMS, Delhi | 51 |
| JIPMER, Puducherry | 4087 |
| Bahiramjee Jijibhai Medical College, Pune | 2295 |
| Maulana Azad Medical College, New Delhi | 16508 |
| Govt Medical College, Kota | 4844 |
| S.M.S. Medical College, Jaipur | 1185 |
| Govt Medical College, Thiruvananthapuram | 1078 |
| VMMC and Safdarjung Hospital, New Delhi | 138 |
| Seth G.S. Medical College, Mumbai | 935 |
| Government Medical College and Hospital, Chandigarh | 594 |
Disclaimer: All the above-stipulated ranks are based on research and calculations. These ranks are just an average of expected ranks. Candidates are advised to be updated themselves.
Know About Top 5 States Which Records Highest Registration- NEET UG Application 2023
Factors affecting the cut-off marks required in NEET for MBBS
The following criteria will be used to determine the NEET cut-off scores for MBBS admissions:
The number of applicants that took the NEET Test: The NEET cut-offs highly depend on the number of applicants. More number of applicants implies higher cut-offs.
NEET degree of difficulty: The difficulty level of the question paper is the driving factor to set the cut-offs. The difficulty level of the paper has a direct relationship with the cut-offs.
Available NEET seats overall: The number of NEET seats will imply the lesser cut-offs. The government is planning to increase the number of seats so that the maximum number of students can be admitted to medical college.
Minimum and Maximum Marks Required for MBBS Admission in different states
The National Testing Agency's NEET (National Eligibility Cum Entrance Test) score is the primary factor used to determine admission to the MBBS program in India (NTA). The number of candidates, the test's level of difficulty, and the total number of MBBS seats available in the state are taken into account while determining the NEET cut-off marks for various states.
Check the official websites of the medical institutions in those states or the website of the Medical Council of India for details on the minimum and maximum marks needed for MBBS admission in each state (MCI).
However, a rough cut-off of different states has been provided below.
| | | | | | |
| --- | --- | --- | --- | --- | --- |
| Sl No | State | UR | OBC | SC | ST |
| 1 | Delhi | 623-627 | 570-575 | 500-510 | 405-415 |
| 2 | UP | 585-595 | 505-570 | 465-470 | 340-350 |
| 3 | MP | 535-545 | 526-532 | 440-455 | 335-345 |
| 4 | RAJASTHAN | 595-610 | 580-585 | 480485 | 460-465 |
| 5 | Uttrakhand | 540-545 | 506-510 | 370-380 | 400-470 |
| 6 | Bihar | 585-600 | 580-585 | 440-445 | 455-460 |
| 7 | Haryana | 590-605 | 575-580 | 480-490 | – |
| 8 | Himachal P. | 560-565 | 535-555 | 490-500 | 470-480 |
| 9 | Punjab | 590-595 | 535-545 | 440-445 | – |
| 10 | Jharkhand | 580-585 | 575-580 | 440-450 | 375-390 |
| 11 | Chhattisgarh | 540-545 | 525-530 | 400-410 | 335-340 |
| 12 | Gujarat | 480-500 | – | 400-405 | 535-545 |
| 13 | Odisha | 550-580 | – | 455-460 | 340-345 |
| 14 | Maharashtra | 555-565 | 535-540 | 400-470 | 340-350 |
| 15 | Andhra Pradesh | 580-590 | 535-545 | 480-485 | 450-460 |
| 16 | Telangana | 530-540 | 470-475 | 450-455 | 480-490 |
| 17 | Tamil Nadu | 440-445 | 390-395 | 300-370 | 280-300 |
| 18 | Assam | 500-520 | 480-490 | 400-4450 | 380-400 |
| 19 | Kerala | 625-630 | – | 455-460 | 340-350 |
Know the best ways to prepare for NEET? Check out our latest blog post on Know Everything Regarding How to Crack Neet in First Attempt.
Discover More by accessing the Free Career Dashboard
This will help us share relevant information with you.
Tie-Breaking Rule in NEET
In many competitive examinations, it happens quite often that many students fetch the same marks. Therefore, it becomes necessary to bring the tie-breaker rules and regulations to prioritize the students based on certain parameters. Let's now have a look at the tie-breaking revised procedure in NEET.
higher grades/percentiles in physics, chemistry, and biology (botany & zoology)
In the event that a candidate achieves the same grades across all subjects, the pupils who tried fewer erroneous questions would be granted a better rank. Students that have fewer questions in biology, chemistry, and physics will come after this.
If these scores are comparable, older applicants will be ranked higher.
Additionally, a candidate who applied earlier for the NEET Exam would receive a higher rank.
NEET Rank and its Calculations
The NEET score is important for MBBS admission in India. Based on a candidate's performance on the NEET exam, the rank is determined. Candidates are placed in ascending order according to the marks they received in the test for the purpose of determining their NEET rank, which is based on a merit-based methodology.
The entire number of candidates who took the exam and the total number of college seats available are taken into account for determining the rank. Candidates are ranked according to their marks, with better marks translating to higher rankings and poorer marks into lower ranks. The NEET score establishes a candidate's eligibility for admission to MBBS courses across the country.
It is crucial to remember that the NEET rank does not ensure admission to a medical institution because other considerations, such as reservation guidelines and seat availability, also need to be taken into account. However, a high NEET score improves your chances of getting into a prestigious medical school. In order to get a high rank and increase their chances of admission to the medical institution of their choice, aspirants must do well on the NEET examination.
Conclusion
Every year, the minimum scores needed to be admitted to MBBS programmes through NEET change and rely on a variety of variables, including the number of candidates, the complexity of the test, and the number of seats available in institutions. It is crucial to keep in mind that these are only approximations and that the real cut-off marks may change. In order to maximize your chances of being admitted to your selected school, it is usually better to strive for a higher percentile.
Hope we would have been able to provide you with all the information that you need regarding NEET eligibility marks for MBBS. Still, got questions? Why don't you connect with our industry experts? Yes, you read it right! You can get your queries resolved in just 60 seconds from our Career counselors. So, what are you waiting for? Download the app now!
iDreamCareer has helped millions of young minds like you from 9th class, 10th class, class 11, and class 12 discover their true mettle and is ready to help you too.
Also, Read
FAQs
What minimum NEET score is necessary for MBBS?
Students who score above 550 have a better chance of being admitted to a government college for MBBS, according to patterns from the previous year. This indicates that the NEET score minimum for MBBS at Government College is 550.
Can I enroll in MBBS if I don't pass the NEET?
Students who failed the NEET are not eligible for direct mbbs admission in India because there is no such possibility there. Even MBBS admission via management quota in private medical schools is via NEET. From 2019 forward, passing NEET UG is necessary even for studying MBBS overseas.
Is it possible to pass the NEET in 7 months starting from scratch?
Yes, there is sufficient time to pass the NEET exam. Everything relies on how strong and determined you are. To succeed in your exam, you need to be self-motivated.
Which rank is ideal for NEET?
Yes, individuals can get a place at a reputable government medical institution with a NEET score of 560 or higher. The best government universities are quite likely to admit applicants with NEET rankings up to 200.
Is 3 hours a day of study sufficient for NEET?
The NEET Syllabus may be finished in a maximum of 6-7 hours and a minimum of 2- 3 hours. As opposed to many students, you are not forced to study for 12 to 16 hours per day.
Discover More by accessing the Free Career Dashboard
This will help us share relevant information with you
Trending Posts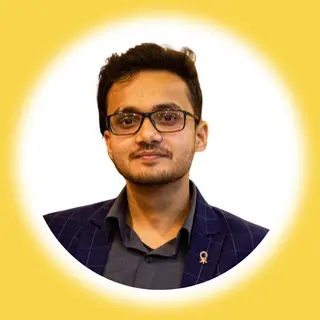 Sushant has been writing since his early days of childhood and currently, he's serving as a Content Writer with iDreamCareer. Sushant has two start-ups of his own and he has been writing content for them since their inception. Apart from that he is passionate about writing which is why he is following his passion for writing with iDreamCareer.