Engineering applicants in India take the extremely difficult Joint Entrance Examination (JEE) Main entrance test. It acts as a point of entry for enrollment in the nation's top engineering schools. These include the National Institutes of Technology (NITs), Indian Institutes of Information Technology (IIITs), and other publicly supported technical institutions. Students can opt to sit in either the January or the April session of the JEE Main. It is administered twice a year. The National Testing Agency (NTA) is in charge of administering the examination throughout the country. In this blog post, we shall try to find an answer to the burning question nowadays "How many attempts are allowed for JEE Mains?"
Given the significance of this test, students frequently want to know how many tries they are permitted. In this article, we'll go at the specifics of how many times one may take the JEE Main exam. This will help you in fulfilling your ambition of going to engineering school in India. We shall also be talking about the rules and regulations related to the attempts. In order to assist you in getting ready for the forthcoming JEE Main examinations, we will also look at the eligibility requirements and other crucial information regarding the test.
Without any further ado, let's get started now!
What all is covered in this post?
To have a clear understanding of the NEET eligibility criteria, we have come up with a blog to help you out regarding 'How many attempts for JEE Mains?'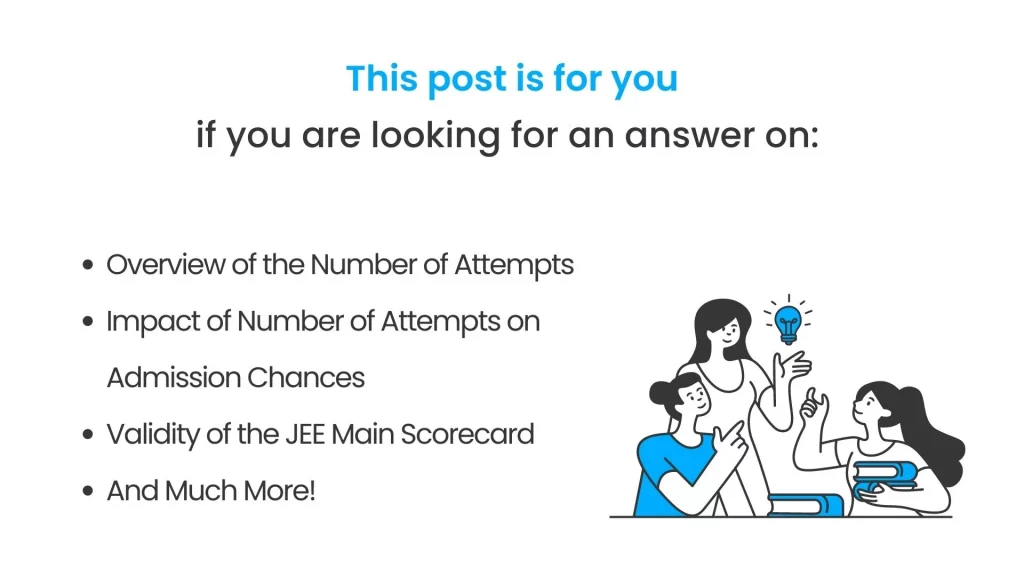 Overview of the number of attempts allowed for JEE Mains
The NTA JEE Main test will be offered in two sessions in 2023. Candidates wishing to know how many times they may take the JEE Mains in the general category should know that they have three consecutive years starting in the year they passed high school. The following information is for applicants who are interested in learning more about JEE Mains annual testing frequency, the maximum number of attempts, and benefits.
Need tips on how to crack JEE? Complete your checkout by visiting our blog How to Crack IIT JEE.
Rules and regulations related to attempts
Let's now have a look at some of the rules and regulations related to attempts in JEE Mains.
A candidate can give the JEE Main exam six times over a period of three consecutive years. In a year, a candidate can appear for JEE Main twice in the months of January and April.
If the candidate has passed the 12th exam in 2023, then the candidate can appear in the 2024 and 2025 JEE Main. If the candidate is appearing for the class 12th board exam in 2023, then he/she can appear in both sessions of JEE Main in 2023, following the attempts in 2024 and 2025 as well. Students are advised to go through the full JEE Main eligibility criteria list in order to understand the requirements.
The JEE Mains will be held twice a year, as was noted above; candidates must register individually for the January and April exams. Therefore, a candidate can make up for whatever weaknesses they had in the January exam in the April exam. So, for three years in a row, a candidate may give the exam twice a year.
After passing JEE Mains with a good score, the applicant will be qualified to take JEE Advanced, which will be administered in offline format for the sketching test and online mode for the mathematics and aptitude sections.
Want to know more about JEE Pattern and Syllabus 2023?
Impact of number of attempts on admission chances
Let's now discuss the impact of 2 attempts of JEE Main on students and their admission chances.
If candidates are not pleased with their JEE Main 2023 first session results, they will have the opportunity to enhance their marks on the second try.
The second try will assist the applicants in correcting any errors from session one.
This will lessen the likelihood of a year dropping. Candidates won't have to squander a full year as a result.
Any applicant who misses the first session won't need to wait another year to take the JEE main test.
Now, if we talk about the admission chances, it is very likely to be increased. Students are getting an extra attempt the same year if they fail to give their best in the first attempt of the current year. Subsequently, they also get four more chances, i.e., two chances for two consecutive years after passing the high school phase. This opens up a window that increases the probability of an engineering aspirant making it into an engineering college.
Now follows a very important question regarding the validity of the JEE Main scorecard.
Discover More by accessing the Free Career Dashboard
This will help us share relevant information with you.
Validity of the JEE Main Scorecard
Only the present year is eligible to use the JEE Mains scorecard. The candidate can only apply for admission to the institute for the same academic year if he or she takes the JEE Main the same year. Candidates will be able to view the JEE Mains qualifying marks online. To view their JEE Main scorecard, candidates must log in using their login information.
What happens when the scorecard expires?
Since the JEE Main scorecard is only valid for the current year only, students have to appear for an examination the very subsequent year to extend the validity of the scorecard.
Conclusion
Students who took the Class 12 or equivalent test for the first time are allowed a maximum of three attempts in the Joint Entrance Examination (JEE) Main. The maximum number of tries for students who took Class 12 or an equivalent test before 2020 is two. It is crucial to bear in mind that the requirements for JEE Main eligibility may vary from year to year, therefore it is advised to stay current on the most recent information. Making the most of the JEE Main exam's allotted tries and being well-prepared is crucial since the number of attempts a student is permitted to make can significantly affect their chances of passing the test. By passing JEE Main, students may fulfill their desire of attending engineering school in India with the proper preparation, perseverance, and hard work.
Hope we would have been able to provide you with all the information that you need regarding NEET eligibility marks in 12th. Still, got questions? Why don't you connect with our industry experts? Yes, you read it right! You can get your queries resolved in just 60 seconds from our Career counselors. So, what are you waiting for? Download the app now!
iDreamCareer has helped millions of young minds like you from 9th class, 10th class, class 11, and class 12 discover their true mettle and is ready to help you too.
Also, Read
FAQs: How many attempts for JEE Mains?
Can I take the JEE Mains exam more than once?
During a single academic year, candidates may show up for JEE Mains a maximum of three times. However, a candidate can subsequently appear for a second year.
Does JEE Mains have an age restriction?
There is no upper age limit to take the JEE Mains exam. However, there is an attempt limit that we have already talked about earlier.
Can I take the JEE Mains if I've already earned my degree?
No, a candidate is not permitted to take the JEE Mains examination after receiving their degree.
Is it compulsory to attempt 75 questions in JEE Mains?
Candidates need to only attempt 75 questions, 25 questions from every section. The 5 questions that can be left will be from Section B of all three subjects. For JEE Main Paper 2A (B. Arch), candidates are given 82 questions, where only 77 questions need to be attempted.
Can I give JEE Mains 60%?
You can appear for JEE Main 2022 regardless of the percentage of marks scored in class 12th. However, you will not be eligible to get admission in NIT/IIIT/GFTI if the minimum percentage is applicable for JEE Main 2022, if it is not applicable then you can get admission if you qualify in JEE Main.
Discover More by accessing the Free Career Dashboard
This will help us share relevant information with you
Trending Posts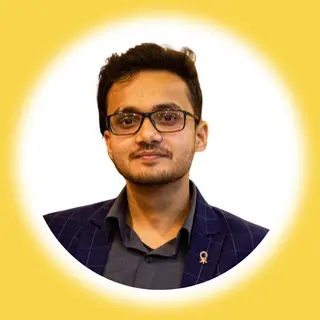 Sushant has been writing since his early days of childhood and currently, he's serving as a Content Writer with iDreamCareer. Sushant has two start-ups of his own and he has been writing content for them since their inception. Apart from that he is passionate about writing which is why he is following his passion for writing with iDreamCareer.