There are only a few days left for one of the most difficult and well-liked engineering entrance exams in the nation, JEE Main, which is just around the corner. The Joint Entrance Exam, which will feature thousands of applicants, will pit some of the nation's top minds against one another in a highly competitive setting. While JEE is just around the corner, students are very curious to know how to crack JEE Mains and Advanced in their first attempt. JEE is a difficult exam to pass. Sometimes it calls for months or even years of diligent labour and planning.
While some aspirants choose to start a month or two prior to the scheduled exam date, the majority of candidates typically begin their preparations at least a year in advance. Everyone has their own study methods and strategies for getting ready for exams, but they all end up struggling under pressure or when worry sets in. We offer a thorough study plan for you to follow in order to better prepare for the JEE Mains test if you're one of the people experiencing extreme strain owing to running out of time for preparation.
What all is covered in this post?
To make it easier for you, we have created a quick guide to everything you need to know about how to crack JEE in the first attempt.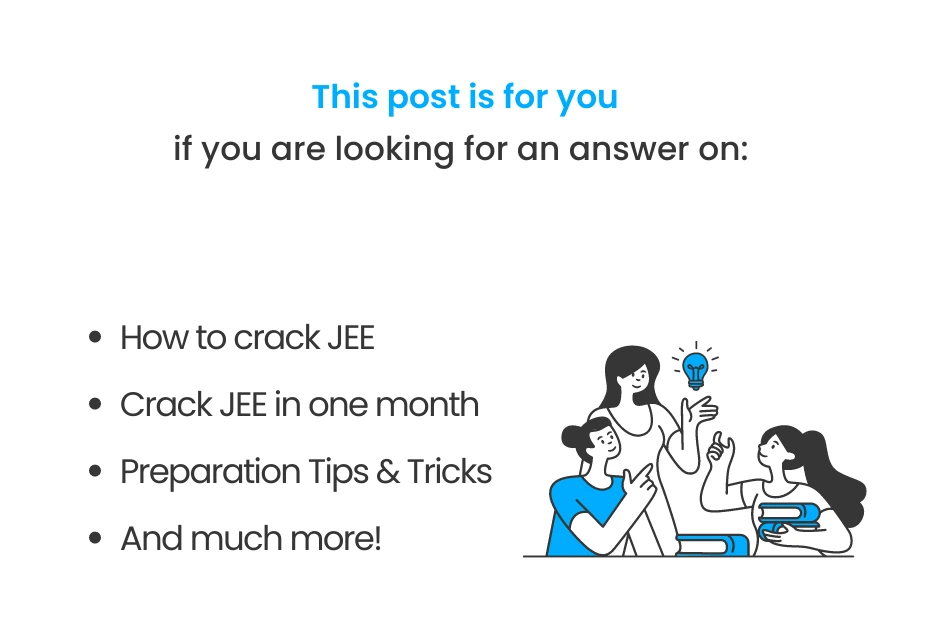 How to crack JEE Mains and JEE Advanced
Joint Entrance Exam (JEE) success is not simple. Every year, over 10 lakh people take the exam, making it a fiercely competitive field in which only the best candidates succeed. However, passing the JEE is undoubtedly feasible with the appropriate approach and lots of effort. Here are some pointers for carrying it out.
Start Early
The JEE Mains and JEE Advanced exam is extremely difficult and calls for extensive study. To ensure that you have enough time to cover the full syllabus and practice as much as you can, it is crucial to start your preparations well in advance. The ideal time to start studying is at least two years before the exam.
Recognize the syllabus and exam format
The syllabus and exam format should be understood before beginning JEE Mains and JEE Advanced preparation. Paper 1 for B.E./B.Tech and Paper 2 for B.Arch/B. Planning is the two papers that make up the JEE Mains. JEE Advanced also consists of two papers. The content for both exams is extensive and covers a wide range of subjects, including mathematics, physics, and chemistry. Be sure you properly read the syllabus and comprehend the subjects that will be tested in the exam. Additionally, become familiar with the format of the test and the kinds of questions that will be asked.
Make a study plan
Now that you are familiar with the syllabus and exam format, it is important to make a study plan. You can stay organized and make sure you are studying all the material by creating a study timetable. Give each subject enough time, and divide your study sessions into reasonable portions. Setting aside time for revision is a wonderful idea, too.
Use the proper study tools
Succeeding in the JEE depends on your ability to select the best study tools. There are many books and study materials on the market, but it's crucial to pick the ones that are the most current and pertinent. In addition to reading books, you can think about enrolling in online classes or a coaching program to gain access to more study resources and professional advice.
Practice makes a man perfect
Putting in as much time as you can to prepare can help you succeed in the JEE Mains. To gain a sense of the exam, complete as many practice questions and mock examinations as you can. You'll be able to better understand your strengths and shortcomings as well as develop your abilities and confidence as a result of this. Don't forget to pay attention to your areas of weakness and work to strengthen them.
Time Management
Time management is essential for the JEE Mains because there are many questions to be answered in a short amount of time. During the exam, be sure to pace yourself and use your time effectively. Starting with the simpler questions first is a good idea before moving on to the more challenging ones. Don't spend too much time on a single question and be sure to allow enough time for each subject.
Stay Healthy and Focus
Maintain your health and concentration; passing the JEE Mains needs a lot of effort and commitment. To be able to perform at your best, it's crucial to maintain your health and concentration. For optimal mental and physical health, make sure you get enough sleep, eat well, and exercise frequently. Focus on your study and keep away from outside distractions.
Discover More by accessing the Free Career Dashboard
This will help us share relevant information with you.
How to crack JEE in one month?
Expecting to pass the Joint Entrance Examination (JEE) in a month is not feasible. The JEE is a very difficult exam that necessitates extensive planning and study over a long period of time. It is crucial to start preparing early and make a study program that enables you to thoroughly and methodically go through all required material. In the limited time you have, try some of the following to aid in your JEE preparation:
Set realistic goals: Set reasonable expectations and avoid attempting to cover too much ground too quickly. Instead, concentrate on comprehending the fundamental ideas and honing your problem-solving techniques.
Create a study plan: Plan your daily studies and divide your study time into small parts. Leave enough time for breaks and reviewing.
Review and practice: Spend the majority of your time studying previously learned content and working on issues. You can use this to confirm your comprehension and pinpoint any areas where you still need to do better.
Get aid if you require it: Do not be reluctant to ask your lecturers, tutors, or study groups for assistance if you are having trouble understanding a certain subject or topic.
Take care of yourself: To keep focused and energized while studying, be sure to get enough sleep, exercise, and eat well.
Keep in mind that maintaining your motivation and attention to your academics is what matters most. Your chances of performing well on the JEE can be increased with effort and commitment.
How to crack JEE on the first attempt?
Best study advice to pass the IIT JEE on your first try:
Create a study plan and be familiar with the course material.
The secret is to comprehend things and practice.
Don't read numerous novels at once.
Dispel your doubts frequently.
Review your work frequently.
Complete online practice tests and papers from past years.
Work intelligently rather than simply hard.
Speak to your parents or teachers if you're feeling down.
Get enough sleep and eat well.
Stay focused and optimistic.
Summary
We hope that we have served you well regarding your queries on preparatory tips related to JEE Mains and Advanced. We have also created a separate blog regarding JEE Exam Pattern and Syllabus. Students are encouraged to keep checking the NTA website for regular updates on JEE pattern and dates. We hope we have resolved all of your queries and doubts regarding how to crack JEE Mains and Advanced.
Still in a dilemma about which course to opt for? Why not talk to our highly experienced industry experts at iDreamCareer! We have helped millions of young people to identify the ideal career path that would help them achieve their dreams in the future. You too can be that person! Our career advisers can answer your questions in only 60 seconds. What are you still holding out for? Get the app right away!iDreamCareer has helped millions of young minds like you from 9th class, 10th class, class 11, and class 12 discover their true mettle and is ready to help you too.
ALSO READ:
Frequently Asked Questions (FAQs)
What is the fastest way to solve a question in JEE?
Tips to solve questions quickly in JEE and NEET: Remember all the formulas of Physics, Chemistry and Math well. If you take time to recall the formula, you will lose the time. Try to get hints from questions and options, which chapter or topic or concept is asked.

What is the easiest way to crack JEE Mains?
Taking mock tests and practicing sample papers/previous years question papers of JEE Main is an imperative part of JEE Main preparation to ensure that you crack JEE Main 2023. Candidates must take a lot of JEE Main mock tests to test their ability and check their level of performance for the entrance test.

Can I crack JEE in the 1st attempt?
Some of the reports have found that almost 60 percent of the successful candidates have cleared the exams on their first attempt. So, if you are determined to pass the IIT JEE on your first try, the odds are in your favor.
What is the 75% rule in JEE?
Generally, candidates are required to have 75% or more in their Class 12 final exams, or they should be in the top 20 percentile to get admission to the IITs, NITs, and GFTIs.

Which rank is enough for NIT?
You can get admission in new NITs and popular private colleges if your rank is above 1,00,000 in JEE Main.
Discover More by accessing the Free Career Dashboard
This will help us share relevant information with you
Trending Posts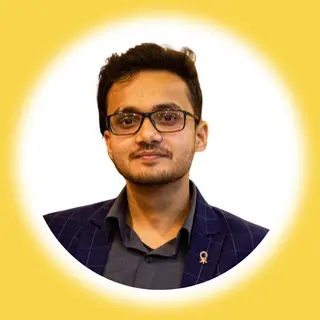 Sushant has been writing since his early days of childhood and currently, he's serving as a Content Writer with iDreamCareer. Sushant has two start-ups of his own and he has been writing content for them since their inception. Apart from that he is passionate about writing which is why he is following his passion for writing with iDreamCareer.