Entrepreneurship is the process of starting a business. It is typically a start-up company offering a product, process or service. Being an entrepreneur is a high-risk, high-reward position. Entrepreneurship involves a continuous search for new ideas and a willingness to take responsibility. It is the determination to put the mind to a task and see it through, from inception to completion. Yes, I know that these are well-known facts, all thanks to Ted Talks.
But, let's learn a bit more about entrepreneurship, other than those 'super-cool-we-did-so-well' videos. What does an entrepreneur do and what makes you a great entrepreneur? What does it take to start your own venture? It's not as easy as uploading that video, is it?
"Entrepreneurship is a systematic innovation. It consists of the purposeful and organized search for changes, and it is the systematic analysis of the opportunities such changes might offer for economic and social innovation." – Peter Drucker
An entrepreneur can be defined as an individual who organizes or operates a business(es). A person who organizes and manages any enterprise, usually with considerable initiative and risk. Entrepreneurship is a creative act involving the mobilization of assets. It goes from one level of productive use to an advanced level of use.
To put it very simply, an entrepreneur is someone who perceives prospects. They systematize resources needed for developing an opportunity and exploit them. Laptops, motorbikes, mobile phones, credit cards, courier service, and ready to eat foods; are all examples of entrepreneurial ideas that got converted into products or services.
Why Sudden Rise in Entrepreneurship ?
Technological progress is a crucial component of the boom in self-employment. We can credit it to technological advancement. As long as someone has a smartphone, tablet or laptop with an internet connection, they can run an office online. They can also communicate with billions of people at a faster rate with limited difficulties, hence, making business easy and cheap.
In India, sadly, society plays a major role in determining your status. A change in mindsets is one of the major reasons that entrepreneurship is on the rise. Yes, there are still the "oh kitna bada hogaya hai" aunties and the "kya business karoge? sabji bechoge?" uncles, and always will. But, the whole of society is changing its perception towards start-ups. We are not only realizing its importance but also encouraging new ideas.
Moreover, there is an entire global opportunity knocking on our doors. Across diverse sectors internationally, the "Made in India" tag, much like the "Made in China", is now an increasingly respected brand. It is valued for quality, dependability, and competitiveness. The world is now our market and our opportunity.
So, who made it big in this industry?
Entrepreneurship is not new to India. Several India-based companies are constantly getting a place in the Fortune 500 companies. Similarly, countless entrepreneurs are finding a place on the Forbes list of richest people. Believe it or not, the Tata's and Birla' were once start-ups. Nothing reads more encouragingly than the true success story of visionary entrepreneurs. People who started from scratch and rose to the top of their game over the years.
Ola #ChaloNiklo: One of the fastest-growing businesses in India, OLA was founded by Bhavish Agrawal and Ankit Bhati in 2010. It has today become the best personal transportation app of India. Innovation and strong entrepreneurial skills have raised Ola to a sky-high level. Now, it has spread from transportation, to grocery and food delivery. Today, Ola has more than 2 lakh cars associated with it and the gross valuation of the company is around $5 billion. Ola tells us that if you have an idea, the best thing to do is ChaloNiklo (Get set go).
OYO Rooms #AurKyaChahiye: Already being counted among the next start-up unicorns, Oyo room is an inspiring success story. Founded in 2013 by a 22-year-old entrepreneur, Ritesh Agrawal, Oyo Rooms has become the first preference for budget hotel booking. Ritesh started his entrepreneurial journey when he was 17 years old. In 2013 Oyo rooms started with one hotel in one city and today it is associated with over 4000 hotels in more than 140 cities. This start-up story tells us that if you have a strong belief in your idea and the passion to chase your dreams, Aur Kya Chahiye (What else is needed)?
Paytm#PaytmKaro: Paytm is becoming one of the leading eCommerce sites and the most preferred internet wallet of India. Paytm was founded by Vijay Shekhar Sharma in 2010. Vijay had started his entrepreneurial journey when he was in the third year of his engineering course. By the time he finished his engineering in 1999, the company had made a turnover of around 50 lakh INR. In 2010 Paytm was just a site for mobile and DTH recharge, but today it has spread its horizon to cover several eCommerce products and services.
The Viral Fever (TVF) #NoCountryForFunnyMen: Entrepreneurship is not a matter of joke! Well, not always. Arunabh Kumar, an IIT Kharagpur alumnus, started TVF as an online youth entertainment channel in 2010. Arunabh believed that his ideas can get good reception among the teens of the nation, but he couldn't convince the same to the leading media houses. He was rejected by channels like MTV and Channel V. Today, TVF is not only hugely popular among teens, it has also gathered huge sponsors and advertisements. It has a viewership of more than 12.5 lakhs. TVF success proves that contrary to their motto, there is indeed a country for funny men and women.
Discover More by accessing the Free Career Dashboard
This will help us share relevant information with you.
Also Read: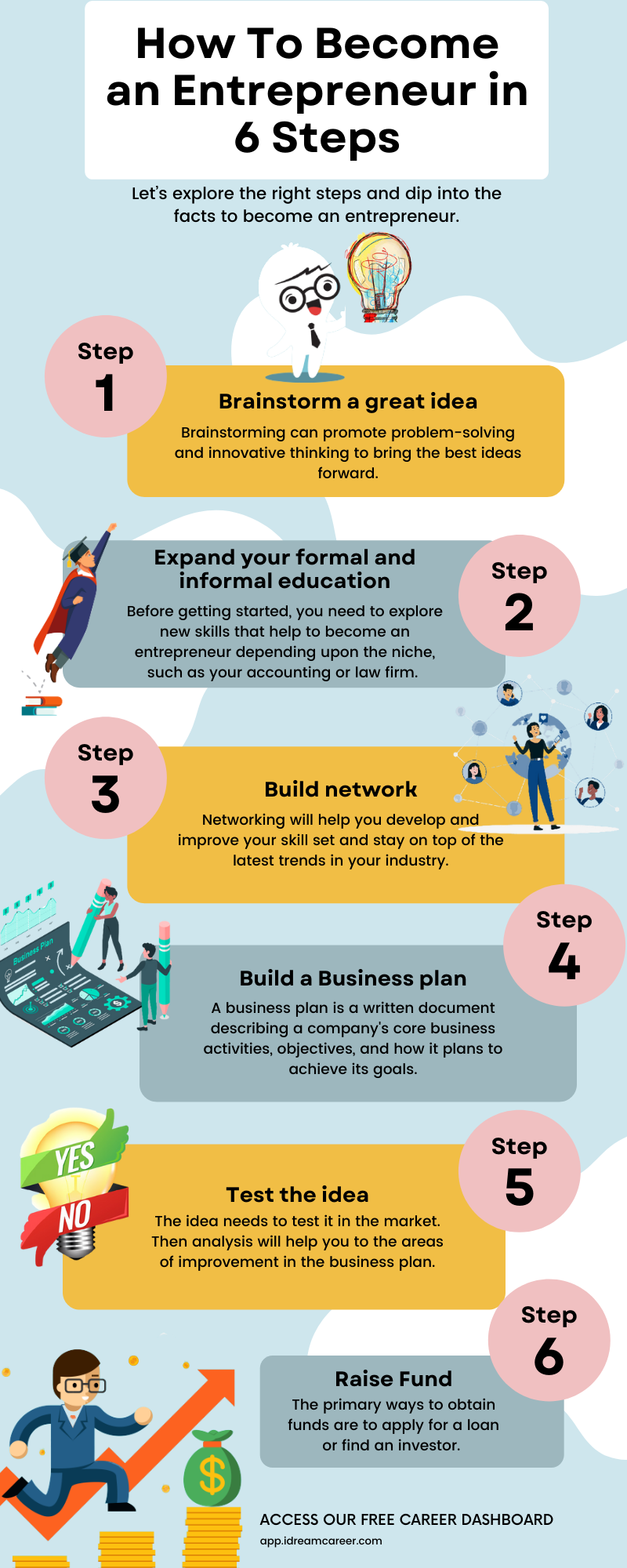 How To Become an Entrepreneur Step by Step
Some say it is best to start up in college itself. This is when energy and risk-taking capacity is at its peak. Others say it is best to first work for a few years before taking the plunge. Here, you need to build a firm base of experience and financial resources. The pursuit of these opportunities demands an unbeatable spirit of entrepreneurship.
To start:
brainstorm a great idea
research about your market
talk to potential customers/clients
commit to a goal, not a plan
love what you do
take baby steps
learn from others and
constantly take action
Entrepreneurs often have no fallback option and are responsible for the success or failure of their business. One of the most important things in becoming an entrepreneur is flexibility. High tolerance for frustration energy and determination will get you through many of the hurdles you will face as a new entrepreneur.
Education in the Right Direction
Gone are the days where an idea, and a little Baap-ka-paisa of a 12th-pass-ladka would do miracles. You can't control everything about your business, and adaptation is vital for survival. Education imbibes these qualities in you. Attending a business school to be an entrepreneur can help
channelize your creativity
participate in business plan competitions
earn an MBA and
launch a business.
An entrepreneurship degree is an academic degree. It is awarded to students who have completed college, university, or business school program related to entrepreneurship or small business management. In the two-year program, you'll learn all strategically organizing factors of production and the process of maximizing profits. Some colleges you can look up are:
Best Institutes in India to become an entrepreneur
S P Jain School of Global Management, Mumbai
NMIMS' School of Business Management, Mumbai
Acharya Bangalore B-School (ABBS), Magadi Road, Bangalore
Alliance School of Business – Alliance University, Anekal, Bangalore
Entrepreneurship Development Institute of India
Best Institutes Abroad to become an entrepreneur
Babson College, Massachusetts
University of Houston, Texas
Baylor University, Texas
Brigham Young University, Utah
Harvard Business School
Conclusion
Entrepreneurs have the ability to think new, better and feasible ideas of business organization and management. They are business leaders and contributors to the economic development of a country. Entrepreneurs drive social innovation and transformation in various field. These include education, health, human rights, workers' rights, environment, and enterprise development. Succeeding as an entrepreneur takes passion, hard work, and persistence. If you think you can, you wouldn't know unless you give it a go. Go ahead, start up your dream and be your own boss!
Discover More by accessing the Free Career Dashboard
This will help us share relevant information with you
Trending Posts

Richa has been working in this career counselling industry for 8+ years. She holds expertise in research and analysis of careers, jobs, and industries. She has written extensively about many other subjects too. Her other interests include literature, design, and knowledge sharing.