BSc Nursing is an undergraduate program designed for students who wish to become professional nurses committed to the promotion of health, prevention of disease, and rehabilitation of patients. The BSc nursing program aims to inculcate students with the knowledge and understanding of skills from various bio-psycho-social fields in the practice of nursing.
George Engel's concept of the Biopsychosocial model, explains that the biological, psychological, and social factors could be used in order to understand a person's medical condition.
There are various nursing programs other than B.Sc Nursing offered by various colleges/ universities such as B.Sc Nursing (Post Basic), and higher studies like M.Sc, M Phil, and Ph.D. in Nursing. This article majorly focuses on B.Sc Nursing, details of entrance exams, admission procedure, program fees, and prospects.
BSc Nursing Entrance Exam details
To get admission to a B.Sc Nursing, there are various national and state-level B.Sc Nursing Entrance exams. Look at the following entrance examinations for nursing admission:
AIIMS BSc Courses Entrance Examination- Conducted by All India Institute of Medical Sciences (AIIMS)
PGIMER- Conducted by Postgraduate Institute of Medical Education & Research (PGIMER)
JIPMER- Conducted by Jawaharlal Institute of Postgraduate Medical Education and Research (JIPMER)
IPU CET- Conducted by Guru Gobind Singh Indraprastha University (GGSIPU)
CPNET is Combined Paramedical and Nursing Entrance Test. It is conducted by Uttar Pradesh University of Medical Sciences
AISECT Joint Entrance Exam conducted by AISECT University, Bhopal for admission to various UG and PG courses
BVP CET UG is conducted by Bharati Vidyapeeth
NIMHANS is conducted by the National Institute of Mental Health and Neurosciences
Online Admission Test is conducted by the Army College of Nursing (ACN)
List of BSc Nursing colleges
The following lists of colleges offering a B.Sc Nursing degree are recognized by the Indian Nursing Council as well as Delhi Nursing Council:
BSc Nursing Admission & Eligibility Criteria
BSc Nursing admission and the eligibility criteria for many state universities and colleges may vary but a similar protocol is usually followed. As per the Indian Nursing Council (INC), to get admission to BSc Nursing, you must meet the following admission and eligibility criteria:
For B. Sc Nursing Admission and Selection
Candidate must be of 17 years of minimum age for admission on 31st December of the year in which admission is sought.
Candidate must hold the following minimum education requirement: Candidate with Science/Arts/Humanities/Commerce who have passed class 12th examination and must have obtained a minimum of 45% marks in the core/elective/academic subjects taken together and passed English individually
The candidate should have passed from recognized board under AISSCE/CBSE/ICSE/SSCE/HSCE or other equivalent Board.
Basis of selection- The Selection of the candidates for admission to the B. Sc Nursing Course will be made on the basis of the merit in the Entrance test for respective colleges/ universities and other eligibility conditions as per the institution.
To be eligible candidates must apply for and clear national/state conducted B.Sc Nursing entrance exam.
Admission- The Nursing admission process depends entirely on the state/ university conducting the entrance examination.
Candidates are requested to apply for B.Sc Nursing application online or as per directed on the official website of the college or university.
The admission of the candidates will be only through the entrance examination conducted by University/ state government
The Entrance Test will be of two hours thirty minutes (2½ hours) duration and shall contain objective type (Multiple Choice) The exam comprises of: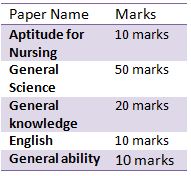 For Admission to B. Sc Nursing (Post basic)
Candidates who have: (I) Passed 12th class under 10+2 system of education or an equivalent examination from a recognized Board/University
(ii) Obtained a Diploma/ certificate in General Nursing and Midwifery from any institution recognized by the Indian Nursing Council.
(iii) Registered as Nurse, RN (Registered Nurse), RM (Registered Midwife) with any State Nursing Council
(iv) In the case of male candidates, the candidate must be trained before the implementation of the new integrated course besides being registered as a nurse with State Nurses Registration Council,
The male candidate must produce evidence of training approved by the Indian Nursing Council (INC) for a similar duration in lieu of midwifery in any one of the following areas:
O.T. Techniques,
Ophthalmic Nursing,
Leprosy Nursing,
TB Nursing,
Psychiatric Nursing,
Neurological and Neuro Surgical Nursing,
Community Health Nursing,
Cancer Nursing,
Orthopedic Nursing
B.Sc Nursing Syllabus
The BSc Nursing course is divided into a total of 8 semesters i.e. four years. Look at the following tables to get more information about the BSc Nursing syllabus semester-wise:
BSc Nursing Syllabus: Semester I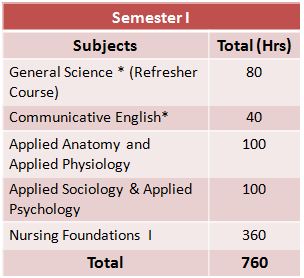 BSc Nursing Syllabus: Semester II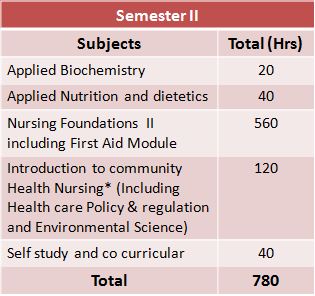 BSc Nursing Syllabus: Semester III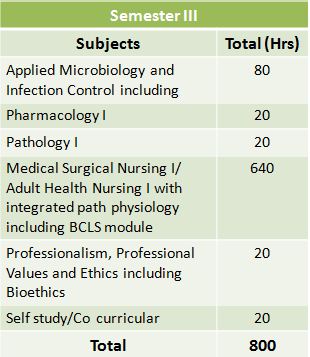 BSc Nursing Syllabus: Semester IV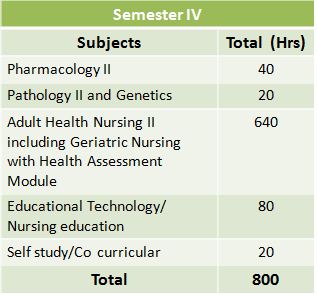 BSc Nursing Syllabus: Semester V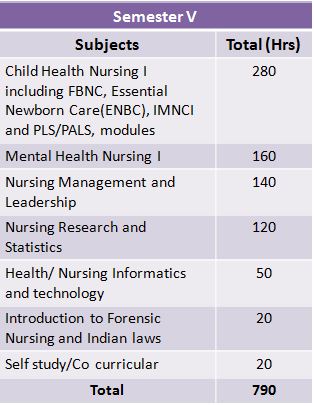 BSc Nursing Syllabus: Semester VI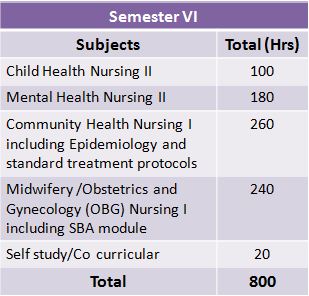 BSc Nursing Syllabus: Semester VII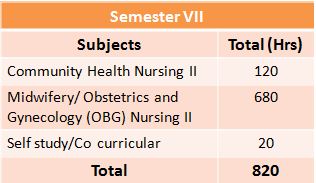 BSc Nursing Syllabus: Semester VIII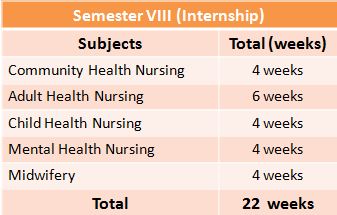 List of Elective Modules for Each Semester
Semester: III & IV
Candidates for BSc Nursing must complete any two of the following electives by end of 4th semester across 1st to 4th semesters:
Human values
Diabetes Care
Palliative care
Disaster Management
Semester: V & VI
Candidates for BSc Nursing must complete any one of the following electives before the end of 6th semester:
Personality development
Addiction psychiatry
Adolescent health
Sports health
Accreditation and practice standards
Developmental psychology
Menopausal health
Health Economics
Semester: VII & VIII
Candidates for must complete any one of the following electives before the 8th semester:
Scientific writing skills
Lactation management
Sexuality & Health
Stress management
Job readiness and employability in the health care setting
Soft Skills
For detailed BSc nursing syllabus, check out the revised syllabus by the Indian Nursing Council.
BSc Nursing Fee details
The course fees for a graduate degree in nursing ranges from Rs. 10,000 to Rs. 5,00, 000 for all four years. The fee structure for BSc nursing application registration, tuition fee, course fee, and other fee details may vary as per different institutions/ colleges. Therefore, candidates must go through the official website of the college and check the fee structure.
B.Sc Nursing Prospects
After completing graduation, students may find several job opportunities to choose from. Graduates in this field can take up a job as a nurse in various government or private hospitals, nursing homes, clinics, and health departments. They may also find job profiles such as:
Clinical Nurse Specialist
Nurse Anesthetist
Certified Nurse Midwife
Hospital nurse
School health nurse
Industrial nurse
Public health nurse
Home Health care professional
Nursing Tutor in Schools/Colleges of Nursing*
*Students who wish to pursue higher studies after a graduate degree in Nursing like M.Sc. or other Postgraduate courses in this field can also become an educator/trainer or a teacher in the school of nursing for various colleges/ universities.
The healthcare sector in India is an ever-growing industry. According to reports by India Brand Equity Foundation the healthcare market in India is expected to reach US$ 372 Billion by the year 2022. This means several job opportunities in the coming future for nursing graduates in various private and government healthcare centers.
Indian Nursing Council: Some useful direct links
Summing Up
The BSc Nursing degree offers immense scope for those looking for a career as a professional nurse. A degree in this field opens vast career opportunities in diverse fields. Therefore, if you are thinking of pursuing a career in nursing, then a graduate or postgraduate degree with a significant amount of experience is all you need to succeed in this career.
Although if you need guidance and want to take expert opinion before you go on to follow this career path, then consult a career counselor and make an informed career choice. iDream offers the following services;
You may also like to read:
Shruti Verma has an experience of around 2+ years in research and analysis of careers, jobs, and industries. She has a knowledge of diverse fields spanning from career counselling, management consulting, engineering, and technology to science, finance, and humanities.