KONNICHIWA folks! We assumed that you are planning to study in Japan, so here is the guide for you! Japan is all about it's traditional culture and World's leading technology! Starting from Automobiles, to digital cameras, optical fibers, and the artificial heart are just a few of the products that Japan has introduced to the world.
Japan has high educational standards and is the only asian country with the most number of Nobel laureates. Japanese schools priorities the development of character and Moral values over academic results. A variety of English-taught programmes, teaching staff from all over the world with the intention of making the academic environment more diverse and welcoming to international students.
Come Along!
Reasons to study in Japan
Here are some reasons why Japan should be one of the study abroad destinations: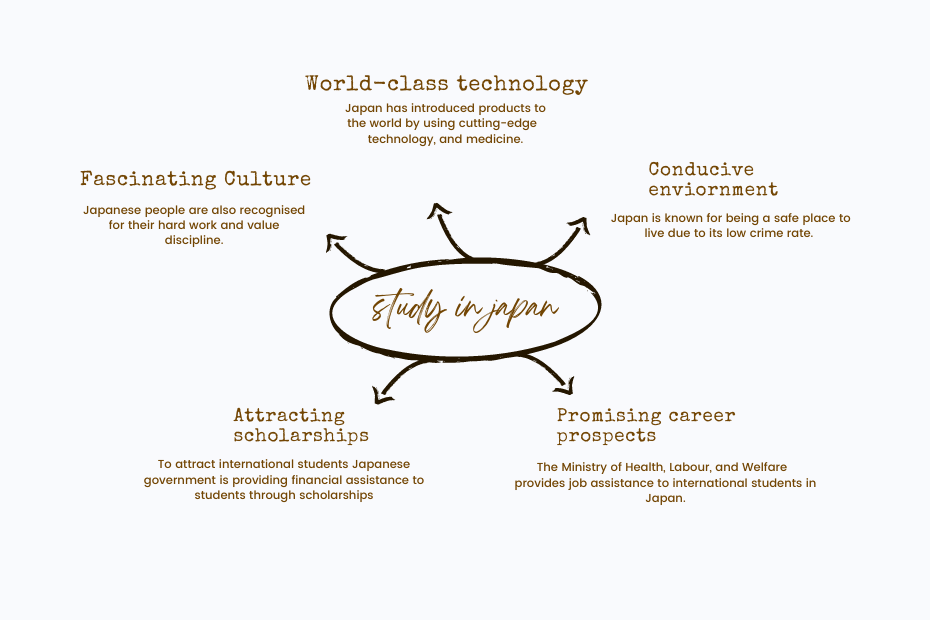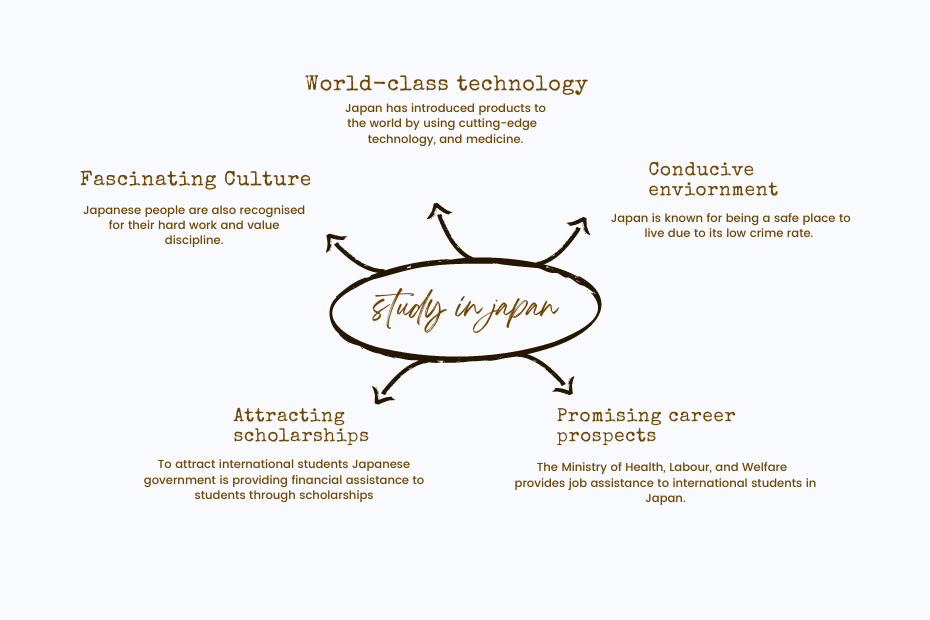 Study in Japan for Indian students
With many Indians studying abroad, India is the second-largest country in the world in terms of origin for international students. In spite of this, only 0.3 percent of Indian students chose Japan as their study abroad destination, making Japan the 20th most popular country.
In comparison to other South Asian nations and nations where English is an official or semi-official language, this is quite low. It is the case either because people in India may not fully understand the allure of Japan and the advantages of studying there, or because they may have some reservations about the viability of studying there.
Japanese government started support for international students, to reserve flight tickets outside of the daily immigration limit, students can request the use of this support from their Japanese school.
Study in Japan for Indian students after 12th
After high school, the majority of the population attends college, university, trade school, or other higher education institution. If you know what subject you want to study in Japan, you pretty much know what to do. Some students find it difficult to identify the right school for themselves, these are the few listed schools offering specialized programs.
Graduate schools
Junior College/ universities
Technical universities
Vocational schools
Trade/professional training schools
Language schools
How to study in Japan from India
There are a few tests which international students might have to take before they join these colleges/universities in Japan.
The EJU is one of the exam designed for international students who wants to enroll and study (undergraduate program) at Japanese universities. It measures knowledge of basic academic concepts (Science, Japan, and the World, and Mathematics), Scores of EJU are valid for two years.
This test held twice per year mainly in June and November in more than 14 countries and different cities across the world.
At least 60% of Japanese universities, including national universities require the submission of EJU scores as part of the application. There are other few benefits of the EJU, some schools offer "pre arrival admission" where students can be admitted to the school prior to arriving in Japan, and scholar will be awarded with the honors scholarship who achieve the highest scores on the EJU.
*Timeline for this test plays a major role as some schools only accept test scores from a certain date.
The other test in the list includes the JLPT, it assesses non-native Japanese speakers' ability to understand Japanese words, vocabulary, and syntax, as well as communication in Japanese. The levels range from N1 to N5, with N1 being the highest. The N5 and N4 levels assess students' basic understanding of the language.
Study in Japan scholarship
International students are awarded a variety of Japanese scholarships in order to entice more and more ambitious students to study and eventually work in Japan. Nonetheless, these scholarships do not cover the entire cost of university tuition and living expenses, but only a portion of them. As a result, it is necessary to plan ahead of time with a personal budget and a financial plan for your studies.
Some of the popular scholarships for international students are listed here
How much is it to study abroad in Japan
Tuition costs in Japan are lower than compared to other countries specifically, United States and the United Kingdom.Moreover, many Japanese schools provide scholarships programmes as well as tuition exemption/reduction programmes to international students.
It is always advisable to check with your school/university for admission and tuition fee, as it may differs from one school to the other. Below listed are a tentative ball park figure of the annual tuition fee.
| | |
| --- | --- |
| Institutions | Fee Ranges |
| University (Undergraduate) | Approx. 8,200,000- 3,200,000 Yen |
| Graduate School | Approx. 8,00,000- 1,000,000 Yen |
| College of Technology | Approx. 3,20,000 Yen |
| Professional training College | Approx. 8,50,000 Yen |
| Japanese Language Instituions | Approx. 6,10,000- 108,000 Yen |
Cost of living in japan is between 75,000 Yen- 109,000 Yen per month, depending on your lifestyle and the city you live in, Tokyo is the most expensive city in Japan.
Best courses to study in Japan-
In Japan, there are about 80 national universities, 90 public universities, and approximately 600 private institutions offering a wide range of disciplines. Many Japanese universities offer English taught programs in certain subjects and have world-class research facilities. Some of the most popular courses among international students are;
Science & Technology
Data sciences
Humanities
Natural Sciences
Japanese Language
Liberal Arts
Economics
Business
All in All!
We hope you have decent information about studying in Japan!
It's a diverse country, with a rich culture and traditions on the one hand and a technologically advanced on the other. Apart from Fancy vending machines to popular anime characters, Japanese Universities are well ranked and considered to be among top 100 universities of the world.
In recent years, Japan has seen an increase in employment prospects, making it simpler for foreign graduates to compete in the labour market, particularly if they studied at Japanese universities.
If you intend to study and stay in the country and searching for a right help, then we at IDC can help you achieve your dreams. iDreamCareer is on a mission to reach every state and every child in order to ensure that talent is appropriately delivered into the industry. Talk to our industry experts and know yourself in and out! We try to help young confused minds from 9th class, 10th class, class 11, class 12 with an aim to select their most-suited career choices.
DOMO ARIGATU!
Read More:
FAQs
Do I have to learn Japanese to study in Japan?
Japanese higher education institutes primarily teach all classes in Japanese. Students are required to pass the Level 1 or Level 2 Japanese Language Proficiency Test (JPLT). In recent years many universities hiring teachers from abroad to introduce more English taught programs.
How to choose a university in Japan?
There are many options available in Japan, Junior colleges to universities for undergraduate, graduate schools, trade schools, language schools and professional training school. You can check here for more detailed information and eligibility criteria.
Can I apply for new Scholarships during my course of study in Japan?
Yes!  You can apply for new scholarships provided you meet the eligibility criteria and follow the timeline as there may not be many options available for that, you can also be eligible for scholarship extensions check with your respective schools for the process.
Bushra Irfan is an experienced counselor and holds expertise in the academic counselling of students. She is an alumna of Jamia Millia Islamia and has done her Master's in Applied Psychology. She has conducted career guidance workshops for brands like Amar Ujala, Dainik Baskar, Smile Foundation, and more. And loves to paint and plant at her leisure.