SAT exam is the first step toward achieving the dreams of every high school student who wants to study abroad! SAT is conducted by the College Board and is one of the most popular study abroad exams. But having an understanding of the SAT exam syllabus is an extremely crucial milestone on the road for clearing the SAT exam.
Do you know?

Universities all over the world use SAT scores for their admissions decisions. More than 4,000 colleges and universities in the USA and 85 other countries consider SAT scores for UG admissions.
Before committing that you will take this SAT exam, we suggest you have a thorough understanding of the SAT exam syllabus. Don't worry! The Scholastic Assessment Test, or SAT, is a standardized test conducted by most American universities for their admissions process. The SAT evaluates applicants based on evidence-based skills in math, reading, and writing.
Approximately 3 million students take the SAT each year to gain admission to US universities. Candidates should be familiar with the SAT syllabus, SAT paper question formats, and SAT exam subjects. The test has a total of three parts – Reading, Writing, and Mathematics. In June 2021, an optional essay writing section was discontinued by the College Board.
What all is covered in this post?
To make it easier for you, we have created a quick guide to everything you need to know about the SAT exam syllabus.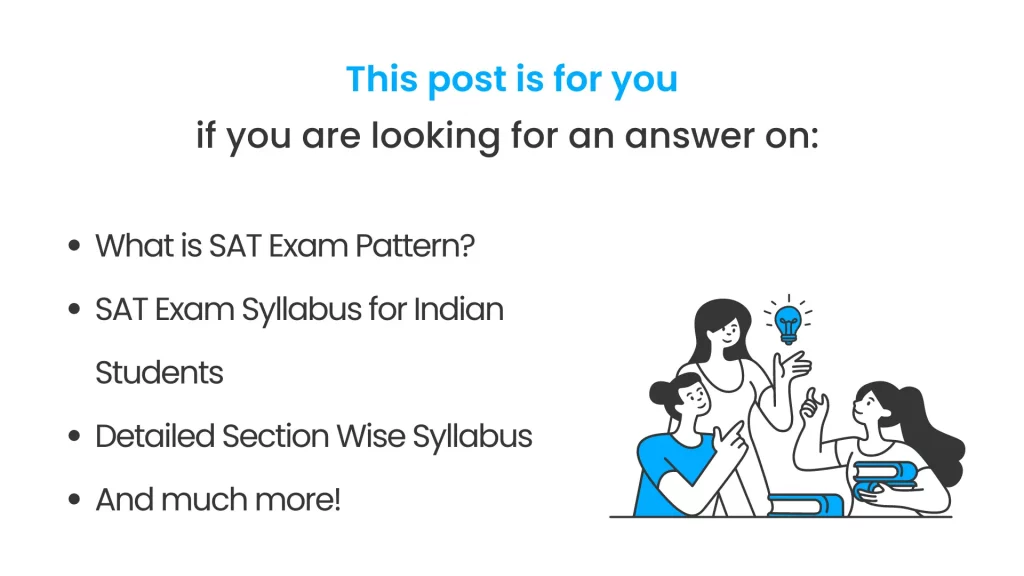 What is SAT exam pattern?
The duration of SAT exam is 3 hours and the exam tests your writing skills, mathematical skills, and reading skills. Each category in the SAT has a score range of 200-800 points. The final grade contains points from all categories that can vary from 400 to 1600. However, the writing category is marked in the range of 0-24 and can vary considerably.
Types of SAT exams
It is of two types, the SAT General Exam and the SAT Subject Exam. The first is the standard for those seeking admission to an American university.
SAT General Test: It measures the general readiness of applicants for university studies and their ability to solve basic problems in language and mathematics. It assesses the written, verbal, and mathematical skills of the candidate, and the scorecard is generally used by colleges for admissions. The SAT Syllabus for the General Test evaluates a candidate based on their general knowledge and critical thinking.
SAT Subject Test (now discontinued): It aims to assess students based on their skills in the specific subjects they choose as their major. The syllabus of the SAT subject tests assesses the knowledge of the participants in individual subjects in the science, mathematics, and language streams. Assessments are 1 hour long and students are scored on a scale from 200 to 800. Colleges may also exempt students from certain college requirements, such as a freshman class or a foreign language, if they have good SAT subject test scores.
SAT exam syllabus for Indian students
The syllabus for Indian students focuses on Mathematics, Reading, Writing, and Language. The SAT Mathematical Syllabus examines students based on algebra, geometry, probability, and arithmetic. The SAT 2023 writing phase syllabus invites candidates to identify and correct errors. The SAT exam syllabus tests a candidate's comprehension skills.
Section
Syllabus
SAT Reading
● The exam pattern will have 52 multiple choices in 5 passages to finish in 65 minutes.
● Two extracts from science fields and along with that Extracts from Economics, Sociology, Psychology, etc will be there.
● One literary passage will be from Classics or contemporary texts of the US or world literature
● Texts from the U.S. founding documents or Great Global Conversation on topics like dignity, human rights, freedom, etc.
● Extracts from Economics, Sociology, and Psychology, amongst others.
● You must answer questions by telling a story, giving an argument, or explaining an experiment or study
SAT Writing
● You have to attend 44 multiple choice questions in 4 passages in 35 minutes
● You need to edit passages
● One of the following modes of writing will be present in the exam out of narrative, argumentative, and informative/explanatory
● The passages revolve around topics like Humanities Science Careers History & Arts Social Sciences
SAT Maths
● You need to attempt a total of 58 questions in 80 minutes
● 80% of questions are multiple-choice while 20% of them are grid-ins
● For Maths with a calculator: You have 30 MCQs and 8 grid-in questions
● You need to enter your derived answers in the bubble sheet you are provided
● Topics Covered: Algebra, Data Analysis & Problem Solving, Quadratic equations with rational coefficients, Non-linear relationship between two variables, Function notation, Isolation of a variable by rearrangement of formula or equation, Percentages, Ratio and Proportion, Unit conversion, Graphical representation of the linear function, Linear equations with rational coefficients, etc.
Note: For a detailed syllabus refer to the links mentioned in the useful link section! Also, candidates need to know that SAT exam syllabus for medicine as well as for engineering is as same as for the other subjects. They are also assessed on their reading, writing, and math skills and must complete the exam within three hours.
Detailed section-wise syllabus for each section
The syllabus for the SAT includes the Reading, Writing, and Mathematics section. In this section, we will provide you with a brief introduction to all 3 sections.
SAT Reading Syllabus
The SAT Reading section is part of the Evidence-Based Reading and Writing section of the SAT. It has a total of 5 passages with 10-11 questions each and there will be a total of 52 questions in the section. Each question has four possible answers. The Reading Comprehension section is designed to assess candidates' ability to understand the meaning of different contexts and associated terms with meaning and to understand written text.
The SAT contains three critical reading sections:
Reading comprehension – 25 min
Sentence completion – 25 minutes
Critical reading of paragraphs – 20 minutes
The five passages of the reading test include one pair of passages to be read together and four separate passages. Each passage is 500-750 words long.
SAT Writing Syllabus
The writing part lasts 35 minutes. It has 44 multiple-choice questions to be answered based on four passages. This section will test the candidate's ability to analyze the body of the passage and correct errors. This means they must have excellent grammar, spelling, and general sentence construction. They will also need to identify misinterpreted graphic data, back it up with supporting details, and add relevant stuff to sharpen the argument. The passages they will find in this section will be of four types – narrative, argumentative, informative, and explanatory. The four passages are made up of 400-450 words and the difficulty of the passages varies, with some being more challenging, and others straightforward.
The passages are based on a variety of topics such as science, careers, humanities, history, and social studies. The format and purpose of each passage vary and are as follows:
At least one story is present in the Writing section, which means it describes events in a story-like manner. It could describe the sequence of events in a science experiment. This passage is not based on fiction but could be non-fiction about a historical event
Other passages are either informative, explanatory, or argumentative, meaning that the candidate has to persuade or convince the reader of something.
SAT Math Syllabus
This 80-minute section contains 58 questions to assess the candidate's mathematical reasoning. The score range is between 200 to 800 and has 45 questions in multiple-choice format. The rest consists of 13 grid questions, which they must answer by circling the appropriate numbers after solving the problems. The SAT Math section is further divided into a "no calculator" and a "calculator" segment, where there are 15 multiple choices plus 5 grid entries and 30 multiple choices plus 8 grid entries. They will also have access to the formulas before they start answering this section for reference.
The SAT contains three math sections
Algebra and Functions – 25 minutes
Geometric statistics – 20 min
Probability and data analysis – 20 minutes
How to prepare for sat exam?
Although you can prepare for SAT in many ways, the College Board, the creator of SAT, believes that these are the five best ways: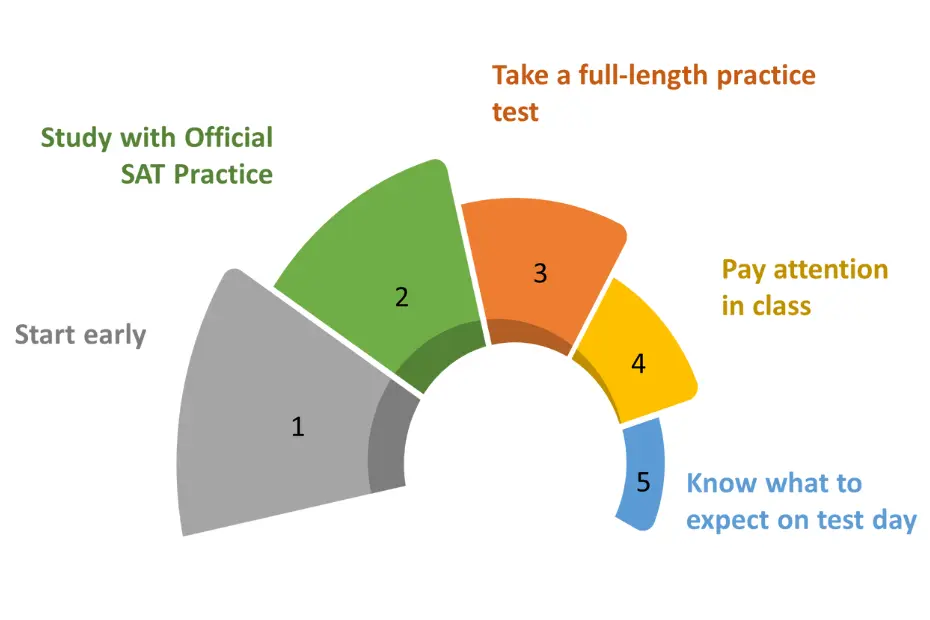 Apart from the above, you should keep in mind the following tips:
Set target SAT points according to the colleges to which you want to apply. You can check the percentage rate on various websites.
Take a full-length test every 1-2 weeks under a 3-hour barrier. You should also consider practicing the essay (only if required by the University since the Essay is optional) as much as possible. Reading newspapers and paragraphs is a great way to improve your vocabulary.
You will need to spend a lot of time preparing to increase your score, say about 20 hours to improve 50-100 points, 80 hours to improve 200-300 points, and 150+ hours to improve 300- points 500. These hours should be equally covered in a few weeks, depending on the amount of time you have.
Finally, sit and rest for the day before the test. Sure, it is advice that is hard to follow but resists the urge to read more as it will only make you more anxious and insecure.
A final tip: if you have skipped a lot of questions and do not have time to solve them, choose any answers you choose that you believe are correct. The SAT does not have the correct marking for incorrect answers, so the guesswork might seem like a smart option.
SAT exam sample paper and syllabus PDF
Now that you have all the information about the SAT exam syllabus. You must be wondering from where you can find the SAT Exam syllabus PDF or SAT exam sample papers. You may check link mentioned in the useful link section for SAT sample paper before applying for the test.
In Conclusion
So, here you have the tricky essentials of SAT exam including syllabus, pattern, sample papers, etc. We hope you have some clarity about the matter now. Although if you are preparing for the SAT exam, it is enough evidence that you have decided where you want to see yourself in the future, but career decision is one of the most important things in your life and you may want to talk to industry experts. Know yourself in and out!
iDreamCareer is on a mission to reach every state and every child to ensure that talent is appropriately delivered to the industry.
Talk to our study abroad experts to know yourself in and out! We have helped several brilliant but confused minds to select their most-suited career choices. We have helped many students like Anjana Prasanna who was not very confident about her capabilities. Later with the help of career guidance and moral support from our study abroad experts she got an offer from King's College London! We have also helped several brilliant but confused minds like Aayush, and Tapan to select their most-suited career choices.
Useful Links:
FAQs
Is maths mandatory in the SAT exam?
It has no such requirements. However, for engineering, you need high school math. Also some universities may not have any specific subject requirements.
How should I prepare for the SAT in 2 months?
Studying for the SAT in a month is possible, although it is recommended to spend 10 to 20 hours per week on SAT preparation over the course of two or three months. But if you only have 30 days, here's what you can do.
Is the SAT exam easy?
SAT is easy for Indian students who have prepared for the tests well in advance. Factors such as time constraints, new concepts, and slow reading passages can make the test difficult for some.
How many hours should I study for SAT?
Studying for the SAT in a month is possible, although it is recommended to spend 10 to 20 hours per week on SAT preparation over the course of two or three months.
How many times can a student take the SAT?
There are no restrictions set by the College Board for taking the SAT, so a candidate can take the SAT as many times as they want. However, they must pay the SAT fee each time they register. They should also check with their schools what scores they accept, as some schools accept the average score of all attempts, while some only accept the highest score.

Anushree has 4+ years of experience in the career counseling industry as a Senior Content Writer. She has also worked as a Social Media Marketing Expert for a startup and Content Quality Analyst for Publishing and E-learning Industry. She has done her Master's in Commerce and PGDM in Finance & Trade and Marketing & HR, but she is currently following her passion for writing.