The SAT-administering body, the College Board, has not established eligibility for SAT testing for candidates who wish to take the exam. Originally called the Scholastic Aptitude Test, then the Scholastic Assessment Test, and now commonly referred to as the SAT, the exam is administered to students for admission to colleges/universities abroad. The College Board, which is the official administering agency for the SAT, has not established any specific SAT eligibility criteria for students taking one of the most prominent undergraduate admissions tests abroad.
The SAT test evaluates the verbal, mathematical, and writing skills of people who want to enter undergraduate programs at top universities. Those interested in studying in the United States and Canada are especially eligible to take this exam. However, universities in New Zealand, Australia, the UK, and Singapore also accept SAT scores. Indian students usually take the SAT in their 11th or 12th year. Read on to learn about SAT eligibility before you register for the SAT and pay the registration fee.
What all is covered in this post?
To make it easier for you, we have created a quick guide to everything you need to know about SAT exam eligibility.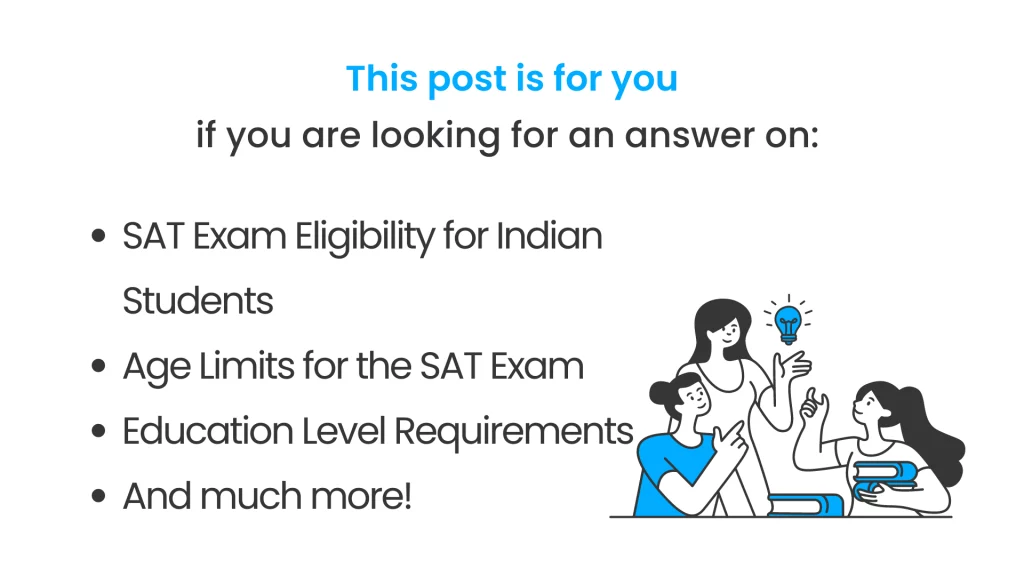 SAT Exam Eligibility for Indian Students
To study abroad in developed countries, passing the SAT exam is very important. This is why it is important to understand the eligibility criteria, especially eligibility for Indian students for the SAT exam. While there are no fixed eligibility criteria for the SAT, there are certain parameters that one should be aware of before applying for the exam. Some of these include:
Age limit
Educational background
Students with Disabilities
ID Proof
Photo
We will elaborate on everything for you in this blog. Stay with us till the end to have answers to all your questions.
Age Limits for the SAT Exam
Generally, 10th and 11th-standard candidates take the SAT as determined by the College Board and the age of applicants is usually around 17-19 years.
The College Board's statement contains the following rules regarding the age levels of candidates who can take the SAT:
Students under the age of 13 can register by phone or mail only. Due to online privacy restrictions, students under this age cannot apply online. In addition, students who applied by phone have the right to opt-out.
Non-9th-grade students do not need to submit a photograph with registration but must present a valid photo ID to the exam center.
Students over the age of 21 must bring a valid government-issued photo ID to their exam center.
Education Level Requirements
The College Board has not established minimum educational requirements. Individuals do not necessarily need a 10+2 certificate to apply for SAT. Therefore, Indian students who are currently in high school can apply for the SAT exam. However, if the goal is to enroll in undergraduate programs, having a high school diploma is essential. Although it is not mandatory, a good command of English can help candidates a lot. This is because the language of instruction in the test is English. High school has no minimum score requirements to apply for the SAT.
Key Points to consider
Here are some points you should consider:
Basic computer skills: The SAT is taken on a computer and students should be familiar with basic computer skills such as using a mouse and keyboard.
Basic high school level knowledge: The SAT exam assesses knowledge acquired during the high school years in areas such as mathematics, critical reading, and writing.
Critical reading and writing skills: The critical reading and writing sections test a student's ability to understand and analyze written materials, including informational graphics and passages.
English proficiency: Strong English proficiency is important for the critical reading and writing sections, as students are expected to demonstrate mastery of the English language.
Math skills: The math section of the SAT covers basic arithmetic, algebra, geometry, and trigonometry.
Preparation resources: Preparation for the SAT can be done through online resources such as Khan Academy, as well as through textbooks, practice tests, and tutors.
Standardized test experience: Familiarity with standardized tests and test-taking conditions can also be helpful in preparing for the SAT.
Test-taking strategies: Preparation for the SAT should also include learning test-taking strategies, such as time management and managing anxiety.
Practice, practice, practice: Finally, the key to success on the SAT is practice. Students should take multiple practice tests to familiarize themselves with the format and content of the exam.
Eligibility to take the SAT for students with disabilities
The College Board provides additional opportunities and exemptions for SAT-eligible candidates/students with disabilities. But these extra benefits and extra help can only be provided with the approval of the College Board's Services for Students with Disabilities (SSD) department. Once the facilities are approved by the governing body, the student will be eligible to apply for additional opportunities for both the general and subject SAT.
Below is a list of institutions for students with disabilities:
Using large print and Braille exams for visually impaired students
Students are given extra time to complete the tests
Computers are provided for the essay sections.
Additional breaks are allowed during the exam.
Eligibility for the SAT exam for ID
Eligibility for the SAT for ID is very strict, as only government-issued IDs are accepted as proof. However, for Indian students, a passport is the only acceptable proof for taking the SAT exam. It should be noted that the SAT ID must be a valid original document and not a photocopy.
Listed below are some of the unacceptable SAT eligibility proofs for Indian students as well as for students of other nationalities:
Any digitally forged or altered document
Any torn, defective or worn ID
Any form of temporary ID that may have been issued
Birth certificate
Documents produced in any electronic device
Separate employee card
The child's ID card is missing
Social insurance card
SAT Photography Eligibility Criteria
The College Board, in its SAT exam requirement letter, noted that candidates must provide a photograph that will be used in the creation of an admission ticket and is also required for the security screening process.
There are certain limitations that must be taken into account in the photo taken. The photo must not contain the following elements:
Another person appears in the picture
In sunglasses
Wearing a hat or other things, but not for religious purposes
Any form or type of digital forgery
Unrecognizable due to poor image quality
The measures by which the photograph of the candidate can be accepted are as follows:
An easily recognizable image of the candidate
The only person in the picture
An image containing a head and shoulders view of the candidate with clearly visible eyes, hair, face, and headgear
Focused image
No dark shadows
A black-and-white image is also acceptable
Conclusion
The SAT is an entrance test for high school graduates to enter the world's top universities and colleges. The SAT score qualifies students for admission to undergraduate courses in a variety of disciplines. There are no eligibility criteria set by the College Board. Applicants need not fulfill any age criteria, educational qualifications, or any prerequisites. However, proficiency in English is mandatory for test takers. The number of attempts for entrants is unlimited.
As always mentioned, having a complete understanding of an exam is equally important as preparing for the exam. The competition is high and the confusion could also be. But not anymore. If you still have questions related to SAT exam eligibility, our study abroad experts are here to help.
iDreamCareer is on a mission to reach every state and every child in order to ensure that talent is appropriately delivered to the industry.
Talk to our study abroad experts with over 20 years of experience to find out for yourself! We have helped several brilliant but confused minds to choose the most suitable career. Hear the success story of Aayush who got an offer from three top universities and is currently studying at the University of Ottawa in Canada after receiving career guidance from our industry experts.
Also Read
SAT Exam Eligibility: FAQs
What are the eligibility criteria for SAT exam in India?
There are no specific criteria for the SAT exam, so anyone can take it. Typically, 10th or 11th graders take the SAT in order to use their scores to study abroad for an undergraduate program.
Can a student take the external examination after the 12th?
The College Board has not established specific criteria for passing the SAT. Because the SAT is designed for admission to undergraduate programs, candidates are encouraged to take the SAT during the standard 11th or 12th grade.
Which countries accept SAT scores?
Countries that mainly accept SAT scores and scores are the USA, Canada, UK, Netherlands, Singapore, Australia, New Zealand, and many others.
Why is it important to take the SAT?
The SAT connects students with their colleges. And, it is accepted by several colleges and universities around the world. It tests your college readiness.
Is SAT offline or online?
The SAT exam is taken offline but will be online for international students in 2023 and online for US students in 2024. It was first tested online in November 2021.

Anushree has 4+ years of experience in the career counseling industry as a Senior Content Writer. She has also worked as a Social Media Marketing Expert for a startup and Content Quality Analyst for Publishing and E-learning Industry. She has done her Master's in Commerce and PGDM in Finance & Trade and Marketing & HR, but she is currently following her passion for writing.