Confused and wondering if BSc Chemistry could be a great career option? Are you a BSc Chemistry final year student?
Are you haunted by the thoughts of what courses after Chemistry you may opt for? Have you completed your degree and looking for some job opportunities after Chemistry?
There is a plethora of courses available after BSc Chemistry and that can pay well in both government as well as the private sector.
But the most difficult question is which can be the best job-oriented option after graduation in Chemistry?
Before moving on further let's first understand what and why about BSc Chemistry?
What and Why BSc Chemistry?
What is BSc Chemistry?
This is an undergraduate degree course of 3 years which is divided into six semesters, in most colleges. Although, some state colleges still follow the age-old annual system! Beware!
Master's level studies focus on various branches of the subject like organic, biochemistry, inorganic, analytical, computational chemistry, etc.
You need to have Physics, Chemistry, and Mathematics/Biology as your main subjects in class 12th to apply for this course
.
Why this course?
You will be better prepared to understand new environmental programs and can understand the processes adopted by the chemical industry & related sectors. After doing BSc, you may opt MSc or may opt for various jobs or internships to prepare for industry-level entries.
Discover More by accessing the Free Career Dashboard
This will help us share relevant information with you.
BSc Chemistry Syllabus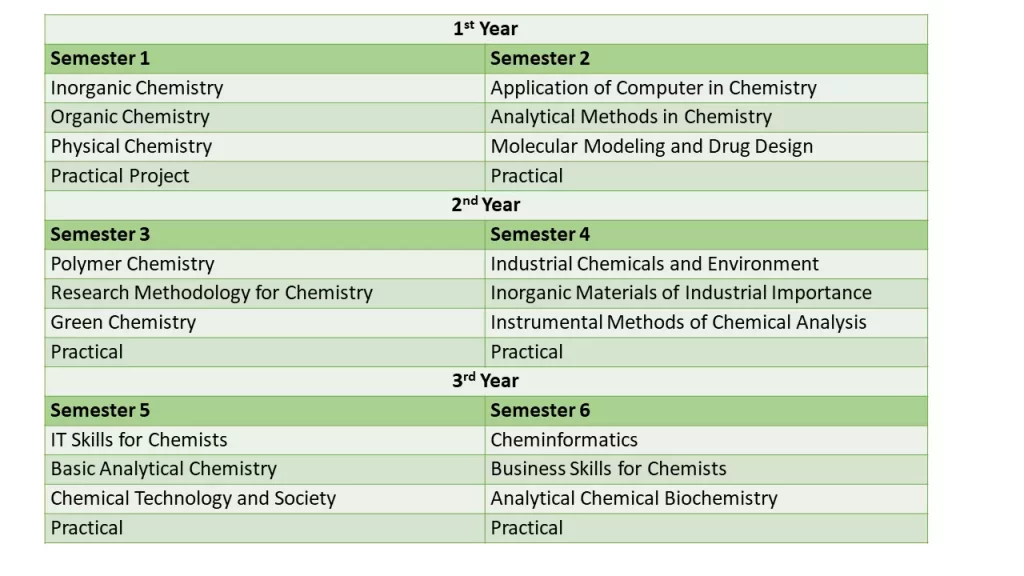 Note: The above is a generic Syllabus. Syllabus typically varies from university to university. You may check this here.
BSc Chemistry Subjects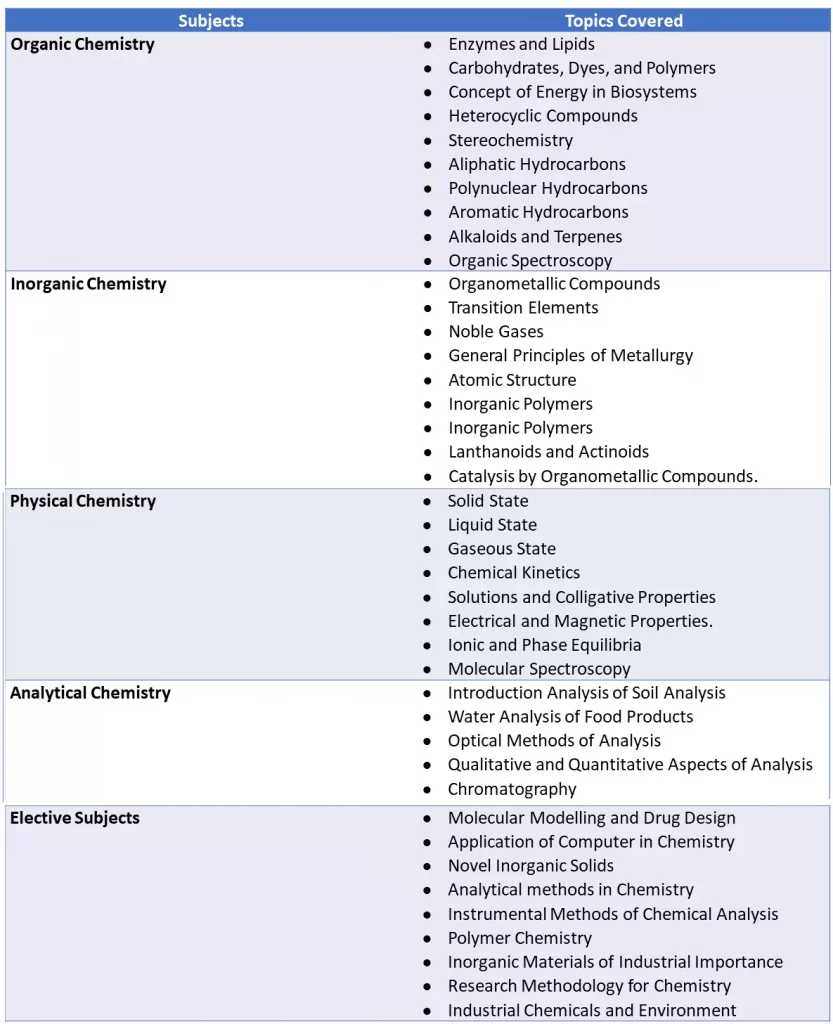 Courses After BSc Chemistry
You may opt for Masters or M.Sc. or M. Tech courses in various fields such as Biochemistry, Chemistry, Biotechnology, Data Analytics, Pharmacy, and many more. You may also move to other fields of technologies such as M. Tech in Chemical Engineering and others followed by Ph.D. courses in chemistry, biochemistry, or other related subjects.
Some of the courses after BSc Chemistry you may want to consider are:
M.Sc in:

Chemistry
Biochemistry
Applied Chemistry
Analytical Chemistry
Physical & Materials Chemistry

Ph.D. in:

Chemistry
Applied Chemistry
Biochemistry
Try the careers on this page. There are numerous other sub-disciplines to Chemistry. Don't worry, check them out.
BSc Chemistry Jobs
These job roles are mostly after you complete your Masters or PhD, in India / abroad
Biomedical Chemist – Expected Salary – Rs. 3-6 lpa
Chemist – Expected Salary – Rs. 4-7lpa
Lab Chemist – Expected Salary – Rs. 2-6lpa
Chemical Associate – Expected Salary – Rs. 3-6lpa
Research and Development manager – Expected Salary – Rs. 3-7lpa
Teachers/ Researchers in Chemistry – Expected Salary – Rs. 5-7lpa
Analytical Chemist – Expected Salary – Rs.3-5lpa
Forensic Chemist – Expected Salary – Rs.5-8lpa
Quality Controller – Expected Salary – Rs. 3-5lpa
.
Final Words
Students often find themselves in a dilemma while selecting the right career option. Through this article, we have tried to give you an understanding of BSc Chemistry. But we still recommend you to seek an expert opinion for all decisions, as even a slightly different move may make or break your career in future. iDreamCareer has been rebuilding young lives and their young minds through unbiased career guidance programs. We are ready to help you too!
Also, read
.
Recent Posts
..
FAQs
Is there any entrance exam for getting admission in BSc Chemistry?
Yes, some of the entrance exams for getting admission in BSc Chemistry are BHU UET, UPSEE, PU CET, and many more.
What is the course fee for BSc Chemistry?
The average course fee for BSc Chemistry is around Rs. 30000-80000 or even less in some state colleges (depending upon the college or university).
What is the duration of BSc Chemistry course?
The total course duration of BSc Chemistry is 3 years.
What educational qualification is required to pursue BSc Chemistry?
You need to pass class 12th with Physics, Chemistry & Mathematics as compulsory subjects.
./
Discover More by accessing the Free Career Dashboard
This will help us share relevant information with you
Trending Posts


Anushree has 4+ years of experience in the career counseling industry as a Senior Content Writer. She has also worked as a Social Media Marketing Expert for a startup and Content Quality Analyst for Publishing and E-learning Industry. She has done her Master's in Commerce and PGDM in Finance & Trade and Marketing & HR, but she is currently following her passion for writing.