Do you wish to study MBBS abroad? Are you yet to figure out how to study MBBS abroad? Or have you already begun your preparations? Whichever it is, this post welcomes you to take a ride across. See you on the other side!
Firstly, you must know that, as per the verdict of the Medical Council of India (MCI), the NEET exam is mandatory for students wishing to study medicine in foreign Universities. MCI has made this a mandate because, earlier most candidates who wanted admission to foreign institutes found it very arduous, after their admission, to even complete the primary medical course and were mostly unable to qualify for the screening test for obtaining registration to practice medicine in that country.
Therefore, the system of NEET shall be regulating the entry of candidates into the field of medical education so that only suitable candidates who are competent & capable can obtain admission to educational institutions at the undergraduate level across the world. Additionally, your NEET result will be valid for 3 years only from its date of declaration. MCI has also made it compulsory for every student, wishing to pursue medicine abroad, to obtain an essentiality certificate from the MCI for admission to any medical college abroad.
Without further ado! Come along…
What all is covered in this post?
To make it easier for you, we have created a quick guide to everything you need to know about MBBS abroad.
Study MBBS abroad: Issue of MCI Eligibility certificate
Every year, around 7,000 students go abroad to study MBBS. Most of them go to China and Russia.
There are 500 MCI-approved international institutions& destinations, the list of which you can check here.
Some of the approved nations are China, the USA, the United Kingdom, Italy, Germany, Russian Federation, Poland, the Philippines, Pakistan, Nigeria, Nepal, Latvia, Malaysia, Mauritius, Georgia, etc. There are multiple colleges in a single country totaling up to 500 colleges.
In any case, if you are desirous of joining an undergraduate medical course in any foreign medical institution, you will have to approach the Medical Council of India to issue an Eligibility Certificate for that purpose.
The form of application for issuing of Eligibility Certificate may be obtained from the Council office and the application should be submitted with a demand draft for Rs.500/- in favor of the Secretary, Medical Council of India, New Delhi. A copy of the application form is also available on the website.
Ready to dig in further?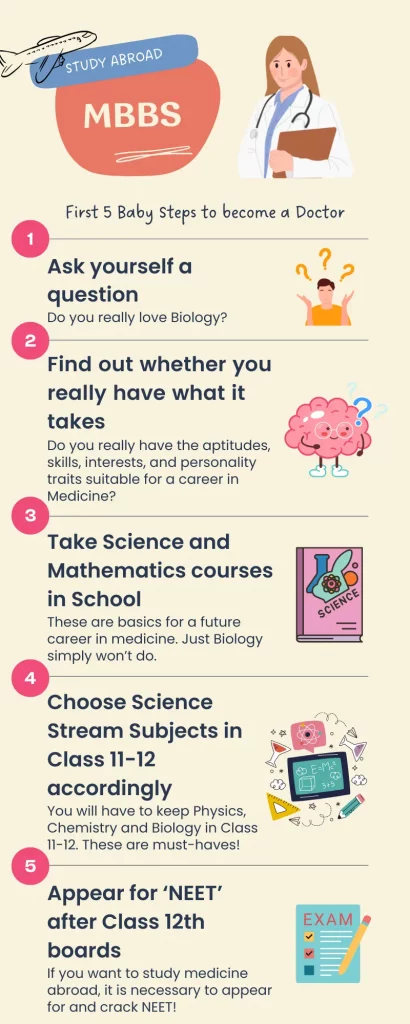 MBBS Abroad: First 5 Baby Steps
Step 1:
Ask yourself a question – do you really love Biology? Marks in examinations are one aspect but do you really love studying about how different organs work and understanding the functions of cells and tissues? Do you think Biology is super interesting?
Step 2:
Find out whether you really have what it takes – find out objectively and scientifically. Have a look through this. Take help of expert counselors. Do you really have the aptitudes, skills, interests, and personality traits suitable for a career in Medicine?Career assessment tests are important and effective.
Step 3:
Take Science and Mathematics courses in School – in the middle (class 6-8) and high school (9-12). If you are in India, then in upper primary (class 6-8) and secondary (class 9-10). Don't like Mathematics or Physics? Not fond of Chemistry? Well, that's trouble! In school, you must do well in all. These are basics for a future career in medicine. Just Biology simply won't do. At this early nascent stage, you may like professional help to figure out more.
Step 4:
Choose Science Stream Subjects in Class 11-12 accordingly –of course this doesn't need a mention. Just an important input: You will have to keep Physics, Chemistry and Biology in Class 11-12. These are must-haves! Additional subjects must be chosen wisely to minimize load. For example, secondary language subjects are optional in some schools, so you can skip such subjects.Here's a fun study guide for your boards?
Step 5:
Appear for 'NEET' after Class 12th boards – If you want to study medicine abroad, it is necessary to appear for and crack NEET! National Eligibility cum Entrance Test (NEET) is the only national level entrance exam which is compulsory to pursue medical degrees abroad.
Check this detailed post out to know what you need for NEET. Also, you may want to particularly understand all about the exam NEET. You must check the bulletin for NEET 2022 released by National Testing Agency or NTA which is the conducting body(link given at the bottom of this page).
Eligibility for MBBS Abroad for Indian students
While each country will have its own set of rules and selection criteria for international students who want to do MBBS abroad, today we will talk about the general guidelines for Indian students who want to do MBBS among the best foreign countries.
Age requirements
The student must reach the age of 17 by December 31 of the year in which he is enrolled. There is no upper age limit for applying for MBBS abroad.
Academic requirements
Candidates who want to pursue MBBS abroad must meet the below academic requirements.
A student must complete his 10+2 from a recognized board with at least 50% or above in Physics, Chemistry, and Biology.
Students must also clear the National Entrance Eligibility Test (NEET). This is mandatory even if the student plans to continue medical studies abroad.
For admission to foreign medical universities, the candidate is also required to produce an Eligibility Certificate issued by the Medical Council of India.
Medical requirements
At the time of admission, the candidate will have to submit a medical certificate of absence of communicable diseases.
Admission process for studying MBBS abroad
Once the candidate has satisfied the selection requirements. He can proceed to the next stage which is the application process for studying MBBS abroad. To start the admission process, candidates must select an MBBS university and fill out the online application form for international students.
Applicants will be required to upload a set of documents as part of the application process to further strengthen their academic profile. These include
Class 10- and 12-mark sheets
School Leaving & Migration Certificate
NEET Score Card
Financial Statements
Statement of Purpose (SOP)
Resume (CV)
Letter of Recommendation (LOR)
Language Proficiency Test Certificate (if any)
Passport Size Photographs
Medical Certificate
After successful submission of the online application along with the fee, candidates will receive a reply from the university with an admission letter. They will then need to apply for a student visa along with their passport, original documents, and acceptance letter from the university.
Exams required to study MBBS abroad
The most important prerequisite for studying MBBS abroad is to clear the NEET BSc exam. It stands for National Eligibility cum Entrance Test, formerly known as All-India Pre-Medical Test (AIPMT). NEET is an all-India pre-medical entrance exam for students who wish to pursue undergraduate medical, dental, and equivalent courses in public and private institutions in India, as well as those intending to pursue primary medical qualifications abroad.
Candidates should keep in mind that the upper age limit for NEET is 25 years for general candidates and 30 years for SC/ST/OBC candidates. The NEET score is valid for three years. Applicants who wish to pursue medical education abroad may also be required to take an English proficiency test to demonstrate their English proficiency. Depending on the university's English language requirements, candidates can choose TOEFL, IELTS, PTE or OET.
Best colleges for studying MBBS abroad
There are a number of universities in foreign countries with the best education. NMC-approved medical universities have their own titles. Here are some of the universities from different countries:
| | | |
| --- | --- | --- |
| Name of Country | Top NMC-Approved University | Country Rank |
| Poland | Jagiellonian University Medical College | 2 |
| Georgia | Ilia State Medical University | 2 |
| Nepal | Kathmandu Medical College | 2 |
| Uzbekistan | Andijan State Medical Institute | 2 |
| Kazakhstan | Kazakh National Medical University | 5 |
| Bangladesh | University of Rajshahi | 7 |
| Kyrgyzstan | Osh State University | 8 |
| China | Xi'an Jiaotong Medical University | 20 |
| Armenia | Yerevan State Medical University | 29 |
| Ukraine | Bogomolets National Medical University | 51 |
| Philippines | Angeles University Foundation | 70 |
| Russia | Kazan Federal University | 107 |
| Belarus | Belarusian State Medical University | 271 |
Cost of studying MBBS abroad
Compared to India, the cost of medicine abroad is very less. Even in America, MBBS education is cheaper compared to India. You can do MBBS abroad for less than Rs. 9 lakhs in rupees 60 lakhs. Depending on the country and the university you have chosen to complete your medical degree, the cost of study will vary. Check the countries mentioned below and select one of them.
| | |
| --- | --- |
| Country | Fees |
| Russia | Tuition fee in Russia is INR 2.14 Lakhs. |
| Bangladesh | Average tuition fee is INR 15.79 Lakhs. |
| Ukraine | Tuition fee is INR 2.68 Lakhs. |
| Nepal | Tuition fee is INR 9.37 Lakhs. |
| Philippines | Tuition fee is INR 4 Lakhs. |
| China | Around INR 15 Lakhs |
| Kyrgyzstan | Around INR 10-15 Lakhs |
MBBS Abroad vs MBBS India
Places for prospective medical students in India are limited. In India, medical schools have only 84,000 MBBS seats available and 16 lakh applicants appear for the NEET exam. Since it is more difficult for medical students to get accepted, some of them choose to study for MBBS abroad.
Pursuing MBBS in India and doing an MBBS abroad have more similarities than differences. The National Entrance Eligibility Test (NEET) has been made mandatory for all medical schools abroad as well as in India. While MBBS in India is a total of 5.5 years, including one year of clinical internship, MBBS studies abroad can span up to 6 years, including a year of clinical rotation (internship).
Studying MBBS abroad gives students more global exposure, access to large campuses, excellent laboratory access, and a better student-faculty ratio. Candidates who choose to study abroad can also practice in the host country and settle in for the long term. Study abroad students can access all of this and more at a very economical price.
Students who have studied medicine abroad will be required to pass the Medical Council of India screening test, also known as the Foreign Medical Graduates Examination (MCI FMGE), to be eligible to practice medicine in India. Unless a student has studied medicine in Australia, Canada, Great Britain, the United States of America, or New Zealand and is not recognized for enrollment as a medical practitioner in the relevant country, he is exempt from appearing for the MCI FMGE.
Conclusions
After all of that mind-bender, you must be full of facts now. If you've been endlessly looking for extensive knowledge about MBBS abroad, we've served you much, isn't it? Now, to put all of those existing doubts at the back of your mind to rest, why not ask expert professionals? Call us to study abroad! Take action!
iDreamCareer is on a mission to reach every state and every child to ensure that talent is appropriately delivered to the industry.
Talk to our study abroad experts to know yourself in and out! We have helped several brilliant but confused minds to select their most-suited career choices. We have helped many students like Anjana Prasanna who was not very confident about her capabilities. Later with the help of career guidance and moral support from our study abroad experts she got an offer from King's College London! We have also helped several brilliant but confused minds like Aayush, and Tapan to select their most-suited career choices.
Also read,
FAQs
Is NEET is compulsory for MBBS in abroad?
Several international students are considering foreign countries abroad to pursue their MBBS studies. So, to study there, Indian students have to clear the NEET exam. While it is mandatory in the country when applying to MBBS institutes abroad, Indian students can pursue MBBS without NEET.
Is it good to study MBBS abroad?
Yes, it is worth every time, effort, and investment to study MBBS abroad. So, should you do MBBS from abroad? For Indian students, the answer is yes. Studying abroad is widely recognized for its prestigious education system and opportunities.
Which is the best country to study MBBS abroad for Indian students?
Various countries abroad offer top-quality medical education at the best price to Indian students like Ukraine, Russia, Bangladesh, the Philippines, the USA, the UK, Poland, and many more.
Which is the country with the lowest cost of studying MBBS?
As for the available countries to study MBBS, MBBS in Kyrgyzstan is the best option. The total college tuition fee for this 5-year Asian Medical Institute program is approx. 11.20 lakh rupees (1 USD = 70 INR). The total budget for Indian students will be around 17-18 lakh rupees.
Can you study MBBS for free?
The cost of studying MBBS in countries like Ukraine, China, and Nepal is extremely competitive, but not free. Deserving candidates can apply for various scholarships available at the university to reduce the financial burden of studying abroad.
Why study MBBS abroad?
Students studying MBBS from abroad get ample opportunities to apply for jobs in any part of the world. Once they are certified to practice anywhere in the world, they can also obtain a country certification to be able to practice medicine after graduation.

Anushree has 4+ years of experience in the career counseling industry as a Content Writer. She has also worked as a Social Media Marketing Expert for a startup and Content Quality Analyst for Publishing and E-learning Industry. She has done her Master's in Commerce and PGDM in Finance & Trade and Marketing & HR, but she is currently following her passion for writing.