CUET is reported to be the largest public competitive exam in the world and recently it has been made compulsory for all 45 central universities. CUET for Delhi University is a new admission process for students taking admission in undergraduate courses. Now the admission will be based on Common University Entrance Test (CUET) scores. The university has decided that admissions to all colleges will be done through a central portal as per Common Seat Allocation System (CSAS) rules.
What to know?

CUET is conducted in 13 languages. The assessment scores are accepted by 86 central universities, state universities, deemed universities, and private universities instead of the 12 central universities that participated last year. The exam will be held in 13 international cities.
The shocking part of CUET is that boards will not be given weightage. This is both pleasant news as well as a little scary. However, NTA (National Testing Agency) has left open a window for allowing universities to set minimum eligibility on board exams. We must find a way to give weightage to a child's schooling career. So considering this, your Board marks will be an eligibility criterion too.
What all is covered in this post?
To make it easier for you, we have created a quick guide to everything you need to know about CUET for Delhi University.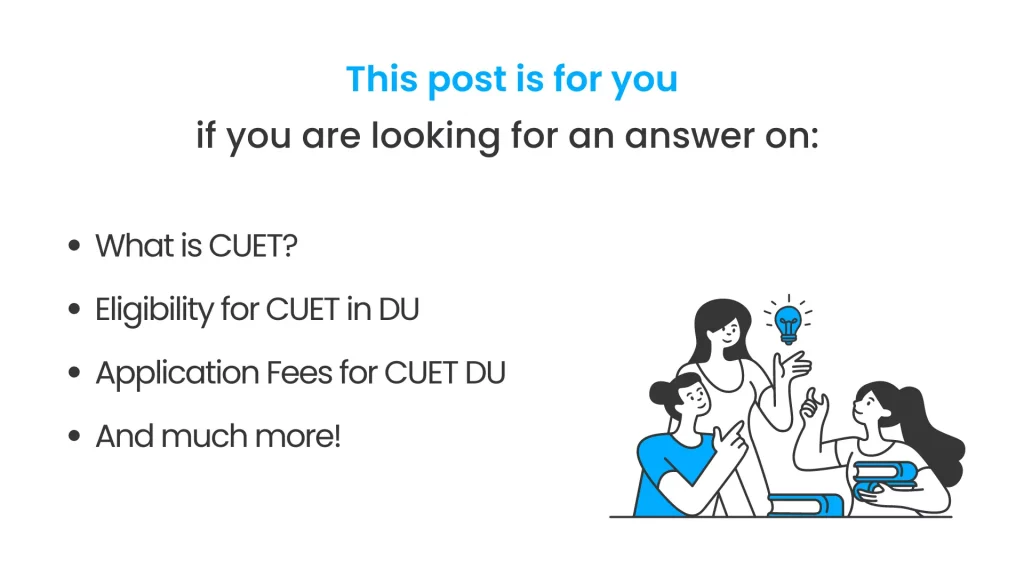 What is CUET?
According to the NEP (National Education Policy) and the recent announcement by UGC Chairman Jagdesh Kumar, CUET will be the new format exam that is mandatory for full-time UG courses in all 45 Central universities.
It is a national-level entrance test, for admission in all UG programs offered in 44 Central Universities, 12 State Universities, 13 Recognized Universities, and 21 Private Universities in India to fill about 1.8 lakh seats. CUET 2022, is conducted in six phases with exam dates spread across July and August. A total of around 14.9 lakh candidates appeared for the exam which was held from July 15 to August 30, 2022.
CUET for Delhi university eligibility criteria
Students who wish to take admission in Delhi University College must check the DU Eligibility Criteria 2022 before applying for admission. The university will provide admission to UG courses through CUET scores. However, DU 2022 eligibility criteria may vary for different courses.
Note: For more details refer to Delhi University Information Bulletin (link under useful links section).
CUET cut off for Delhi university
The National Testing Agency will consider the following factors to determine the CUET Cut Off for Delhi University:
The difficulty level of the questionnaire with CUET questions
Total number of candidates who cleared the CUET exam for Delhi University
The total number of available seats in the university
Category of student and reservation criteria applicable as per university
Total number of students who passed the entrance test
Scores of candidates in the entrance exam
The cut-off refers to the minimum number of marks one must score to qualify for the exam. Those who get the minimum cut-off score in the entrance exam will be contacted for counseling.
CUET for Delhi university – Application Fees
All applicants applying for admission to Delhi University through CUET 2022 examination are required to pay the application fee. The application fee varies for different categories of candidates. The application fee is INR 750 for UR/OBC candidates and INR 300 for SC/ST/PwD/EWS candidates. Candidates can check here the entire application process for CUET 2022 including registration, details required to fill the application form, documents required to download, and also payment here.
CUET syllabus for Delhi university
NTA has released CUET Syllabus 2022 along with the official notification. It will be of the same level as NCERT class 12 syllabus. For a more detailed subject-wise syllabus you may refer to this link.
Delhi university subject list for CUET
Following are the subjects you can choose for CUET 2022 for DU.
List A
All languages of sections 1A and 2B of CUET for Delhi University.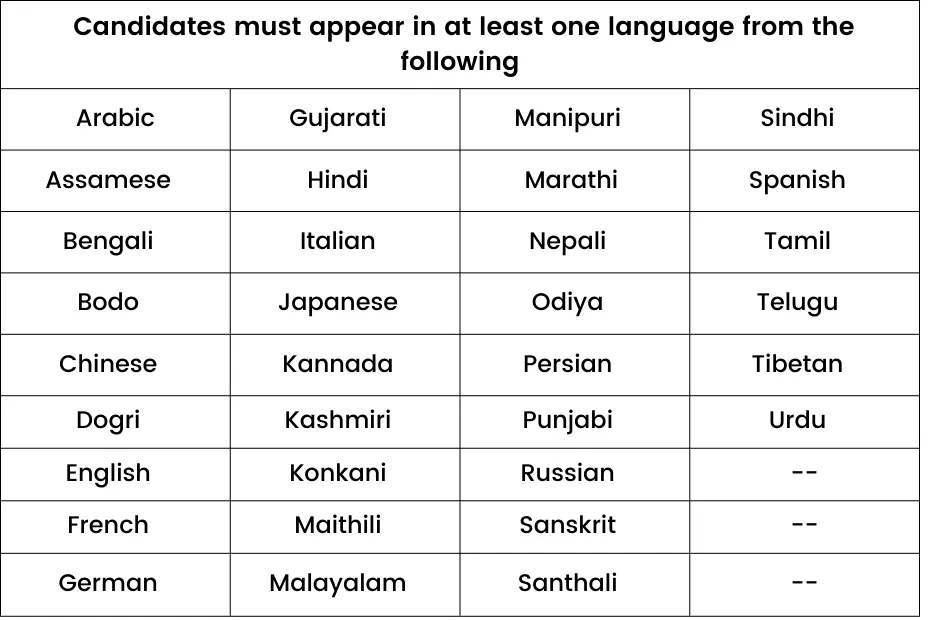 List B:
Subjects/Test papers mentioned in Section II of CUET 2022 have been categorized under List B1 and List B2.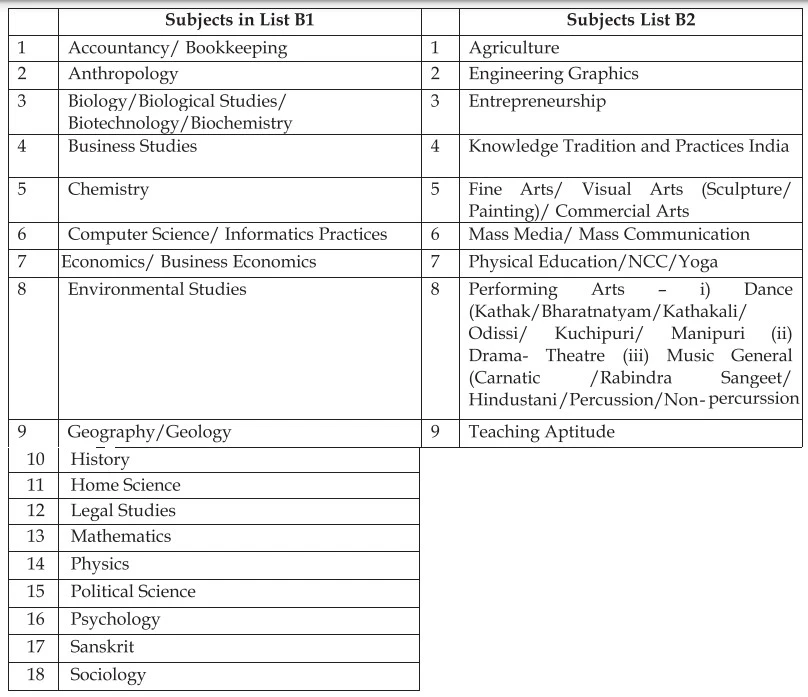 Source: University of Delhi – Information Bulletin for UG Admission
Best campus in Delhi university
North Campus is generally considered a more open environment and thus offers more opportunities for learning through extracurricular activities, while the peace and beauty (for the most part) of South Campus is unmatched. No wonder 'which-is-the-best-campus' is an endless debate, but one thing is for sure, the dream university will always be Delhi University.
But if you want to have a list of best colleges in Delhi university, here you go:
Miranda House
Lady Shri Ram College for Women
Hindu College
St. Stephens College
Hansraj College
Shri Ram College of Commerce (SRCC)
Atma Ram Sanatan Dharma College
Sri Venkateswara College
Deen Dayal Upadhyaya College
Gargi College
Final words!
For the latest updates keep following this page. CUET is a forward-thinking well-rounded move by the UGC and is mandatory for all college and student communities.
iDreamCareer tries to help young confused minds from 9th class, 10th class, class 11, class 12 with an aim to select their most-suited career choices.
Also, read
FAQs
Is CUET suitable for Delhi University?
Candidates who wish to take admission in Delhi University will have to clear the CUET 2022 exam and also fulfill certain eligibility criteria listed by Delhi University.
Can anyone get into DU without CUET?
No, but during the release of the university admission policy for the academic year 2022-2023, DU VC Yogesh Singh announced that the university will not consider CUET UG 2022 scores for DU SOL and National Board of Undergraduate Education for Women (NCWEB).
Is CUET compulsory for everyone?
It was first made compulsory in India by the Ministry of Education for the academic year 2022-2023. According to the NEP, the national education policy until 2020, there will be one basic exam for undergraduate admission, which all central universities will have to take.
Discover More by accessing the Free Career Dashboard
This will help us share relevant information with you
Trending Posts


Anushree has 5 years of experience in the career counseling industry as a Senior Content Writer. She has also worked as a Social Media Marketing Expert for a startup and Content Quality Analyst for the Publishing and E-learning Industry. She has done her Master's in Commerce and PGDM in Finance & Trade and Marketing & HR, but she is currently following her passion for writing.