ICAR 2023 will take admission to the specified UG courses through CUET UG 2023 scores. So there will be no ICAR-AIEEA (UG) for admission in Agriculture UG courses and CUET UG 2023 application form was released by NTA on 10th February. The deadline for submitting the application form has been extended and now the application portal will re-open on Sunday 9th April and will remain open until 11:59 pm on 11th April 2023. The CUET exam 2023 application correction window will be held from 1st April to 3rd April 2023. Advance information to Exam City will be released on 30th April and CUET UG 2023 Admit Card will be released in the second week of May.
The CUET (ICAR-UG)-2023 Examination, which is for candidates seeking admission in undergraduate programs, will be conducted over a period of ten days from May 21 to May 31. The exam will be held in three different slots and at centers/cities chosen by NTA across the country. In addition, there are also reserved dates from June 1 to June 7 for the exam. This arrangement will allow a significant number of candidates to participate in the exam across various disciplines and programs.
Without further ado! Let's get started…
What is covered in this post?
To make it easier for you, we have created a quick guide to everything you need to know about ICAR AIEEA 2023.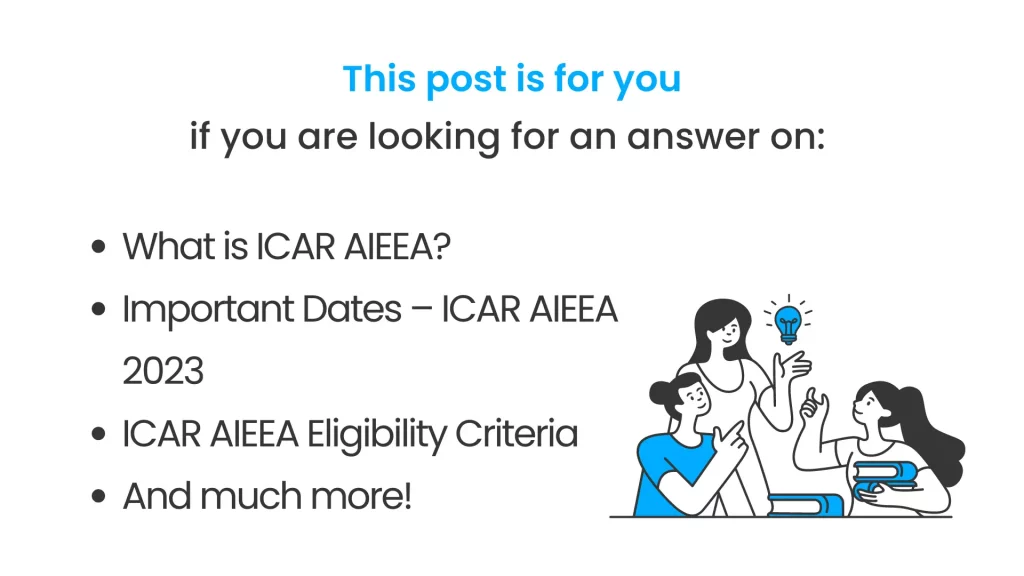 What is ICAR AIEEA?
NTA conducts ICAR AIEEA on behalf of ICAR (Indian Council of Agricultural Research) for admission to B.Tech, B.Sc and M.Sc courses in Central and State Agricultural Universities. ICAR AIEEA 2023 Admission to Agriculture and Technology Courses will be based solely on the performance of the candidates in the ICAR AIEEA 2023 results.
In 2020, around 2,40,931 candidates for UG courses and 31,586 candidates for PG courses have cleared the ICAR AIEEA exam.
But now…
Latest update?
ICAR AIEEA 2023 has been discontinued and replaced by CUET 2023 for B.Sc Agriculture admissions. Earlier, ICAR conducted AIEEA for admission to Bachelor's degree programs in Agriculture and allied sciences for 20% of seats in agricultural universities. But now it has been decided that admission to UG courses in agriculture and allied subjects will be done through CUET 2023 for the academic year 2023-24.
The application process for CUET 2023 started on February 9 and candidates can apply for the exam by March 30, 2023. The application form for CUET 2023 is available at cuet.samarth.ac.in. The exam will be held from May 21 to 31, 2023. The CUET paper will have four sections – Sections 1A and 1B (Languages), Section 2 (Area-Specific Subject) and Section 3 (General Test). Check
As per the CUET 2023 exam pattern, the exam will be conducted in computer mode in two slots with subject-type questions. Slot 1 is scheduled from 09:00 to 12:15 and Slot 2 will be held from 15:00 to 18:45.
Discover More by accessing the Free Career Dashboard
This will help us share relevant information with you.
Important Dates – ICAR AIEEA 2023
Candidates can check the CUET 2023 UG Exam Dates below for admission to Bachelor of Agriculture and Allied Science programs as ICAR AIEEA has been replaced by CUET 2023.
| | |
| --- | --- |
| Particulars | Exam Dates |
| CUET 2023 Notification Release Date | February 9, 2023 |
| CUET 2023 Application Form Last Date | March 30, 2023, to April 11, 2023 (Re-released) |
| CUET 2023 Application Fee Last Date | March 30, 2023 to April 11, 2023 (Re-released) |
| CUET 2023 Correction Window | 1st April to 3rd April 2023 |
| CUET 2023 Exam City Announcement | April 30, 2023 |
| CUET Admit Card Release Date | 2nd week of May 2023 |
| CUET 2023 Exam Date | May 21 to 31 Reserved dates – June 1 to 7, 2023 |
| Release of Provisional CUET Answer Key | To be notified |
| CUET 2023 Answer Key Challenge Window | To be notified |
| CUET 2023 Result Date | 3rd week of June 2023 |
ICAR AIEEA Eligibility Criteria
Applicants should note that any individual found to be ineligible at any stage of the admission process will not be considered for further selection.
ICAR AIEEA UG (CUET) Eligibility
Check the eligibility criteria for ICAR AIEEA UG (CUET) 2023 below.
Age Limit: Minimum age limit is 16 years to be eligible.
Citizenship: The citizenship of the applying candidate should be Indian only.
Educational Qualification: Candidates should have passed 10+2 from CBSE or any other recognized board in English with at least any three science subjects from Mathematics, Physics, Chemistry, and Biology. Candidates who are studying in class 12th or have appeared for the Board exam and are waiting for the results are also eligible to take the ICAR AIEEA UG exam.
Candidates should have 50% marks in Class 12th if they belong to the General/ OBC/ NCL category. However, if they belong to SC/ ST/ PC category they should have 40% marks in Class 12th.
ICAR AIEEA PG Eligibility
Qualifying Examination: Candidates must have passed four/six (10+6 B.Sc. Ag.)/five years (B.V.Sc. & AH)/51⁄2 years (B.V.Sc. & AH) degree.
Marks: 60% marks for General, OBC, UPS, and EWS categories and 50% marks for ST/SC and PwD categories.
Candidates should have B.V.Sc. & A.H. with an internship before the date of entry.
ICAR AIEEA 2023 Syllabus
ICAR AIEEA syllabus for UG and PG Courses. The topics for UG courses will be from 12th standard. The topics for PG courses will come from plant biology and agronomy. Here are the UG and PG Syllabus for all candidates.
According to CUET UG course:
In Section IA and IB – Language tested through Reading Comprehension (based on different types of passages – Fact, Literature and Narrative [Literary Skills and Vocabulary]
For Section II refer NCERT books.
In Section III– General Knowledge, Current Affairs, General Mental Ability, Numerical Ability, Quantitative Reasoning (simple application of basic mathematical concepts of Arithmetic/Algebra, Geometry/Measurement/Statistics taught up to Grade 8), Logical and Analytical Reasoning.
For more details refer to CUET 2023 Exam
For PG Courses
Plant Biotechnology: Photosynthesis, Proteins, General Structure and Function of Carbohydrates, Nucleic Acids, Structure and Metabolic Functions of Carbohydrates, Genetic Engineering, Dry Matter Partitioning, Development, Respiration and Transpiration, Elements of Economic Botany, Harvest Index of Crops, DNA Replication, etc.
Physical Science: Periodic Classification of Elements, Fats, and Liquids, Weathering of Rocks and Minerals, Causes of Poor Aeration, Principle of Nutrient and Water Management, Structure and Function of Plant Cells, Classifications, Soil Classifications, etc.
Agronomy: Proteins, Integrated Farming Systems, Principles of Crop Ecology and Crop Adaptation, Economic Importance, Medicinal & Aromatic Plants, Sugarcane and Their Management, Physiological Limits of Crop Yield and Variability about Ecological Optima, Water Management, etc.
ICAR AIEEA Exam Pattern
ICAR AIEEA Exam Pattern is given below for UG and PG course candidates:
For UG Courses
The CUET 2023 exam pattern has been released by the National Testing Agency (NTA), the exam conducting body, along with a notification and information brochure. The CUET exam pattern has undergone changes in terms of the total number of questions and the number of questions to be asked. The pattern is different from slot I and slot II. CUET UG 2023 will be conducted in Computer Mode (CMT) duration of 3 hours. The exam will include Section 1A, Section 1B, General Test, and Subject Matters. Section 1A, which is compulsory, will be in 13 languages ​​and candidates will be given the option to choose the language of their choice. Section 1B is optional and is intended for students who wish to choose one language (out of 20 languages) other than those included in Section 1A. Some of the languages ​​offered are French, Arabic, German, etc. Each question will carry five marks and for each wrong answer – one negative mark.
For PG Courses
Exam Mode: The exam mode will be conducted online mode.
Total Questions: The questionnaire will consist of 120 questions.
Question Type: Multiple Choice Questions (MCQs) will be asked in the exam.
Total Marks: The paper will be 480 marks.
Medium: The questionnaire will be in English only.
Marking Scheme: Candidates will get 4 marks for each correct answer and 1 mark for each wrong answer.
ICAR AIEEA Counselling
Candidates eligible for AIEEA 2023 will be called for ICAR counseling. During the counseling process, candidates will be allocated across colleges and subjects based on candidates' AIEEA 2023 scores. Candidates must carry all original documents on the day of counseling. Any copies of documents will not be accepted and will result in rejection.
Necessary documents on the day of counseling:
12th class Mark sheet
Provisional Certificate
AIEEA 2023 Result
Passing Certificate
Category Certificate
Admit Card of Entrance Exam
Passport Size Photograph
Age Certificate
ICAR AIEEA Accepting Colleges
Candidates who clear the ICAR AIEEA exam for admission to the UG course can secure admission to 11 undergraduate programs (BSc, BTech, etc.). Courses offered in colleges that accept ICAR AIEEA scores for admission include Agriculture, Horticulture, Forestry, Fisheries, Home Science, Sericulture, Agricultural Engineering, Dairy Technology, Food Science/Food Technology, Biotechnology, etc.
India's ICAR-AU system includes 74 agricultural universities, including 63 State Agricultural, Veterinary, Horticultural, and Fisheries Universities (SAU), four ICAR-DUs – IARI, IVRI, NDRI, and CIFE, three Central Agricultural Universities (CAU, Imphal, Dr. RPCAU, Pusa and RLB CAU, Jhansi), four Central Universities (CU) having Faculty of Agriculture (BHU, AMU, Viswa Bharati, and Nagaland University).
Conclusion
Candidates are advised to cover the entire syllabus topic-wise and prepare those topics first for which they find it difficult to eliminate the exam pressure. Candidates are encouraged to solve the previous year's tests to get a basic plan regarding the rigor of the exam.
ICAR AIEEA 2023 is a prestigious engineering entrance exam conducted at the national level in India. Hope we have served you enough! Still, got questions? Why don't you connect with our industry experts? Yes, you read it right! You can get your queries resolved in just 60 seconds from our Career counselors. So, what are you waiting for? Download the iDreamCareer app now!
iDreamCareer has helped millions of young minds like you from 9th class, 10th class, class 11, and class 12 discover their true mettle and is ready to help you too.
Also Read:
ICAR AIEEA Exam: FAQs
When will ICAR (CUET) UG Exam 2023 be held?
ICAR 2023 will accept admission to the specified UG courses through CUET UG scores 2023. The application forms for CUET 2023 were released on February 10 and the application window will be open till March 12. NTA may extend the last date for submission of applications depending on the number of applications received, student inquiries and other external factors.
What is ICAR (CUET) UG Exam?
In 2023, All India CUET Entrance Examination (ICAR-UG) will be conducted for admission to Bachelor's programs in Agriculture and Allied Sciences (except Veterinary Science) in Agricultural Universities for 15/20 percent seats in the University [ 100 percent seats in RLBCAU Jhansi, NDRI Karnal, IARI New Delhi and its centers (Karnal-IIWBR, Patna-RCER, Umiam-RCNEH, Kolkata-CRIJAF, Cuttack-NRRI, Ranchi-IIAB, Hyderabad-IIRR, Nagpur – CICR, Bhopal -CIAE, Baramati-NIASM , Lucknow-IISR, Jharkhand-IARI, Assam-IARI, RaipurNIBSM) and Dr. RPCAU Pusa, Bihar]. CUET (UG)-2023 is a common entrance examination for admission to UG programs offered by central universities and other participating institutions.
When is the last date to apply for ICAR (CUET) UG Exam 2023?
The application forms for CUET 2023 were released on February 10 and the application window will be open until March 12. NTA may extend the last date for submission of applications depending on the number of applications received, student inquiries and other external factors.
Is ICAR CUET UG exam easier than NEET exam?
The ICAR CUET exam consists of questions from subjects like Physics, Chemistry and Biology along with Agriculture and Mathematics sections. So the topics on which the questions are asked are similar to the topics of the NEET exam. Also, experts share that the difficulty level of the questions asked in the ICAR exam is moderate. On the other hand, NEET has a tough level of difficulty.
Discover More by accessing the Free Career Dashboard
This will help us share relevant information with you
Trending Posts


Anushree has 5 years of experience in the career counseling industry as a Senior Content Writer. She has also worked as a Social Media Marketing Expert for a startup and Content Quality Analyst for the Publishing and E-learning Industry. She has done her Master's in Commerce and PGDM in Finance & Trade and Marketing & HR, but she is currently following her passion for writing.