Today number of board options are available which is why the question comes into place where you should take admission? How many education boards are there in India? Is the IB board good? What are the top IB board schools in India?
Many of you must have such questions in your head. In India, students and parents must choose the right education board. The type of exposure provided, the curriculum to be followed, and the applicability of the curriculum on each education board. All these play a critical role in the career as well as personality development.
What to know?

The IB Board works with governments and non-governmental organizations around the world. It has consultative status as a non-governmental organization (NGO) recognized by the United Nations Educational, Scientific, and Cultural Organization (UNESCO). In addition, the IB has cooperative relations with the Council of Europe and the International Organization of La Francophonie (OIF). The United States has the largest number of IB programs (2,010 out of 5,586) offered in private and public schools.
Yes! This means if you study at IB board, chances are much higher that you will have global exposure! Come along to find out more.
What all is covered in this post?
To make it easier for you, we have created a quick guide to everything you need to know about the IB board.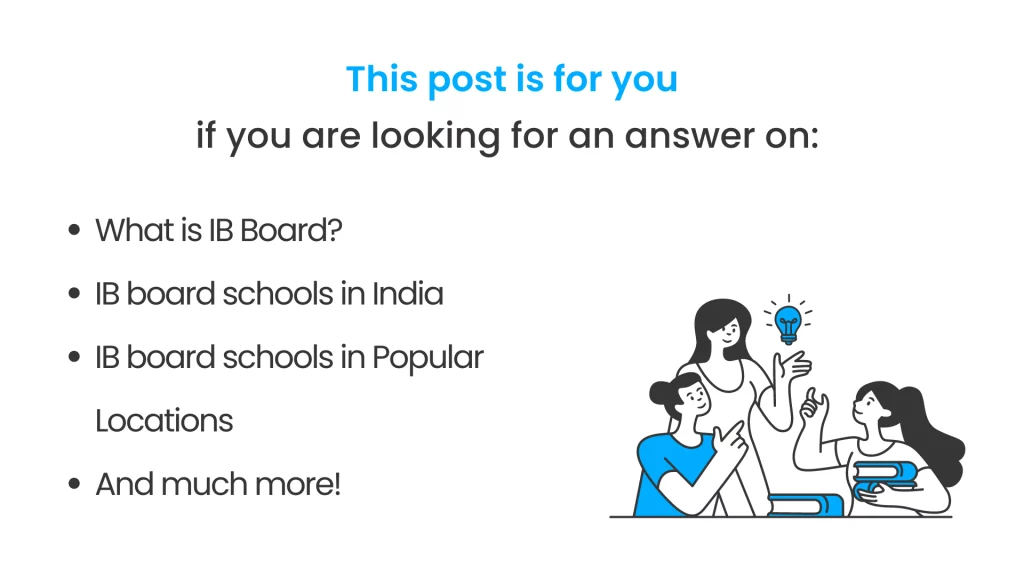 Interested? Want to know more… Continue reading!
IB board full form
The full form of the board is International Baccalaureate.
What is IB board?
IB provides world-class education and provides its students with practical, lifelong learning experiences. The IB is governed by an elected Board of Governors, which selects and appoints the CEO, sets the organization's strategy, sets policies, oversees financial management, and ensures the integrity and autonomy of student assessments.
Top 10 IB board schools in India
Now you know all the key points related to IB board. The next step is to choose the right school. Here is the list of best schools in India:
Ahmedabad International School, Ahmedabad — Day School offering PYP
American Embassy School, Delhi — Day school offering DP
American School of Bombay, Mumbai — Day school offering PYP, MYP & DP
Canadian International School, Bangalore — Mixed (Boarding & Day) school offering DP
Dhirubhai Ambani International School, Mumbai — Day school offering DP
Ecole Mondiale World School, Mumbai — Day school offering DP
Mahatma Gandhi International School, Ahmedabad — Day school offering MY
Mercedes-Benz International School, Pune — Day school offering PYP & MYP
Oakridge International School, Hyderabad — Day school offering PYP
Pathways World School, Gurgaon — Boarding school offering PYP & DP
Discover More by accessing the Free Career Dashboard
This will help us share relevant information with you.
5 IB board schools in Delhi
DPS International School, Saket
The Ardee School, New Friends Colony, Delhi
The British School, Chanakyapuri
American Embassy School
Apeejay School International Wing, Sheikh Sarai, Delhi
10 best IB board schools in Mumbai
Ecole Mondiale World School
Dr. Pillai Global Academy, Gorai
Singapore International School
N.E.S. International School
Dhirubhai Ambani International School
Aditya Birla World Academy
SVKM IB School Mumbai
American School of Bombay
Ajmera Global School
B. D. Somani International School
10 top IB board schools in Pune
Mahindra United World College (UWC), Pune
D Y Patil International College, Pune
International School Aamby, Mulshi, Pune
The Cathedral Vidya School, Lonavala
Kohinoor American School, Khandala
Victorious Kids Educares, Kharadi, Pune
MIT Pune's Vishwashanti Gurukul, Pune
Symbiosis International School, Viman Nagar, Pune
Indus International School, Mulshi, Pune
Mercedes-Benz International School, Pune
7 best IB board schools in Bangalore
Indus International School
Neev Academy
Oakridge International School
Stonehill International School
Candor International School
Ebenezer International School Bangalore
Trio World Academy
List of IB board schools in Ahmedabad
Ahmedabad International School, Bodakdev
Calorx Olive International School, Ranchhodpura
JG International School, Ahmedabad
Mahatma Gandhi International School, Navrangpura
IB board schools in Gurgaon
Pathways World School Gurgaon
The Shri Ram School
Pathways School
Shiv Nadar School
G. D. Goenka World School
Lancers International School
Excelsior American School
Scottish High International School
Amity Global School
5 top IB board schools in Noida
Pathways School Noida
Shiv Nadar School
Step By Step School
Genesis Global School
Amity Global School
3 top IB board schools in Kolkata
The Heritage School, Anandpur, Kolkata
Calcutta International School, Anandapur, Kolkata
Modern High School for Girls, Ballygunge, Kolkata
Note: This post is written based on the information, knowledge, and perspective of the writer. While every effort has been made to provide readers with accurate information, please use your own judgment before making any decisions based on the information in this publication.
Conclusion
We hope that this post on IB board has helped you in understanding deeply about the board. If you still have questions seek expert opinion from unbiased counselors. We at iDreamCareer always believe in helping young minds discover their true mettle. We try to help young confused minds from 9th class, 10th class, class 11, class 12 with an aim to select their most-suited career choices.
Useful links
FAQs
Is IB board recognised in India?
Yes, since it has a wider range of subjects that lead to well-rounded development. While most Indian students do very well in foreign universities, IB students stand a better chance and achieve better results through an enriched portfolio, critical thinking skills, and research-based learning.
Is IB equivalent to CBSE?
IB is considered to be the best board compared to CBSE outside India. Even a few universities in India like Ashoka University also give more weightage to IB board. But it is impossible to calculate the exact percentage.
Is IB syllabus hard?
Yes, it is difficult. But not because it is impossible to do, but simply because there is a lot to do in a limited amount of time.
How many IB board schools are there in India?
There are 205 IB World Schools, 154 of which teach the Diploma Programme.
Discover More by accessing the Free Career Dashboard
This will help us share relevant information with you
Trending Posts


Anushree has 4+ years of experience in the career counseling industry as a Content Writer. She has also worked as a Social Media Marketing Expert for a startup and Content Quality Analyst for Publishing and E-learning Industry. She has done her Master's in Commerce and PGDM in Finance & Trade and Marketing & HR, but she is currently following her passion for writing.