Deciding your career is a critical decision that can have a profound impact on your life and future. It can be overwhelming, especially when you are faced with so many options and the pressure to make the right choice. However, with the right information and guidance, you can make an informed decision that sets you on the path to success and fulfillment. Since you are on this page we believe you are also stuck with the question "How to decide on your career?" Don't Worry!
In this blog, we will explore the steps you can take to decide on your career.
What is covered in this post?
If you are an aspiring candidate who wants to know everything about how to decide on your career, this blog will help you by providing a better understanding of the following aspects: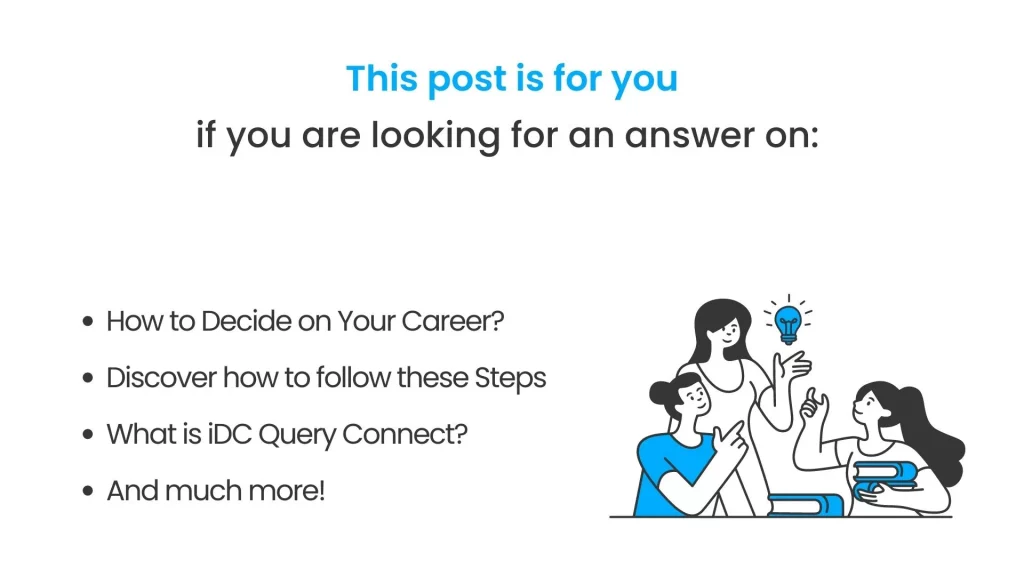 How to decide on your career?
Following are some of the steps you should consider while deciding your career –
Section 1: Understanding Your Interests and Passions
One of the key factors to consider when choosing a career is what you are passionate about. Research by CareerBuilder showed that 82% of employees who are passionate about their jobs are more likely to stay with their current employer for five or more years.
To identify your interests and passions, start by making a list of activities and hobbies that bring you joy. Then, think about how you can turn those interests into a career. For example, if you love cooking, you might consider becoming a chef or a food critic.
Section 2: Assessing Your Skills and Abilities
Once you have a list of career options that align with your interests and passions, it's time to assess your skills and abilities. Ask yourself what you are naturally good at and what skills you have developed through education or work experience.
A recent survey by the National Association of Colleges and Employers (NACE) found that the most in-demand skills for job seekers in 2021 include critical thinking and problem-solving, active learning and learning strategies, and complex problem-solving. Consider how your skills match up with the demands of your potential career choices.
Section 3: Exploring Your Options
Now that you have a better understanding of your interests, passions, skills, and abilities, it's time to explore your options. This can include informational interviews with people in your desired field, job shadowing, and taking on internships or volunteer work.
One great way to learn about different careers is by attending career fairs and networking events. The Bureau of Labor Statistics (BLS) reports that nearly 25% of all job openings are filled through networking. So, don't be afraid to reach out to professional contacts for advice and guidance.
Section 4: Making Your Decision
Once you have explored your options, it's time to make a decision. Consider all the factors that are important to you, such as salary, work-life balance, job security, and career advancement opportunities.
A report by the BLS found that workers in professional, scientific, and technical services industries had the highest median weekly earnings, while those in the leisure and hospitality industry had the lowest. Consider how salary and benefits fit into your overall career plan.
Section 5: Taking Action
Finally, it's time to take action and make your career dreams a reality. Update your resume and LinkedIn profile, network with people in your desired field, and apply for jobs that align with your skills, interests, and goals.
Discover how to follow these steps
There was a young girl named Shweta who was facing the dilemma of choosing his career. She had always been an excellent student and was now faced with the task of deciding what she wanted to do for the rest of his life. Shweta was overwhelmed by the number of options available and was not sure which one to choose. She was also worried about making the wrong decision and ending up with a career that he did not enjoy. Shweta decided to seek guidance and seek help from experts who could help her make an informed decision.
Shweta began her journey by researching different careers and learning about their requirements, salary, growth opportunities, and work environment. She discovered that the best way to make a decision was to gather as much information as possible and speak with people who worked in her desired field. She found that speaking with professionals in her desired field would give her a better idea of what it was like to work in that field and help her determine if it was the right fit for her.
Shweta also realized that her skills, interests, and values played a crucial role in deciding her career. She took a series of assessments that helped her identify her strengths, weaknesses, interests, and values. She was surprised to find out that his results showed that she had a strong interest in helping others and that she was an excellent communicator. These results helped her narrow down her choices and focus on careers that aligned with her skills, interests, and values.
Even after doing this much effort, she wasn't able to make a uniform decision. Kyunki chotti bacchi hai wo… Haan, career decision banana ek bahut hi mushkil task hai 🙁 or isme expert ki help chahiye hi chahiye hoti hai…
What she did???
And thus, Shweta decided to invest in a career guidance program that would provide him with the guidance and support he needed to make an informed decision. She discovered the iDC Query Connect program, a comprehensive career guidance program that provided him with one-on-one support from expert career counselors. The program offered her the opportunity to take part in a series of assessments, attend workshops, and receive personalized career recommendations based on her results.
With the help of the iDC Query Connect Program, Shweta was able to make an informed decision about her career. She discovered that she had a passion for psychology and decided to pursue a degree in psychology.
iDC Query Connect experts told her that According to the Bureau of Labor Statistics, workers with a degree in psychology can earn an average salary of $79,000 per year, and employment opportunities in this field are expected to grow by 14% from 2016 to 2026.
She was confident that this was the right decision for her, and she was excited about the future opportunities that awaited her.
Janna chahate ho iDC query connect kya hai???
What is iDC Query Connect?
The iDC Query Connect program is a comprehensive career guidance program that provides you with personalized support and guidance to help you decide on your career.
With the help of the iDC Query Connect program, you can:
1:1 session with a Career Expert – 30 Minutes
Access to a FREE Customized Career Dashboard
Student Community Membership
With the help of the iDC Query Connect program, you can ensure that you make an informed decision about your career and set yourself on the path to success and fulfillment.
Conclusion
Making a career decision is a big step, but with the right information and support, you can find a path that is fulfilling, rewarding, and truly matches your interests and abilities. By taking the time to assess your skills and interests, exploring your options, and seeking support from experts, you can make an informed decision about your future career.
We hope this guide has been helpful in your career journey. iDreamCareer has helped millions of young minds like you from 9th class, 10th class, class 11, and class 12 discover their true mettle and is ready to help you too.
Good luck!
Also Read:

Anushree has 4+ years of experience in the career counseling industry as a Senior Content Writer. She has also worked as a Social Media Marketing Expert for a startup and Content Quality Analyst for Publishing and E-learning Industry. She has done her Master's in Commerce and PGDM in Finance & Trade and Marketing & HR, but she is currently following her passion for writing.