The intriguing area of archaeology investigates the history of humanity by examining artifacts, buildings, and other tangible remnants. The cultural history of society, from prehistoric civilizations to contemporary ones, is discovered and preserved by archaeologists. A career in archaeology can be the best choice for you if you have a strong interest in history, a love of discovery, and a drive to comprehend the human story. In this blog post, we shall try to know everything about how to become an Archaeologist!
A mix of education, real-world experience, and a variety of talents are needed to become an archaeologist, but the payoff is a fulfilling job that changes the world. We will walk you through every step of how to become an archaeologist in this blog, from the prerequisite education and training to the career prospects in this broad and exciting area. We will provide you with the knowledge and tools you need to excel as an archaeologist, whether you are just starting out or hoping to further your career.
What all is covered in this post?
For a new experience and a better understanding of an archaeological career, we have come up with a complete guide to help you to know everything related to Archaeology.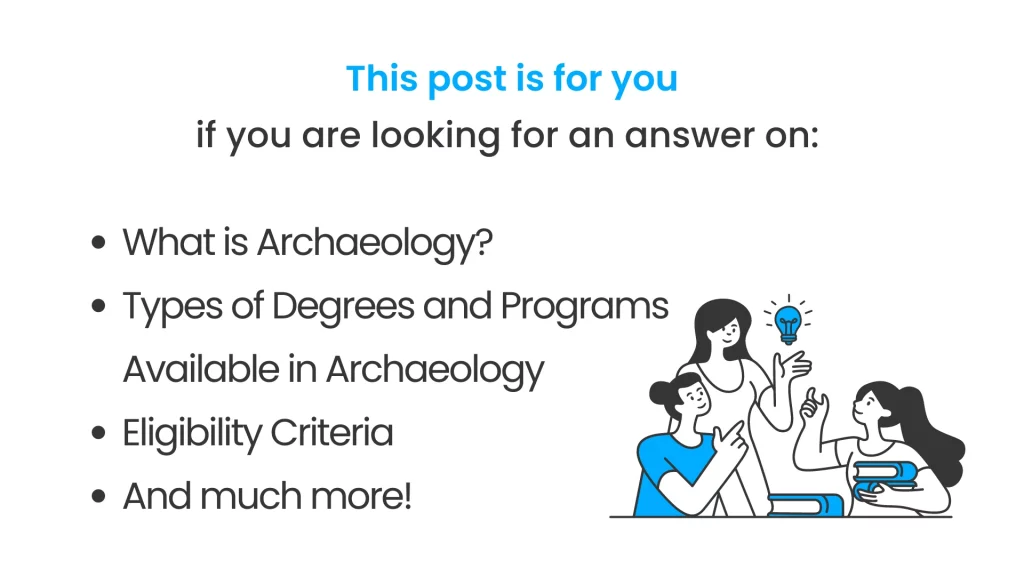 What is Archaeology?
The scientific study of ancient human civilizations and communities is known as archaeology. In order to better comprehend the civilizations and peoples who formerly existed, it entails the excavation of ancient places and the research of artifacts, architecture, and other physical remnants. In order to understand the beliefs, customs, and way of life of these prehistoric communities, archaeologists employ a number of tools and procedures, such as carbon dating, stratigraphy, and comparative research.
In order to give a thorough understanding of human civilizations, archaeology is an interdisciplinary science that incorporates concepts and methods from many other disciplines, including anthropology, history, and geography. In addition to finding and preserving tangible remnants of the past, archaeology aims to obtain insights into the past and current human experience via the use of these remnants.
Types of Degrees and Programs Available in Archaeology
Let's have a look at the various undergraduate, postgraduate, certificate, and diploma courses available in Archaeology.
Undergraduate Archaeology Courses
| | |
| --- | --- |
| Course Name | Average Course Fees |
| B.A. in Archaeology | INR 50,000 – INR 1,50,000 |
| B.A. in Ancient History | INR 3,000 – INR 18,000 |
Postgraduate Archaeology Courses
| | |
| --- | --- |
| Course Name | Average Course Fees |
| M.A. in Archaeology | INR 2,000 – INR 40,000 |
| M.A. in Museology | INR 4,000 and above |
Doctoral Archaeology Courses
| | |
| --- | --- |
| Course Name | Average Course Fees |
| Ph.D. in Archaeology | INR 6,000 – INR 1,50,000 |
Discover More by accessing the Free Career Dashboard
This will help us share relevant information with you.
Diploma and PG Diploma Archaeology Courses
| | |
| --- | --- |
| Course Name | Average Course Fees |
| Diploma in Architecture | INR 3,000 – INR 1,05,000 |
| Postgraduate Diploma in Archaeology | INR 40,000 – INR 80,000 |
Eligibility Criteria
Let's know about the educational requirements that being archaeologist demands:
| | |
| --- | --- |
| Level | Eligibility |
| Certificate Archaeology Courses | 10+2 |
| Diploma Archaeology Courses | A minimum of 50% in 10+2 |
| PG Diploma in Archaeology Courses | Graduation or Diploma in a relevant field |
| UG Archaeology Courses | A minimum of 50% in 10+2 |
| PG Archaeology Courses | A minimum of 50% in Graduation |
| Doctoral Archaeology Courses | A minimum of 55% in Post Graduation |
Overall, the educational requirements for a career in archaeology vary depending on the particular profession or position, although formal education and real-world experience are highly prized in the discipline.
Skills Required to Become an Archaeologist
A combination of academic knowledge and practical abilities is needed to become an archaeologist. The following are a few of the most crucial abilities an archaeologist must possess:
Critical thinking and problem-solving skills: Archaeologists need to be able to evaluate information, make judgments based on their findings, and form hypotheses.
Attention to detail: Pay close attention to even the smallest facts that might have a significant impact on your results. Archaeologists must be diligent in their job.
Physical Strength: Physical stamina is a must for archaeology labor, especially while working outdoors. Archaeologists need to be physically fit in order to dig, carry equipment, and carry out manual labor.
Communication abilities: Through writing reports, making presentations, and interacting with the public, archaeologists must be able to successfully convey their results to both academic and non-academic audiences.
Cultural sensitivity: Archaeologists must be conscious of the cultural context of their work and respect indigenous cultures' beliefs, values, and rights.
Teamwork: Archaeologists frequently work in groups and must be able to work well with others to accomplish their objectives.
Wanna know more about the skills required? Check out the Archaeologist career in India.
Career Path and Opportunities in Archaeologists
Archaeologists may choose a variety of professional paths according to their interests, aptitudes, and experience. Following are some typical job options and routes for archaeologists:
| | |
| --- | --- |
| Profile | Description |
| Academic Archaeology | Academic archaeology is the study of the past via research and instruction in colleges and universities. A Ph.D. is normally required for employment in academic archaeology, and fieldwork and other archaeological projects may also be included. |
| Cultural Resource Management (CRM) | Cultural resource management (CRM) is the process of evaluating and managing the effects of development initiatives on archaeological sites while working for consulting businesses, governmental bodies, or non-profit organizations. CRM archaeologists frequently undertake surveys, excavations, and other kinds of site evaluations while working outside and in offices. |
| Museum Archaeology | Museum archaeology includes employment at historical societies, museums, and other cultural establishments where archaeologists may curate collections, design exhibits, or carry out research. |
| Contract Archaeology | Contract archaeology entails acting as a freelance consultant and performing archaeological surveys and excavations. |
| Public Archaeology | Public archaeology is the study and practice of preserving and protecting archaeological sites and collections, as well as educating the general public about archaeology. Public archaeologists could be employed by governmental bodies, charitable institutions, or museums. |
| Scientific Archaeology | Working in a lab, examining artifacts, carrying out research studies, or utilizing technology like radiocarbon dating or DNA analysis to discover more about the past are all part of scientific archaeology. |
| Heritage Management | Heritage management: This entails making efforts to safeguard the local community's or region's cultural heritage. Archaeologists who specialise in heritage management may work for governmental bodies, charitable groups, or other cultural institutions. |
These are some of the most typical careers for archaeologists, although there are several additional options, such as working in television and cinema, writing, or as a tour guide for historical sites. The precise options that archaeologists can pursue will rely on their abilities, prior work experience, and individual interests, as well as the market's requirements.
Organizations that need Archaeologists
Archaeologists are required by a wide range of organizations, including:
Government organizations: To maintain cultural resources, carry out research, and offer educational programs, several government organizations, including the National Park Service, the Bureau of Land Management, and the U.S. Army Corps of Engineers, employ archaeologists.
CRM companies: These businesses offer archaeological services to customers in the private sector, including developers, energy corporations, and transportation agencies, including site surveys and excavations.
Museums: Archaeologists may work for historical organizations, museums, or other institutions of a culture where they may curate collections, design exhibits, or carry out research.
Universities and colleges: Archaeologists may lecture and carry out research at these institutions, where they may also take part in archaeological initiatives such as fieldwork.
Non-profit organizations: To conserve and safeguard cultural heritage and to inform the public about archaeology, non-profit organizations like The Archaeological Conservancy, the Society for American Archaeology, and the World Monuments Fund employ archaeologists.
Contract archaeology companies: These businesses provide site evaluations and excavations as contract archaeology services to clients in the public and commercial sectors.
Organizations that manage cultural heritage: Organizations like the World Heritage Centre and the United Nations Educational, Scientific, and Cultural Organization (UNESCO) aim to safeguard and maintain cultural heritage while raising public awareness of its significance.
Conclusion
A mix of education, employable abilities, and a love of history and cultural heritage is necessary to become an archaeologist. It entails a wide range of activities, from carrying out fieldwork and laboratory research to disseminating findings and protecting cultural treasures. Academic archaeology, cultural resource management, museum archaeology, contract archaeology, public archaeology, scientific archaeology, and heritage management are just a few of the employment options accessible. There are several chances for archaeologists to pursue their passions and change the world, whether they are interested in teaching, performing research, or working in the field.
Hope we would have been able to provide you with all the relevant information related to Archaeological careers. Still, got questions? Why don't you connect with our industry experts? Yes, you heard it right! You can get your queries resolved in just 60 seconds from our Career Counselors. So, what are you waiting for? Download the app now!
iDreamCareer has helped millions of young minds like you from the 9th class, 10th class, class 11th, and class 12th discover their true mettle and is ready to help you too.
Also Read:
Become an Archaeologist: FAQs
What education do I need to become an archaeologist?
To become an archaeologist, you typically need a minimum of a bachelor's degree in archaeology, anthropology, or a related field. Some positions may also require a master's degree or a Ph.D.
What skills are required for a career in archaeology?
To be successful in a career in archaeology, you will need a range of skills, including fieldwork and excavation experience, research and analytical skills, communication and interpersonal skills, and proficiency in computer programs and other technology.
What is the job outlook for archaeologists?
The job outlook for archaeologists varies depending on the region and the specific field. However, there is generally a high demand for archaeologists with the skills and experience to conduct cultural resource management, as well as those with a strong academic background.
What is the average salary for an archaeologist?
The average salary for an archaeologist varies depending on factors such as location, experience, and type of employer. According to the U.S. Bureau of Labor Statistics, the median annual wage for archaeologists was $62,410 in May 2020.
What type of work do archaeologists do?
Archaeologists may work in a variety of settings, including fieldwork, laboratory research, museums, and academic institutions. They may be involved in site assessments, excavations, artifact analysis, and public outreach and education. The specific tasks an archaeologist performs will depend on their area of expertise and the type of organization they work for.
Discover More by accessing the Free Career Dashboard
This will help us share relevant information with you
Trending Posts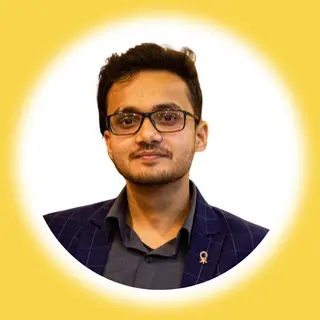 Sushant has been writing since his early days of childhood and currently, he's serving as a Content Writer with iDreamCareer. Sushant has two start-ups of his own and he has been writing content for them since their inception. Apart from that he is passionate about writing which is why he is following his passion for writing with iDreamCareer.