Digital marketing is one of the most prominent areas in organizations as they move their business models online. BBA Digital Marketing, MBA Digital Marketing, or Post Graduate Diploma in Digital Marketing are popular digital marketing degree programs. Want to build a career in digital marketing? Looking for pursuing a digital marketing course? But not sure which one is the right fit.
You are on the right page! You may find a ton of thought-provoking advice for a career in this field here & there, but you will need to know these nondescript details too. Most sources will miss these as too common.
What to know?

According to LinkedIn, the "Digital Marketing Specialist" role is among the top 10 most in-demand jobs, with 860,000 job openings. The most requested experience in digital marketing includes social media, content strategy, SEO, analytics, and more.
Yes! This means if you want to build your career in digital marketing, chances are much higher that you will have good future growth! Come along to find out more.
What all is covered in this post?
To make it easier for you, we have created a quick guide to everything you need to know about the digital marketing course.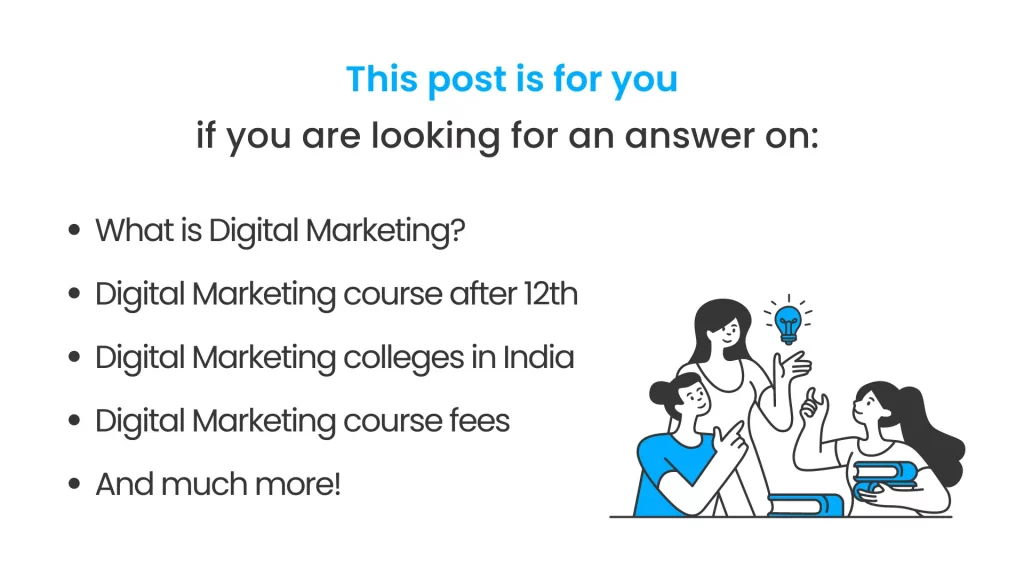 What is Digital Marketing?
The term digital marketing refers to the use of digital channels to sell goods and services to reach consumers with the help of websites, mobile devices, social networks (like Facebook, Instagram, Pinterest, etc.), search engines, and other similar channels.
Digital marketing incorporates some of the same principles as traditional marketing and is often considered a new way for companies to get closer to consumers and understand their behavior. Companies often combine traditional and digital marketing methods in their strategies.
Best Digital Marketing Course after 12th
Digital marketing courses are available in various institutes in India. Those willing to study digital marketing after 12th can get admission in UG level courses for 3 years. There are also other types of courses like 6 months certificate and a one-year diploma.
Advanced Diploma in Digital Marketing
BBA in Digital Marketing
BSc in Digital Marketing
Certificate in Social Media Marketing
Diploma in

Digital Marketing
Email Marketing
Marketing Management
Popular Digital Marketing Colleges in India
There are more than 400 digital marketing colleges in India. Some of the best digital marketing colleges in India include:
ICFAI Business School (IBS), Hyderabad
IIM Raipur – Indian Institute of Management, Chhattisgarh
IMT Ghaziabad – Institute of Management Technology
Indian Institute of Management, Indore
IIM (Indian Institute of Management), Rohtak
IIM, Calcutta
Loyola Institute of Business Administration
LPU – Lovely Professional University
School of Management, BML Munjal University
XLRI Xavier School of Management
Digital Marketing Course Syllabus
This is the most important thing to know about digital marketing. You should write down what you are going to learn or why Internet Marketing Institute should teach you in their course. A digital marketing course syllabus includes:
Digital Marketing Basics
Ads Designing for Online Marketing
Advance OnPage SEO, Offpage SEO & Link-Building
Blogging and Affiliate Marketing
Blogging and Google AdSense
Content Planning, Writing, & Marketing.
Email Marketing & Automation
Facebook Advertising
Google Ads
Google Analytics – Data Science
Google My Business & Local SEO
Google Search Console
How to Build, Grow, & Earn via YouTube Channel
Managing & Growing Facebook Pages
Marketing Planning Framework (4P Model)
ReMarketing & ReTargeting
Website Planning, Creation, and Hosting like a Pro
Discover More by accessing the Free Career Dashboard
This will help us share relevant information with you.
IIM Digital Marketing Course Highlights
IIMs are premier institutes in India. The course offered by IIMs is related to management, business, analytics, etc.
IIMs offer short-term digital marketing courses or digital marketing workshops.
Students want to take IIMs digital marketing courses because IIMs are recognized as top employers and have a good reputation across India.
IIM digital marketing courses cost around Rs. 1-2 lakh for a full course.
Digital Marketing Course Fees
Digital marketing courses are available in a variety of formats, such as online, on-campus, or blended. The price of a digital marketing course varies depending on the format, duration, and reputation of the institution.
Digital marketing institutes like Digiperform, IIDE, MICA, etc. offer digital marketing courses for Rs. 15,000 – 45,000. Top colleges like IIMs charge Rs. 40,000 to Rs. 1,50,000 for a 1-month digital marketing course and Rs. 1,50,000 to Rs. 3,00,000 for an advanced diploma or post-graduate course. Some digital marketing colleges offer pre-recorded digital marketing lectures for Rs. 5000-7000.
Among the online platforms; Udemy is the best platform for affordable online digital marketing courses, followed by Coursera, Simplilearn, and edX. The cost of an online digital marketing course ranges from Rs. 455 – 3499 (Udemy) to Rs. 2000 – 50000 (Coursera, Simplilearn, and edX).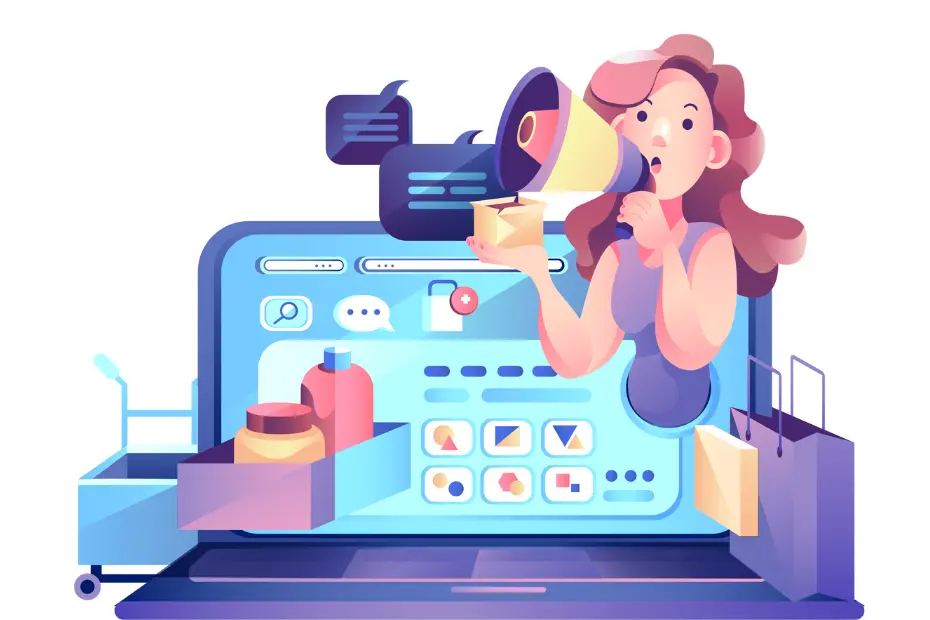 Scope of Digital Marketing in India
According to a recent Marketing Hiring Trends report, 69% of companies will hire more digital marketers.
This is evident from the fact that the digital marketing industry is worth $68 billion and the scale of digital marketing is mesmerizing.
When all other industries are stuck at 5 to 10% growth, the digital marketing industry is thriving with a growth rate of 40%.
The global digital marketing market was valued at USD 305 billion in 2020 and is expected to reach USD 807 billion by 2026 at a CAGR of 17.6%.
Digital marketing has successfully established itself in the market. With this shift in marketing practices, a whole host of digital marketing job opportunities have been created, making digital marketing careers in India one of the best options for students and professionals.
Here are the top 8 career options in digital marketing in India:
Content Marketing Manager
Conversion Rate Optimiser
Copywriter
Digital Marketing Manager
Inbound Marketing Manager
Search Engine Marketer
Search Engine Optimizer
Social Media Marketing Expert
It's a wrap!
A career in digital marketing is less about "digital" and more about "marketing". The digital marketing scene is ever-changing! DM gurus and bloggers declare a tool or tactic which appears hot one week and dead the next. Hope we have served with all the information about the digital marketing course!
Career planning is an intense affair and iDreamCareer is the foremost in India helping millions of young minds discover their true mettle. We at iDreamCareer always believe in helping young minds discover their true mettle. We try to help young confused minds from 9th class, 10th class, class 11, and class 12 with an aim to select their most-suited career choices.
Also, read
FAQs
What is the digital marketing course duration?
Usually, when you join any institute for a digital marketing course, the duration can be anywhere from 2 to 6 months. Many institutes offer a one-year diploma in digital marketing where they teach the basics for 2-3 months and send you on an internship for the rest of the course with a basic stipend.
What are the Eligibility Criteria for a Digital Marketing Degree?
Diploma course in Digital Marketing offered at UG level requires candidates to have 12th class qualification irrespective of stream. While the PG degree in digital marketing requires completion of an undergraduate course before admission.
Can someone study digital marketing online?
Yes. Digital marketing courses are offered in different modes. The delivery modes of digital marketing courses include distance learning, online mode, full-time, part-time, etc.
What are the job prospects after the course completion?
Jobs offered to digital marketing graduates include SEO Manager, Digital Marketing Manager, Social Media Manager, Content Writer, Paid Media Manager, Campaign Manager, etc.
Discover More by accessing the Free Career Dashboard
This will help us share relevant information with you
Trending Posts


Anushree has 5 years of experience in the career counseling industry as a Senior Content Writer. She has also worked as a Social Media Marketing Expert for a startup and Content Quality Analyst for the Publishing and E-learning Industry. She has done her Master's in Commerce and PGDM in Finance & Trade and Marketing & HR, but she is currently following her passion for writing.