According to the QS Best Student City Rankings for 2022, Toronto was ranked as the 13th best location for international students. As you are aware, Canada is renowned for the quality of its educational system and for its welcoming attitude toward new immigrants. On the other hand, Toronto, the largest city in Canada, has demonstrated its importance through its highly regarded academic community and vibrant social scene. In this blog, we shall try to find out the best colleges in Toronto. One of the most varied cities in the world is Toronto. To discover other cultures, you don't need to traverse the globe.
Do You Know?

Three of Toronto's top colleges are still listed in the QS World University Rankings for 2022
You will have many opportunities to interact with people from various backgrounds in the Toronto region, which is home to more than 50,000 people from 16 different nations. In 2021, the United Nations ranked Canada as the nation with the best immigration policies, placing it at the top of the list once more. Canada intends to keep up its policy of welcoming immigrants. The largest city in Canada and the hub for commerce, technology, finance, entertainment, and the arts is Toronto. Toronto has many chances for employment, whether you're seeking a part-time career while you're in college or university or a full-time one after you graduate.
What all is covered in this post?
To make it easier for you, we have created a quick guide to everything you need to know about the top colleges in Toronto.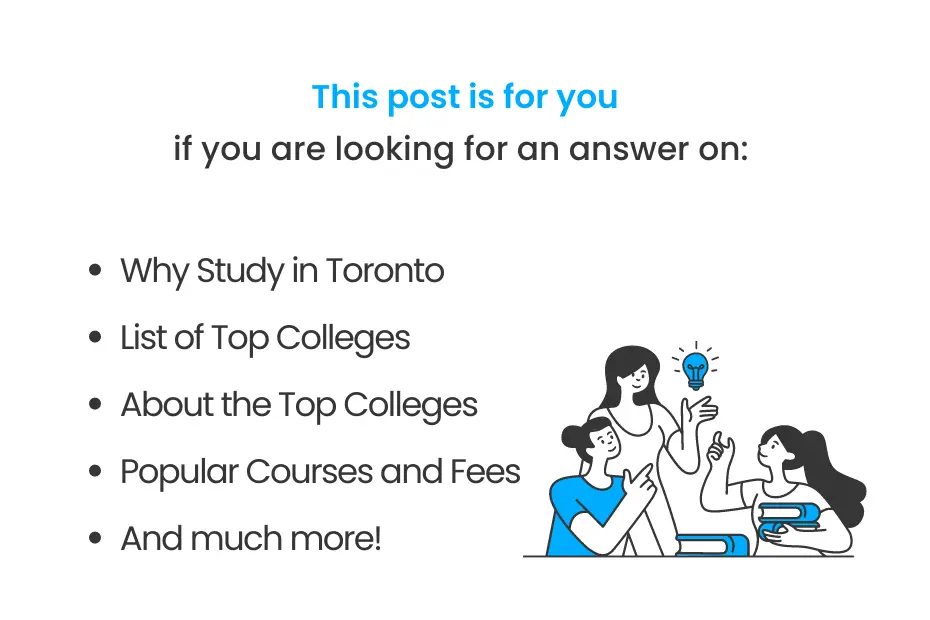 Why study in Toronto?
Let's first examine the reasons why Toronto is the city of choice for higher education before moving on to the specifics of the best colleges in Toronto:
Hospitable Residents– The people of Toronto, Canada, are warm and kind by nature. One of the reasons why international students pick Toronto as their study destination is that they take great pleasure in its unique culture.
Supports Internships – Education has never been limited to the four walls of the classroom at Toronto's leading colleges. They encourage students to participate in internships in order to improve their educational experience. These best colleges in Toronto also include students in extracurricular activities in addition to this.
Great Living Experience – Having a wonderful spot to relax is a great method to release tension after a long day of studying in Toronto, Canada's colleges. Fortunately, Toronto boasts a vibrant nightlife that is ideal for students looking to unwind or have fun.
Better Economic Exposure – One of the major economic drivers in Canada is Toronto. Technology and banking have grown significantly in this metropolis. According to an internet site, "After sputtering in the spring, Canada's economy has started to rise again. Production growth is anticipated to be 5.1% in 2021 and 4.4% in 2022.
List of Top Colleges in Toronto for Indian Students
Now let's talk about the list of best colleges in Toronto. Public colleges in Toronto, private colleges in Toronto, and community colleges in Toronto make up this city's three categories of educational institutions. For your consideration, here are Toronto's top 10 colleges.
George Brown College
Seneca College
ILAC College
Toronto School of Management
Humber College
Centennial College
Algonquin College
Tamwood International College
Evergreen College
IBT College
About the top colleges in Toronto
Let's discuss the above-mentioned best colleges in Toronto one by one.
George Brown College
Since major organizations are concentrated in Ontario, where George Brown College is located, your chances of applying for a job or internship are increased.
| | |
| --- | --- |
| Type of University | Public |
| Types of Programs | Degree, Postgraduate, Diploma |
| Average Tuition Fees | 15,480-18,190 CAD (For two semesters) |
| Popular Courses | Electronics Technician, Business, Marketing, Engineering, Arts, Design |
| Exam Required | IELTS, TOEFL, CAEL & MELAB |
Seneca College
Seneca College provides a polytechnic education that combines rigorous academics with a practical outlook. The institution has worked with leading businesses and the teaching staff is well-versed in knowledge and expertise to provide greater placement prospects for graduate-ready students.
| | |
| --- | --- |
| Type of University | Public |
| Average Tuition Fees | 15,000-20,000 CAD/year |
| Popular Courses | Aviation, Business, Engineering, Fashion, Health, Arts, Design, Education |
| Admission Intakes | Fall, Winter, Summer |
| Exam Required | IELTS, TOEFL, PTE, Duolingo, CAEL & CAEL CE |
ILAC College
An international college is ILAC College which is one of the best colleges in Toronto. They cater to three basic goals: providing students with the necessary skills development, a recognized diploma certification, and receiving the necessary work experience. They have two campuses, located in Toronto and Vancouver.
| | |
| --- | --- |
| Type Of University | Private |
| Average Tuition Fees | 7,000-10,500 CAD/year |
| Popular Courses | Business, Sales and Marketing, Communication, Health |
| Admission Intakes | Fall, Winter, Summer |
| Exam Required | IELTS |
Toronto School of Management
The Toronto School of Management offers a wide range of courses in well-known fields like business, big data, accounting, and more. Even a virtual student lounge has been established by the university so that prospective international students can learn more about the college and its benefits.
| | |
| --- | --- |
| Type of University | Private |
| Average Tuition Fees | 10,000-14,500 CAD/year |
| Popular Courses | MBA, Digital Marketing, Business Management, Business Administration |
| Admission Intakes | Fall, Winter, Summer |
| Exam Required | IELTS, TSOM EAP |
IBT College
IBT College provides a variety of certificates linked to diplomas. The college offers courses in whatever its students are interested in, from English programs to Network courses. There are two methods to study these programs: academic solely and academic plus co-op. The National Association of career colleges, Career Colleges Ontario, and this college are all members of ACTA.
| | |
| --- | --- |
| Types of University | Private |
| Average Tuition Fees | 7.166 CAD/Year |
| Popular Courses | Business Management. Health, Engineering, Entrepreneurship |
| Admission Intakes | Fall, Winter, Summer |
| Exam Required | IELTS, TOEFL, PTE, CELPIP, etc |
Conclusion
The city of Toronto has a wide range of high-quality post-secondary education alternatives, according to the data presented in the blog "Best Colleges in Toronto." Every student's interests and preferences can be satisfied by a variety of educational institutions, ranging from big, research-oriented universities to smaller, niche colleges. All of the colleges and universities mentioned in the blog are reputable establishments with excellent academic programmes and student support services.
Toronto is a fantastic destination for people wishing to further their education because it is a diverse and cosmopolitan city with many chances for students to participate in extracurricular activities and experiences. Additionally, it is necessary to take into account a number of variables, including the location, programmes available, campus life, cost of tuition, graduation rate, acceptance rate, and other significant factors before deciding on the college to attend.
Still unsure of yourself? Why not speak with one of our knowledgeable advisors at iDreamCareer?In order to make sure that talent is properly given to the industry, iDreamCareer is on a mission to reach every state and every child. To fully understand yourself, speak with our study abroad consultants, who have over 20 years of expertise. Aayush, Tapan, and other intelligent but perplexed individuals were assisted by us in making the best professional decisions.
ALSO READ:
Frequently Asked Questions (FAQs)
What are some of Toronto's top universities?
This blog features a number of the city's colleges and institutions that are regarded as being among the top in terms of academic excellence and student services. The University of Toronto, Ryerson University, and York University are a few of the institutions mentioned.

How do Toronto's colleges stack up against its universities?
In comparison to universities, Toronto's colleges are smaller and provide more specialised and vocational education. Colleges place a greater emphasis on particular fields, whereas universities offer a wide range of degrees and specialties.

Are the colleges in Toronto affordable?
The cost of attendance at Toronto colleges varies, but many institutions offer financial aid and scholarships to help make education more accessible. It's also worth taking into consideration the cost of living in Toronto, which can be a bit high compared to other cities.

What's it like to live on a college campus in Toronto?
There are several options for students to participate in extracurricular activities, clubs, and organisations at Toronto institutions, which offer a vibrant and diverse campus life. Some institutions offer cutting-edge amenities and leisure opportunities.

What are the factors that affect the students in choosing their college?
The most important factors students take into account while choosing a college for higher education are the reputation of the college/ university, course details, potential job opportunities, financial support, and scholarship programs.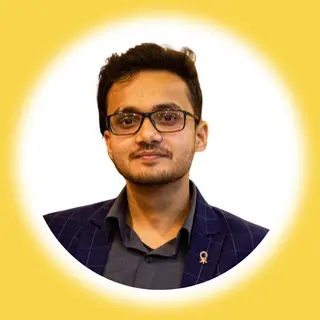 Sushant has been writing since his early days of childhood and currently, he's serving as a Content Writer with iDreamCareer. Sushant has two start-ups of his own and he has been writing content for them since their inception. Apart from that he is passionate about writing which is why he is following his passion for writing with iDreamCareer.