Do you want to travel the world; meet and network with new people for a living? Do your dreams always revolve around exploring new lands and discovering different cultures on the go? Are you also a people's person? If you happen to have an appetite for a lot of traveling and wish for a career that pays you well as you fulfill your desires, then you have come to the right place. This article is going to take you through all that it takes to become an Air Hostess and how to pursue a career in this industry.
Cabin crews, also called Air Hostess (if a crew member is a woman) are involved in providing customer service to passengers on the flight and offer assistance in in-flight administration.
From ensuring the safety of passengers to managing the activities in the aircraft cabin; from serving food and beverages to passengers to taking care of the stock and inventory before takeoff and landing, Air Hostesses are responsible for handling all of these and other duties.
How to Become an Air Hostess?
If you want to pursue a career in the aviation industry, you have a number of options to select from. Those women who wish to pursue a career as Air Hostess or in general those who want to be a part of the Cabin Crew in the in-flights department of the airlines can opt for courses directly after their high school.
Candidates can pursue a certificate or diploma program after 12th class to gain industry-specific skills like communication skills or take up personality development courses.
There are 3 Ways You Can Become an Air Hostess
You can apply directly to airlines in response to job advertisements after completing your higher secondary education
You can take an Air Hostess/Cabin Crew Training course after your higher secondary education or do a Diploma in Aviation Management, In-flight Services Management/Hospitality Management/Airline Management or a similar Diploma
You pursue your graduation and then apply for becoming an Air Hostess/ Cabin Crew. In fact, you may take up a training course or do a Diploma after graduation and then apply. But remember that you have the best chance to land up a job as an Air Hostess before you turn 21.
After Class 12th:
After completing your class 11th and 12th with any subjects, you can pursue any diploma course or training with any airline or institute that offers training for Cabin crew/Air Hostess. After completing your air hostess training, you can then look for job opportunities within various airlines.
After Graduation:
After completing your higher secondary education, you can opt for a Bachelor's degree in Aviation Management, Travel & Tourism, Hospitality Management, or a similar course. After completing graduation, you can then look for job opportunities within any airline as Cabin Crew or Air Hostess.
Although to become an Air Hostess you don't need graduation or higher degree qualification. The general path followed is to apply directly to various airlines as the minimum educational qualification is class 12th. You must qualify the three stages to be eligible for air hostess training in various airlines.
Discover More by accessing the Free Career Dashboard
This will help us share relevant information with you.
Air Hostess Qualifications
Usually a training or diploma course is not compulsory for candidates who have good communication skills. Many domestic and international airlines offer career opportunities for students who are interested in Air Hostess careers.
To apply in Airlines directly, candidates must have passed class 12th with any subjects and must qualify other eligibility criteria as per the airlines. After applying to a particular airline, the candidates must prepare for and qualify the written examination, GD (Group Discussions) round and personal interview to be eligible for further selection process.
The educational requirements and other Air Hostess qualifications for some of the top airlines are mentioned below: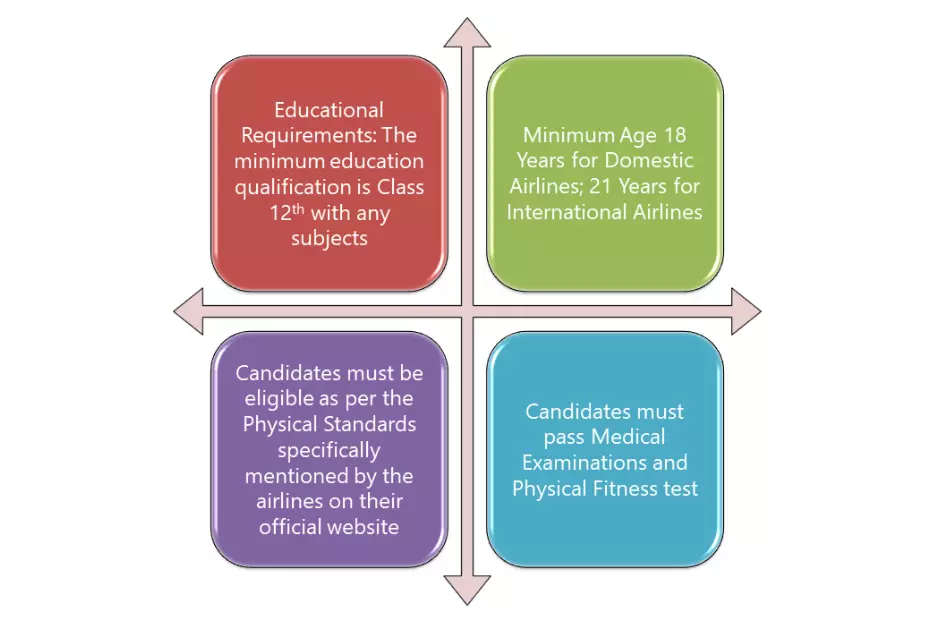 How to Get a Job as an Air Hostess?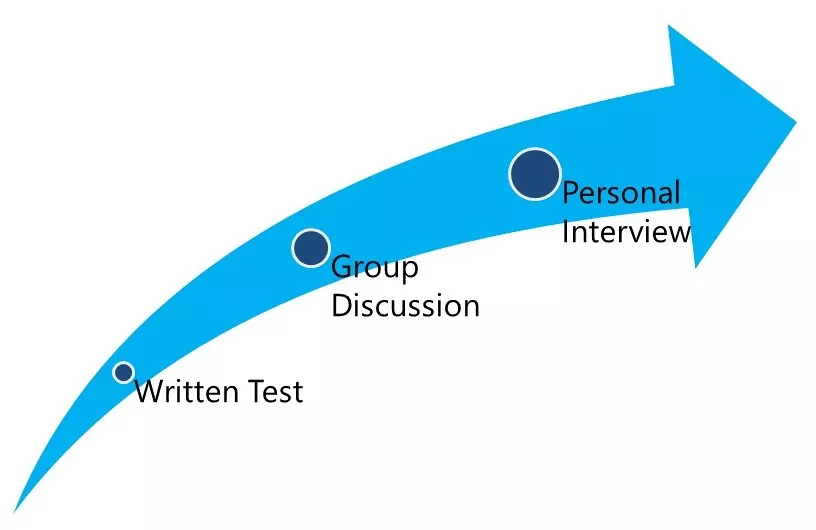 1st stage: Written Examination
Many airlines propose a written examination for the candidates who want to become Air Hostess/ Cabin Crew, to test their aptitude and reasoning.
2nd Stage: Group Discussion
In order to test the communication skills and decision-making skills of the candidates, a group discussion is held for those who are selected in the written test.
3rd Stage: Personal Interview
The candidates who are selected in the GD round are further interviewed and based on their performance in the interview, they are selected and recruited.
4th Stage: Air Hostess Training Program Provided by The Recruiting Airline
Upon successful completion of the all three rounds, the candidates undergo a six-month air hostess training program post which they start working as Air Hostess/ Cabin Crew.
Also Read:
Top 10 Diploma/ Training Courses
Although, those candidates who want to take up a diploma or a training course to gain a few industry-specific skills can look at the following courses:
Diploma in Professional Cabin Crew Services
Diploma in Professional Ground Staff Services
Diploma in Airport Management & Customer Care
Diploma in Airlines and Travel Management
Advanced Diploma in Cabin Crew & Airline Management-Air Hostess
Advanced Diploma in Airport & Airline Management
Advanced Diploma in Air Travel Management
Diploma in Airline Cabin Crew and Hospitality
Cabin Crew & Hospitality Training
Crew Resource Management (CRM) Training
Top 5 Bachelor's Degree Courses
B.Sc. in Aviation
B.Sc. in Airlines, Tourism and Hospitality
BBA in Airport Management and Cabin Crew Training
BBA in Travel Management
BBA Aviation Management
Best 10 Air Hostess Training Institutes/ Academies in India
Top Recruiting Airlines for Air Hostess / Cabin Crew
The cluster of the top airline recruiters for Air Hostess' are mentioned below. Some of these recruiters propose walk-in interviews for Air Hostess/ Cabin Crews round the year and at all times. Candidates can keep a tab on the official websites (linked) for these airlines for more information on the interview and selection process.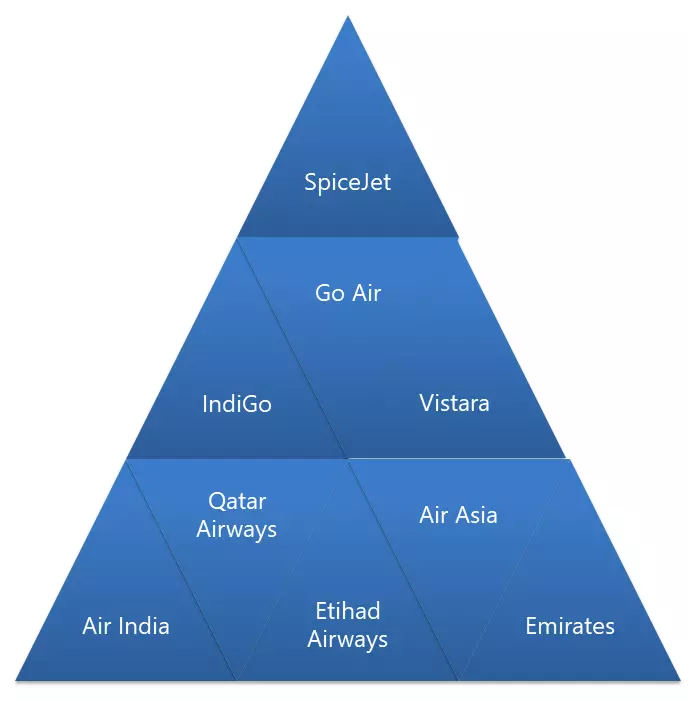 Air Hostess Career Opportunities
When you start working with an airline, you will be on probation (training) for the first 6 months. After completion of the training program, you will start off as an Air Hostess/ Cabin Crew/ Flight Attendant.
In domestic airlines, an Air Hostess / Cabin Crew progresses as a Senior Cabin Crew after having worked for a few years. Almost all airlines have different growth projections for Cabin Crew. After serving for a required time in your position, you can either choose to become a Trainer or a Base Manager.
At the Senior – level, with an experience of more than 10+ years in serving within the in-flights department of the airlines, few crew members can get ground office duties or get posted at head offices as Flight Services Manager and later on get promoted to Director-Cabin Services or Director-In-flight Services, which is the head or senior most position.
In International airlines, you start off as a Flight Attendant and grow as Flight Purser. After having a few years of work experience as Flight Purser, you become a Senior Purser. Moreover, as a Chief Flight Attendant/Senior Purser you would oversee the crew members of all the different classes of the plane.
After a few years of service in a passenger airline, some crew members may also find opportunities with companies that serve privately owned aircraft. Such companies recruit Cabin Crew/ Air hostesses to private aircraft/ private jets. Generally, a minimum of 4-5 years working as a Cabin Crew/ Air Hostess is required.
Salary Structure of an Air Hostess
By now you must have mastered all about the details about the Air Hostess career. You must be wondering how much do you get paid in this exciting career. Cabin crews are offered exciting pay packages and other benefits such as free travel, accommodation etc.
If you work for a domestic airline, the starting salary might be as much as Rs. 25,000 – 40,000 a month. It is advised that you gain work experience at the beginning of your career and then later on move to international airlines.
Once you have gained 2-3 years of experience at hand, you can expect a salary of more than Rs. 50,000 per month along with free accommodation and various other traveling benefits.
As an Air Hostess/ Cabin Crew/ Flight Attendant in an international airline, you can earn a starting salary of Rs.60, 000 – 100,000 a month.
In Conclusion
The Indian Aviation industry is emerging as one of the fastest-growing industries in the country and is expected to take place as the third-largest air passenger market by 2024, as reported by India Brand Equity Foundation. Therefore, a plethora of career opportunities is going to rise in the upcoming years. So, if you are interested and have already made up your mind to travel and explore the world as an Air Hostess or Cabin Crew, then now is the right time to set your foot in the career of your dreams.
Not sure if you want to be in the in-flight service department of the Airlines? Don't know if you want to become a part of this industry at all? Have doubts about making up your mind? To resolve all your qualms and anxieties over career selection and guidance, our unbiased career planners may help you decide which industry is best, based on your aptitude and personality.
So, if you happen to just ask the expert basic questions about the scope of the aviation industry in general; and what are the future prospects of a career as an Air Hostess or Cabin Crew, then talk to us now and make informed career decisions. Pick one from the available services:
You May Also Wish to Read:
Discover More by accessing the Free Career Dashboard
This will help us share relevant information with you
Trending Posts

Shruti Verma has an experience of around 2+ years in research and analysis of careers, jobs, and industries. She has a knowledge of diverse fields spanning from career counselling, management consulting, engineering, and technology to science, finance, and humanities.