The USA is a favorable postgraduate destination for international students due to its high level of academic training and wide range of subjects. By earning a Ph.D. in the USA, you will become an internationally recognized expert in your chosen field.
Do you know?

Around 20% of Indians are studying Ph.D. in the USA.
It's because… Attending graduate school for a Ph.D. in the USA is not the same as doing a Ph.D. in Europe or the UK, it can often be a different experience. However, studying abroad will improve your global cultural understanding in addition to networking for your future career. A Ph.D. degree is often required if you are applying for high-level management positions, government expert positions, and careers such as university professors, researchers, or scholars in many fields.
A Doctor of Philosophy (Ph.D.) from the US is considered the highest degree awarded by many US universities and institutes for most fields of study. For many international students, this is a dream course that offers an exciting new chapter in life.
What all is covered in this post?
To make it easier for you, we have created a quick guide to everything you need to know about Ph.D. in the USA.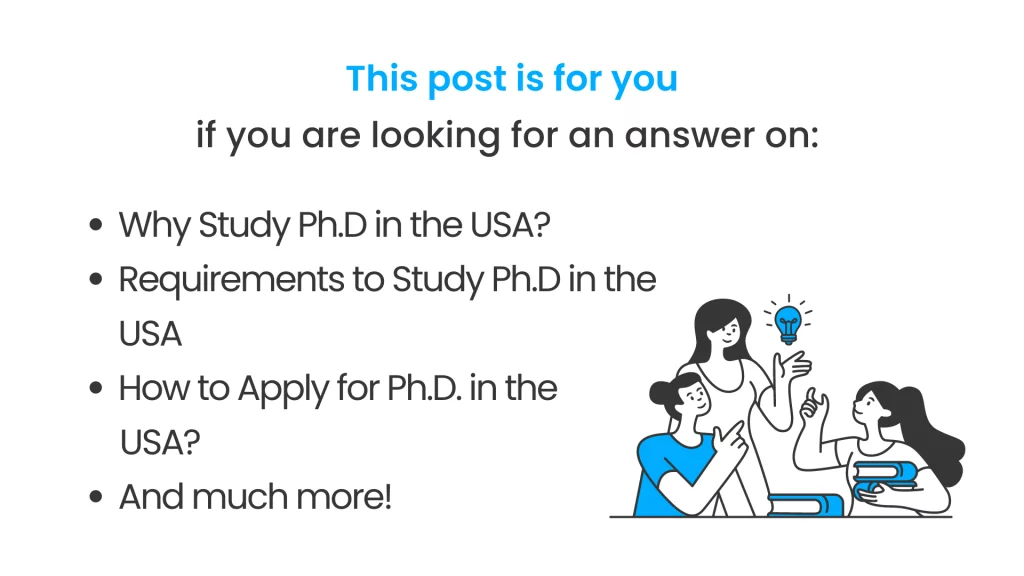 Why study Ph.D. in the USA?
There are several reasons why studying in the USA is the best option. But there are also several reasons why someone might choose to study for a Ph.D. in the United States:
Quality of education: The United States is home to some of the top universities in the world, which offer excellent Ph.D. programs in a wide range of fields.
Wide range of programs: The United States has a diverse array of Ph.D. programs across a wide range of fields, so you are likely to find one that aligns with your interests and career goals.
Opportunities after graduation: Ph.D. graduates are highly sought after by employers in academia, industry, government, and non-profit organizations, as they have demonstrated their ability to conduct original research and think critically and creatively. Many Ph.D. graduates go on to work as professors and researchers at universities, where they can teach and continue their research.
Personal and professional growth: Earning a Ph.D. is a challenging and rewarding experience that can help you grow personally and professionally. It can allow you to gain a deep understanding of your field of study, develop your critical thinking and problem-solving skills, and learn how to conduct original research.
Prestige: A Ph.D. is the highest degree you can earn in a specific field of study, and it signifies that you have achieved a high level of expertise. It can be a prestigious accomplishment that can open up many doors in your academic and professional life.
Requirements to study Ph.D in the USA
​​​​​​While Ph.D. program requirements vary from field to field and from university to university, the general program requirements that are similar in most fields are as follows:
Master's degree in a similar field of study with excellent grades and research experience. Some universities may also offer admission based on a bachelor's degree with an excellent academic record.
Letters of recommendation.
A research proposal is one of the most important elements to applying for a graduate program at a US university. This is a demonstration of your experience in the field of study for which you are applying.
IELTS or TOEFL or PTE test results for international students from non-English speaking countries. This exam is a measure of your English proficiency. US universities usually require a high score for admission.
GRE or GMAT test scores, whichever is applicable at the university you are applying to.
Some universities conduct entrance tests for admission to Ph.D. programs. Applicants should check this before applying.
After passing the necessary criteria, the university may invite you for a personal interview before selection.
Necessary documents
The documents required for postgraduate studies in the USA are as follows:
Online Application Form and Fees: The forms are to be filled out by the students online. They are available on the official website of the university. The application form fee must be paid accordingly.
Resume/Resume: An impressive resume can greatly increase your chances of being selected. To make your resume more attractive, you should include your work experience, activities you have participated in, and achievements.
Academic or Professional Recommendations: Recommendations increase your chances of being selected. Academic or professional references are required to apply to doctoral programs at most US universities.
Personal Statement: A personal statement is a short essay about yourself. It shows how you fit into the degree you are applying for. It describes to the committee what your strengths, motivations, and ambitions are.
Transcripts: Transcripts of your previous educational qualifications must be submitted when completing the application form. In some rare cases, you may be asked to submit certified transcripts to the university.
How to apply for Ph.D. in the USA?
Pursuing a Ph.D. in the United States is a very good option for Indian students. There are hundreds of institutions of higher learning that offer international students admission to Ph.D. programs in the USA.
Students from all over the world attend Ph.D. universities in the USA. Whatever and wherever you choose to study, academic communities will welcome you.
The process of applying for a Ph.D. in the USA:
Make a list of your research interests.
Find Ph.D. programs in the USA that match your career goals
Learn about several ways to finance your education
Take the GRE test
Take a language proficiency test such as TOEFL or IELTS
Gather your letters of recommendation
Prepare a statement of purpose
Fill out the online questionnaire
Submit your application with all required documents
Duration of Ph.D. in the USA
The duration of a Ph.D. program in the United States can vary depending on the field of study and the specific program. In general, a Ph.D. program in the USA will take between 4-7 years to complete, although some programs may be shorter or longer.
The first few years of a Ph.D. program in the USA typically involve coursework, comprehensive exams, and the development of a research proposal. During this time, students will also usually be required to complete a teaching assistantship or a research assistantship to gain practical experience and help offset the cost of tuition.
After completing the coursework and exams, students will typically spend the remainder of the program conducting original research and writing a dissertation. The dissertation is a lengthy document that presents the results of the student's research and is defended in front of a committee of experts in the field.
In total, it is common for a Ph.D. program in the USA to take 5-6 years to complete, although this can vary depending on the student's progress and the specific requirements of the program.
Ph.D. stipend in the USA
A stipend is a form of financial assistance provided to students. It helps cover the cost of tuition and living expenses while they are in school. Many Ph.D. programs in the United States offer stipends to their students in the form of fellowships, grants, or assistantships.
The direction of the issue and the institution determine the size of the scholarship. Some universities give graduate students more money, while others give less. Grants can be used to supplement the consultant's income if he is well-funded. However, the most common figure is INR 13.5 to 18.7L.
The amount of the stipend can vary depending on the program and the source of the funding. Some programs may offer a set stipend that is the same for all students. On the other hand, others may offer a stipend that is based on the student's performance or financial need. In general, Ph.D. students in the USA can expect to receive a stipend that is sufficient to cover their basic living expenses.
In addition to the stipend, Ph.D. students in the USA may also be eligible for other forms of financial assistance, such as scholarships, loans, and grants.
Cost of Ph.D. in the USA
The cost of studying for a Ph.D. in the USA is between $28,000 and $40,000 (INR 2,097,999 and INR 2,997,142) per year. However, universities can waive a significant portion of tuition fees for deserving students. It should also be noted that the fee structure is different for private and public universities, with the latter being almost free. In addition, many scholarships are also available to help students offset the cost of graduate school.
Here is the list of universities offering Ph. D along with their tuition fees:
| | |
| --- | --- |
| University Name | Tuition Fees (Approx.) (in USD) |
| California Institute of Technology (Caltech) | 56364 |
| Georgia Institute of Technology | 1300 per semester (after partial waiver) |
| Harvard University | 50928 |
| Massachusetts Institute of Technology | 1390 to 9715 |
| Princeton University | 56010 |
| Stanford University | 10593 to 54315 |
| The University of California Berkeley | 5721 |
| The University of Chicago | 32400 to 66096 |
| The University of Columbia | 65949 |
| The University of Wisconsin | 3410 (Wisconsin resident) and 4610 (non-Wisconsin resident) |
| Yale University | 45700 |
How to study Ph.D. in the USA with scholarship – For Indian students
There are several ways that Indian students can study for a Ph.D. in the United States with a scholarship:
Apply for a scholarship from a U.S. university or research institution
Many universities and research institutions in the United States offer scholarships specifically for Ph.D. students. These scholarships may be merit-based, need-based, or tied to a specific research project. Be sure to research the scholarship options available at the universities and programs you are interested in and apply for any that you are eligible for.
Apply for a scholarship from an external organization
There are also a number of external organizations that offer scholarships to Indian students who are interested in pursuing a Ph.D. in the United States. These organizations may include foundations, professional associations, and government agencies. Some examples include the Fulbright Program, the Institute of International Education, and the Indian Council for Cultural Relations.
Apply for a fellowship
Fellowships are another form of financial assistance that is specifically designed for graduate students. Many fellowships are awarded based on merit and may require the student to conduct specific research or work on a specific project. Some examples of fellowships for Indian students interested in a Ph.D. in the United States include the Indian Institute of Technology Delhi-Carnegie Mellon University Fellowship and the Pratiksha Trust Fellowship.
Consider working as a teaching or research assistant
Many Ph.D. programs in the United States offer teaching or research assistantships to their students, which provide a stipend in exchange for the student's work. These assistantships can be a good way to help cover the cost of tuition and living expenses while you are in school.
Scholarships for Ph.D. in the USA
Some of the popular postgraduate scholarships in the USA for international students are listed in the table below:
| | |
| --- | --- |
| Scholarship Name | Award Amount |
| AAUW International Fellowships | Doctoral degree: 20,000 USD, Postdoctoral degree: 30,000 USD |
| Aga Khan Foundation International Scholarship | Varies |
| Ambedkar Overseas Vidya Nidhi Scholarships | Up to 20 lakh INR |
| Campbell Fellowships for Transformative Research | 4,500 USD |
| Fullbright Scholarship | Up to full tuition fees, travel, and living allowances. |
| Inlaks Shivdasani Foundation Scholarship | Up to 100,000 USD. |
| Josephine de Karman Fellowship | 25,000 USD per year for tuition and fees |
| National Overseas Scholarship | Tuition fees, medical expenses, airfare, and almost all related living expenses |
| Richard A. Freund International Scholarship | One-time 5,000 USD |
| The Hubert H. Humphrey Fellowships In US | Full tuition and fees, pre-academic English training, maintenance allowance, and almost every related expense |
Final words
After earning a Ph.D. in the USA, individuals have a variety of career opportunities available to them. Many choose to continue their education and become professors at universities or colleges, where they can conduct research, teach students, and contribute to the academic community. Others may work in government agencies, non-profit organizations, or private companies, where they can apply their expertise to solve real-world problems. Some may also choose to start their own businesses or consult various organizations. Overall, a Ph.D. can open up doors to exciting and rewarding career paths.
Do you still have queries? Don't worry! Talk to our study abroad experts! iDreamCareer aims to reach every state and every child to ensure that talent is properly delivered to the industry.
Talk to our study abroad experts to find out for yourself! We have helped several brilliant but confused minds to choose the most suitable career. We have helped many students like Anjana Prasanna who was not very confident about her abilities. Later, with the help of career guidance and moral support from our study abroad experts, she received an offer from King's College London! We have helped several young confused minds like Aayush and Tapan to choose the most suitable career for them.
Ph.D in USA: FAQs
What is the application process like for a Ph.D. program in the USA?
The application process for a Ph.D. program in the USA typically involves submitting transcripts, test scores (such as the GRE), letters of recommendation, a personal statement, and a writing sample.
Is financial support available for Ph.D. students in the USA?
Many Ph.D. programs in the USA offer financial support to their students in the form of teaching assistantships, research assistantships, or fellowships. This financial support can include a stipend, tuition coverage, and health insurance.
What is the job market like for Ph.D. graduates in the USA?
The job market for Ph.D. graduates in the USA is competitive, but individuals with a Ph.D. are generally highly sought after for their expertise and advanced research skills. They can pursue career opportunities in academia, government, industry, and other sectors.
Can I work while completing a Ph.D. in the USA?
Yes, it is possible to work while completing a Ph.D. in the USA, though it may depend on the specific program and your availability.
Can I transfer credits from another Ph.D. program to a program in the USA?
It may be possible to transfer credits from another Ph.D. program to a program in the USA, but it will depend on the specific policies of the program you are transferring to and the relevance of the credits to your new program of study.

Anushree has 5 years of experience in the career counseling industry as a Senior Content Writer. She has also worked as a Social Media Marketing Expert for a startup and Content Quality Analyst for the Publishing and E-learning Industry. She has done her Master's in Commerce and PGDM in Finance & Trade and Marketing & HR, but she is currently following her passion for writing.