From RK Narayan, Ruskin Bond, Sudha Murthy, and Jhumpa Lahiri to Shakespeare, Jane Austen, and Maya Angelou, literary buffs have read and experienced the stories of all the great classic writers. You name a book, and they have read it. Do you count yourself among literature enthusiasts and aspire to make literature at the centre of your world in the future? If yes, it will be worthwhile for you to know about the opportunities that an MA English Literature degree may offer.
Many of you who are planning to take up English Literature as the major subject or as an Honours subject in your graduation or are studying English Literature in graduation now are often not sure about the future. Many are not sure if an MA English Literature degree has enough opportunities in the future. Many are not sure whether there are jobs for MA English Literature.
Take heart, thou English majors; thou magicians of words, thou writers of prose. Thine knowledge was not toiled in vain!
Yes. You heard that right!
Career Guidance Helps to Move Ahead Fast
Click the link below!
More often than not, English majors have been asked the most perplexing question, "Why would companies need someone with a degree in English Literature?"
Why choose MA in English Literature?
An MA English Literature degree prepares you for opportunities in diverse industries. With excellent writing and communication skills, an MA in English Literature can be recruited for a variety of job roles. Most of the opportunities in the future will be in media and communication.
According to KPMG's report on India's media and entertainment report 2019, it is estimated that by the year 2024, industries such as digital advertising, print, films, gaming, animation, and many others will see a surge in creativity and innovation skills in the workforce. This means the demand for content creators, copywriters, digital marketers, and others would be high. This would require exceptional writing and analytical skills. And who do you think has a better understanding of words than an English major?
Moreover, studying MA English literature can help you inculcate the skills that are essential for today's global and competitive environment; where analytic, creative, and critical reasoning skills are most advantageous.
Top 10 jobs for MA English Literature and MA in English
Content Writer: Content writers are involved in writing the content of various websites, blogs, and digital marketing campaigns. There are a lot of digital marketing agencies where you can get a job. You can get a job with various companies in different sectors. You can rise to become the head of content or chief content officer in a company.
Journalist/ Reporter: You may get a job in print media – in newspaper publication houses, magazines and journals; in television channels; in online media agencies; in news agencies. You can begin as a trainee and then can move through different positions to become the Editor of a newspaper, magazine, television channel, online news portal, etc.
Copywriter: Copywriters write all the text that you read in print advertising. They also write the stories and often the scripts of television commercials. They write the content of the various billboards, leaflets, flyers, banners, posters, mailers, etc. used for physical and online advertising. You can grow to become a creative director in an advertising firm. This is one of the best job options after MA English Literature or an MA in English.
Corporate Communication Executive: Corporate organizations require communication with people inside the company and also with people at large outside the company. Corporate communication executives work to write various materials for that such as invites for press conferences, press releases, content for internal communication, and articles for communication with the public at large.
Writer/ Sub-Editor/ Proofreader with publishing houses: You can get a job with a print publication house that publishes books, journals, and magazines or even with an online publishing company in these roles. Many e-learning companies also recruit in these roles.
Reach Out to the Best Career Counsellor in Delhi
Translator: Along with English if you are good in a regional vernacular language, you may get a job with a print publication house which is involved in translation and publication of books, journals, and magazines. You may get a job with an online publication. Many e-learning companies also recruit in these roles.
Teacher: One of the most common jobs that you can get after a degree in MA English Literature or MA in English is in teaching. You can get a job in a private school as a teacher of English. You can get a job with a spoken English class. You can get a job with an entrance examination coaching centre. There are many jobs. But you will do better if you complete a 2-year B.Ed. program after a degree in MA English Literature for getting very good jobs with good salaries. Or you may join a college teaching the undergraduate student. You may opt to qualify in the NET (National Eligibility Test) or the State Level Eligibility Test (SLET) of a state government to join as a lecturer in a college of university.
Instructional Designer / Subject Matter Expert: Instructional designers design content presentations, called storyboards for e-learning lessons. They use various tools and techniques for the job. Subject Matter Experts develop curriculum and content for e-learning coaching or training programs or for online courses.
Customer Services Executive/ Agent (non-voice): You can get a job with a business process management (BPM) company in the role of a customer service executive/ agent (non-voice). You will be involved in various non-voice communication with the customers of various companies through social media chat, emails, webchat, and other methods.
Freelance Writer: Although this is not a full-time job and you have to work from home in almost all cases, there are plenty of writing assignments available nowadays. You can get assignments on writing blogs, content for websites, content for e-learning portals, content for digital marketing, academic project report writing, and so on. There's a lot of earning opportunities if you can struggle a bit for 1-3 years at the beginning.
Best 3 career options after MA English Literature
You can see the list of top 10 jobs after an MA in English Literature or an MA in English. But what are the best career options? Which one you should go for? Here are the best three options that you can choose from:
Writer
If you have studied for an MA in English Literature or an MA in English Language and you have developed a well-rounded writing skill in English, then you will have a lot of options to work as a Writer in several jobs that are outlined above. Either as a full-time employee of a company or as a Freelance Writer, you can become a:
Content Writer for websites, blogs, vlog, digital marketing campaigns, e-learning portals, etc.
Blogger (you can choose one or more areas of interest such as food, travel, fashion, politics, films, etc.)
Writer for a publication house in various roles of a proofreader, sub-editor, ghostwriter
Script Writer/ Playwright/ Screenplay Writer
Creative Writer (writing poems, short stories, novella, novels, essays, etc.)
Critic (writing critical reviews of products and services such as restaurants, travel destinations, fashion, movies, theatre, etc.)
Academic Writer (writing essays, research articles, etc.)
Technical Writer (writing product usage instructions, product manuals, etc.)
Can you work in multiple roles? Well, then you can be a freelance writer taking up various assignments
Journalist
After a master's in English literature you can still enter the field of journalism. There are plenty of options if you want to be a journalist. Either as a full-time employee of a media organization or as a freelance journalist, you can work in several roles.
If you are good, then you will not have to sit idle after the initial 1-3 years of hard work. You can find work as a Reporter, Sub-Editor, Copy Editor, Online Reporter, and in so many other roles. If you are really good and work really hard, who knows, one day you can become an Editor and a celebrity News Anchor. It's tough to reach that height but never impossible.
Teacher at school, college, e-learning companies
Education is a booming sector in India and elsewhere in the world. You can get to work with an entrance examination coaching centre, tuition centre, private schools, spoken English coaching centre, and similar establishments even if you just have a degree in MA English Literature or an MA in English.
If you want to build a good career as a school teacher, you can do a B.Ed. If you want to teach in a college, then you have to qualify in the NET (National Eligibility Test) or a State level Eligibility Test (SLET). Whatever you want to become, you will never be out of a job.
Besides regular teaching, e-learning is another booming area now and will remain so in the future. Here, you can get to work as an online tutor, as a Subject Matter Expert (SME) or in the role of an Instructional Designer. There will be a huge number of jobs in this field.
Click here to Get the best Career Counselling Online
Best study options after MA English Literature
You do not want to get into a job after your degree? No problem. You can have quite a few good options to go for a higher study after a degree in MA English Literature or a master's in English literature. You can opt to do a Ph.D. in any of the following subjects. There are many other options too.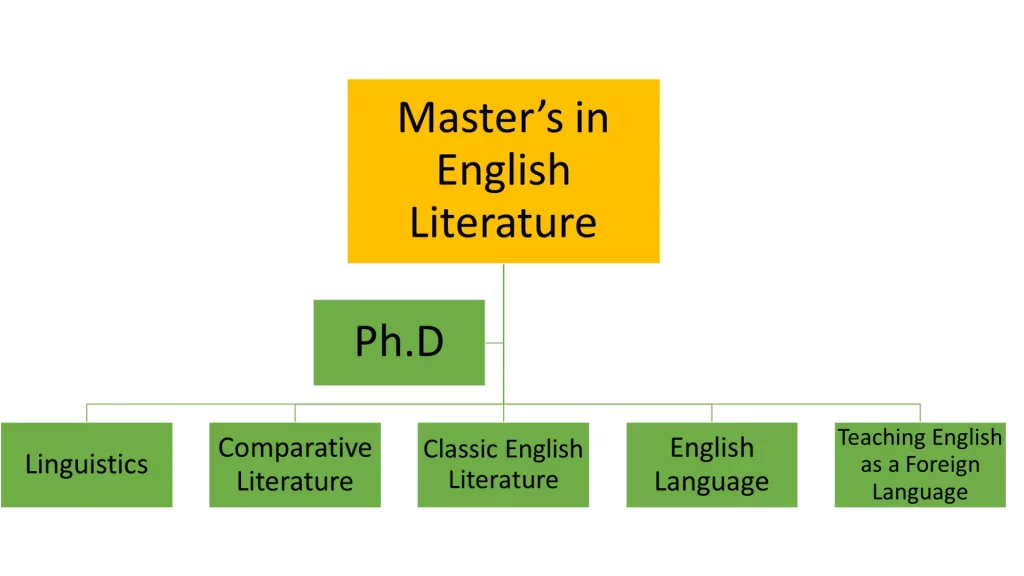 Ph.D. in Linguistics
Ph.D. in Comparative Literature
Ph.D. in Classical English Literature or Ph.D. in Classics
Ph.D. in English Language
Ph.D. in Teaching of English as a Foreign Language
Summing up
Pursuing, MA in English literature can actually give an edge to those looking for opportunities in the creative field. A degree in this field not only offers numerous career opportunities but also provides scope in diverse industries. If you are yet to decide whether to pursue an MA in English Literature and want guidance for the same, then take the help of an expert and unbiased career guidance and make a career choice that reflects your dreams.
Also read:
Shruti Verma has an experience of around 2+ years in research and analysis of careers, jobs, and industries. She has a knowledge of diverse fields spanning from career counselling, management consulting, engineering, and technology to science, finance, and humanities.