Artificial intelligence is the future of the world. These days, every app and every website uses AI for most of its functions. They are used to block facial recognition, to register and verify your security for transactions, and more recently even to place your face on various characters in gaming and non-gaming applications. Artificial intelligence makes all of this possible and more. If you want to build your career in AI but are looking for a specific list of AI courses, this post is for you!
Do you know?

According to Amazon, its AI voice assistant Alexa (called Alexa Hunches) can guess what you might be thinking of – or what you've forgotten.
Yes… That's a bit exciting, isn't it?
We can't deny the fact that we all marveled at these creatively designed robots and remote-controlled machines and dreamed of creating such technologically advanced machines that would eventually mimic human intelligence. Artificial intelligence is one such emerging field of computer science that aims to create innovative technologies that will ultimately reduce human labor. To take advantage of this high-end technology, which has become a key element of every industry, many are choosing a career in artificial intelligence, which contains promising prospects and amazing opportunities.
What all is covered in this post?
To make it easier for you, we have created a quick guide to everything you need to know about ai courses.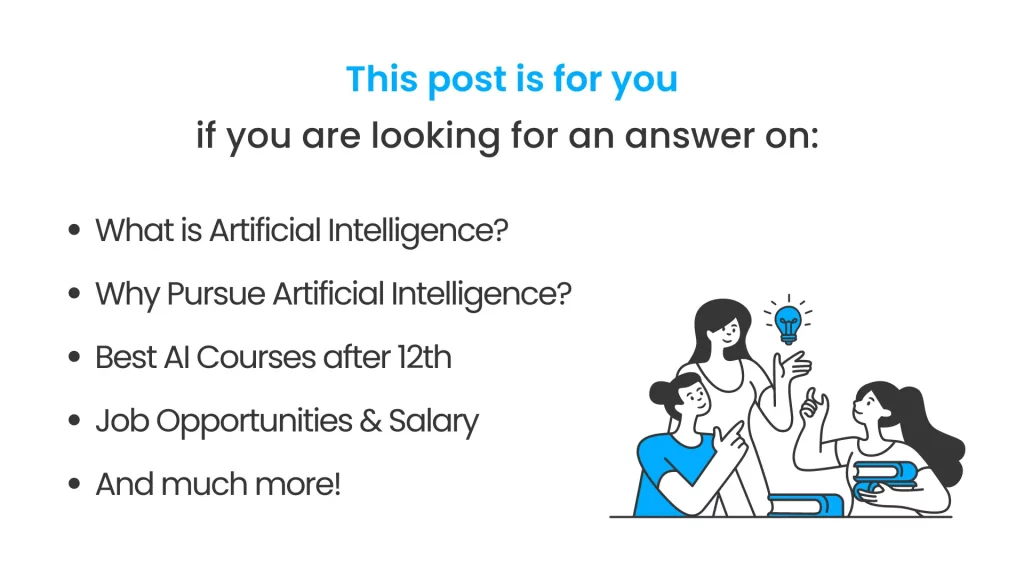 What is Artificial Intelligence?
Artificial intelligence with machine learning and the Internet of Things are among the most popular skills related to computer science and data science. There are 4 types of artificial intelligence: purely reactive, with limited memory, with the theory of mind, and with self-awareness. Artificial intelligence courses provide the knowledge and skills you need to start a career in AI.
Artificial intelligence refers to ways to make a computer, machine, or software think exactly like humans. It focuses on studying the patterns of the human brain. Not only this it also helps in analyzing the cognitive processes of how the human brain works. The ultimate goal of artificial intelligence is to successfully develop a computer that can replicate the human brain and learn to plan and solve problems on its own.
There are various applications of artificial intelligence of which some important applications in various sectors include e-commerce, education, lifestyle, navigation, robotics, human resources, healthcare, agriculture, gaming, automotive, social media, marketing, chatbots, finance, etc., and much more.
Discover More by accessing the Free Career Dashboard
This will help us share relevant information with you.
Why Artificial Intelligence?
Recently, artificial intelligence has gained power with recent innovations such as intelligent voice assistants, self-driving cars, robotic process automation, and more. All this has taken over the world and nowadays everyone wants to know more about these technologies.
So why should you study artificial intelligence? Because if you don't, you'll likely be a dinosaur in the tech world by the end of 2021 – according to American entrepreneur Mark Cuban.
Following are the reasons why you should pursue AI courses: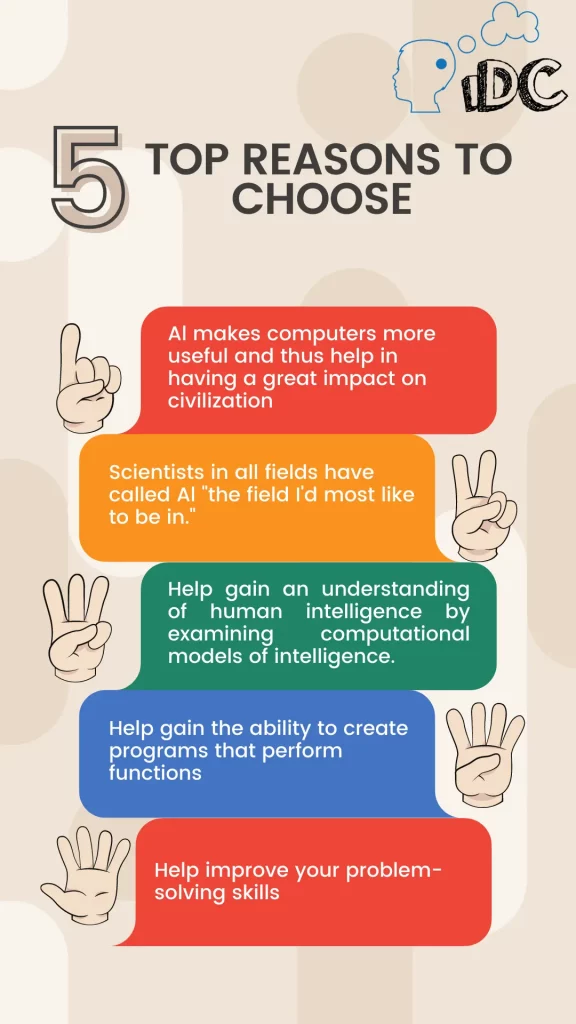 Best AI courses in India
Here is the list of top 15 AI courses in India:
Advanced Certification in AI and Machine Learning, Indian Institute of Information and Technology, Hyderabad
Advanced Program in Artificial Intelligence – Powered Marketing from IIM Calcutta
AI Intelligence Foundation Program, Pearson Professional
Applied AI and Machine Learning-Specialization, AI & Deep Learning with Python, Analytixlabs
Applied Machine Learning Course, Applied AI Course
Artificial Intelligence Engineer Master's Program, Simplilearn
B.Tech (Hons) Computer Science and Engineering- Artificial Intelligence and Machine Learning by University of Petroleum and Energy Studies
B.Tech in Computer Sciences & Engineering with AI specialization by Amity University of Science and Technology
Full Stack Machine Learning by AI Program, Jigsaw Academy
MCA in Artificial Intelligence and Machine Learning by Chandigarh University
M.Tech in

Artificial Intelligence by NMIMS – Mukesh Patel Institute of technology
Artificial Intelligence by IISc Bengaluru

Post Graduate Certification in Artificial Intelligence and Machine Learning by Edureka
PG Diploma in

Artificial Intelligence by Pearson and edX
Artificial Intelligence by Reva University
Machine Learning and AI, Indian Institute of Information and Technology Bangalore

PG Program in

AI and Machine Learning, Great Learning
Artificial Intelligence and Machine Learning, Edureka

Post Graduate Program in

AI and Machine Learning from Purdue University and Simplilearn
Analytics & Artificial Intelligence by Imarticus
Artificial Intelligence and Machine Learning from BITS Pilani
Artificial Intelligence and Machine learning by DIT University
AI and Machine Learning by Great Learning
Top AI courses after 12th
There are several AI courses available after completing class 12th. Below are some of the courses that might help you to choose the artificial intelligence courses that best suit your requirements:
B. Tech. /B.E. in Artificial Intelligence – 4 years
BTech in Computer Science (with AI specialization) – 4 years
Certificate in AI, Machine Learning, Deep Learning, Natural Language Processing – 6 months – 1 year
DeepLearning.AI (Coursera) – AI for Everyone – 9 hours
Delft (through edX) – Professional Certificate in AI in Practice – 3 months
Diploma in AI and Machine Learning – 1 year
IBM (through edX) – Professional Certificate in Applied AI – 6 months
IIT Delhi (NPTEL platform) – Artificial Intelligence Online Course – 12 weeks
Post Graduate Diploma in AI and Machine Learning – 2 years
Udemy – Artificial Intelligence A-Z™: Learn How to Build an AI – 16.5 hours
Artificial Intelligence Course Scope in India
The field of artificial intelligence in India is still at the adoption stage, but it is gradually being used to find smart solutions to today's problems in almost all major sectors such as agriculture, healthcare, education and infrastructure, transportation, cyber security, banking, manufacturing, business, hospitality, entertainment, etc. Artificial intelligence is a classic example of disruptive technology, as it has affected the way we do our daily work.
Another aspect that has helped in the understanding and adaptation of artificial intelligence is the mode of online education. Online learning has become a huge part of our educational ecosystem; especially after the pandemic. Students pursuing AI courses cannot be stuck at home without a job. Artificial intelligence is now consuming the market, so every student will have a job. The salary offered to an AI professional ranges from 4,00,000 to Rs. 8,00,000 per annum (entry-level).
Final Words
The future is definitely well-lit! You may even start dreaming of the condo in Tahiti! However, you need to pass out with an Engineering degree from a premier institution. Or else, you can work in software engineering and development for a few years (say, about 4-5 years). You may then attempt to find an internship also before you find a full-time opportunity in AI. Hope we have provided all the useful information on AI courses.
All the best to you friend! In case you feel a little unsorted in your head (doubtful), do get in touch with the best-trained industry experts we have. iDreamCareer is on a mission to reach every state and every child in order to ensure that talent is appropriately delivered into the industry.
At iDreamCareer with the help of our Career Counselling and Guidance Services and educational counselor, we try to help young confused minds from 9th class, 10th class, class 11, class 12 with an aim to select their most-suited career choices.
Pages you'd want
FAQs
What is artificial intelligence?
Artificial intelligence is a process that enables a machine to learn from experience, think and act like humans. Some examples of this are personal assistants like Siri and Alexa, self-driving cars, computers that play chess, and suggestions for songs and movies on Netflix and Spotify.
What is the future of AI market?
Nowadays life without technology is simply impossible. The artificial intelligence market is expected to grow exponentially at a rate of 42.2% from 2019 to 2027. There is tremendous progress in the field of artificial intelligence, so the demand for artificial intelligence professionals will also grow.
What are the best companies hiring AI graduates?
Some of the top companies hiring AI graduates are Amazon, NVIDIA, Apple, Microsoft, IBM, Accenture, Facebook, Intel, Samsung, Lenovo, Adobe, Uber, etc.
What are the main areas of specialization in artificial intelligence?
Major areas of specialization in artificial intelligence include machine learning, deep learning, Python, data analysis, language processing, and more
Discover More by accessing the Free Career Dashboard
This will help us share relevant information with you
Trending Posts


Anushree has 4+ years of experience in the career counseling industry as a Senior Content Writer. She has also worked as a Social Media Marketing Expert for a startup and Content Quality Analyst for Publishing and E-learning Industry. She has done her Master's in Commerce and PGDM in Finance & Trade and Marketing & HR, but she is currently following her passion for writing.