Ready to be a medic? Do we hear you say 'not in India'? Are you yet to figure out how to study medicine abroad? Do you wish to study medicine in China? Or have you already begun your preparations? Whichever it is, this post welcomes you!
Studying medicine in China is a smart choice that is popular due to its low cost and promising returns. China, which is next to India, has been trending when it comes to the choice of students who prefer to pursue their medical education in a foreign university. It offers an inexpensive medical education compared to many other foreign universities.
But…
Do You Know?

The Government of India has issued a detailed guideline for prospective students who want to study medicine in China. They warned them of pitfalls, including low success rates, mandatory learning of the official spoken language Putonghua, and strict standards for practicing in India.
This has been trending around everywhere… What does that mean? What will be the impact of this guideline? And much more you will find out in this post!
What all is covered in this post?
To make it easier for you, we have created a quick guide to everything you need to know about studying medicine in China.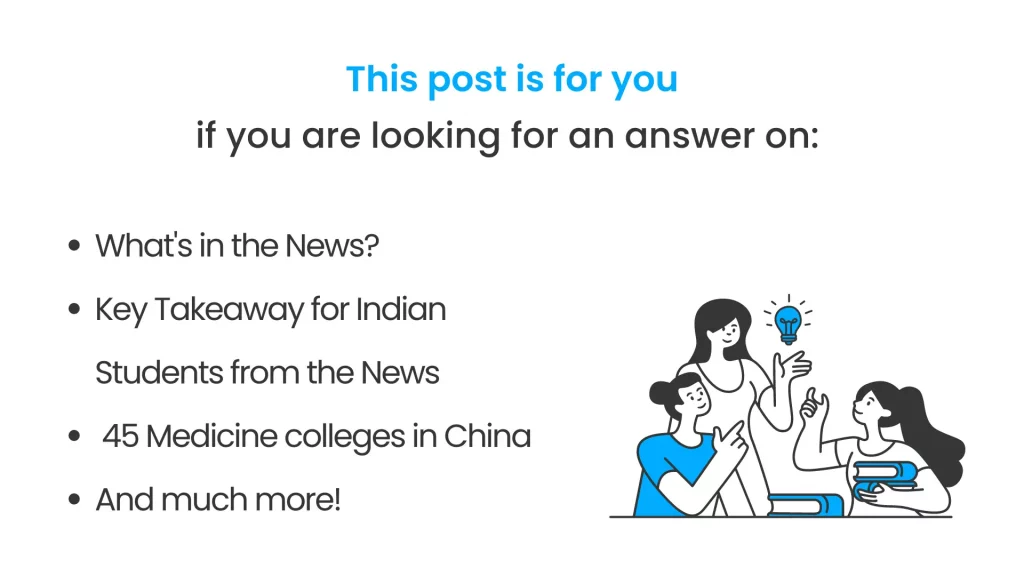 What's in the news?
India has issued detailed guidelines for aspiring students who want to study medicine in China. The following is covered in the news-
They have mentioned the pitfalls, including low success rates, mandatory learning of an official language (spoken language such as Putonghua), and complex regulations required to practice in India.

As thousands of Indian students studying medicine in China are currently stuck at home for more than two years because of China's COVID-19 visa ban.

As per the reports of officials, more than 23,000 Indian students are currently enrolled in various universities in China. Considering that the vast majority of them are medical students, India issued this recommendation.

After 2 years of pandemic visa restrictions, China recently started issuing visas for a certain number of students. India and China are still in talks to establish limited flights in light of China's quarantine restrictions.

The advisory highlighted research findings, including the difficulties faced by Indian students in China and the stringent norms they face to qualify to practice medicine in India.

According to the guideline, only 6,387 out of 40,417 students who appeared for the Medical Council of India (MCI) Foreign Medical Graduate Examination from 2015 to 2021 passed the exam.

They also included 45 medical colleges mandated by the Chinese government to award medical degrees over 5 years and 1-year internships. Prospective Indian students are advised not to apply to any colleges other than those listed in the recommendation.

Upon completion of the internship, students must pass the Chinese Medical Qualification Examination and obtain a doctor's qualification certificate to practice in China.

Indian students who wish to pursue a medical qualification in China must pass NEET-UG, the entrance exam for UG medical education in India, as a requirement for medical education abroad.
Also, read: Study in China
The key takeaway for Indian students studying medicine in China
Students who are planning or who are studying medicine in China must ensure the following:
Curriculum being offered
Duration of the course
Fee structure
Language of instructions
Mode of education (online or offline)
University should be on the list of 45 universities
Visa requirements
This means you can still plan to study medicine in China. Yes, right! Now…
Why study medicine in China?
In 2007, China's Ministry of Education (MOE) published the "Provisional Provisions of Undergraduate Medical Education Quality Control Standards" in English for international students. This initiative ensures a high-quality and standardized educational experience for international students.
There are many reasons to study medicine in China, here are some of them:
All 45 approved medical colleges under the direct supervision of the Chinese government are listed in the World Health Organization (WHO) "Directory of World Medical Schools" and recognized by the United Nations Educational, Scientific and Cultural Organization (UNESCO).
You are eligible to apply for various national medical screening tests such as Pakistan Medical and Dental Council (PMDC), Medical Council of India (MCI), Saudi Commission for Medical Specialties (SCHS), Medical and Dental Professions Council, Medical Professions Council of South Africa, the Professional and Linguistic Assessment Board (PLAB) in the United Kingdom and the United States Medical Licensing Examination (USMLE);
High-quality medical professors, a wide range of scholarships, affordable tuition, and advanced medical services;
Medical internships in top-level hospitals that have unparalleled infrastructure and technology;
Sharpens students' research skills to contribute to China's fast-growing medical industry and;

Unlimited opportunities after graduation.
How much does it cost to study medicine in China?
Studying medicine in China is also economical as medical universities provide many scholarships. MBBS tuition fee in China is very low even without a scholarship. Fees in China are usually Rs. 2,00,000 per annum, and for the entire five-year program the expenditure is about Rs.10 lakhs. You also receive a stipend for one mandatory year of internship, which is mandatory.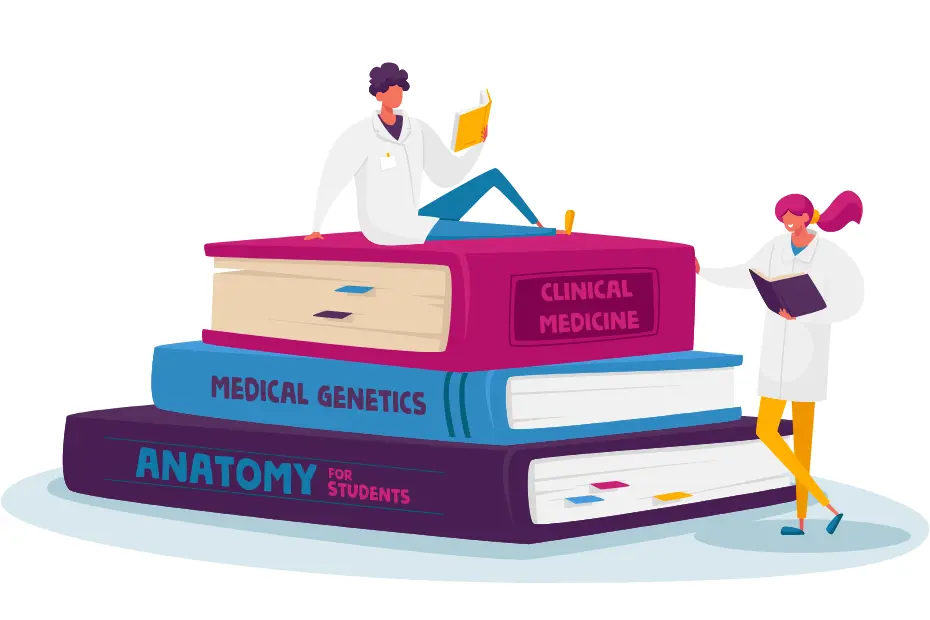 List of China medical universities for Indian students
Anhui Medical University
Beihua University
Capital Medical University
China Medical University
Chongqing Medical University
Dalian Medical University
Fudan University
Fujian Medical University
Guangxi Medical University
Guangzhou Medical University
Harbin Medical University
Hebei Medical University
Huazhong University of Science & Technology
Jiangsu University
Jilin University
Jinan University
Jinzhou Medical University
Kunming Medical University
Nanjing Medical University
Nantong University
Ningbo University
Ningxia Medical University
North Sichuan Medical College
Qingdao University
Shandong University
Shantou University
Shihezi University
Sichuan University
Southeast University
Southern Medical University
Southwest Medical University
Sun Yat-sen University
Suzhou / Soochow University
Three Gorges University
Tianjin Medical University
Tongji University
Wenzhou Medical University
Wuhan University
Xiamen University
Xi'an Jiaotong University
Xinjiang Medical University
Xuzhou Medical College
Yangzhou University
Zhejiang University
Zhengzhou University
Conclusion
After all of that mind-bender, you must be full of facts now. If you've been endlessly looking for extensive knowledge about studying medicine in China, we've served you much, isn't it? Now, to put all of those existing doubts at the back of your mind to rest, why not ask expert professionals? Call us to study abroad! Take action!
iDreamCareer is on a mission to reach every state and every child in order to ensure that talent is appropriately delivered into the industry.
Talk to our study abroad experts who have 20+ years of experience to know yourself in and out! We have helped several brilliant but confused minds with an aim to select their most-suited career choices. Hear the success story of Aayush who got an offer from the top 3 universities and is now studying at the University in Ottawa in Canada after getting career guidance from our industry experts!
Also Read
FAQs
How long is MBBS in China?
MBBS in China is of 6 years duration, which includes an internship of 1 year. The graduate receives the degree after successful completion of MBBS in China and can immediately practice medicine in the country. Then one can also practice in India by appearing for the MCI screening test and after passing it one can start practicing as a doctor anywhere in India.
Is it a good idea to study MBBS in China?
MBBS in China is a great option for Indian medical students who are planning to do their MBBS from abroad. China provides quality education that is affordable and recognized around the world. The admission process is simple and easy to help applicants. Chinese medical universities use a creative teaching method and most courses are taught in English. If you're considering an MBBS in China, you'll also have access to affordable, quality housing close to home.
What are the standards fees in China to study medicine?
The standard fee for an MBBS course is between RMB 2,100 and RMB 48,000 per year. Fees may vary from one university to another. Students should check the fees on the individual university's website.

Anushree has 5 years of experience in the career counseling industry as a Senior Content Writer. She has also worked as a Social Media Marketing Expert for a startup and Content Quality Analyst for the Publishing and E-learning Industry. She has done her Master's in Commerce and PGDM in Finance & Trade and Marketing & HR, but she is currently following her passion for writing.