Economics is the study of how society manages its limited resources to satisfy its unlimited wants and needs. As the world becomes increasingly interconnected, the role of economics in shaping our lives and the decisions we make has become more important than ever before. Whether you're interested in understanding how markets work, analyzing economic data, or shaping policy decisions, studying economics courses can open up a world of opportunities.
But with so many different economics courses available, it can be tough to know where to start. That's why we've put together this guide to help you navigate the world of economics courses and find the right program for you.
Whether you're a high school student considering a career in economics, a college student looking to supplement your studies, or a working professional looking to expand your knowledge and skills, there's an economics course out there for you. So why wait? Let's dive in and explore the exciting world of economics courses together!
What is covered in this post?
To make it easier for you, we have created a quick guide to everything you need to know about economics courses.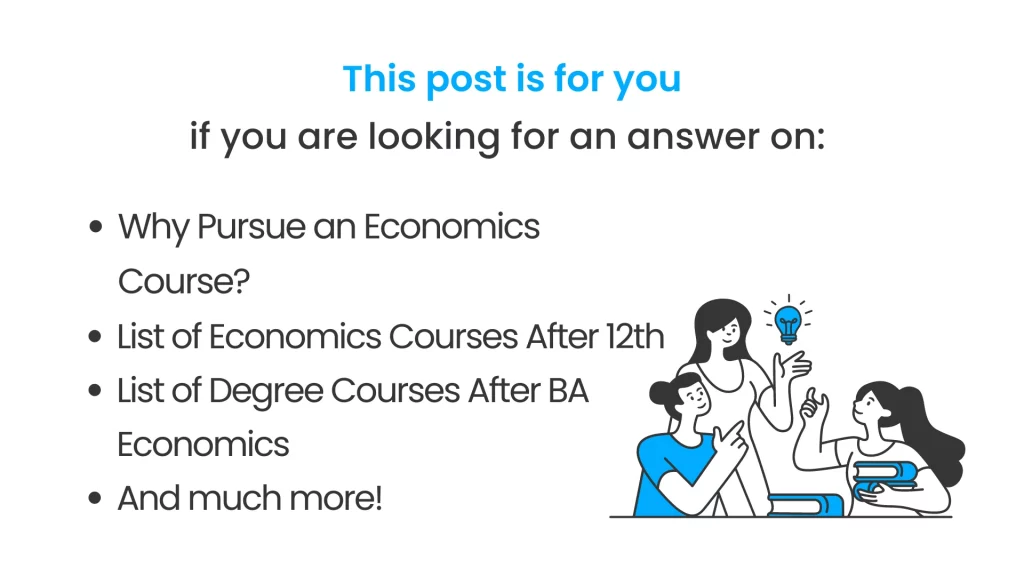 Why pursue an economics course?
There are many reasons that you should consider economics courses. We have curated a list of 5 of the most significant reasons that a career in this is great for you:
Job Security
With unemployment troubling every youngster and the search for a decent-paying job becoming a distant dream, economics promises its takers a plethora of options to begin earning quick bucks soon after an honors degree. The job-exposure ranges from blue-chip companies to consultancies, from start-ups to journalism, from public relations to NGO and the list goes on!
Discover More by accessing the Free Career Dashboard
This will help us share relevant information with you.
Masters No Bar
A Bachelor's in Economics does not only lead to a Master's in Economics. With the wide horizon of this subject, students get admitted to various courses such as MBA, Law, Journalism, and Designing to name a few. If you find an apparel designer flaunting her economics degree or a Legal Consultant flaunting Economic facts by virtue of her Economics background, don't be surprised!
Oxford and LSE Not Too Far!
Students' dreams to study at one of the best universities in the world can turn into reality through this course. With many full and half Scholarships offered to students pursuing Masters in Economics abroad, thousands of students throng the UK university roads as students trying to solve the Micro and Macro problems being faced by the underdeveloped, developing, and developed economies!
For a Good Cause
Having been grilled by Micro, Macro, Financial, and Development Economics every semester, many students take up a cause and work for one. Right from the prospects of joining an NGO or working closely with an MLA, from joining financial services to being part of projects highlighting the areas of development for a better society and economy, the vision of what to work for certainly gains a greater impetus.
Passion works
Despite being a science student in class XII, I got the privilege to be a part of this awesome course in 2008. Every day and every class was a roller coaster ride. With critical microeconomics questions to heavy Economy State and Society, from highly conceptual Econometrics to thought-provoking facts supplied by Development Economics.
From opening oneself to a financial platform through Banking and Financial Markets to applying the Comparative and Absolute advantage concepts in International Economics, every dimension came out to be unique in its way. Thus, if you are passionate and determined enough a career in economics would fetch you several opportunities.
Talking in layman's terms, while studying economics, financial newspapers and Magazines started making more sense, 'The Economist' becomes one of the favorite magazines and economic-related contemporary websites more surfed websites than a social network. The projects made are a bundle of experience and knowledge. They add to the concepts and understanding that no other medium could ever do.
Eligibility required to pursue economics courses
The admission criteria for economics courses after class 12 is quite simple. Admission to undergraduate courses is based on merit, and some universities hold interviews to select students. The minimum prerequisites for post-12th economics courses are as follows:
The minimum qualifying criterion is 50% in 10+2 from a recognized board.
A few institutions require 10+2 Maths, Physics and Chemistry.
Admission to Economics courses after 12th is mainly through entrance exams which vary by institution.
There are no entrance tests for certification courses; admission is based on class 12th Marks.
List of economics courses after 12th
Economics courses are taken by candidates who wish to work in the economic sector. Economics courses are offered at various levels such as certificate courses, diploma courses, undergraduate courses, postgraduate courses and PhD courses.
Economics is widely offered in two general categories such as BA and Bachelor of Science. Certificate courses in economics are available both online and offline. Various online certification courses in economics are available on online sites such as Udemy, edX, and Coursera.
Below are some of the best economics courses after 12th along with fees
Bachelor of Arts (BA) in Economics: This is a three-year undergraduate course that provides a comprehensive understanding of micro and macroeconomics, economic theories, and concepts. Fees for this course can vary from INR 10,000 to INR 2,00,000 per year, depending on the college.
Bachelor of Science (BSc) in Economics: This is also a three-year undergraduate course that focuses on the mathematical and statistical aspects of economics. Fees for this course can range from INR 20,000 to INR 3,00,000 per year.
Bachelor of Business Administration (BBA) in Economics: This is a three-year undergraduate course that combines the principles of economics with management studies. Fees for this course can vary from INR 50,000 to INR 5,00,000 per year.
Diploma in Economics: This is a one-year course that provides basic knowledge of economics and its various concepts. Fees for this course can range from INR 10,000 to INR 1,00,000.
Postgraduate Diploma in Applied Economics: This is a one-year course that focuses on the practical applications of economic concepts in various sectors such as banking, finance, and public policy. Fees for this course can vary from INR 50,000 to INR 3,00,000.
The Indian Economy – Some Contemporary Perspectives: The course is designed for undergraduate students who want to understand how the economy functions despite the mixed economic structure and historical developments and recent reforms. By taking this course, students will gain the necessary skills and knowledge to better understand economic activities and their role in society. The course can be taken online on NPTEL – IIT Kanpur platform. The duration of the course is 8 weeks and the fees of the course are free.
Principles of Economics with Calculus: The course covers fundamental economic concepts and their quantitative application in real-world scenarios. The course covers calculus-based economic concepts and topics such as optimization, technological change, and product market value, and is available on both offline and online platforms with flexible learning options and co-certification. The course can be taken online on the edX platform. The duration of the course is 10 weeks and the fees of the course are free.
List of degree courses after BA economics
There are various degree courses that you can pursue after completing a Bachelor of Arts (BA) in Economics, including:
Master of Arts (MA) in Economics
Master of Business Administration (MBA)
Master of Finance (MFin)
Master of Public Policy (MPP)
Master of International Business (MIB)
Master of Accounting (MAcc)
Master of Data Science (MDS)
Master of Law (LLM) in Corporate Law or Business Law
Chartered Financial Analyst (CFA) Program
Certified Public Accountant (CPA) Program
These courses can help you specialize in different fields related to economics, finance, business, and law, and can open up various job opportunities for you in the private and public sectors. It is important to research each course to determine which one best aligns with your career goals and interests.
Epilogue
Economics covers a wide range of topics. It consists of many ideas and principles, the application of which has an impact on the country's economy. After studying economics, students get a good knowledge of the Indian economy, agricultural economy, and industrial economy. Students who want to make their career in business, commerce, and the banking sectors can really do wonders with economics courses.
We hope we have served you with enough information. Do you still want to get your doubts answered? Why don't you connect with our industry experts? Yes, you read it right! You can get your queries resolved in just 60 seconds from our Career counselors. So, what are you waiting for? Download the iDreamCareer app now!
iDreamCareer always believes in helping young minds discover their true mettle. We try to help young confused minds from 9th class, 10th class, class 11, class 12 with an aim to select their most-suited career choices.
Also Read:
Economics Courses: FAQs
What is economics?
Economics is a social science that deals with the production, distribution, and consumption of goods and services. It studies how individuals, businesses, governments, and other organizations allocate resources to satisfy their needs and want.
Is the economics course good?
Economics is one of the popular courses that students study to build their careers in finance, banking, etc. After 10+2, students can pursue BA / BSc Economics at the graduation level.
What kind of jobs can I get with a degree in economics?
Economics graduates can work in a variety of industries, including finance, consulting, government, international organizations, and academia. Some common job titles include economist, financial analyst, data analyst, policy analyst, and market research analyst.
What skills do I need to succeed in economics?
To succeed in economics, you need strong analytical, quantitative, and critical thinking skills. You should also have excellent communication skills, both written and verbal, and be able to work well in a team.
What kind of courses are offered in economics?
Economics courses cover a wide range of topics, including microeconomics, macroeconomics, econometrics, international economics, labor economics, environmental economics, and public finance, among others.
Discover More by accessing the Free Career Dashboard
This will help us share relevant information with you
Trending Posts


Anushree has 4+ years of experience in the career counseling industry as a Senior Content Writer. She has also worked as a Social Media Marketing Expert for a startup and Content Quality Analyst for Publishing and E-learning Industry. She has done her Master's in Commerce and PGDM in Finance & Trade and Marketing & HR, but she is currently following her passion for writing.