Are you seeking distance education? In India, it is not only NIOS for young learners and IGNOU for advanced degrees. Today, multiple universities, both national and international, offer online education in correspondence mode or blended modes (the increasing use of streamed audio & video).
.
.
This article will be all about the colleges and courses in the distance education space in India. It is almost impossible to cover all aspects of it at a single go but we promise to try.
.
Finally, what is true for all distance education courses is that all of them are "self-paced" and you may feel disconnected at times and that would drag all interest out of you at any point in time. It takes firmness to complete a course within a stipulated time although you may not have constant motivation since you don't get to meet people physically.
.
.
Distance Education, In Brief.
Distance education is a method of education. Learners can study in their own time, at the place of their choice and without face-to-face contact with a teacher. Technology is a critical element here.
.
However, distance education programs may not be open (some prior qualifications to study may be there, so some of you may be denied access).
.
Sometimes for undergraduate distance education, at least half the program may need to be done 'in residence', that is, by taking face-to-face classes on campus.
.
It is now well recognized that open learning is the most viable option to make education accessible to all students in India. However, institutions operating in this mode must aim to offer quality education if it is to compete and collaborate with the traditional system.
.
Let us first read the following Gantt.
.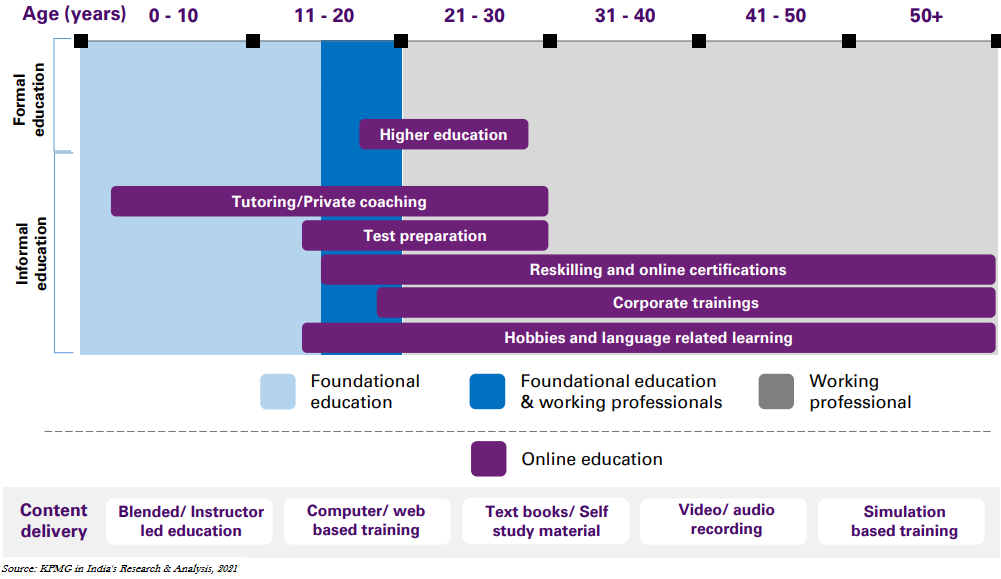 Types & Definitions
Online learning
Primary delivery mechanism is via the internet.
Most of the study time is spent online
.
Blended learning
Online and face-to-face teaching are combined
Some work done online either inside or outside of class time
Abandoning one or more classroom sessions in a week, to allow more time for studying online ('hybrid' courses)
Lab / practical work on campus at weekends or evenings, with the rest being done online
.
Flipped classroom
Lectures are pre-recorded which are studied online and out of class
Classroom time is used for discussion or activities related to recorded lectures.
.
Emergency Remote Teaching
Temporary shift due to crisis circumstances
Involves the use of fully remote teaching solutions that would otherwise be delivered face-to-face / as blended / hybrid
.
MOOCs
Massive, open, online courses.
No fee or a low cost fee (substantially lower than a regular university tuition fee)
The courses are open to anyone
There is no requirement for prior academic qualifications
.
"Open, distance, flexible and online learning are rarely found in their 'purest' forms. No teaching system is completely open There are degrees of open-ness, 'distance', 'flexibility', and 'virtuality.'"

Dr. Tony Bates, Research Associate (Contact North | Contact Nord, Canada)
.
.
Distance Education Colleges in India

.
Distance Education Courses in India
This obviously depends on whether you want to study arts, science or commerce. There are:
UG courses
Post graduate courses
Certification courses
PG Diploma courses and
Diploma courses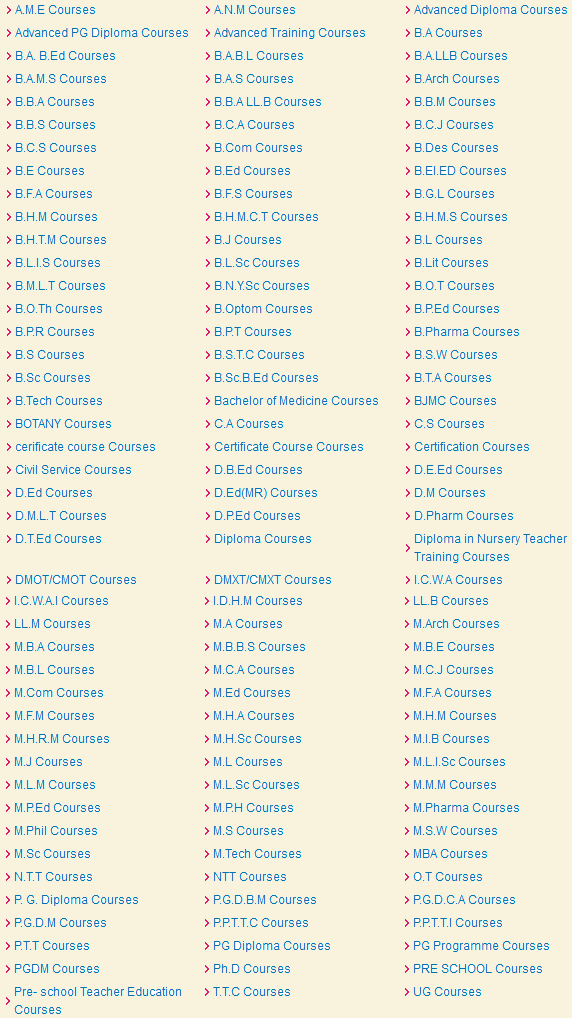 .
.
Final Thoughts
The benefits of distance learning certainly outweigh the challenges. Multiple open learning institutes have earned the faith of several big blue-chip companies by creating employable graduates.
.
However, career planning is surely an intense affair and full of intricate detailing which you alone might not be able to successfully do in these times when competition is neck and neck. We, at iDreamCareer, are helping millions of young minds to uncover their true mettle. Want to join hands now?
Check these for more help:
.
.
[latest-selected-content limit="4″ display="title" titletag="b" url="yes" image="thumbnail" elements="3″ css="four-columns align-left as-overlay tall dark hover-zoom" type="post" status="publish" orderby="dateD"]
.
.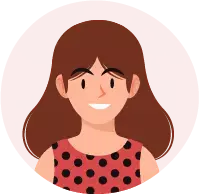 With a Master's in Biophysics-Biostatistics, Sreenanda acquired professional experience in computational proteomics of human molecules. She is currently working with the Research and Data Team at iDreamCareer.