Usually, during childhood when kids propose their fantasies about their dream career that they wish to aspire, parents applaud them with glee. They even publicize their progressive thoughts amongst the extended family and friends as their proud parents. As the years pass by and the kids are about to complete their secondary education, parents realize that their kids were pretty serious for what they proposed and now it's no more a fantasy for them. That instant, their moment of glee transforms into sleepless nights and nightmare; suddenly a silent bomb blast creates friction between the parent-kid duo.
The clash is not necessarily present always as few parents share amazing chemistry with their kids and give them the liberty to make their own decisions in life. However, if you fail to fall in that lot, then my dear friend this article is for you as I am sure that you are struggling to convince your parents about your dream career choice while your parents are imposing something else upon you.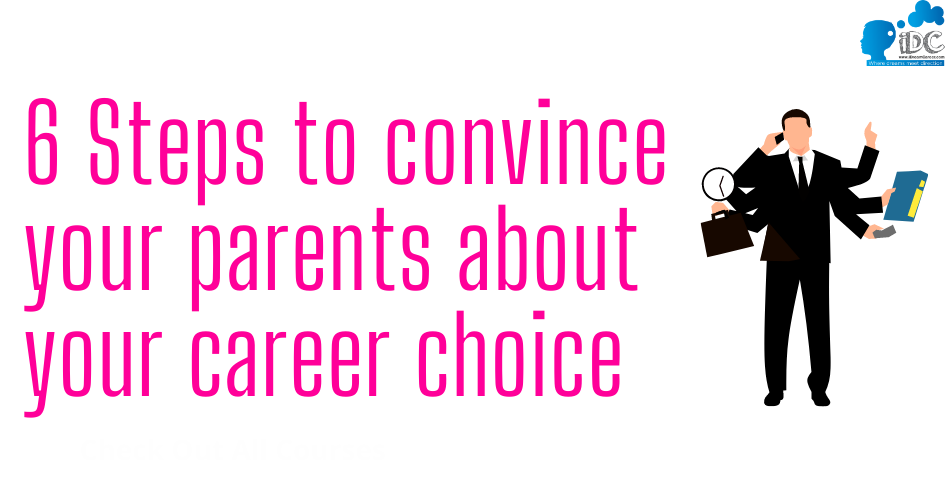 Top 6 Steps
If the wrestle between your dream career and parent's wish is still on, then read further as these few tips will help you to overcome your troubles and bring back that joy on your parent's face, without you having to compromise with your aspirations.
# 1 Be confident and stay positive
Dreams transform into reality only through self-confidence and self-motivation. As a patient recovers more through inner inspiration more than medicines, similarly anything is possible to achieve only if you aim to fulfil it, keeping your positive attitude alive. "Kissi cheez ko shiddat se chaho toh poori kaynat tumhe use milane ki koshish mei lag jaati hai", the popular dialogue from the movie 'Om shanti Om' is not just a fictitious thought of the scriptwriter but is also scientifically proven according to the famous book The Secret by Rhonda Byrne. Believe in yourself, and people will believe in you. To convince our loving parents about our dreams, remember Trust yourself and be hopeful as life is full of surprises and you never know whose blessings might work for you.

# 2 Take Expert Opinion
At times, our parents disagree with our perspective on a particular subject and when that same perspective is explained by an expert of that subject then they agree upon it. Parents are often skeptical about their child's decisions as according to them kids lack experience and understanding about life. So to support your decision and gain your parent's faith, consult someone who is already in that particular field and leave no stone unturned to get acquainted with the pros and cons of that career.
Once you work under the guidance of an expert with complete dedication then your parents can be compelled to give you a chance to experiment with your capabilities. Live epitome is more influential and this might help you to gain the trust of your parents.

# 3 Meditate
Each breath feeds the seed of dreams like rain and sunshine feed a seed. The serenity of soul, mind, and body leads to the awareness and realization of oneself. The journey of silence experienced by meditation helps to enrich every cell and nerve in our body and energize them to dream beyond your limits. The state of trance not only enlarges your horizons but also provides the power to transform them into reality.
You might feel that meditation might be for oldies or boring people but it just depends on the way you do it. Relax in your most comfortable posture and listen to soothing music, feel the transition of your breath and experience the state of trance where your dreams and thoughts are actually real. Once you taste the flavor of serenity, I bet you won't be able to live without including it in your daily diet. Meditation provides you with the inner strength to overcome troubles and in fact, you experience the blossoming of wishes growing further towards success.

# 4 Make a Plan of Action
The idea behind Mark Twain's quote, "Action speaks louder than words' was to shift our focus from brainstorming ideas and planning to some real action. Gone are the days when great orators achieved success as today you have to be a complete package. If you are passionate about your dream career and are ready to execute the steps to achieve it, then just go for it without wasting a minute. Yes, it's a battlefield, where you have to earn your dreams.
The blog of Make Your Mark mentions about 26-year-old Taylor, "Since I was about 12 I've dreamed about being a photographer and traveling the world taking photos. But it just seemed too difficult. I didn't know where to start. One day I sat down and wrote out a two-year plan to achieve my dream. I'm halfway through those two years and at TAFE studying photography. It feels great to be making progress." said he.
Begin with series of short-term goals that eventually will fulfill your long-term goal, but make a point to progress each day. Neither run nor stop, just keep walking slowly on your dream path and you will definitely reach your destination.

# 5: Listen to Your Well-Wishers
Our parents have always been our heroes and we have grown up walking on their paths of life. Remember we used to enact like our momma wearing her sari and jewelry and copy our dads sitting in front of the laptop working hard all day. In the fragile years we were keen for their guidance then how can we ignore their perspective today?
Now, I don't mean to say that leave your dream career behind but mild alterations are possible as your parents experience can be a cherry on the top of your aspirations. Go ahead and sell your own idea with the starred conditions of your parents. It's possible that they are oblivious of our field of work yet experience and strategies are required to emerge as a successful person. Listen to your elder's advice, not because they are always right but because they have more experience of being wrong.

# 6: Take Risks
In spite of your dedication and constant guidance from every hand, it is necessary to fill every loop-hole and know about the level of risk you are willing to take. Being confident and positive is an inspiring strategy yet the fear of risk is a natural feeling and it can make or destroy your decisions.
For achieving the unbelievable dream career goals, some amount of risk factor is meant to be taken into account and an intelligent person is ever ready with an alternative plan of action and does not get demotivated with shortcomings. Just be aware about the risk that you may have to deal with because a known risk is better than an unknown one. So if you are all set to outshine in the world and are ready to face whatever may come, then just follow your heart and go for it without a worry.
Conclusion
All these suggestions mentioned above are just some of the ways to bring you a step closer to achieving your dreams. Ultimately it's your take and the way you move ahead on the expedition of your success. No matter how rigid your parents or family act about your dreams, once you are focused to achieve them and prove them wrong, they would be the happiest people on earth to have been defeated by you.
If you still need help with your dream career planning, then consult our expert career counselors here or call us at 9555990000.
Have any other thoughts or something that worked for you in convincing your parents? Share with us in the comments below.
By Meenakshi Ahuja
Suggested Reads For You
How To Choose The #1 Career Aptitude Test – Find All You Had Missed
---
Would you like to know about our new product iDX.education. iDX is our recently launched micro-learning platform offering various career skills courses for age group 13-19, being delivered by professionals in the Industry. The focus is to build 21st Century workplace skills, career development and basic employability skills that are required to excel in life irrespective of your education background and degrees. Check out all the courses here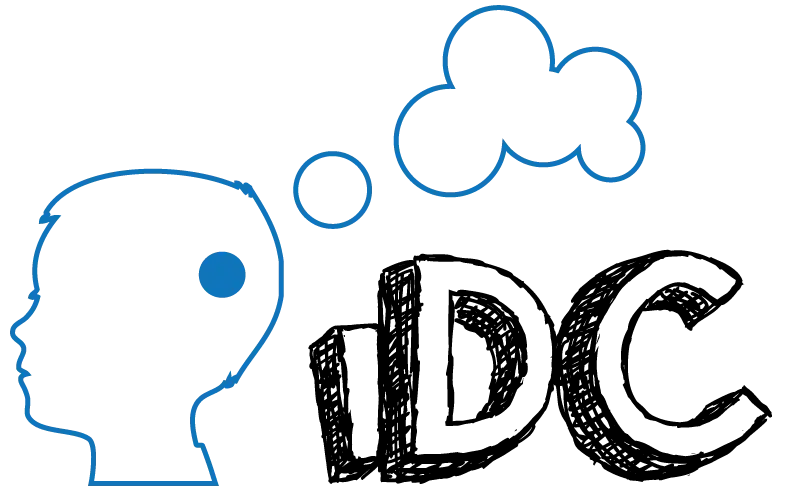 The iDC Editorial Team brings in a collective work experience of more than 25 years in diverse fields spanning from career counselling, management consulting, engineering, and technology to science, finance, and humanities. The team's key competencies are in research and analysis of careers, jobs, and industries. The team boasts a few best-in-class writers on careers and education.