Edmonton, the capital of the Canadian province of Alberta, is known as one of the biggest education hubs in Canada. It is also the home to several well-respected colleges and higher education institutions. The country is situated on the banks of the Saskatchewan River. It is a young city with a strong student population. About one in ten people is a student in Edmonton pursuing their higher education. Colleges in Edmonton exceptionally overshine all the other colleges in its domain when it comes to Technology and Art's. Let's have a look at some of the prominent colleges situated in Edmonton that can be on your dream list.
Like all the other countries in the world, the duration of a degree in Edmonton usually takes 3-4 years to complete undergraduate programs, 1-2 years for postgraduate programs, and 06-12 months for certificate courses. Edmonton generally faces an extreme climate. Summers are relatively warm and winters are quite cold. The city has a great study ambiance and has a lot to offer to students throughout the world, including renowned, great amenities, and access to great Canadian outdoors.
Excited about the institutions in Edmonton? We are all set to explore it.
What all is covered in this post?
To make it easier for you, we have created a quick guide to everything you need to know about the colleges in Edmonton.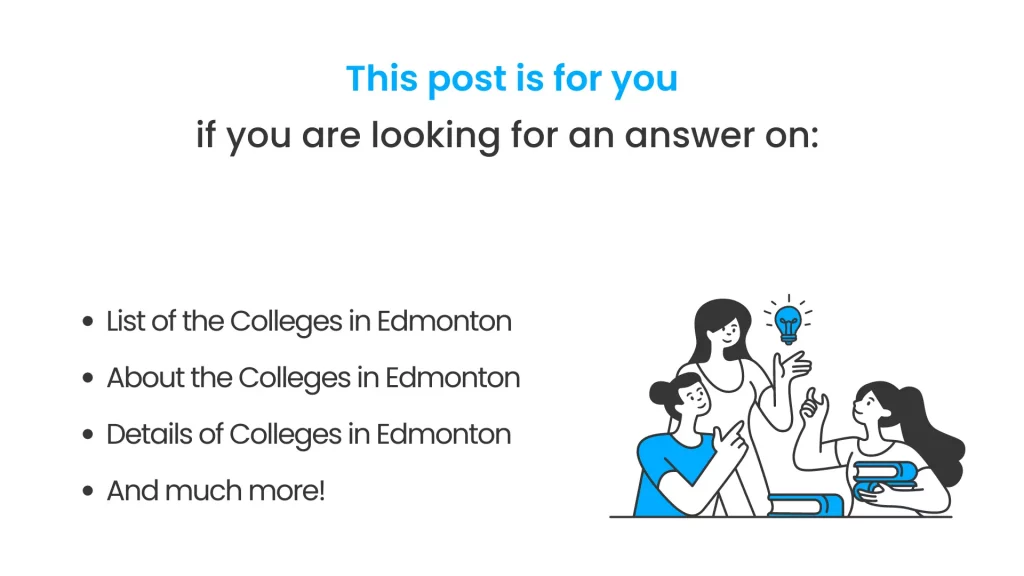 List of the Colleges in Edmonton
Let's now look at the list of the top colleges in Edmonton.
University of Alberta
McEwan University
NAIT
Concordia University of Edmonton
NorQuest College of Edmonton
The King's University
Vanguard College
Reeves College
St. Joseph College Edmonton
Newman Theological College
About the Colleges in Edmonton
The list of the top colleges in Edmonton is fascinating and exciting, isn't it? You might be eager to know about the courses offered and admission requirements in detail. So now, let's have a look at the top colleges in Edmonton in detail.
University of Alberta
With a reputation for distinction in the humanities, sciences, creative arts, business, engineering, and health sciences, the University of Alberta is one of Canada's top institutions and among the best public research universities in the world.
Popular Programs Offered
Ancient and Medieval History
Art and Design
Bachelor of Design
Classical Languages and Studies
Business Studies
European Business Studies
Biomedical Engineering
Chemical Engineering
Civil Engineering
Agricultural Business Management
Animal Science
Biological Sciences
McEwan University
In 1970, the public-private MacEwan University was established. 18,345 students were enrolled at MacEwan University as of 2021, both full-time and part-time, according to the university. There are 12,208 of these students enrolled full-time in credit programs. For an overseas student, the average tuition cost is 13.43 lakhs.
Popular Programs Offered
B.Sc. Computer Science
Diploma in Business Management
Bachelor of Commerce
Diploma in Human Resources Management
Diploma in Psychiatric Nursing
NAIT
The government-run Northern Alberta Institute of Technology was founded in 1962 and provides instruction in a number of business, scientific, health, and skilled crafts fields. 29 apprentice communication electricians made up the institution's inaugural class, which arrived on October 1st, 1962. This university had its first convocation ceremony in 1965. The university's campus radio went live in 1989.
Popular Programs Offered
Bachelor in Business Administration
Bachelor of Engineering
Bachelor of Technology
Exams Accepted
IELTS, TOEFL
Concordia University of Edmonton
Edmonton, Alberta, Canada's Concordia Institution College of Alberta is a private university. The university comprises five faculties and two schools, which are the School of Music, the School of Physical Education and Wellness, the Faculty of Science, the Faculty of Graduate Studies, and the Faculty of Management.
Popular Programs Offered
Master in Computer and Information Systems
MS in Information Technology
Master in Information Systems Security Management
Exams Accepted
IELTS, TOEFL
NorQuest College Edmonton
In Edmonton, Alberta, Canada, NorQuest College is a community college that is publicly supported. 10,900 full-time or part-time credit students make up the student population, while 8,500 enroll in continuing education or non-credit courses. Every year, over 1,600 students receive their diplomas.
Popular Programs Offered
UG Diploma (2 Courses)
UG Certificate (1 Course)
PG Certificate (1 Course)
Exams Accepted
IELTS, TOEFL
The King's University
Private Canadian Christian university The King's University in Edmonton, Alberta, Canada, grants bachelor's degrees in the humanities, music, social sciences, natural sciences, business, and teaching.
Popular Programs Offered
B.E. / B. Tech.
Bachelor of Business Administration
Bachelor of Science
Exams Accepted
IELTS, TOEFL
Vanguard College
A Pentecostal theology college called Vanguard College is situated in Edmonton, Alberta, Canada. The Pentecostal Assemblies of Canada are connected to it.
Popular Programs Offered
Bachelor of Business Administration
Master in Business Administration
Post Graduate Diploma in Management
Certificate Courses
Exams Accepted
MAT, SNAP
Reeves College
One of Alberta's newest Reeves College campuses is located in Edmonton North. You'll be happy to learn that this institution offers a number of well-designed, fascinating programs. Apart from that, Edmonton North is a very diverse city. When not on campus, students may explore the city and take part in a variety of activities and events.
Popular Programs Offered
Diploma in Hospitality Business Management
Diploma in Human Resources and Payroll Coordinator
Diploma in Logistics and Supply Chain Management
Exams Accepted
NA
St. Joseph College Edmonton
According to Catholic teaching, each person has an unshakeable dignity and intrinsic goodness that are a reflection of the fact that they were made in God's likeness. SJC acknowledges that everyone is a unique individual with particular needs and gifts.
| | |
| --- | --- |
| Popular Programs Offered | Minor in Christian Theology |
| Exams Accepted | NA |
Newman Theological College
The Association of Theological Schools in the United States and Canada has accredited Newman Theological College (NTC), which was founded in 1969. The College is situated just north of St. Joseph Seminary and south of the Edmonton Archdiocese's Pastoral and Administrative office.
Popular Programs Offered
MTS in Theological Studies
MTh in Theology
MDiv in Theology and Religious Studies
Exams Accepted
IELTS, TOEFL, CAEL, ESL
Conclusion
There could be plenty of reasons for a student to choose Alberta province of Canada as a place of study as it is known as one of the biggest education hubs in Canada. Canada's superlative education system has helped uplift many of the excellent study destinations in Edmonton. It is often called a 'professional's paradise' as it is one of the best places for post-study employment opportunities. Also, the people in Edmonton are expected to be humble and kind-hearted. It also hosts home to many of the affordable healthcare facilities that can help you take a step closer to better health.
So as of now, you have seen a list of top colleges in Edmonton, its popular courses, and admission requirements, we hope now you have a clear idea regarding a place to choose for further study. Need more help regarding which course to opt for? Why not have a one-on-one session with our experts at iDreamCareer?
iDreamCareer is on a mission to reach every state and every child in order to ensure that talent is appropriately delivered to the industry. Talk to our study abroad experts who have 20+ years of experience to know yourself in and out! We have helped several brilliant but confused minds with the aim to select their most-suited career choices. Hear the success story of Aayush who got an offer from the top 3 universities and is now studying at the University in Ottawa in Canada after getting career guidance from our industry experts!
Useful links;
Also Read:
FAQs
Does Edmonton have good colleges?
The intellectual and teaching prowess of Edmonton's colleges is well-known. The leading schools in Edmonton provide courses that are ideally suited to prepare students for life in the real world.
Why should one study in Edmonton?
Well-known universities and other higher education institutions may be found in Edmonton, one of Canada's largest centers for education. In addition to a number of sizable public universities, Edmonton is home to a number of other schools and institutions with a focus on things like technology and the arts.
Does Edmonton welcome international students well?
Edmonton is a great destination for international students to settle. Its population is varied, and it provides welcoming assistance to newcomers. People with all different kinds of talents and abilities may easily find employment.
Is it easy to get PR in Alberta for international students?
Due to Alberta's low CRS requirement, they are often considered one of the easiest provinces to get PR in Canada.
Is Edmonton an affordable place to live?
Its findings share that Edmonton comes in as the fourth most affordable city to live in worldwide.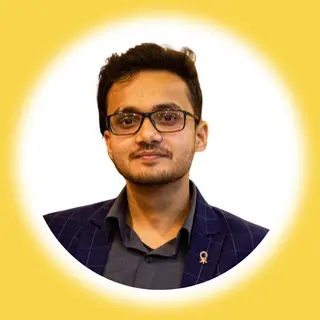 Sushant has been writing since his early days of childhood and currently, he's serving as a Content Writer with iDreamCareer. Sushant has two start-ups of his own and he has been writing content for them since their inception. Apart from that he is passionate about writing which is why he is following his passion for writing with iDreamCareer.