Recently, there has been a demand for specialists who comprehensively understand the field of management and accounting. While this knowledge can be acquired by taking management courses, one can also explore other options like Chartered Accountant, CFA course, CS etc. One such option among many is the Certified Management Accountant course.
As a CMA professional, you will be knowledgeable in concepts related to taxation, financial risk management (FRM), operations management, accounting, legal framework, etc. If you found this post in the endless stream of content available to you on Google, consider yourself lucky. You've made a wise choice.
Did you know?

The global average pass rate for CMA exams is not exactly great. The passing score for the first and second parts is 45%.
Without further ado! Continue reading…
What all is covered in this post?
To make it easier for you, we have created a quick guide to everything you need to know about the CMA exam.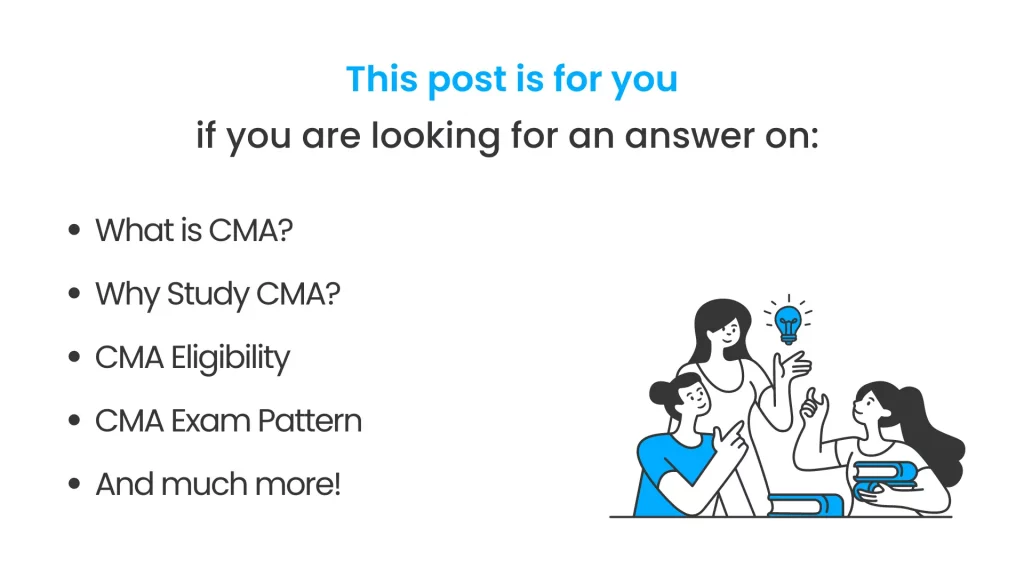 What is CMA?
A Certified Management Accountant is a professional known for his expertise in strategic management accounting. They are able to understand the fundamental principles of financial decisions and offer strategic leadership to the business.
CMA certifications are issued by the Institute of Management Accountants (IMA). This governing association issues certification based on passing the CMA exam as well as certain CMA education and experience requirements.
Before we dig in further, first have a look at the highlights of CMA exam: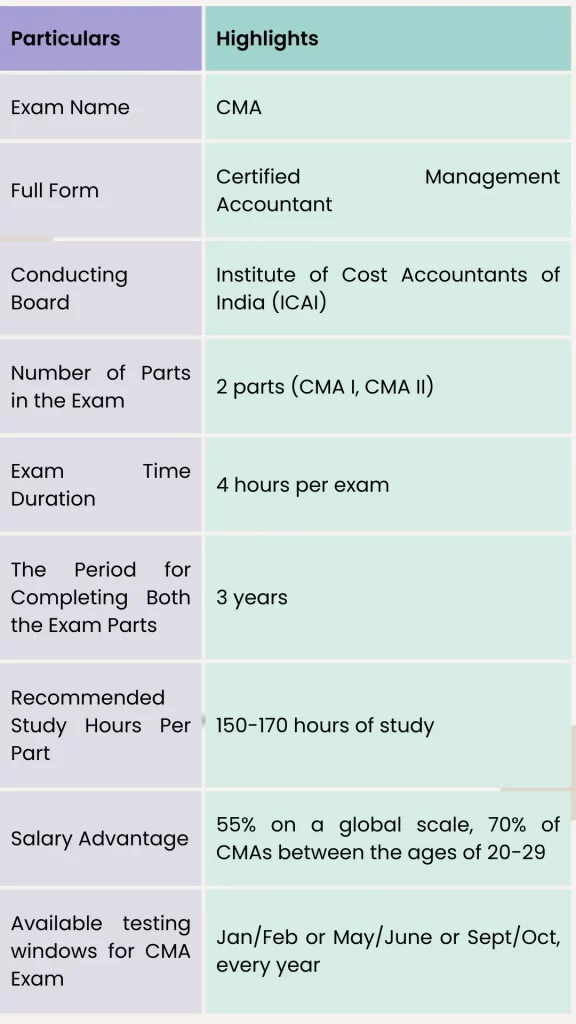 Levels of CMA Exam
Let us now understand the three levels of the CMA course-
CMA Foundation – The very first level of the CMA course is the CMA Foundation. To begin their career as a Certified Management Accountant, candidates must complete this entry level. As early as the 12th grade qualifying exams, you can enroll in the CMA Foundation, which can be taken in 8 months.
CMA Intermediate – The second stage of the CMA course is the intermediate level. Upon CMA Foundation qualification and graduation, students are eligible to appear at this level. The duration of the CMA course at this level is 18 months.
CMA Finals – The final and final level of the course is the CMA Final. After passing the intermediate level, students can collect all the details of the CMA course and appear for this level to become a Chartered Accountant.
CMA exam eligibility
Candidates who want to continue their studies in the courses offered by CMA should start immediately after passing 12th by enrolling in Foundation courses. Also, the eligibility criteria for each level is mentioned below:
CMA Foundation Course
Candidates who have passed 12th standard or equivalent from a recognized board of education are eligible to take the CMA Basic Examination. However, with 10th class qualification, candidates can join the course.
CMA Intermediate Course
Candidates who pass the 12th grade or equivalent exam and the CMA Foundation Course are eligible for the CMA Intermediate Course.
OR
Candidates who hold a degree in any discipline other than performing arts are eligible to register for the secondary course.
OR
Candidates who have passed ICSI Foundation Examination / Inter CA Examination / qualified CAT CMA
CMA Final Course
Candidates who have passed both groups of the CMA Intermediate Exam are eligible to enroll in the final course.
Discover More by accessing the Free Career Dashboard
This will help us share relevant information with you.
How to apply for CMA exam form?
Applicants must apply online for all CMA courses:
Visit ICMAI Official Website (mentioned below in conclusion section)
Click on the "Admissions" tab in the main window and a new page will open.
Click on the course you wish to apply for and enter your details including personal details, address, qualification details.
Then proceed to pay the application fee for the relevant course and submit the application form.
CMA exam dates
The CMA program includes a series of three exams: Levels I, II, and III. Use the calendar to view upcoming exams and other important exam dates. These dates are subject to change based on conditions. Each exam is held in an exam window, while the exam dates available for each candidate may vary depending on enrollment availability at the time of scheduling.
CMA Institute reserves the right to close registration and schedule dates earlier than previously announced, subject to terms and conditions. For the latest information on upcoming exams, please visit CMA Exam Updates page (link mentioned in the useful section).
Registration for the basic, intermediate and final levels is open throughout the year. The last registration dates are as follows:
The last date for registration (June session) is January 31 of the exam year
The last date for registration (December session) is July 31 of the exam year
CMA exam pattern
To help you understand the process of this course, we have detailed the three CMA level pattern below: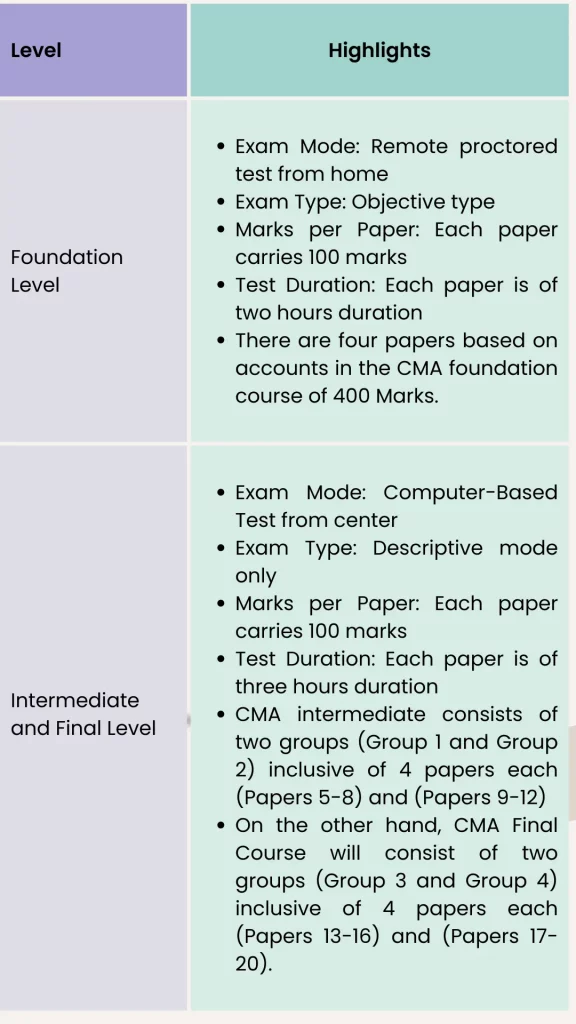 Final words
If the CMA course appeals to you because of the tremendous opportunities it offers, but you do not know how it can benefit your career or how you can effectively prepare for this exam, then contact our team of experts.
At iDreamCareer with the help of our Career Counselling and Guidance Services and educational counsellors, we try to help many young confused minds from 9th class, 10th class, class 11, class 12 with an aim to select their suitable career choices.
Also read;
Discover More by accessing the Free Career Dashboard
This will help us share relevant information with you
Trending Posts


Anushree has 4+ years of experience in the career counseling industry as a Content Writer. She has also worked as a Social Media Marketing Expert for a startup and Content Quality Analyst for Publishing and E-learning Industry. She has done her Master's in Commerce and PGDM in Finance & Trade and Marketing & HR, but she is currently following her passion for writing.