NTSE is a one of the most prestigious scholarship examinations in India, after class 10.
National Talent Search Examination (NTSE) is a national level scholarship program. It is organized by the Government of India for school students going to Class 11. It is a two-stage selection process.
The 1st one is conducted by the individual State/UT for exemplary students studying in class 10th. The 2nd one by the NCERT (National Council of Educational Research and Training).
The Present Scheme of NTSE Exam
There are 2 papers/levels you have to clear:
Exam I (state level): first Sunday of November or first Saturday of November (for Nagaland, Andaman & Nicobar, Meghalaya and Mizoram)
Exam II (national level): 2nd Sunday of May every year (In all the States/UTs of the country)
.
The NTSE exam helps to select meritorious students awaiting promotion to Class 11. The awardees may, in future, further choose to study in Sciences, Social Sciences, Humanities, Languages Commerce, vocational studies or fine arts. They are eligible to receive scholarship up to Ph.D. level, but only if they pursue higher studies in India.
Reservations:
15% for SC
7.5% for ST
27% for OBC
4% for benchmark disabilities
.
As on date 2000 scholarships are there in the country for pursuing courses in science and social science up to doctoral level and in professional courses like medicine and
engineering up to second-degree level.
Current rates of scholarships

NTSE I: The State Level
The state level (NTSE exam I) is conducted in all State/UT's on first Sunday of November except in Nagaland, Andaman and Nicobar Island, Meghalaya and Mizoram.
In these states, it is conducted on first Saturday of November every year until and unless some special circumstances occur.
Eligibility for NTSE Exam I
In Class X in any school including Kendriya Vidyalaya, Navodaya Vidyalaya, and Sainik School etc.
Below the age of 18 years (as on 1st July of that particular year)
Must be unemployed
Appearing for Class 10 exam for the first time
.
Quota Allotted for States/UTs (2020 onwards)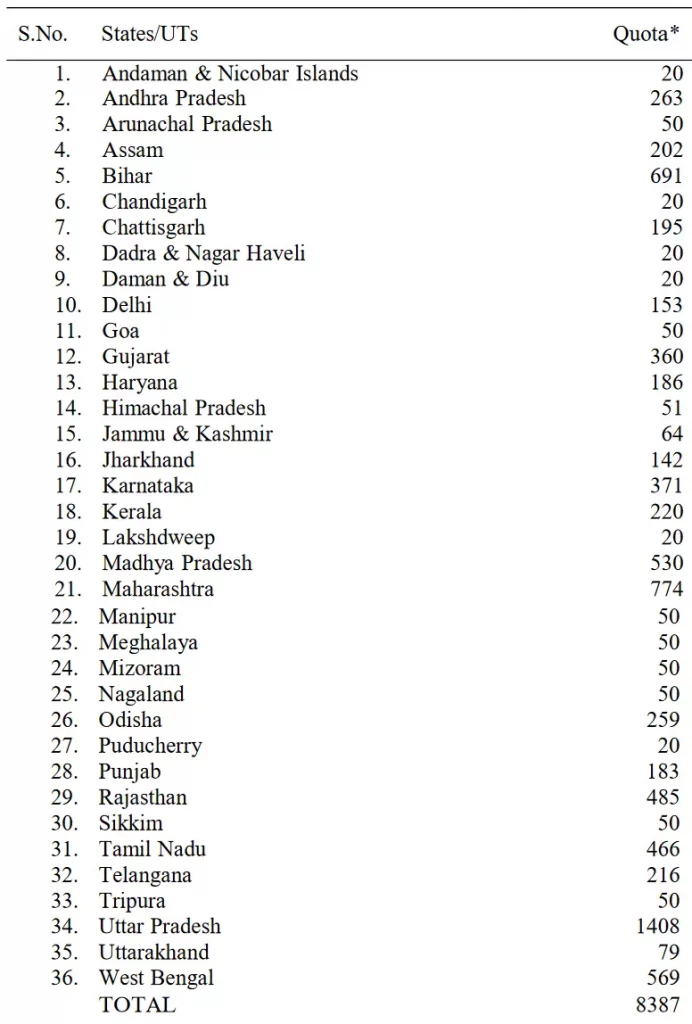 NOTE: * Quota is revised after every 3 years
How to Apply for NTSE Exam I
Be on the lookout for any advertisement in the newspapers or circulars in the school by your respective state Government
Contact Liaison Officers of the State/UT agencies, the addresses of which are given here in this link
.
Submit your filled-in application to the State Liaison Officer duly signed by the Principal of your school before the due date as advertised/circulated by each concerned State/UT.
State may impose any fee for NTSE I exam and/or for application form. This is not pre-determined by NCERT/ any other agency.
NTSE Exam I Pattern
Part-I Mental Ability Test (MAT)
Part- II Scholastic Aptitude Test (SAT)
.
Selection of the awardees will be made on the basis of total Marks scored in MAT & SAT based on merit
There will be No Negative Marking

NOTE: If there is any change in patern for Stage-II examination then the same will be communicated later on through NCERT website www.ncert.nic.in. Candidates are advised to keep track of updates on NCERT website.
NTSE II: The National Level
This paper is conducted on 2nd Sunday of May every year (In all the States/UTs of the country)
Eligibility for NTSE exam II
This exam is open for all students of Indian nationality, whether you study in India or abroad at Class X level.
Important declaration for class 10 students studying abroad can be found on Page 9 of this brochure.
Syllabus for NTSE exam II
There is no prescribed syllabus for the NTS examination.
All questions shall be of Classes IX and X level.
.
A separate booklet with sample questions called 'Learn about the Test' for both the Tests- MAT and SAT is available in print as well as on NCERT website.
NTSE exam II pattern

All MCQ type questions, with 4 options, only one correct answer
There will be No Negative Marking
Only candidates qualifying in both the papers separately will be considered for merit
.
Selection of the awardees will be made based on total marks scored in MAT & SAT.
Important Note: You are allowed to take away question booklets of both the tests (Mental Ability Test and Scholastic Aptitude Test) after the examination.
Venue, Date and Time of Test
Your admission letter will have all the information about the venue, the roll number, the
date and time of the test.
You can download your E-Admit card before 21 days of examination.
Submission of Photograph
The admission letter issued to you shall contain E-Admit Card to be filled in by you.
You must paste an attested passport size photograph at the appropriate place in your E-Admit Card.
.
You will submit this to the Centre Superintendent on the day of the National Level Examination.
Declaration of Result
The final award shall be declared on the basis of your combined scores of MAT & SAT.
Only if you are selected, you shall be informed by registered letter and through NCERT website
.
Marks obtained by you in written examination will be revealed on NCERT website.
Rechecking of OMR sheet
No request for re-evaluation or rechecking of scripts will be entertained.
Final Words
Well, looking at it, it's not THAT difficult. NTSE exam definitely requires some dedication on your part, which all of us are not prepared for in class 10. But given that we follow the right strategy, it certainly isn't a very difficult target. Confused about your career ahead? Check all the materials on our free dashboard or get connected with industry experts!
Pages you'd need:
.
Official Website Links:
https://ncert.nic.in/national-talent-examination.php
http://rajeduboard.rajasthan.gov.in/
http://www.madhyamik.in/
https://scert.mizoram.gov.in/
http://scert.nagaland.gov.in/
http://scertbihar.co.in/
https://scertonline.tripura.gov.in/
https://jac.jharkhand.gov.in/jac/scholarship/
http://scertodisha.nic.in/
https://scholarships.wbsed.gov.in/
http://www.siechd.nic.in/NTSE.aspx
http://www.edudel.nic.in/
https://jkbose.nic.in/NTSE.html
http://scertharyana.gov.in/
http://himachalservices.nic.in/scert/welcome.html
http://ssapunjab.org/scert/circulars_scert.html
http://www.scert.uk.gov.in/news/view/160
http://scert.cg.gov.in/pdf/exams/exams.htm
http://www.sebexam.org/
http://www.mscepune.in/
https://www.bse.ap.gov.in/NTSE.aspx
http://www.dsert.kar.nic.in/
http://www.scert.kerala.gov.in/
http://www.dge.tn.gov.in/ntse.html
https://bse.telangana.gov.in/NTSE.aspx
.
.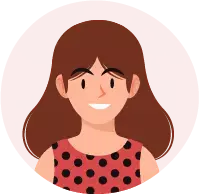 With a Master's in Biophysics-Biostatistics, Sreenanda acquired professional experience in computational proteomics of human molecules. She is currently working with the Research and Data Team at iDreamCareer.