Interdisciplinarity is in! From NEP to AICTE.
.
.
The development of an outcome-based Model Curriculum for Undergraduate degree courses in Engineering & Technology is a result of thoughtful deliberations at various stages of dedicated and specialized experts."

Prof. Rajive Kumar, Policy & Academic Planning Bureau, AICTE
.
.
Now what does Prof Kumar mean? Does the new AICTE rule make sense at all?
.
Yes it does. Only if it is realized in it's true sense.
.
This is not a mandate nor is it optional. What has been introduced is flexibility. Different engineering streams can have different entry requirements. That's all. Also, imparting institutions can have their choice.
.
.
Just ambling into..
For whole-rounded education following the model curriculum that AICTE has laid down common to all branches of undergraduate disciplines of Engineering & Technology, this change is long overdue if we want to focus on SDGs (Sustainable Development Goals) and outcomes post 2030.
.
That long? Yes.
.
This is still at the brick & mortar stage. Entrance examination strategies, implementation, & subsequent after-effects will only be felt in the industry post 2030.
.
Quoting what Kiran Mazumdar-Shaw, Executive Chairperson & MD, Biocon Ltd. (Asia's leading bio-pharmaceuticals & biotechnology enterprise) has recently rightly confessed to Indian Express,
.
I didn't have Mathematics as a subject, but I am working in this area. Without a background in maths you can still pursue biotechnology, but you will end up limiting your opportunities. there are some realms of biotechnology that do not require an advanced knowledge of maths.
Interestingly, Mazumdar-Shaw holds a Bachelor of Science in Zoology from Bangalore University. She has also been awarded honorary doctorates from multiple conferring establishments across the world.
.
Now, circling back to what AICTE has introduced. This (below) is what is creating all the ruckus among students & parents alike.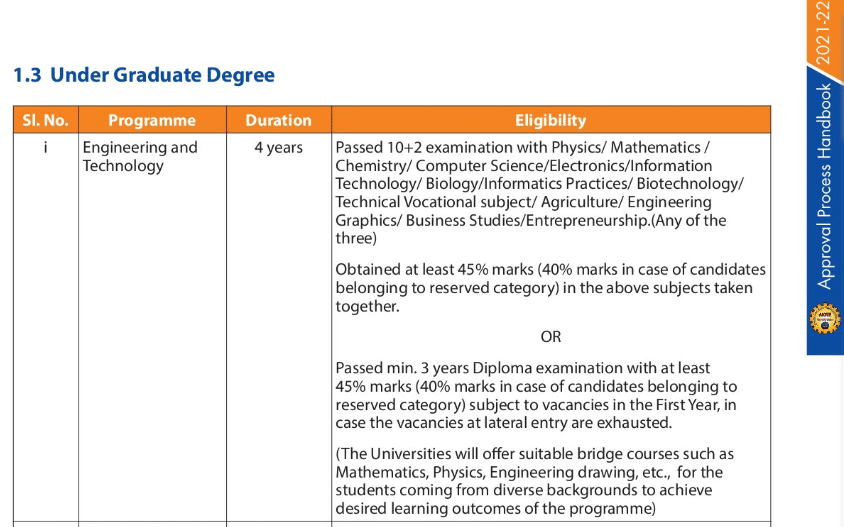 .
.
What is AICTE's new rule?
Earlier (according to AICTE), 



an engineering aspirant must have passed Class 11-12 with Physics & Mathematics 
as compulsory subjects. 

The 3rd subject could have been one from a list of 11 subjects. 
For most colleges, this was PCM (3 subjects).
.
The new rule does not specify any compulsory combination any more, that will be required for engineering entrance exams after Class 11-12.
.
For different engineering disciplines there can be different three mandatory subject combinations and not PCM for all.
.
At Class 11-12 level, if you want a career as an engineer, you can select any 3 courses from
Physics
Chemistry
Mathematics
Computer Science
Biology
Electronics
Information Technology
Informatics Practices
Biotechnology
Agriculture
Engineering Graphics
Business Studies
Entrepreneurship
.
But what about the schools that offer Class 11-12 education?
.
Now, hardly any school offers Business studies/ Entrepreneurship to Science students of Class 11-12 in the country today.
.
The rest (apart from first 5) are also extremely rare. Schools hardly have the necessary faculty strength to accommodate subjects of these kinds.
.
.
Has AICTE made this a mandate?
No.

This is also from the same page of the AICTE handbook of 2021-22. Link in conclusions section.
.
It is completely up to the discretion of colleges & universities as to what combinations will be most suitable for which engineering branches.
.
AICTE has not made it binding on any establishment. Moreover, talks are on regarding introducing courses in regional languages too.
.
.
AICTE's Model Curriculum to All Branches of Engineering
What is yet to be understood is engineering education must be aligned with the industry. Always.
.
Besides, AICTE's model curricula speaks of the basic science courses & basic engineering courses imparted to students of all engineering disciplines, equally in the 1st 2 semesters of the 1st year.
.
This was earlier never basically realized.
.
What the new rulebook brings is immense responsibility to the tenured & non-tenured professors of collectively maintaining the viability & fertility of young minds that have not been exposed to the regular Physics, Chemistry, Math environment at the post-secondary level.
.
.
Biotechnology, Pharmaceutical Engineering & Nano Technology Aspirants with PCB
The new rule is complete sunshine for students aspiring to enroll for isolated 
& specific engineering programmes like:


.
Agriculture Engineering
Biochemical engineering
Biomedical engineering
Biomedical instrumentation
Biotechnology
Chemical & biochemical engineering
Dairy engineering / Dairy technology
Environmental engineering & related courses
Food technology & related disciplines
Handloom/ Textile/ Fabric/ Fashion/ Leather/ Silk Technology & related
Nano Science & Technology & related
Pharmaceutical Engineering
Earlier, these courses had a mandate for entrants to have studied Physics, Chemistry & Math at Class 11-12 level.
.
Now this may change.
.
Conforming to the new AICTE rule is completely up to the discretion of colleges & institutions, though.
.
.
Will the IITs ever consider changing their frame of admissions?
"Unlikely. This (rule) may work for exceptional candidates, but it cannot be the norm." as quoted by an IIT Director.
.
.
Bridge courses?
---
Colleges are now supposed to provide both remedial & foundational courses if 
students from such diverse backgrounds are to be accommodated.
---
Now as AICTE has rightly mentioned, students with outlier combinations at Class 11-12 level can be offered bridge courses to bring them at par with their counterparts.
.
For example, if a candidate has studied Computer Science, Business Studies, and Entrepreneurship at Class 11-12 level, she is still eligible for a B Tech in Computer Science, if any college permits.
.
These students with such outlier combinations can be accommodated into the general flow of academics at the undergraduate engineering level with the help of bridge courses.
.
Although, it must be reiterated that colleges are supposed to offer basic science & engineering science credit hours to students of all engineering disciplines equally in the 1st year.
.
However, students with such diverse backgrounds shall have to go for both bridge as well as basic courses (remedial & foundational) to maintain parity of the mind!
.
"Take the example of students who are pursuing a diploma in engineering. They enroll in this programme directly after Class 10, and their diploma curriculum doesn't cover everything that is taught in physics, chemistry and mathematics in high school. Yet, when these students enroll in a B.Tech programme (through lateral entry in second year), many do extremely well"

AICTE Chairman Anil Sahasrabuddhe
.
.
'Tis a Wrap..
What are your thoughts on AICTE's phenomenal move? Let us know through a comment. Are you an engineering aspirant too? Have you decided on which engineering stream to pursue? Take an assessment test to know which engineering career will suit you the most.
.
Career planning is an intense affair and iDreamCareer is the foremost in India helping millions of young minds discover their true mettle.
.
If you liked this post, something tells me you'll love some more from us. Don't keep to yourself. Explore. More.
.
Must Read:
AICTE's newest 2022-23 Approval Process Handbook
AICTE – Lecture Based Modules for Bridge Courses
AICTE Recommended List of Suggested Books in Engineering & Technology – UG
.
/lps.
[latest-selected-content limit="4″ display="title" titletag="b" url="yes" image="thumbnail" elements="3″ css="four-columns align-left as-overlay tall dark hover-zoom" type="post" status="publish" orderby="dateD"]
.
.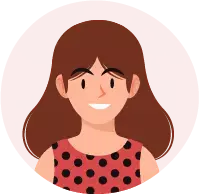 With a Master's in Biophysics-Biostatistics, Sreenanda acquired professional experience in computational proteomics of human molecules. She is currently working with the Research and Data Team at iDreamCareer.