We get it, you want to study MBA in London! Known as the financial capital of the world, London has also been ranked number one in the QS Best Student Cities 2023. Overcoming fears about Brexit, London has persevered and remains a top choice for international students. The UK capital is not only home to some of the best universities, but also the epicenter of business and finance. Hence, London offers immense opportunities for those who study MBA, Finance, and Management courses here.
Do you know?

London is a center of academic achievement. More than 70 Nobel laureates studied or worked at the University of London.
Every year, thousands of students around the world seek to study in London. London, the Queen's residence, obviously matters! However, London's popularity is not limited to palaces and even Big Ben. The city holds the title of the best student city in the world and is home to 18 top universities. All these factors are the main factors in attracting students to Study in London.
Excited, right… So, what are we waiting for? Let's get started…
What all is covered in this post?
To make it easier for you, we have created a quick guide to everything you need to know about studying MBA in London.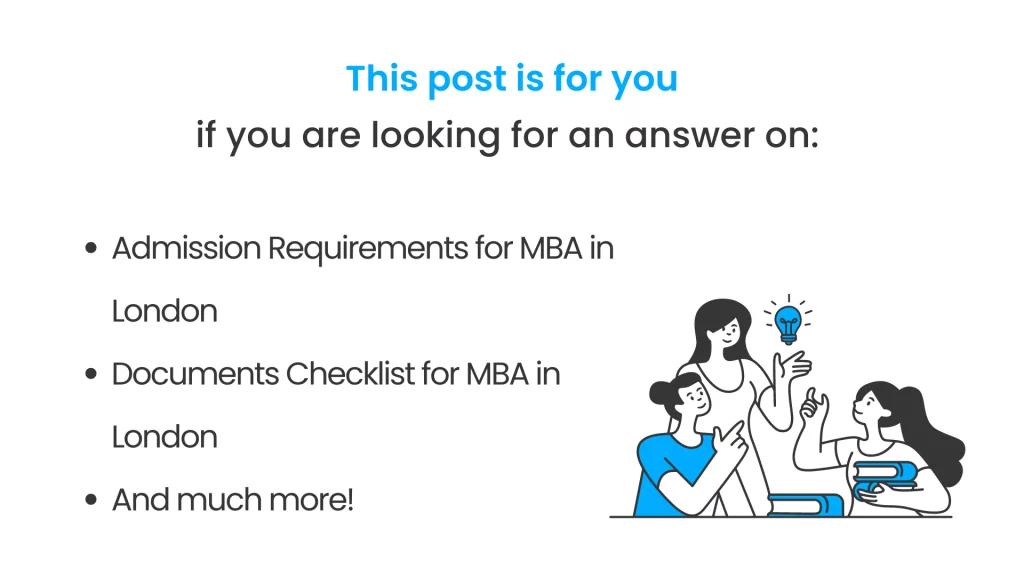 …But those who are still wondering why they should study MBA in London. They can read about it in our post Why MBA in London.
Admission requirements for MBA in London
University of London MBA eligibility criteria vary by institution. However, a successful application usually meets the following eligibility requirements:
Academic requirement
To be considered for an MBA program in London, a student must have completed 3-4 years of undergraduate studies at an accredited Indian institution. In addition, these universities require applicants to pass a bachelor's degree with the required honors. The minimum grade required varies by each London university and is between 65% and 70%.
Work experience
Most London universities require applicants to have some professional work experience for an MBA. When evaluating an application, these institutions take into account the candidate's work experience, which should ideally be 3 to 4 years.
On the other hand, an Executive MBA requires applicants to have 5 to 10 years of work experience. In addition, these universities consider the role, responsibilities, managerial know-how, and skill development of the student.
Additionally, some students choose universities that do not require work experience as a prerequisite. Some of these educational institutions are
Anglia Ruskin University
Coventry University
University of East London
University of West London
West London College
However, these educational institutions may not provide serious employment assistance to students, in which case they return to their home country for employment. In addition, these institutions require students to have a minimum IELTS score of 5.5.
GMAT Score
The Graduate School Admission Test (GMAT) is designed to assess skills for admission to a graduate management program such as an MBA. It assesses some key abilities of the student such as quantitative, analytical, speaking, reading, and writing skills.
Candidates must pass this exam with a certain minimum score. The minimum qualifying overall GMAT score for admission to London universities for an MBA is an average of 600 points.
In addition, some universities accept international students without GMAT scores, such as
Imperial College Business School
London Business School (LBS)
In addition, other requirements for admission to the above universities are:
Bachelor's degree in any discipline from a recognized university
Minimum work experience of 2-3 years
Recommendation letter
A valid student visa
Knowledge of the English language
MBA programs in London are often difficult in terms of language. Therefore, universities require foreign candidates to have a good command of the English language. Therefore, students entering these institutions must pass the International English Language Testing System (IELTS) assessment.
To be successful at a London university, candidates must meet the minimum IELTS requirements, which are usually between 6.0 and 7.0.
However, not all London MBA universities require students to pass this exam. An IELTS score is not required for an applicant in the following cases:
If English was the main medium of instruction in his/her school
A UK university considers grades X and XII to assess language proficiency
The university conducts its own exam to assess language skills or conversation
The applicant wants to choose a pre-sessional English language course
The university takes into account many other language assessment tests such as TOEFL, Cambridge English Proficiency (CPE), Trinity College London Integrated Skills in English (ISE) or Duolingo English Test.
Documents checklist for MBA in London
Before applying to London universities for an MBA, it is essential for students to invest time in significant research on these institutions. A set of documents is required for admission to the best business schools in London. Some general document requirements are listed below:
CV or Resume
LOR or Letter of Recommendation
Proof of Funds
Scorecards of GMAT/GRE
Scorecards of IELTS/TOEFL
SOP or Statement of Purpose
Transcripts of all educational qualification
Work experience certificate
Type of MBA courses in London
For both international and domestic MBA students, London offers unparalleled access to the city's financial services industry and the headquarters of many global corporations. And for those seeking a top MBA in London, there is no shortage: the UK's influential business capital is home to a number of top business schools with programs taught by native English speakers. And perhaps more importantly, many of these London MBA programs are world-class, internationally accredited, and regularly top MBA rankings.
With unrivaled proximity to networking and career opportunities in the city, as well as easy and affordable access to the rest of Europe, MBA programs in London have something for everyone, from a variety of tracks and concentrations to programs that can fit any budget.
A wide variety of MBA degrees are available in London to meet the diverse interests and needs of international students. Below are a few of them:
Full-Time MBA -2 years
Part-time MBA -3-6 years
Executive MBA – Varies (usually 1-3 years)
Note: For more details on Top Universities, refer to our "Best MBA colleges in London" post.
Cost of MBA in London
In this section, we will discuss the cost of studying MBA in London.
Tuition fees
For an Indian student, the total cost of studying in London ranges from INR 24 lakh to INR 80 lakh. However, there are many scholarships that you can explore.
It's true that investing in an MBA at a top business school can seem like a huge expense. But there is no such thing as a generic MBA. You are graduating with a "Harvard MBA" or "London Business School MBA". That's why your choice of business school is perhaps the most important career decision you can make.
An 18-month MBA program at London Business School costs almost £50,000 (about US$80,000) in course fees alone, although the school claims the average salary after graduation is almost three times that. A 21-month MBA program from Wharton costs around US$85,000 with an expected average salary of around US$120,000. In both cases, the return on investment (ROI) of an MBA degree is high.
Cost of Living
The cost of your living in London includes the cost of rent, food, entertainment, travel costs, etc. This is the amount of money you will need to survive in London as a student. However, costs vary depending on the lifestyle you choose.
Your total cost per month will include
Accommodation – £150 – £1500
Entertainment – £500
Food – £250 – £1000
Miscellaneous – £300
Stationary – £150
Transportation – £160
Therefore, the average cost of studying in London for an international student is around £860 – £1,200 per month, excluding rent. While your tuition costs may vary depending on your course.
Conclusion
There you go! We have served you a lot of information, isn't it? Do you want to make a career decision now? Not settled yet? In case, you feel indecisive or confused, do dial us up.
iDreamCareer is on a mission to reach every state and every child in order to ensure that talent is appropriately delivered to the industry.
Talk to our study abroad experts with 20+ years of experience to know yourself in and out! We have helped several brilliant but confused minds with the aim to select their most-suited career choices. Hear the success story of Aayush who got an offer from the top 3 universities and is now studying at the University in Ottawa in Canada after getting career guidance from our industry experts!
Also Read:
FAQs
How to get an MBA in London?
Students wishing to pursue an MBA program in London must have a bachelor's degree or equivalent. Most universities also require applicants to have at least 3 years of work experience and an IELTS score of 6.0 – 6.5.
Why should you choose to study in London?
Students prefer to study in London because of its high quality of education, wider career opportunities, and access to a global network.
What is the best MBA field in London?
The best MBA specializations in London are finance, marketing, human resources, consulting, and operations management.
What is the highest MBA salary in London?
The UK is one of the countries that pay the highest MBA salaries in the world. In London, the average salary for MBA graduates is £57,500 (Rs. 57,29,636).

Anushree has 4+ years of experience in the career counseling industry as a Content Writer. She has also worked as a Social Media Marketing Expert for a startup and Content Quality Analyst for Publishing and E-learning Industry. She has done her Master's in Commerce and PGDM in Finance & Trade and Marketing & HR, but she is currently following her passion for writing.