Have you completed your MBBS abroad? Are you planning to start your own medical practice or join a private or government hospital in India? Graduates of foreign universities who wish to return to India for employment in the medical field must pass the MCI (Medical Council of India) or FMGE (Foreign Medical Graduates Examination) screening test.
Did you hear that the Philippines' MBBS graduates perform really well after coming back to India? In 2021, FMGE topper Dr. Shubham Saket who was a graduate from AMA School of Medicine, Philippines. He was the only one to score 257 Marks out of 300.
Do you know?

In 2019, 25.79% of Indians passed the overseas post-graduate medical examination, which applicants with degrees in certain countries must pass to practice in India. The figure was 14.68% in 2020 and 23.83% in 2021.
Why so happening? Is FMGE tough to clear? Or even before what is FMGE exam? Don't be stressed out, look no further, because this post is for you. Continue reading…
What all is covered in this post?
To make it easier for you, we have created a quick guide to everything you need to know about FMGE exam.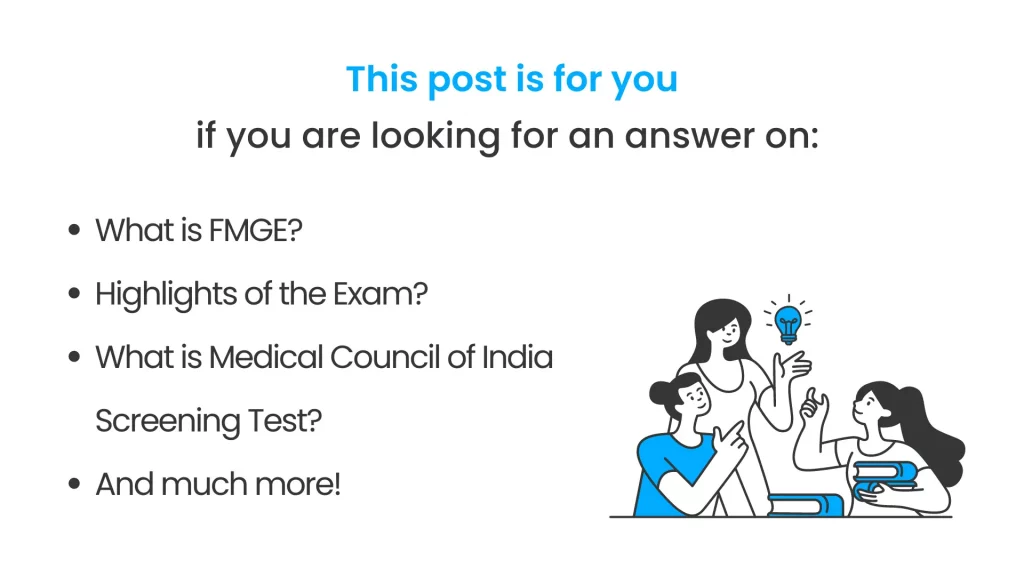 Let's get started…
What is FMGE exam?
After coming back to India as a foreign-trained medical graduate, you will have to clear the Medical Council of India (MCI) Exam which is also known as "Foreign Medical Graduates Examination (FMGE)". FMGE is a licensure examination for those Indian students who have pursued MBBS from abroad.
FMGE (Foreign Medical Examination) is conducted to maintain a certain standard among medical students.
The exam is for those who want to build a medical career in India.
If you have a primary medical qualification from a recognized medical college abroad and are seeking temporary or permanent registration with a State or Medical Council of India, you will need to pass this exam.
The FMGE (Foreign Medical Examination) is held twice a year: once in June and then in December.
Discover More by accessing the Free Career Dashboard
This will help us share relevant information with you.
Highlights of FMGE exam
Now that you know what is the exam is about. Let's have a look at some of the highlights of the exam: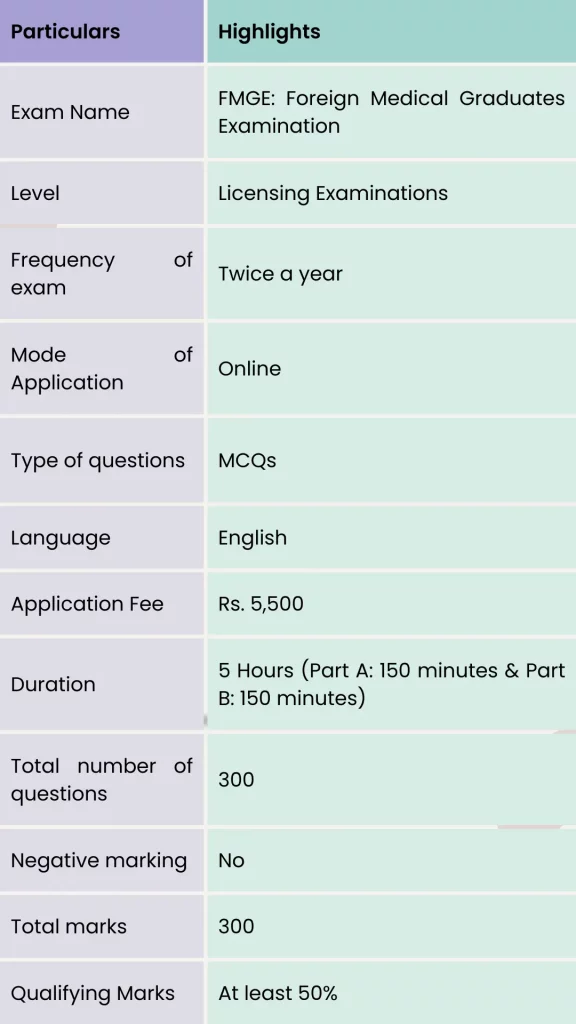 What is Medical Council of India Screening Test?
The Medical Council of India Screening Test, also known as the Foreign Medical Graduate Examination (FMGE), is a licensure examination conducted by the National Board of Examinations (NBE) of India.
FMGE eligibility criteria
Before you go for the test, you should know for sure if you are eligible for it. When you appear for a foreign medical exam, you need to fulfil certain eligibility criteria. These are the following:
You must be either an Overseas Citizen of India (OCI) or a bona fide citizen of India.
You should also have a primary medical degree attested by the relevant Indian Embassy. Before you can enroll as a medical practitioner, your qualification must be recognized by the country where the institute is located.
You will also need to submit documents as proof of your educational requirements; Failure to do so will disqualify you from taking the exam.
If you have obtained your primary medical qualification in UK, USA, Australia, New Zealand or Canada, you will not need to take the FMGE (Foreign Medical Examination) exam as the universities of these countries are recognized by MCI.
What to keep in mind?

Failure to meet any of the eligibility criteria will result in cancellation of your application. So, it is important to go through the process carefully.
Now that you all know about FMGE, let's just quickly have a look at the top searched questions.
How many attempts for FMGE?
All candidates are given 3 attempts to qualify FMGE and if they fail to clear the test in 3 attempts, they will not be able to register with Medical Council of India / State Medical Board.
What to do after clearing FMGE?
Many students who are eligible for this exam ask the question, "What happens after clearing FMGE?" After passing the exam, you can choose one of the following options:
Choose temporary registration and search for internships
Take MD/MS courses or a medical degree
Pass the Combined Health Service (CMS) or Civil Service Examination
Master of Health Administration (MHA)
Pursue a career in clinical research
How to apply for FMGE exam?
The FMGE application form is very easy to fill. You need to follow these instructions:
Click on the FMGE application form on the official website (refer to the link below in the conclusion section)
Sign up with your phone number and email address
You will receive login credentials to your email address
Log in using your user ID and password
Submit your personal information, qualifications, and contact information
Fill in the city of your choice
Upload scanned images of photo, signature, and left-hand thumb impression
Agree with the declaration and make the payment
A confirmation page will appear where you must double-check all your details
Final Thoughts
Thousands are pursuing MBBS from other countries but becoming a licensed practitioner here afterward is too tough, mostly because of the different pedagogical methods and learning outcomes. However, if you are that driven for an MBBS, you may try these countries.
Are you absolutely sure you want to be a medic?
There may be other high-paying options waiting for you if that's the only concern you have. Understanding the intricacies of any career is not child's play. It requires experiential assessment of your competencies (skills, abilities, knowledge & a lot more). So, career planning is an indispensable tool of your life and we can certainly help you with that. Plan now!
iDreamCareer is on a mission to reach every state and every child in order to ensure that talent is appropriately delivered into the industry. Talk to our study abroad experts to know yourself in and out! We have helped several brilliant but confused minds with an aim to select their most-suited career choices. Hear the success story of Tapan who got an offer from top 4 universities and is now studying in DePauw University after getting career guidance from our study abroad experts! With the help of our industry experts, he has received Rs. 1.3 crore scholarship award.
Other Interesting Links
FAQs
Is FMGE tough?
Since only graduates of medical institutions appear for FMGE. So the screening test is quite difficult to crack.
In what mode do authorities publish FMGE results?
NBE publishes FMGE results online.
Is there any age limit for candidates applying for FMGE?
No, there is no age limit for candidates appearing in FMGE.
Discover More by accessing the Free Career Dashboard
This will help us share relevant information with you
Trending Posts


Anushree has 5 years of experience in the career counseling industry as a Senior Content Writer. She has also worked as a Social Media Marketing Expert for a startup and Content Quality Analyst for the Publishing and E-learning Industry. She has done her Master's in Commerce and PGDM in Finance & Trade and Marketing & HR, but she is currently following her passion for writing.