What are your options if you are looking for the best MCA colleges in India? How many can even match up to the top and popular colleges? Who are the other close contenders?
The list is wide! Looking for a definitive list of the best MCA colleges in India? Yes? No doubt this is a massively debatable topic and you'll find multiple answers everywhere. To cut down your wide list of MCA colleges and to make your choice easier we have put together a number of lists according to common questions that students have.
Did you know?

There are around 1700 MCA colleges in India. Of these colleges, about 75.5% are private, about 21% are public/government, and the rest are public-private.
Without further ado! Continue reading…
What all is covered in this post?
To make it easier for you, we have created a quick guide to everything you need to know about the best MCA colleges in India.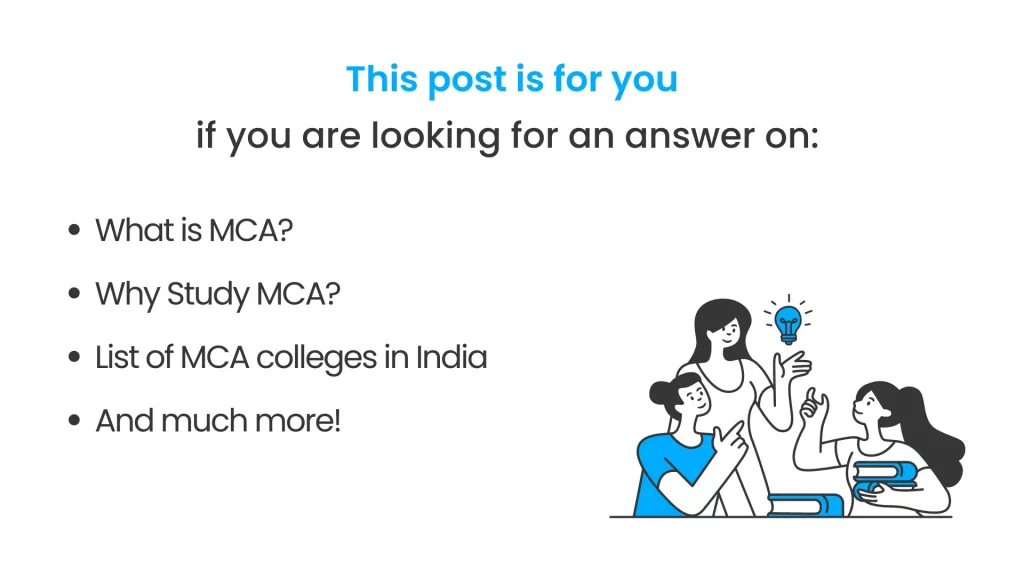 What is MCA?
The Master of Computer Applications [MCA] is a specialized postgraduate program in computer science and applications that typically runs up to 3 years at elite institutions in India. An extension of the BCA course, it aims to impart advanced level knowledge and training in computer science and technology. It leans more towards applied science and apart from the industry-oriented MCA program, it also offers many opportunities such as internships, training programs, laboratory, and practical classes among others.
Why study MCA?
If you are aspiring to pursue this career then you should know why need to pursue this course: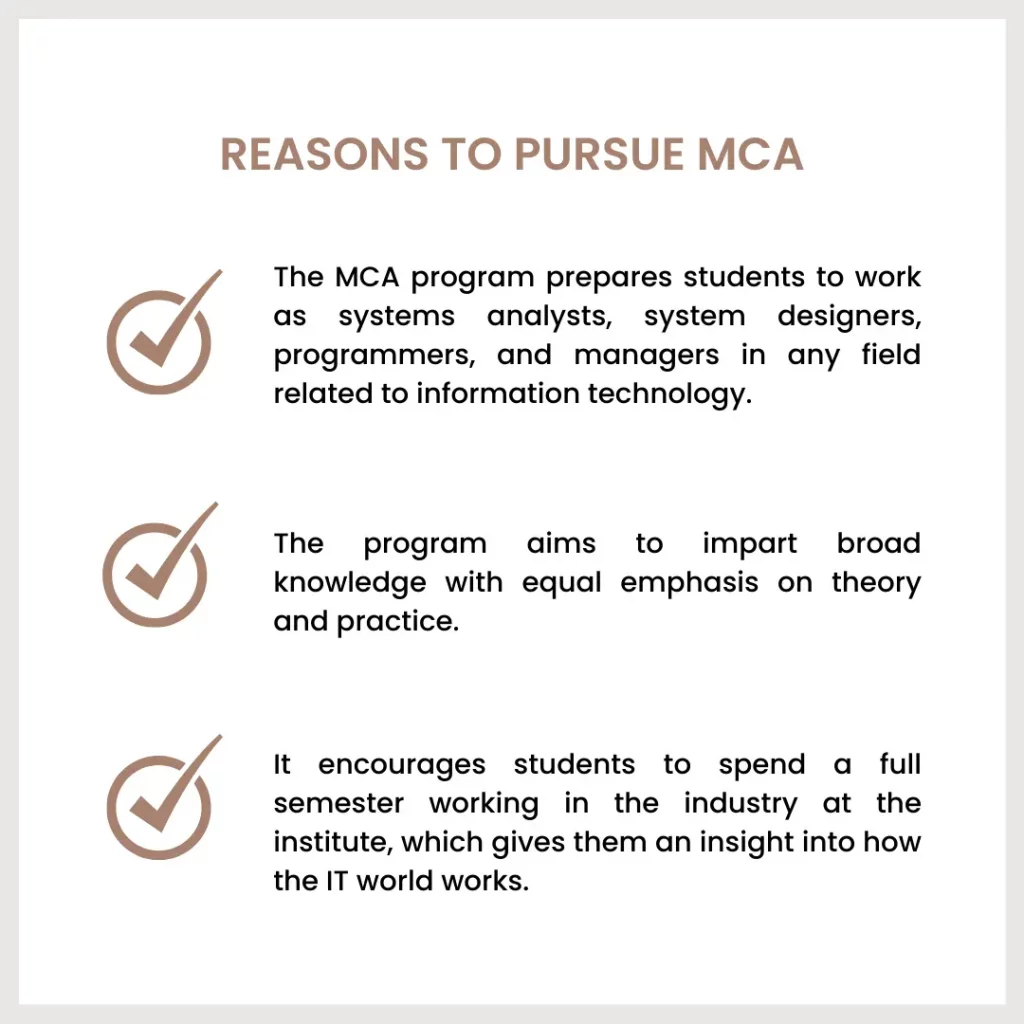 Best MCA colleges in India
The National Institutional Ranking Framework (NIRF) uses specific methodologies based on specific parameters to rank institutions in India. NIRF uses ranking parameters and weighting to rank colleges as follows:
Teaching, Learning, and Resources (TLR) – 30%
Research and Professional Practice (RP) – 30%
School Leaving Certificate (GO) – 15%
Outreach and Inclusivity (OI) – 15%
Peer Perception (PR) – 10%
Below is the list of best MCA Colleges in India by NIRF Ranking 2021:
About the best MCA colleges in India
In this section, we will introduce you to the explanation of the above-mentioned list of best MCA colleges in India:
National Institute of Technology Tiruchirappalli [NIT Trichy]
National Institute of Technology Trichy, considered to be the best among the best MCA colleges in India like IITs, NITs, etc., has designed its MCA course keeping in mind the needs of the IT sector as well as industry experts. The institute, as a whole, has been recognized worldwide for its teaching and research along with its steady climb up the ladder of global rankings. In addition, the institute also provides countless opportunities for research, and teachers with international awards, and also emphasizes the practical application of the acquired knowledge.
Eligibility: Minimum 60% [6.5/10] in a 3-year Bachelor's Degree in Mathematics/Statistics/Business Mathematics from a recognized College/University.
Exam: NIMCET
Jawaharlal Nehru University, New Delhi
Focusing on both research and theory, Jawaharlal Nehru University is highly regarded not only as one of the best MCA colleges in India but also as an internationally renowned institution. If you want to pursue science and research, the MCA course at JNU might just be for you. The University's vast inter-cultural campus is also ranked 7th in NIRF 2019. It houses best-in-class infrastructure, research facilities, and experienced professors who can help you grow on various academic fronts. The cost of the entire 3-year course is around INR 1500. You can also go for Ph.D. after MCA.
Eligibility: Minimum 55% in B. Sc [Any Discipline] in 10+2+3 pattern with advanced knowledge in Mathematics from a recognized College/University.
Exam: JNUEE
Discover More by accessing the Free Career Dashboard
This will help us share relevant information with you.
Vellore Institute of Technology [VIT], Vellore, Tamil Nadu
At VIT, Tamil Nadu, the MSc in Computer Applications is of 2 years duration and focuses on the multidimensional growth of individuals. Its curriculum is a combination of basic computer knowledge, technology, and business fundamentals. With extensive knowledge spanning topics ranging from Internet and Web programming and data mining to big data analytics and cloud computing, his past students have gone on to successful careers as programmers, analysts, and consultants in a number of multinational companies.
Eligibility: Minimum 60% or First Degree in Bachelor's Degree [Any Discipline] from a recognized College/University.
Exam: VITEEE
University of Hyderabad, Telangana
Ranked third among the top MCA colleges in India, the University of Hyderabad trains students in the core aspects of Mathematics, Computer Science as well as Management. In addition, it includes many electives over five semesters and a project in the final semester. Its graduates have interned in multinational enterprises such as Microsoft, IBM, GE, etc. It also offers many courses after MCA.
Eligibility: First-class Bachelor's degree in any discipline with a minimum of 60% marks and Mathematics as the main subject in class 12th.
Entrance Exam: NIMCET
Manipal University (MAHE)
MAHE is considered a university founded in 1993. Manipal Academy of Higher Education offers more than 300 UG, PG and Ph.D. programs in 31 streams. MAHE Manipal also offers lateral entry to seven UG courses. At the research level, the academy offers scholarships and Ph.D. programs. Admission to MAHE is based on MAHE MET 2022 (Manipal Entrance Exam), National Level Entrance Exam, and Merit depending on the nature of the program.
It's a wrap!
Through this article, we have tried our best to give an understanding of the best MCA colleges in India. Choosing the right college for pursuing commerce between so many options is a very challenging job. We recommend you carefully evaluate the entail of each career option keeping your interest and aptitude in mind.
However, Career planning is a very intense job. So, it's better to seek expert opinions from unbiased counselors. At iDreamCareer with the help of our Career Counselling and Guidance Services and educational counselor, we try to help young confused minds from 9th class, 10th class, class 11, class 12 with an aim to select their most-suited career choices.
Useful links
ALSO READ:
FAQs
How to pursue MCA from IIT?
Eligibility to study MCA is Bachelor's Degree in Mathematics for one year or two semesters. The entrance test is known as JAM (Joint Admission test for MSc and MCA. The aggregate percentage of marks for the general category and OBC category is 55% and for SC/ST or PD category is 50%
Does MCA have value?
According to Payscale, the salary of an MCA graduate in India is around 7.96 lakhs per annum. Entry-level applicants usually earn around Rs 2-3 crores LPA. Experienced professionals can expect their package to be around 20-22 LPA.
Is MCA tough?
Critics cite many reasons to consider the MCA one of the most challenging graduate programs. The various applications covered extensively in this course make it quite formidable.
Discover More by accessing the Free Career Dashboard
This will help us share relevant information with you
Trending Posts

Anushree has 4+ years of experience in the career counseling industry as a Content Writer. She has also worked as a Social Media Marketing Expert for a startup and Content Quality Analyst for Publishing and E-learning Industry. She has done her Master's in Commerce and PGDM in Finance & Trade and Marketing & HR, but she is currently following her passion for writing.