Are you kind of obsessed with video games for a very long time? Are you an avid gamer already and streaming hours of gaming on Twitch or YouTube? Or you are still not sure but can't live a day without playing for at least a couple of hours using your gaming consoles or online? Are you a little bit confused as to whether you should study more and do well in exams or play video games more seriously? Do you want to build your career in gaming but are looking for a specific list of gaming courses, this post is for you!
Do you know?

The gaming sector in India is growing rapidly, as highlighted in a 2021 report by KPMG, which projects the industry to grow from Rs 60 billion in 2021 to a whopping Rs 169 billion by 2025.
Yes… That's a bit exciting, isn't it?
Think of a workplace where you do not have to follow a fixed 9-5 schedule; where you play games for 12-14 hours a day, and get paid attractive figures. You guessed that right. A career in gaming is now a reality! You can become a pro gamer; take part in national and international championships and play for your country. What's not to love? But hey, there is something you must know- you have to be fantastic at this!
What all is covered in this post?
To make it easier for you, we have created a quick guide to everything you need to know about gaming courses.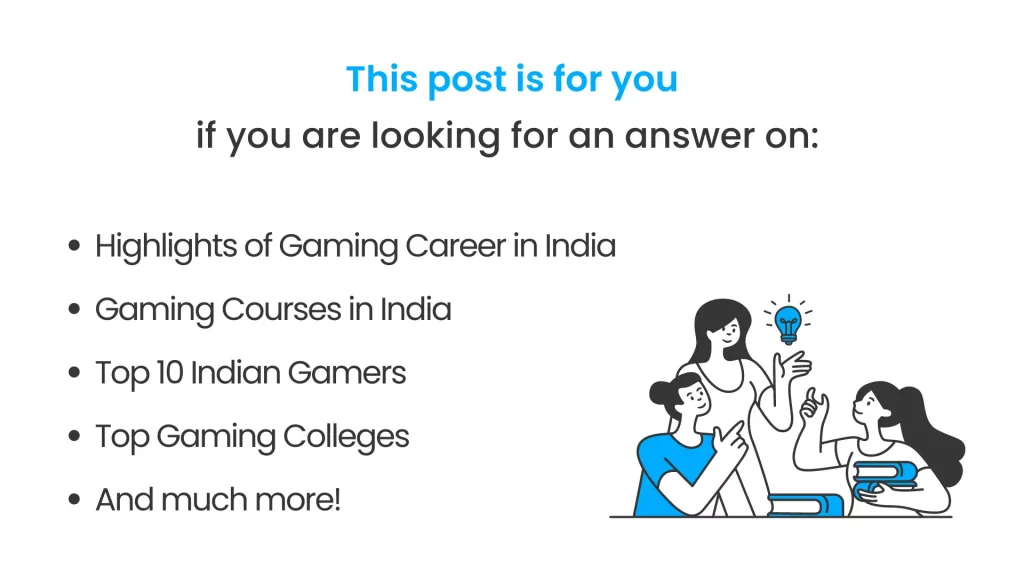 Highlights of gaming career in India
As the market drivers of this industry are the rising income of households, increasing smartphone accessibility in rural and urban areas, and affordable and economical technological systems. This means the gaming sector in India is expected to rise in the upcoming coming years.
Frankly, a career in gaming is not for everyone. Not if you want a steady salary or fixed working hours. But it is for those who have a knack for gaming, knowledge of the technical know-how, and are aware of the demands of this unconventional career.
To become a professional gamer, you must hone your skills in one game. This gives you an edge and clarity on which game you want to acquire mastery at. You can choose from different genres such as:
MOBA (Multiplayer Online Battle Arena)
Online card games (such as poker and blackjack)
FPS (First Person Shooter)
DCCG (Digital Collectible Card Games)
Battle Royal Games
RTS (Real-Time Strategy Games)
These games are played either online or offline and gamers team up with others; to play and compete in video game competitions and tournaments. The video game tournaments are organized by various organizations and eSports associations.
Knowledge Bite:

India too has its own eSports federation called the eSports Federation of India.
Live streaming channels like Twitch, tv, YouTube Gaming; etc. broadcast these tournaments just like it is done in cricket and FIFA. Not all of these video game competitions are played online; some are organized as physical events where players compete with others in front of a live audience. Hence, not only a career in gaming could offer exciting opportunities, but it also lets you be a part of a global community of professionals.
Discover More by accessing the Free Career Dashboard
This will help us share relevant information with you.
List of gaming courses in India
Although to become a professional gamer you don't need to pursue any course or certification, if you want to explore other careers in gaming such as in the field of designing or programming, then you can look at the following game designing courses after 12th class.
Gaming Courses after 12th (Diploma and Certificate Courses)
Certificate course in Game Art & Design
Diploma in
Production Gaming

Game Design and Integration
Game Programming
Animation, Gaming, and Special Effect
Game Development
Game Design (DGD)

Advanced Diploma in
Game Art & 3D Game Content Creation
Game Programming
Game Design and Development Application
Game Designing Courses after 12th (Bachelor Degrees)
B.Sc. Animation & Gaming
Bachelor of Science in

Animation Game Design and Development
Graphics, Animation & Gaming
Bachelor of Arts (BA) in

Animation & Computer Graphics
Digital Filmmaking & Animation
Master's Courses in Game Designing
Master's in Computer Graphics and Game Technology
MFA in Game Design
MA in Interactive Design and Game Development
Master of Science (M.Sc.) in Multimedia and Animation
Integrated M.Sc. in Multimedia & Animation with Game Art & Design
Do You Know?

Brands like Mt. Dew and Flipkart organize gaming tournaments like Dew Arean, Flipkart Gaming online Championship, IeSC, ROG Masters, and ESL India and the prize pool is around 50 Lakhs-85 Lakhs
Top 10 gamers in India on YouTube
These gamers have tried their hand at various gadgets to improve their talents, be it a gaming laptop or a regular PC. Let's take a look at the top 10 YouTube gamers in India:
Total Gaming – Ajay
Techno gamerz – Ujjwal Chaurasia
A_s gaming – Sahil Rana
Lokesh Gamer – Lokesh Raj
Gyan Gaming – Ankit Sujan
Desi Gamers – Amit Sharma
Mythpat – Mithilesh Patankar
Carry is Live – Ajey Nagar (CarryMinati)
Dynamo Gaming – Aditya Sawant
Two Side Gamers – Ritik Jain and Jash Dhoka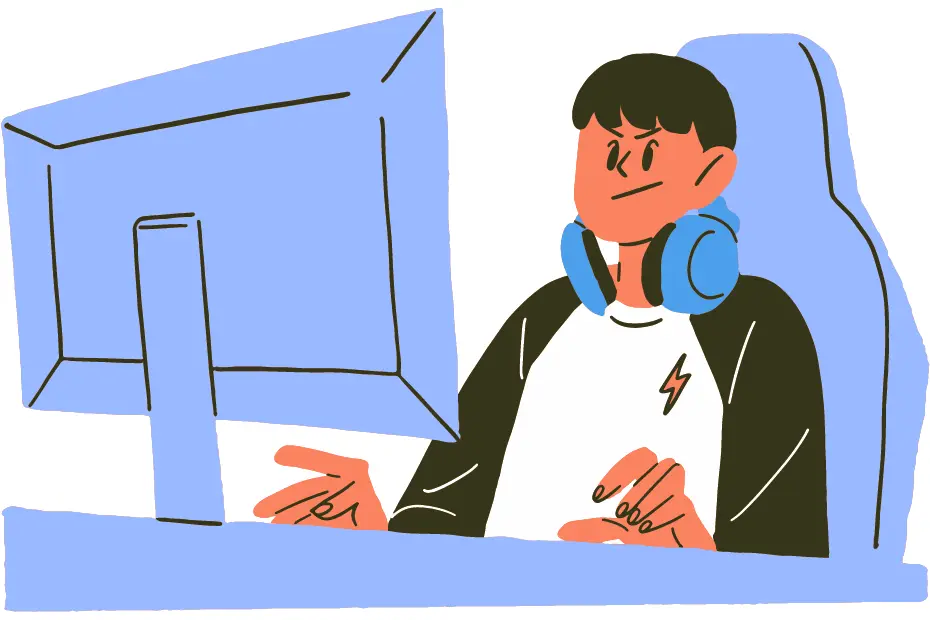 Gaming colleges in India
Below are some of the best colleges and institutes in India to study gaming:
Academy of Animation and Gaming, Noida
Animaster Academy – College for excellence in Animation, Bangalore
Arena Animations, New Delhi
Asian Institute of Gaming and Animation, Bangalore
Bharti Vidyapeeth University, Pune
Eden Animation & Gaming Academy, Bikaner
Global Institute of Gaming and Animation – GIGA
iPixio Animation College, Bangalore
Maya Academy of Advanced Cinematic (MAAC), Mumbai
Zee Institute of Creative Arts, Bangalore
Gaming companies in India
Here is the list of top 8 gaming companies in India:
99 Games
Hashbyte Studio
H-Data Systems
Hyperlink InfoSystem
nCORE Games
NGFT (Nilee Games and Future Technologies Pvt. Ltd.)
Spiel Studios
UnderDogs
Top 5 Gaming books
If you are just a beginner in the gaming industry or an expert, reading a book can inform you about gaming before pursuing any gaming course. Moreover, to understand the intricacies for a better career in gaming, you can always fall back upon some of these books for expert advice:
The History of Future by Blake J. Harris
The Art of Game Design by Jesse Schell
Masters of Doom by David Kushner
Rules of Play by Eric Zimmerman and Katie Salen
Challenges for Game Designers by Brenda Romero, Ian Schreiber
To conclude
A career in gaming is the most opted career choice for youngsters as it is an industry that offers immense scope for the players. Moreover, if you want to pursue a gaming course after the 12th, then you can refer to the above national and international universities offering the best gaming courses. After a game designing course at graduation, you can work in various fields.
There is no easy path to getting into the gaming industry, it's a world full of hardcore and professional gamers coming together to make better and bigger games for everyone. Therefore, if you still have doubts and want to get help from career experts for guidance and counseling on the scope of a career in gaming, then now is the right time to take action!
iDreamCareer is on a mission to reach every state and every child to ensure that talent is appropriately delivered into the industry. We try to help young confused minds from 9th class, 10th class, class 11, and class 12 with an aim to select their most-suited career choices.
Also, Read;
FAQs
What is a gaming degree?
This degree program focuses on the fundamentals of interactive graphics development – including creating characters, environments, and props, the game production pipeline, in-game effects, and animation.
Are there any online gaming tournaments?
Yes, there are many online gaming tournaments such as IGL (Indian Gaming League), The Dota 2 International, League of Legends World Championship, Counter-Strike: Global Offensive Major Championships, Heroes of the Storm World Championship, etc.
Is gaming a good career?
It is no longer seen as a hobby as gaming is now seen as a career option and is becoming part of wider societal discussions around stress management, skill development, and social interactions. Indian consumers are embracing gaming in unprecedented ways.
Discover More by accessing the Free Career Dashboard
This will help us share relevant information with you
Trending Posts


Anushree has 4+ years of experience in the career counseling industry as a Senior Content Writer. She has also worked as a Social Media Marketing Expert for a startup and Content Quality Analyst for Publishing and E-learning Industry. She has done her Master's in Commerce and PGDM in Finance & Trade and Marketing & HR, but she is currently following her passion for writing.