If you are reading this blog, it is probably because you are planning to make your career in Agriculture sector but you are listless confused about future agriculture courses that you can take up.
The agricultural sector is the basis of our economy, which provides us not only with food, but also with various raw materials. With the modern development of technology and innovation in the industry, the scope of careers in agriculture has grown tremendously.
No wonder, building a career in agriculture requires a deep understanding of scientific principles and many other technical and business topics. Don't worry we are here to help you!
Overview of agriculture
Agriculture is a scientific discipline that involves the study of various scientific, technical, and business subjects related to agriculture, horticulture, farm management, poultry, dairy, agricultural biotechnology, etc. recent times with cutting-edge research and continuous innovation in the industry.
Agriculture course details
Following are the highlights of agriculture courses: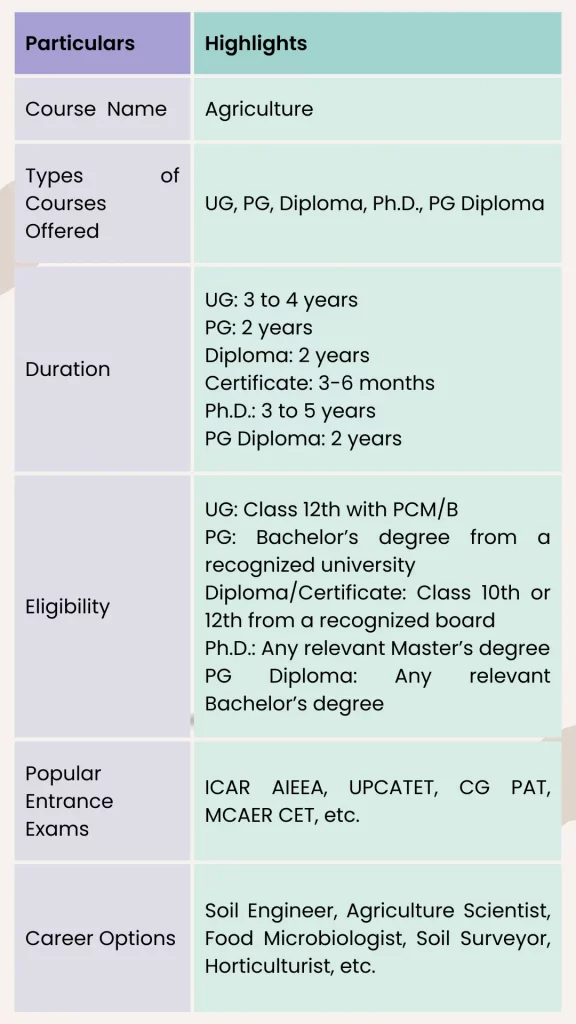 Agriculture courses list
In this section, we will discuss list of agriculture courses available.
Discover More by accessing the Free Career Dashboard
This will help us share relevant information with you.
Agriculture Certificate
Mainly offered by offline certification institutions and online institutions. Major areas: dairy and agriculture, agricultural science, food and beverage production, biofertilizer production, etc. Online certificate programs are extensive and mostly self-placed.
Popular certification agriculture courses are:
Agriculture for Administrators by National Institute of Agriculture Management Extension (MANAGE)
Agriculture, Economics, and Nature by Coursera
Bio Organic Farming & Gardening by Udemy
Bugs 101: Insects-Human Interaction by Coursera
Certificate in Agriculture by Mohanlal Sukhadia University; Rajasthan Bharathidasan University, Tamil Nādu; Netaji Subhas Open University, Kolkata; Madurai Kamaraj University, Tamil Nādu
Certificate in Food and Beverage Service by Bharati Vidyapeeth Deemed University, Pune; CT Institute of Hotel Management, Jalandhar; NIMS Kolkata
Certificate in Food Production by IHM Bhubaneswar, IHMC Udaipur, IHM Guwahati
Agriculture Diploma & PG Diploma
The best diploma and PG diploma courses in agriculture include food processing, seed technology, horticulture, organic farming, agro processing, harvesting technology. You can pursue these courses after 12th and in some cases after 10th too.
Top agriculture diploma & PG diploma courses are:
Diploma in

Agriculture
Agriculture Engineering
Hitech farming
Horticulture
Hybrid Seed Production Technology

PGD in

Agricultural Extension Management
Management: Agribusiness and Plantation Management
Technology Management in Agriculture
Under graduation courses
Full time agriculture degrees like BTech, BE, BSc Agriculture and BBA offered after completion of class 12th with Physics, Chemistry, Maths/Biology. The duration of these courses is 3-4 years. There are also integrated courses that increase the duration of the course. The integrated courses include B. Tech + M. Tech, BE + ME, B. Science + M. Science, and B. Sc + MBA.
Post graduate courses
Pursued by those who wish to study additional specialization course in a particular subfield. Disciplines include M. Tech, M. Sc and MBA. Job options are better if you pursue a master's degree in agriculture.
Doctorate Agriculture Courses
Several universities offer PhD courses in various areas of agriculture for those who are seeking research and teaching opportunities. Several research scholarships are also available.
Top agriculture courses after 10th
| | | |
| --- | --- | --- |
| Courses/Diploma in | Duration | Fees |
| Agricultural Engineering | 3 years | Rs 35,000 yearly |
| Agriculture | 2 – 3 years | Rs 60,000 – Rs 70,000 yearly |
| Agriculture Science | 1 year | Rs 42,000 yearly |
| Horticulture | 1 – 2 years | Rs 20,000 – Rs 30,000 |
| Hybrid Seed Production Technology/ Seed Technology | 1 – 2 years | Rs 40,700 yearly |
| Organic Farming | 6 months – 2 years | Rs 5,000 – Rs 20,000 |
List of agriculture degree courses
Below are some of the agriculture degree courses you can take to pursue a career in agriculture:
BSc in

Agriculture
Agriculture and Food Business
Forestry
Animal Husbandry
Agriculture Economics and Farm Management
Fisheries
Crop Physiology

MSc in

Agricultural Production
Agronomy
Agriculture
Integrated Plant and Animal Breeding

BBA in Agricultural Management
MBA in Agriculture
Epilogue
Finally, you have all the information optimized just for your use. And you have an answer on Agriculture courses? If you still feel indecisive or confused, do dial us up. It is often useful to reach out to expert counselors for addressing individual issues. iDreamCareer experts are always ready to help young minds like you from 9th class, 10th class, class 11, class 12 with an aim to select your most-suited career choices.
Useful links
FAQs
Is agriculture hard to study?
Studying agriculture is an easy and interesting course. Duration for the course vary by university. You will study a maximum of 12 subjects in each semester. There will be practical and theoretical sessions for most of the subjects, except some of the related subjects.
Is NEET necessary for pursuing agriculture?
No, NEET is not necessary for pursuing agriculture.
What is the duration agriculture course after 12th?
The duration of agriculture course after 12th is 3 to 4 years.
Discover More by accessing the Free Career Dashboard
This will help us share relevant information with you
Trending Posts


Anushree has 5 years of experience in the career counseling industry as a Senior Content Writer. She has also worked as a Social Media Marketing Expert for a startup and Content Quality Analyst for the Publishing and E-learning Industry. She has done her Master's in Commerce and PGDM in Finance & Trade and Marketing & HR, but she is currently following her passion for writing.