As the world continues to be connected, it is clear that the demand for learning a new language is getting higher. Whether for business or pleasure, being able to communicate well with the international community can bring many benefits.
A new language can be tricky but with apps, online tutorials, and videos, the process can turn out to be fun and interactive. With so many ways to learn, it can be difficult to determine which strategies might be most helpful to you personally.
Benefits of learning a new language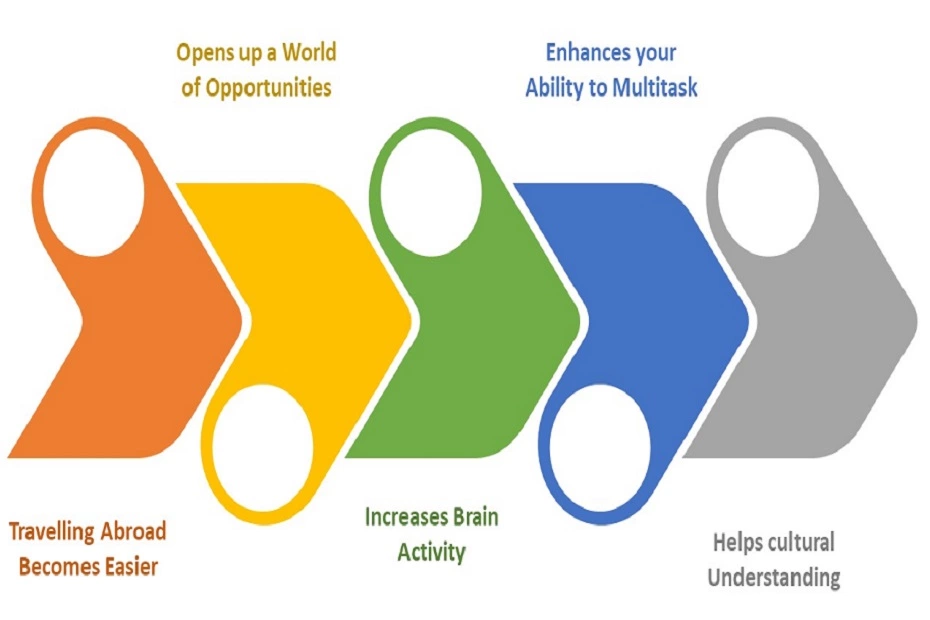 ---
---
Discover More by accessing the Free Career Dashboard
This will help us share relevant information with you.
Basics tips
When it comes to deciding on a how-to strategy, there are several factors to consider. There is no specific science – everyone has their style of learning. However, there are tried and tested methods that many language learners find useful. Following are some of the tips:
Know why you want to learn? Identify your goal.
Start with some basic common vocabulary.
Look out for the right tools (books, Google/YouTube/online courses, etc.).
Start practicing by doing role-play for analysing what are your flaws.
Start practicing with a native speaker to enhanced your language skills.
.
How to learn by yourself?
Find a native speaker of the language and don't get offended if they correct you.
Listen and observe the native speaker, speaking the target language.
Start speaking the target language. Work on pronunciation.
Write in the language. Start labeling objects with their names in the language you are learning.
Practice the basic grammar rules from a grammar book.
Watch movies and TV shows in the new language.
Start with understanding the concepts of the language rather than learning the phrases.
Listen to audio lessons of the target language.
.
Disclaimer: Proper greetings, pronunciation, and proper grammar will not come within a few days or weeks. We all learn at our own pace. Be easy on yourself, and sometimes if required do take a break. Enjoy the process of learning! The steps involved in learning a new language are always more important than the result.
---
---
How long does it take?
You will never know until you try it! The slide speed is different for everyone, but one thing is certain: you can't get there without time, patience, and dedication!
The US Foreign Service Institute (FSI) states that if you can learn 10 hours a day, low-level languages ​​take up to 48 days to learn well. In the meantime, difficult languages ​​should take 72 days. The US FSI has categorized five types of languages ​​based on the difficulty and learning time required.
Note: You may refer to the link for a better understanding of how long will it take to learn a new language?
List of 10 hardest languages to learn
---
---
List of 9 easiest languages to learn
Following is the list of the 9 easiest languages to learn (if you speak English) along with the required duration (given by FSI) to learn the language:
Danish (24 weeks)
Italian (24 weeks)
Norwegian (24 weeks)
Dutch (24 weeks)
Swedish (24 weeks)
Romanian (24 weeks)
French (30 weeks)
Portuguese (24 weeks)
Spanish (24 weeks)
.
Final Words
Hopefully, you enjoyed this post on how to learn a new language! Leave a comment below to let us know what language you want to learn & why? Continuous practice is the only and most important thing that will help you in learning a new language.
Are you still confused to decide how to learn a new language? Do not stress it out! Talk to industry experts & seek career guidance! iDreamCareer experts are always ready to help young minds like you from 9th class, 10th class, class 11, class 12 with an aim to select their most-suited career choices.
Check this portal -> US Foreign Service Institute (FSI)
Recent Releases
Discover More by accessing the Free Career Dashboard
This will help us share relevant information with you
Trending Posts


Anushree has 4+ years of experience in the career counseling industry as a Senior Content Writer. She has also worked as a Social Media Marketing Expert for a startup and Content Quality Analyst for Publishing and E-learning Industry. She has done her Master's in Commerce and PGDM in Finance & Trade and Marketing & HR, but she is currently following her passion for writing.