How hard can it be? A job in Google? The fact is, Google is known for its "false negative" rate! What is that? This simply means Google is known to reject qualified people, because that's considered better than hiring unqualified people. Yes!
And that false-negative rate is pretty high. There are a lot of smart, qualified people who've not made it through Google interviews. False negative practices are actually an industry-wide thing, but the rate varies at different companies. Ask Googlers or interview-bummers or technical/ non-tech recruiters, they will tell you the same.
"Interviewing someone is like trying to decide whether to marry them after a 1-hour date. It's not possible to get it consistently right. This is why companies get super conservative and reject a bunch of probably-qualified people."

Steve Yegge, ex-Amazon, and ex-Google, with nearly 30 years of tech industry experience
What can you take from this?
The important takeaway is this: if you don't get an offer from Google or if you bomb your interviews for some random reason, you may still be qualified to work at Google. So, a Google rejection notice needn't be a blow to your ego at all!
Also, relax, because although it is difficult to get a job in Google because of their quality standards and high number of applicants, out of the 2 million applications received in a year, only tens of thousands are rejected, which means there's a fair chance to keep your heads above water.
With this post, we intend to take you through the many depths to get you prepped for a job in Google. We have discussed certain key tips & essential suggestions about how to get job in Google, how to apply for job in Google company, when & whether you can re-apply for positions, types of roles available with the company, crucial resume/cover letter tips, questions you'll be asked as well as questions you can ask your interviewers etc.
Let the flames begin! Bring in your best game!
"Trying to do it all and expecting that it all can be done exactly right is a recipe for disappointment. Perfection is the enemy."

Sheryl Sandberg, Former VP (Global Online Sales & Operations), Google
A Job in Google, The Giant
Google is a technology company, primarily. One of the world's most successful organizations. A massive one (with Glassdoor's 4.4 out of 5). There are many domains of work possible within it, though. It's also a diverse company that shapes our daily lives from dominate internet searches to making some of the best smartphones. Google believes that every Googler has something important to say. Googler is a Google employee.
How to become one, a Noogler (New Googler, as they will call you)?
We're not here to pat your back and say it's easy.
However, with this guide, we intend to help you make it easy.
How to get job in Google? We will share all about how to apply for job in Google company, re-application for job in Google, interview loops, anti-loops, how to get past them, false negatives, questions asked in Google interviews, the entire hiring process and will share important links at the end too that you must go through because Google wants you to be familiar with all of that before you apply.
Google has 4 offices across India—in Gurgaon, Mumbai, Hyderabad, and Bangalore. Check out their offices too, if you live close by.
Google has so many opportunities in so many different offices. Use keywords to search for what you're interested in. You can filter job searches by locations, experience, types of roles, qualification level etc. If you're not sure where to start, they even break it down for you into categories.
Google can give you some of the best employee benefits in the world. Few of them are: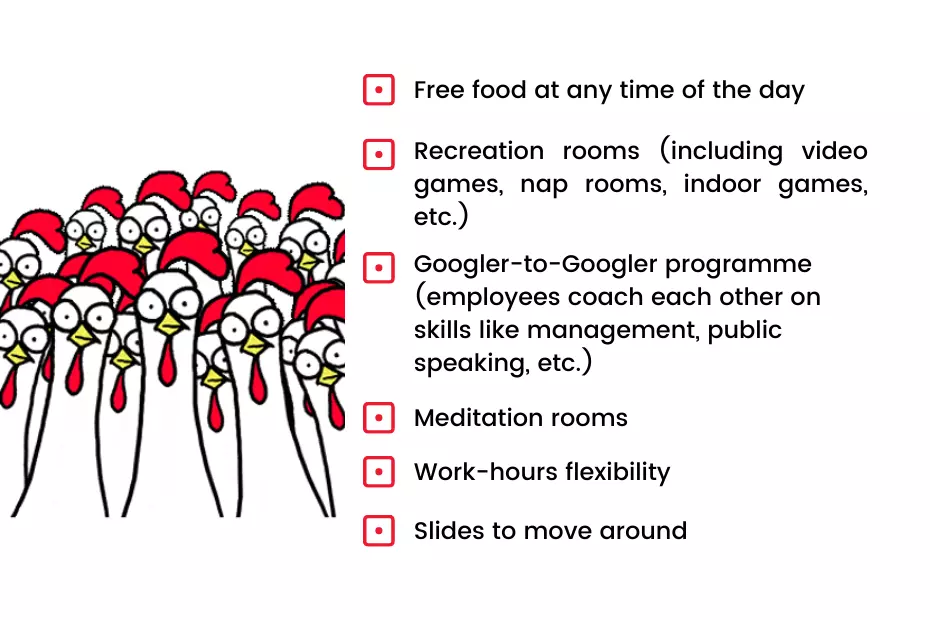 Google years are like dog years: it may seem like it's 7 years for 1 – but again, they really fly by without you noticing.
How to get job in Google? You will be tested on 4 main areas:
General cognitive ability: how you think & talk through your thinking process and explain how you reach your conclusions/decision.
Leadership: stories about all of your experience that prove you're an empathetic leader who empowers the community around to develop.
Role-related knowledge: Do you have the right skills and knowledge for the role you've applied for?
Googleyness: Are you a good fit for the Google culture? Do you & Google share the same values?
Try not to miss critical details as tips & strategies for a job in Google are strewn across this article. Grab the most you can with a little patience, please.
Types of Jobs You Can Apply For
How to get job in Google? You can apply to these areas. The following 3 domains primarily.
1. Engineering: Technical roles at Google include software engineering, application development, STA engineering, product management, etc.
2. Design: Roles such as UI/UX designer, visual designer, UX writer, UX researcher, etc.
3. Business: Non-technical roles include business operations management, quantitative business analysis, competitive intelligence, sales strategy, etc.
We have chosen not to burden this post with the positions/ technical names of each role in detail. You can check them on the Careers page where you apply for jobs (links in last section). Use the TechDevGuide to brush up on your technical skills if you're a techie (link in last section).
How to Get Job in Google: Explaining False Negatives
How to get job in Google? Like mentioned earlier, Google is known to reject qualified people, because that's considered better than hiring unqualified people. These are false negatives.
Negative: which means it was a no-hire (rejection)
False: which means the rejection was an inappropriate result because the candidate was actually good.
False negatives are bad for a company but still acceptable
True negative would be rejection of a bad candidate. (Good for company)
True positive would be hiring a good candidate. (Ideal outcome for company)
False positive would be hiring a bad candidate (totally unacceptable for company)
How to get a Job in google: False negatives are completely random
These do happen more often than not but you really have to work hard to prepare yourself and contribute to their decision for hiring you.
False negatives can happen due to a variety of factors: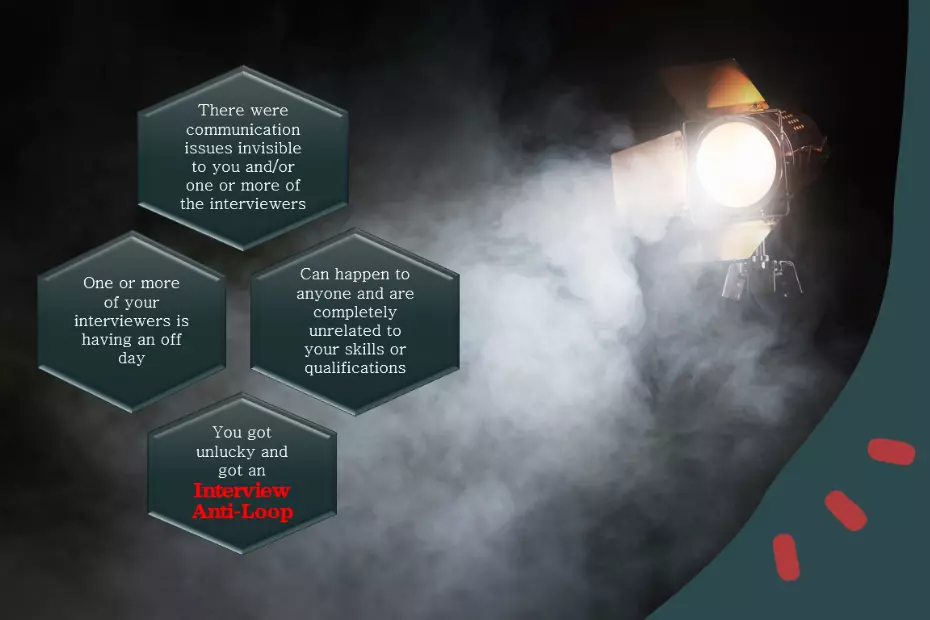 How to get job in google: What is an interview loop? What is an anti-loop?
Interview Loop:
Series of conversations and tests a company designs to assess a candidate's fitness for a role is aptly called an "interview loop". Google & Amazon is famous for their loops.
Every candidate being interviewed for the same position is put through the same loop, obviously
Helps to calibrate expectations of candidates, recruiters, interviewers, and hiring managers
Some specifics of the interview loop may be changed after the first couple of candidates based on how they have performed
This is typically the case for technical recruiting and hiring. Also, applies to non-engineering positions
You may also be hired for a trial employment period, wherein you may occupy an internship or contractor position, till the time you & Google both have the opportunity to get a complete idea of your fitness coefficient (whether you are fit for a job).
Remember, Google's also "being interviewed by you" as you go through an interview loop. Make sure that you feel like Google will help your career & professional growth in your future run. Also, make sure Google feels the same about you too!
Interview Anti-Loop:
Term coined by former Googler, Steve Yegge
Every single employee E at Google has at least 1 Interview Anti-Loop: a set of other employees S who would not hire E
It's highly likely that someone on your interview loop will be unimpressed with you so your interview anti-loop set will have at least one element, i.e. one person.
Remember, for any given candidate (such as you) having both Interviewer A and Interviewer B on her interview loop, A & B are likely to give very different votes for her (you).
There's high probability that A and B would not even hire each other! So, A & B are on anti-loops for each other. Classic example in every tech company probably.
Then, how to get job in Google? However inherently flawed the nature of the interviewing process in Google is, interviewers will never look for a perfect candidate in you. They will look for a normal person who make mistakes and is able to correct herself.
"Be a master of your craft, but know you're not the master"

Liz Wessel, Former Googler
How to Apply for Job in Google Company?
Google wants all candidates – from entry level to leadership – to have the same access to information and resources.
How to get job in Google? You can apply for a maximum of 3 jobs inside a continuous 30-day period. Focus on the most suitable match for your talents by carefully reading the overview and qualification information. Visit "My Applications" to see the jobs you've already applied for.
We will strictly refer to the process candidates from India can follow.
How to get job in Google from India? There are 4 ways:
1. Apply online: Google careers
2. Employee referrals: If you know a Googler, use her/him to fast-track your candidature. Google recruiters are also active on LinkedIn so you can connect with employees via LinkedIn and request them to refer you for a job.
3. Campus placements: Google visits select few colleges/universities like IITs, NITs, DTU, etc.
4. APAC Test: Register for Kick Start, a coding contest open for programmers in the Asia-Pacific (APAC) region throughout the year. Enter any 3-hour round you wish to. Top competitors may get to be interviewed.
How to Apply for Job in Google Company (Online from India)
Go to Google Careers (Google's own careers search tool, link in last section). Then, click "Skip to Jobs"
This screen is supposed to appear. Well, of course this time when I clicked, the open listings to first appear were these (don't bother). You are likely to see different ones, depending on when you try, obviously. 
Until you select a location you prefer, you will not be able to see the open postings available at that time, obviously. So here you see Brazil & Mexico since I had not selected any locations specifically.
You can select your skills & qualifications, degrees, job types and if you want to work in Google or YouTube (yes, both from this portal itself)
If you feel your skills are a perfect fit for multiple openings, you are free to apply for more than one job at a time.
However, Google as well as us, recommend narrowing down your choices to a handful of jobs that particularly match your experience, skills, and interests.
How to Apply for Job in Google Company: Reapplication
You might get genuinely unlucky and end up with one / more people from your Interview Anti-Loop (those who don't want you hired) on your interview loop!
You may be told that you were not a fit at this time.
Don't feel meta-bad, everything is OK!
You must wait for a period of 90 days before re-applying for the same job. However, if you're reapplying for technical roles, you'll be most successful after you've added 12 – 18 months more of experience. Google says so.
And apply even if you're currently working elsewhere. Google, like most other companies, is also more attracted to candidates who are currently employed (not fair, but true!)
We suggest that you wait 6-12 months to re-apply.  
Wipe the slate clean and start over again. There are many Googlers who got in on their second or third attempt. Google wants motivated, brilliant, accomplished people. There's no sugar-coating this.
Whether you're a nerd applying to be a software engineer or work in a different area within Google, they only want the cream of the best. They receive tones of applications, obviously (2 million applications a year, more competitive than Harvard University!).
How to Get Job in Google: The Full Rolling Process
Contents:
Self-reflection: Focus on You
Job searching: Focus on What You're Looking for
Your resume: Take Your Last Resume & Update it
Apply online: Submit Your Application
Interviews
Decision and offer
Self-reflection: Focus on You
Are you good at something you're not passionate about? Have you discovered anything like that? Lately?
Be ready to dive into the depths of your job search.
Start with this often-overlooked first step, know yourself.
Ask yourself a few of these questions:
What is something I learned that later made everything easier?
Have more of my achievements come because of teamwork or conscious solitary effort?
What do I enjoy more, pushing a discussion forward or solving the problems?
What is the most rewarding job I've ever had? Why?
What describes the best team I ever worked with? What made that experience of mine stand out?
Talk to a former Google Recruiter (if possible, or any person with relevant recruiting experience will do too)
This will validate your understanding of yourself. You may have an opportunity to speak with a recruiter at your college or university. See if a Google representative visits your campus. We will also talk about some questions YOU can and should absolutely ask an interviewer (in latter sections, check).
Why this exercise?
A candidate hired just based on skills is a skilled employee, not a Googler.
Google wants Googlers, not just skilled employees.
Who are Googlers then?
Googlers are employees of Google, yes but only those hired based on not only skills, but also interests, passions, goals, experiences, knowledge, past triumphs & failures
That's what Google wants.
Job Searching: Focus on What You're Looking for
Google wants you to have a better idea of who they are, what they're about, and what it's like to have a job in Google.
Google believes all candidates must have enough information to feel like they're applying for the right jobs. You may think you know enough already but trust me, you don't. There are multiple dimensions of this company and you are sure to miss something if you've not spent enough time on resources about the company (shared at end of article). Please do.
Their goal is to ensure that the job(s) you land on should exist at the intersection of who you are and who Google is.
Before you apply, you must have a better sense of who Google is and what part of the company and role seems like the best match for where you want to go.
Your resume: Take Your Last Resume & Update it
This is tiresome. But for the sake of what you want, this is a small offering. Google has its automated scanning processes in place before they land up in the hands of human reviewers. Nooooo one knows much about Google's super-secret search algorithm! Google's hiring process is also hilariously decentralized.
You can, at best, be inspired by your old resume but start with a blank document to create a specifically designed resume for each Google job you want to apply for.
To build your job-specific resume for each application, do the following:
Use classic Arial or Times New Roman. Don't forget about appropriate formatting. Your resume must be submitted as a Word document instead of PDF. This is not a mandate by Google, our suggestion.
You have to tie your work directly to the role qualifications. Your skills and experience must be well aligned with the job description. Don't forget to include data, whatever you can.
If you have limited work experience or are a recent university graduate, include academic projects / coursework which appropriately demonstrates relevant skills & knowledge.
If you have experience in a leadership role, how big was your team? What was the scope of your work?
You have to be specific about projects you've previously managed or worked on. Describe the outcome. How did you measure the project's success? Use the formula, "accomplished [A] as measured by [B], by doing [C]."
Keep it short. Google does not stipulate a length requirement, but precision is essential — so take careful aim with your information and think twice before letting your resume move onto multiple pages
Don't toot your own horn too much. Google values intellectual humility (ability to acknowledge when you're wrong and adjust your ideas accordingly).
Quantify results and share details that go beyond simple job descriptions.
For example, if you're an SEO specialist, don't just mention you helped improve customer experience. Say something like, your implementation of X strategy resulted in y% increase in leads/ organic traffic etc.
Cover letters are not mandatory (may or may not be considered). Take a call if you want to include one. If you do decide to include it, follow these (all the above apply here too):
Tailor you cover letter to the job you're applying for
Tell Google how you've made a difference
Use data to back it up
Draw a direct line between your passion and Google's job requirement
Let Google see who you are a bit
Apply online: Submit Your Application
Don't submit dozens of applications.
Focus on the jobs that delight you and you match for.
Quality, not quantity, is what Google appreciates
Tell Google who you are
Tell Google what you do
Tell Google where you'd like to be
Then start looking at some of the listings that match.
Remember, you can apply for up to three jobs every 30 days.
If things don't work out with your 1st application, don't let it keep you from applying to other roles in the future.
Interviews
Google's interview process can take several weeks and you have to be patient.
Typically, it takes about 6 weeks. The final stage is the Committee & Executive review.
Process differs slightly for different roles or teams, whether you're applying for a tech job or a marketing job, an internship or a leadership position.
These are some of the ways Google will assess your candidature. Not all of these may apply for your role.
Brief online assessments like a coding quiz, after you've submitted your resume.
You'll typically have 1 or 2 short virtual chats (30 and 60 minutes with a recruiter & then with either the hiring manager or peer on the team) over phone or video before diving into more in-depth interviews.
Google may ask you to complete a small project work prior to your in-depth interviews. This could range from providing writing or code samples to prepping a case study (don't stress, they're not that scary and Google won't spring this on you without warning).
Google is what Googlers make it. In-depth interviews and onsite interviews can be rigorous (typically 3-4 interviews in one day, either in person or over video), but it's also meant to be friendly, warm, and gives you the opportunity to get to know Google better too. You will spend 35-40 minutes with four recruiters.
Who knows, you might even have some fun!
Google uses these guiding lights for interviews:
Structured interviewing: You will be assessed using clear rubrics, and Google uses those rubrics for all folks being considered for a role (interview loops), so that everyone is evaluated from the same perspective.
Open-ended questions: Google will ask open-ended questions to learn how you solve problems. Google typically wants to understand how your mind works, what your strengths are and how you interact with a team.
Google's Staffing team is there to help you with sign language interpreters, specialized equipment, interview breaks, extended time etc. to support you so you can remain focused on your conversations.
Decision and offer
If you get selected as the best candidate for a position, you will be reached out to with an offer which if accepted will trigger Google's onboarding team to introduce you to various stuff including compensation, benefits, badging, insurance and so on.
Congratulations! You've become a Noogler (New Googler). You will undergo a two-week in-person training and orientation program that explains the organizational structure, core technologies and programming practices. There's no specific length of time before you're no longer a Noogler (typically gets over in less than a year).
Discover More by accessing the Free Career Dashboard
This will help us share relevant information with you.
How to Get Job in Google: Questions You Can be Asked
How to get job in Google? While questions may vary from position to position and interviewer to interviewer, these are 5 interview questions at Google repeatedly reported about. These are exact verbatim questions from Google recruiters.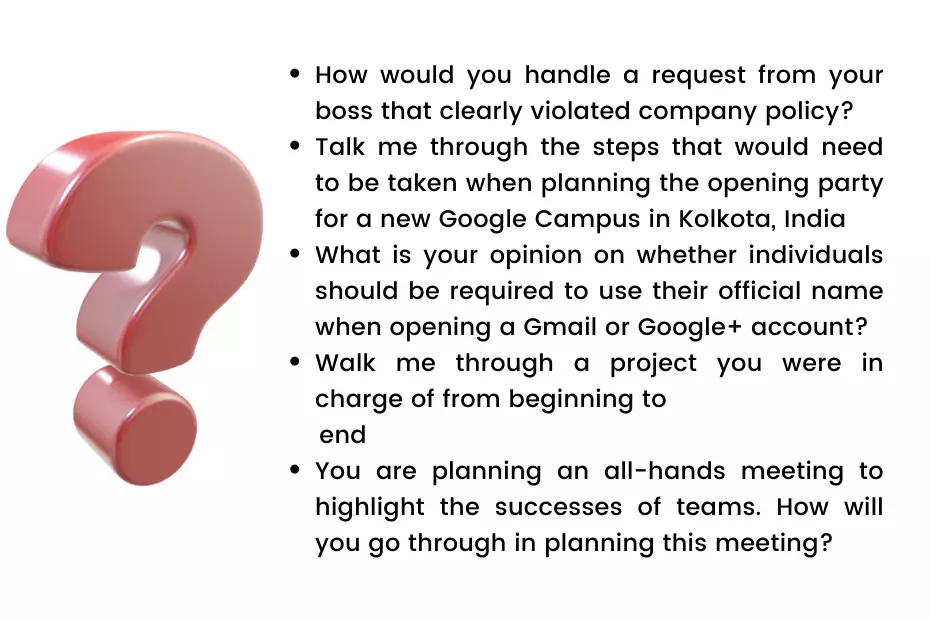 Common HR interview questions:
Most of these also apply to other companies.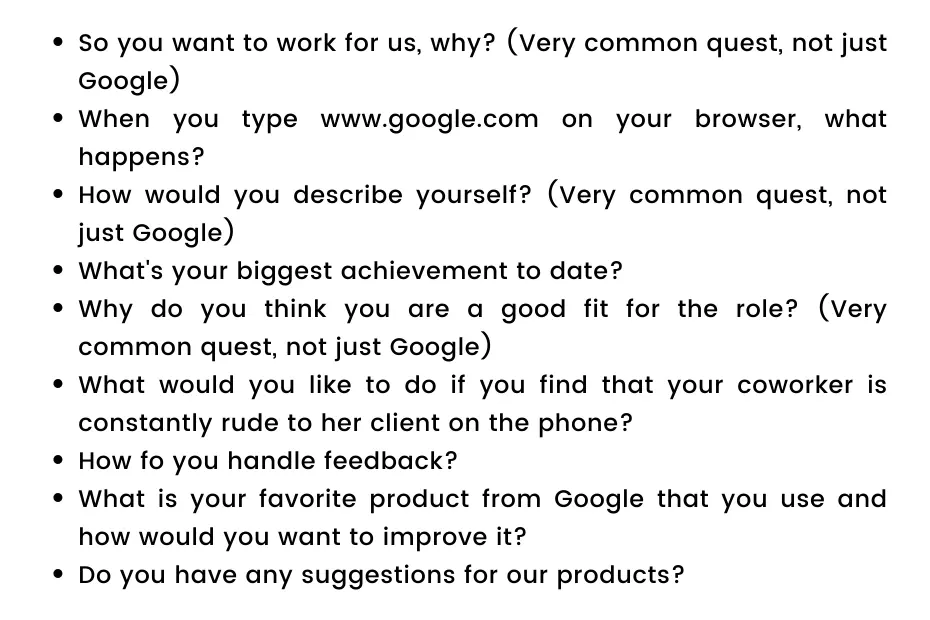 Common Technical Questions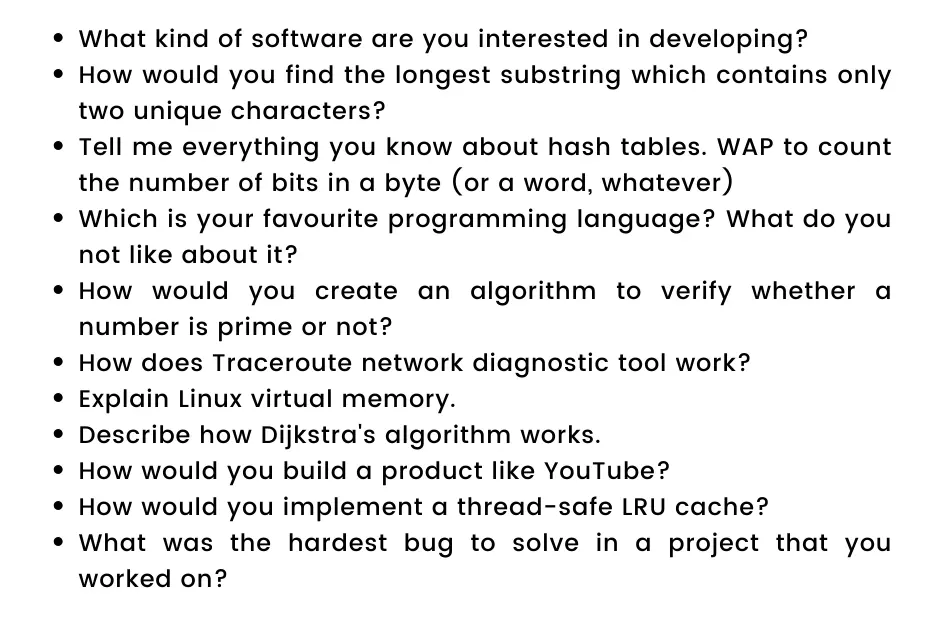 Common Non-Technical Questions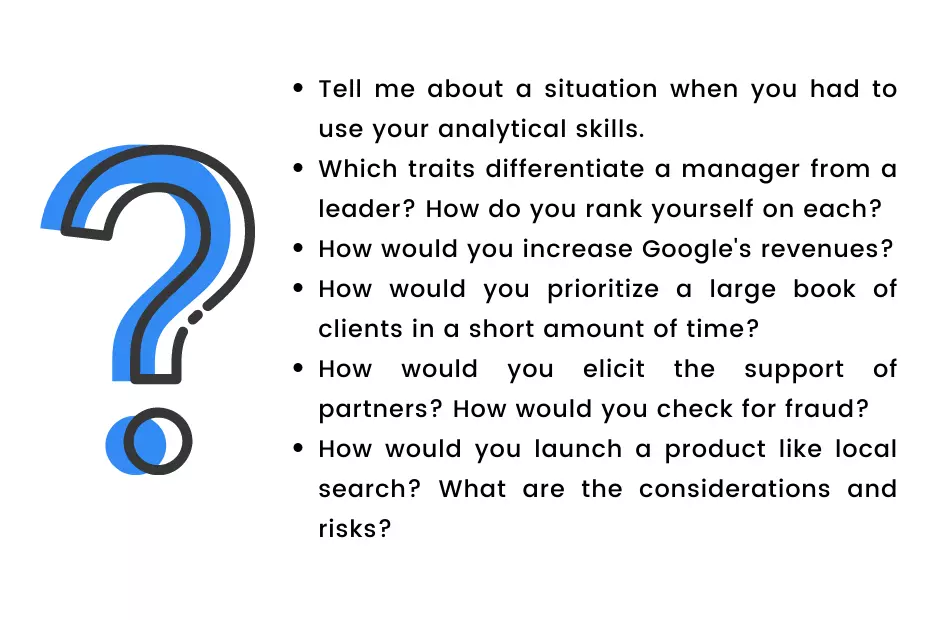 How to Get Job in Google: 7 Questions You Can & Should Absolutely Ask An Interviewer
These prove that you're highly invested in the job and committed to understanding your prospects as a candidate. These show that you want to understand the scale of the challenges you'll be dealing with. These will also help you get a better sense of the dynamics of who your collaborators will be.
YOU are asking these to the interviewer. Remember.
#1: What will the day-to-day responsibilities of my role look like?
#2: What characteristics do you look for in employees to represent Google's values?
#3: What's your favorite part about working in Google?
#4: What does success look like in this position, and how do you measure it? KPIs for the role?
#5: Are there opportunities for professional development? If so, what do those look like?
#6: Who will I be working most closely with?
#7: What do you see as the most challenging aspect of this role?
How to Get Job in Google: Top Interview Tips
The Warm-Up
Basically, there is long-term and short-term warming up, and you should do both.
Long-term: study & practice for a week or two before the interview.
Short-term: get lots of rest the night before, and then do intense, fast-paced revisions the morning of the interview.
Hold a mock interview with a friend
Pick your friends based on experience, honesty, training and availability.
You should be looking for someone who won't be afraid to give you honest feedback.
Make a list of questions for your friend to ask
Find Google-specific interview questions.
Consider a 2nd round to take in notes and give failed questions another go.
Consider setting up a video interview with a friend as well, because these are quickly becoming the norm
Consider swapping roles with your friend (interviewer). Experiencing the interviewer's seat may help you avoid the jitters when the real deal comes.
Mental Prep
You should go in wide-minded, humble, confident and focused. (this one's a no-brainer, I know)
Every question that you're asked is legitimate, treat it like that, even if you think it isn't, even if you are frustrated that you don't know the answer.
Feel free to ask for help or hints if you're stuck.
Don't try to change the subject or answer a different question or try to bluff your interviewer.
Don't take too long before actually solving the problem, or you may get a delay-of-game penalty.
Some added tips for you:
Find more Google interview questions and prepare your answers well in advance. Don't memorize them though, you ought to sound natural on THE day.
Google does not used brainteasers/ guesstimates anymore, they have been replaced by work sample tests and structured questions. You will not be asked to guess how many golf balls can fit in a bus!
Tell your professional story through examples
Take your time and rehearse all your answers
During the interview, be mindful of your body language
How to Get a Job in Google: Conclusions
And finally, it's a wrap!
This concludes our edition of this narrative telling you about how to get job in Google. We've presented our hearts out with all that you needed to know and more. Tell us in a comment if you've got further troubles or are confused about how to apply for job in Google company of about anything we've particularly missed. Ask us anything you want to know, so you are well-prepped before being interviewed for that job in Google! All the best. Go grab it!
How to Get a Job in Google: Useful Links
Go through these n times. Before, you apply, Google wants you to have a better idea of who they are, what they're about, and what it's like to have a job in Google.
Google believes all candidates must have enough information to feel like they're applying for the right jobs. You may think you know enough already but trust me, you don't. There are multiple dimensions of this company and you are sure to miss something if you've not spent enough time on these resources. Please do.
Their goal is to ensure that the job(s) you land on should exist at the intersection of who you are and who Google is.
Try these sources:
Google's careers search portal
How to negotiate a job offer from Google
TechDevGuide to brush up on your technical skills43 Resume Tips That Will Help You Get Hired
ALSO READ:
Discover More by accessing the Free Career Dashboard
This will help us share relevant information with you
Trending Posts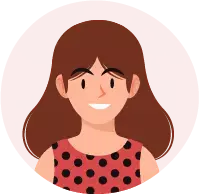 After acquiring a Master's in Biophysics-Biostatistics and having subsequent experience in computational proteomics of animal proteins. Sreenanda has been working in this career counselling industry for 4+ years. She holds expertise in research and analysis of careers, jobs, and industries.