The most wonderful aspect about studying Hospitality Management is the networking opportunities that you get. Do you have good communication skills, and like connecting with people? Can you be flexible with your working hours?
.
"Let your job be the passport to the world".
Do you like dealing with food, and are you creative? Then the glamorous world of hospitality and tourism needs you!
What is Hospitality Management?
Hospitality Management in simple words is the study of the hospitality industry dealing with a broad category of event planning, theme parks, cruise line, transportation, lodging and other additional fields primarily within the aviation, maritime and tourism industries. As a part of the hospitality industry, you would be responsible to make a 'home away from home' for vacationers and business travelers. This industry can encompass extremely varied job profiles from a Director to Chairman to the chamber-maid. Hence, a career in hospitality management could be the best career choice for you.
Sounds like your kind of deal?
Ever imagined yourself directing social events on a cruise? Or how about owning and managing your own luxurious chain of hotels and resorts nationally or internationally? Or how about running an ultra-modern club or spa?
Ever pictured yourself creating the national tourism campaign? Sounds exciting! Doesn't it? Guess what a waiter serving you a delicious sizzler, the concierge at your resort and a tour guide have in common?
Basically they all work in the hospitality industry in some way or the other. Well, this is what a career in hospitality management is like. And this is just a tiny drop amidst the vast ocean of dynamic opportunities that await you in the global hospitality industry.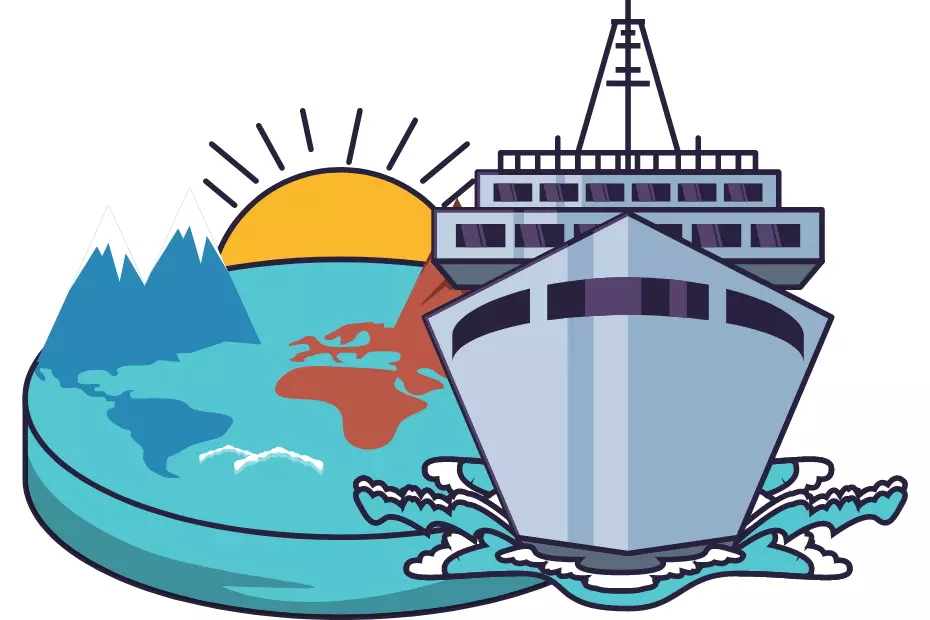 ---
---
Discover More by accessing the Free Career Dashboard
This will help us share relevant information with you.
Discover More by accessing the Free Career Dashboard
This will help us share relevant information with you.
A career in this field could be personally fulfilling and professionally stimulating. Hospitality over the years continues to be one of the world's fastest-growing industries. It employs more than 256 million people worldwide! Tourism, which is a part of the hospitality industry, generates 10% of the world's GDP. Let us briefly try to understand the wide range of careers this field has to offer.
Educational Requirement
To pursue a career in hospitality management, you can pursue a degree course in hospitality management soon after acquiring a minimum of 50% marks in 10+2. However in some cases, if some candidate does not have 50% marks in +2, he/she can opt for a diploma or certificate courses offered by various institutes. Some institutes have their own entrance exams to select students. There are numerous job profiles in this sector depending upon a candidate's work experience, education, etc. However, in order to work in the top profiles, a candidate must have a recognized degree. Moreover to understand the exact pathway to a career in hospitality management, read the flow chart below:
Career Path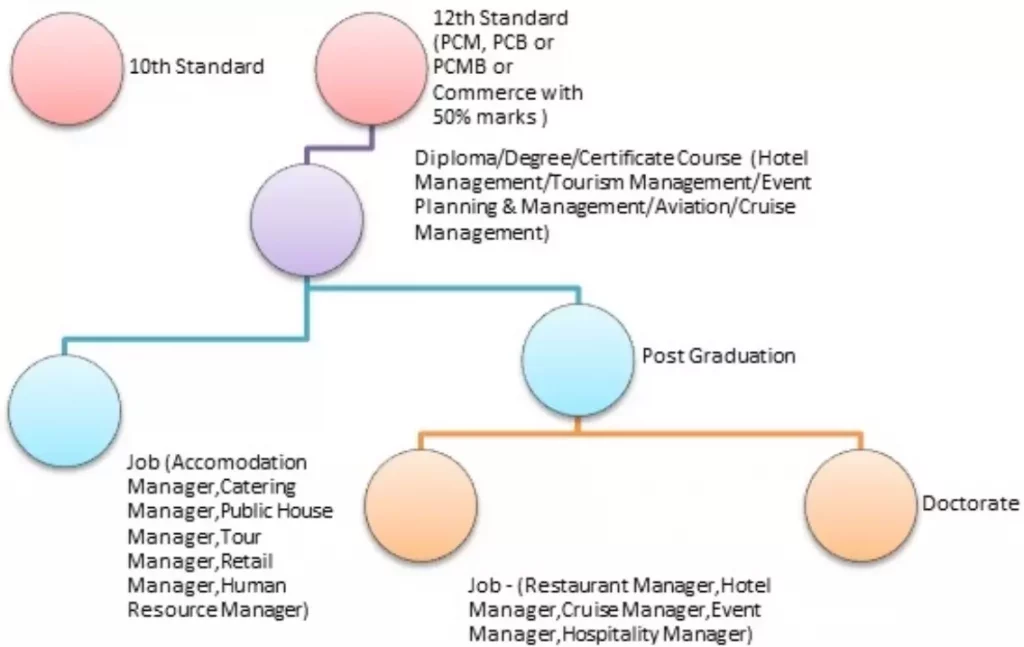 ---
---
Different programs in Hospitality Management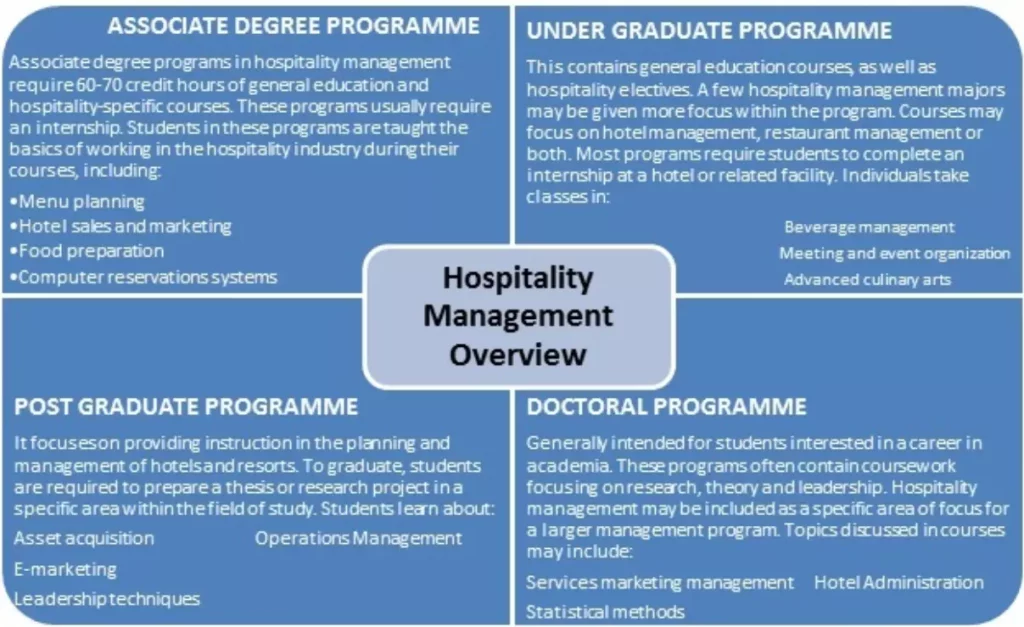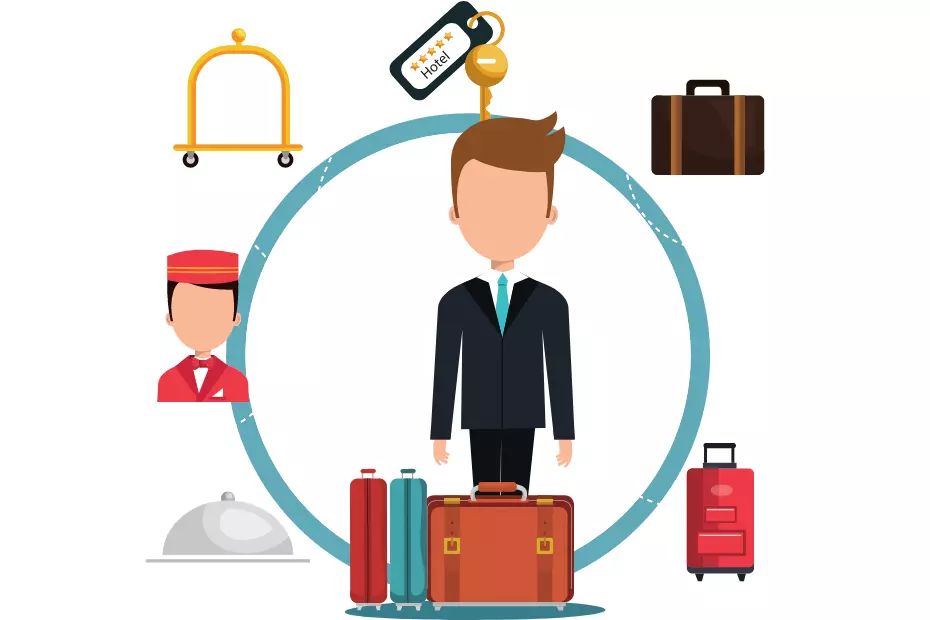 ---
---
Courses Offered in Hospitality Management
To pursue a career in hospitality management you should have a degree in a similar discipline and adequate years of experience to land a good paying job. The courses offered to combine skill development sessions with theory lectures with a heavy emphasis on practical experience; hence preparing the candidate for everyday challenges.
Degree Courses:
B.Sc In Hospitality & Tourism Studies (3 Years)
B.Sc. In Hospitality Study & Catering Services (3 Years)
B.Sc. In Hotel Management & Tourism (3 Years)
MBA In Hotel Management & Tourism (2 Years)
M.Sc. In Food Science (2 Years)
M.Sc. In Hotel Management (2 Years)
M.Sc. In Tourism (2 Years)
Diploma Courses:
Hotel Operations (2 Years)
Hotel Management & Catering Technology (1 Year)
Food & Beverage Production / Service (6Month & 1 Year)
House Keeping (1 Year)
Front Office Management (1 Year)
Travel Agency Management (1 Year & 6 Month)
Certificate Courses:
Hotel Management & Catering Technology (1 Year)
Cookery, Bakery & Confectionery (1 Year)
Hospitality & Air Travel Management (1 Year)
Food & Beverage Services (6 Months)
Tourism & Travel Management (6 Months)
Fees for Hospitality Management Programs
The fee for the course depends on the reputation and rank of the college. For a 3-year course, the fee would range from around 200,000 to 500,000. The students who are not willing to spend such a hefty amount may go for diploma/certificate courses offered.
---
---
Indian Colleges
These are some colleges in India offering a degree/program in hospitality management.
International Schools
These are some colleges abroad offering a degree/program in hospitality management.
---
---
Job Opportunities in Hospitality Management
The diversity of career options in the hospitality industry makes it utterly impossible to cover each and every job description within the scope of this article. We have thrown light on some of the most common career options available in this sector:
Hospitality Manager:
The most common and obvious career option as a graduate in Hospitality Management would be to take up some kind of management role in this sector. The managerial roles can be in conference facilities, bars, casinos, entertainment venues, travel agencies, national/regional marketing organizations, etc.
Hotel Manager:
As a Hotel Manager, you look after the overall administration of a hotel including front-end as well as back-end. This position demands a wide range of duties including budget allocation, strategic planning, performance tracking, quality auditing, synchronizing and also overseeing services like catering and accommodation facilities. One might fit/suit this profession if he/she has a flair for communication, organizational skills and can work with people from different backgrounds.
Restaurant Manager:
If you are a foodie and have a natural nose for the perfect dining experience, then Restaurant Manager might be an interesting position for you. You could be managing an outlet of some renowned chain or might even be looking after the operations of some smaller independent outlet. Usually, the duties involve overseeing operational, marketing-related as well as administrative tasks while also ensuring the profitability of the restaurant and maintaining its reputation & ethos.
Cruise Director:
If you're keen to see the world through boats and yachts, the role of cruise director might suit you. One would require a strong understanding of this sector through some specialized studies. This position will involve overseeing health and safety issues, looking after the entertainment and social events along with onboard hospitality ensuring excellent customer satisfaction.
Events Manager:
Hospitality Management can also open up doors for you as an event planner, bridal consultant, meeting planner, party planner, conference manager, etc. In case you end up choosing this as your profession, you would be planning and organizing various events like weddings, open houses, conventions, etc. with paying attention to the minutest detail. You should bear 'born to organize and execute' for being successful in this field.
---
---
Salary Prospects
Remuneration in this industry majorly depends on factors like the institute, employer, skills of the individual & work experience. The candidates who have passed out from top institutes might receive a starting salary of Rs 20,000 or more. Similarly, candidates with diploma or certification programs can receive starting salaries ranging from Rs 8000-Rs 12,000. International hotel chains & airlines offer attractive remuneration.
International Focus
Hotel chains like Hilton, Ramada, Hyatt, La Quinta, Marriott, Radisson, Days Inn, Best Western, etc. offer really attractive career options for hospitality management graduates. Graduates working in the USA get a starting salary ranging from US$ 6000-10,000 per annum. Many hotel chains also offer highly paid part-time jobs at various positions.
Conclusion
Therefore to conclude, you must now be aware that a career in Hospitality Management offers a great platform to showcase your hidden talents to the world. Pursue a career in this field and make a mark in the hospitality management industry.
In case, you feel indecisive or confused, do dial us up. It is often useful to reach out to expert counselors for addressing individual issues. iDreamCareer experts are always ready to help young minds like you from 9th class, 10th class, class 11, class 12 with an aim to select your most-suited career choices.
Also Read:
.
Recent Releases
.
Discover More by accessing the Free Career Dashboard
This will help us share relevant information with you
Trending Posts

.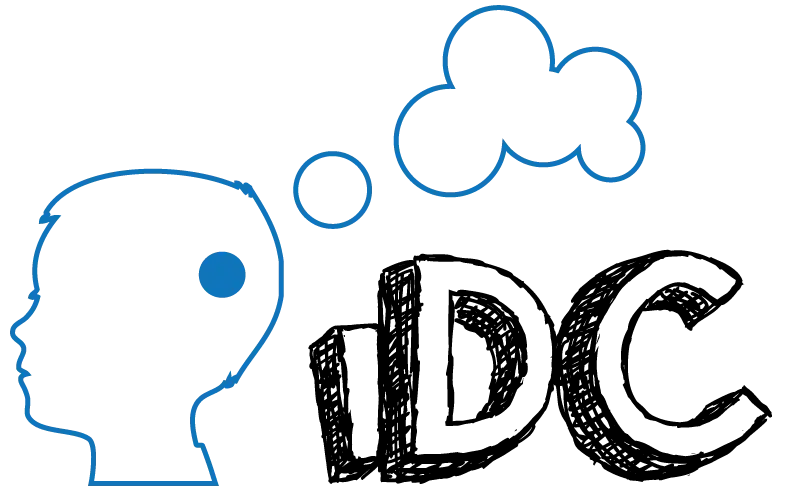 The iDC Editorial Team brings in a collective work experience of more than 25 years in diverse fields spanning from career counselling, management consulting, engineering, and technology to science, finance, and humanities. The team's key competencies are in research and analysis of careers, jobs, and industries. The team boasts a few best-in-class writers on careers and education.